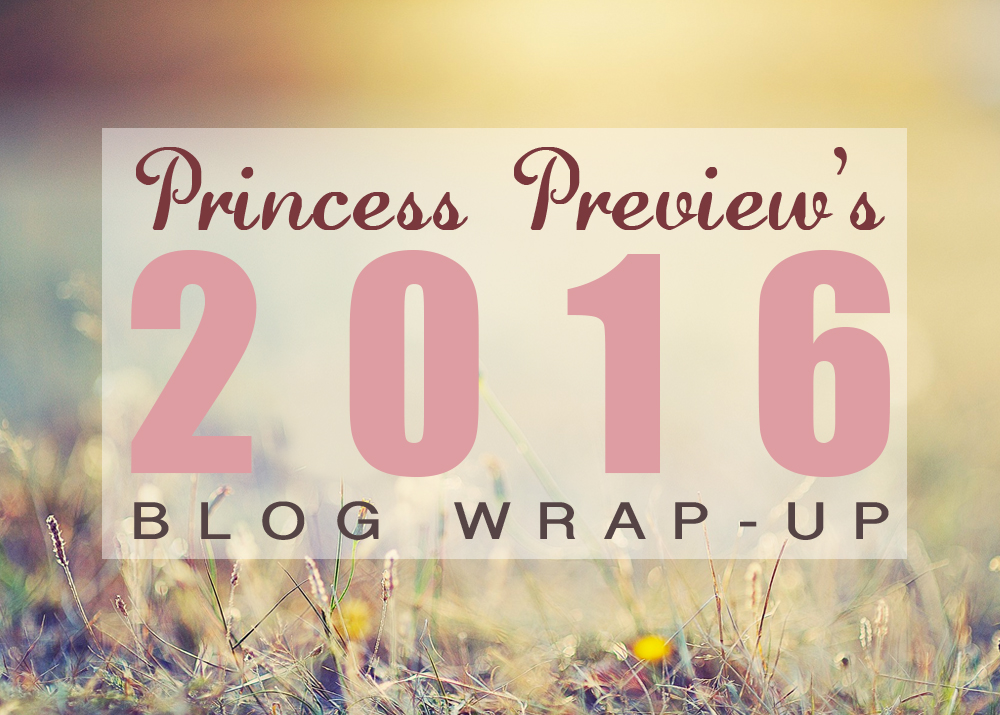 Wow did 2016 just fly by! This was my second year running Princess Previews and it feels like I have achieved so much in such a small time. I would say that this year was basically separated into two sections, pre 1st Blogiversary in May and post. Before May this year I ran the blog the same way I did in 2015, as more of an occasional hobby to run alongside my porn work. My aim was to complete only one review a month (sometimes not even that) and while I had worked with a few companies I had never personally pursued or asked for toys to review before. While organising my Blogiversary however, I realised how much I deeply loved running the blog, and that a few things needed to change. I quit my adult work to give myself more time to work on the blog, as well as to free up my social media for blogging related news and info only. I decided I wanted to put more focus on my Australian readers and switched to using AUD and the metric system. I also redesigned the blog's theme, which I'm still very happy with. Lastly I very nervously started approaching companies for review items and made a new goal of two reviews per month.
Since those decisions were made I'm glad to say not only have I stuck with them all, but they have all worked out amazingly, especially the last one. I've been so lucky to have received so many positive responses from companies about working with them and I've gotten so many toys since that I had previously only dreamed about. In such a short time I have had the privilege to work directly with so many amazing retailers and manufacturers such as Unbound, Cupid's Cupboard, Tantus, JOUJOU, Mimi De Luxe, Sex Wooden Toys, Lovehoney, BS Atelier, Doxy, OVO, IMTOY, O-WAND, Geeky Sex Toys and The Slinky Minx. I have been able to review toys like the Njoy Pure Wand and Laid D.1 Stone which have been on my wishlist from before I even started blogging, as well as brand new toys such as the IMTOY Gazelle and Satisfyer Pro 2. I've even been lucky enough to have received TWO Doxy massagers within a week of each other, which has to be one of my highlights of the year. My review quota has since increased to three a month now, with some months four being posted.
My blog traffic is slowly rising as well. Since May I've been keeping a blog view goal every month and so far I've always beat it by miles! Since May my monthly reviews has increased by 300% and my daily views are continuing to rise, with just yesterday my highest daily view count rising from around 350 to 1000+. I'm slowly getting more newsletter subscribers as well as Facebook page likes, with has come from something like 5 or so likes to around 70 now. I've been trying my best to branch out with my writing as well, with my recent event wrap-up, sales guide posts and how to's.
So much in particular seems to have happened in the last month or so. I was lucky enough to attend Sexpo Melbourne with a press pass which was an amazing feeling to be recognised like that in a physical space and not just behind a computer screen. I came Number 38 on Kinkly's Top 100 Sex Blogging Superheroes of 2016 as well as Number 7 on their Top New Sex Blogs of 2016. I also came Number 88 on Molly's Daily Kiss Top 100 Sex Bloggers of 2016. It was my first time attempting to get a spot on either of these lists so I was very honoured to not only have made both but to have been ranked on the top new sex blogs list! Recently I also opened a page on my site where you can buy my recommended sex toys directly from my blog, which is part of a really cool collaboration with JOUJOU which I'd definitely recommend checking out.
Thank you so much to all my readers and subscribers who actually take the time out of their days to read my posts. It really does mean the world to me, especially to think I have helped you to pick out a toy that suits you. To all the retailers and manufacturers that have trusted and supported me enough to send out products for free I want to thank you as well, without you this blog wouldn't be able to run! Plus an even bigger thank you to my blog sponsors, Cupid's Cupboard and Sex Wooden Toys, it is with your support that I am able afford to run the blog.
So, what's new in 2017? Well I already have a lot of really exciting things planned! First off I am hoping to be featuring a few different Australian based retailers and manufacturers in January based off the connections I made at Sexpo Melbourne this year. I'm also planning on starting up a monthly interview piece on my blog which I've already got a few people signed up for, so I can't wait to begin this. Finally, I have decided to take my blogging to the next level in 2017 and have signed myself up for a full time course on Digital Marketing. This'll teach me a whole range of relevant skills that I can apply to the blog to help make it bigger and better! If you've got a keen eye or check the blog often you might notice a few changes have happened in the last month or so (no more slider, added search bar etc.) but that is nothing compared to all the behind the scene changes I've been working on lately to ensure the blog is optimised properly so it runs as smooth as possible for you all.
Anyway thanks to anyone who read this overly sappy 2016 wrap-up, I hope you all have a wonderful Christmas / Holidays and a Happy New Year! I can't wait for another year of awesome blogging and look out for my Top 10 Sex Toys of 2016 list coming out in the next few days!
Affiliate links have been used in this post.