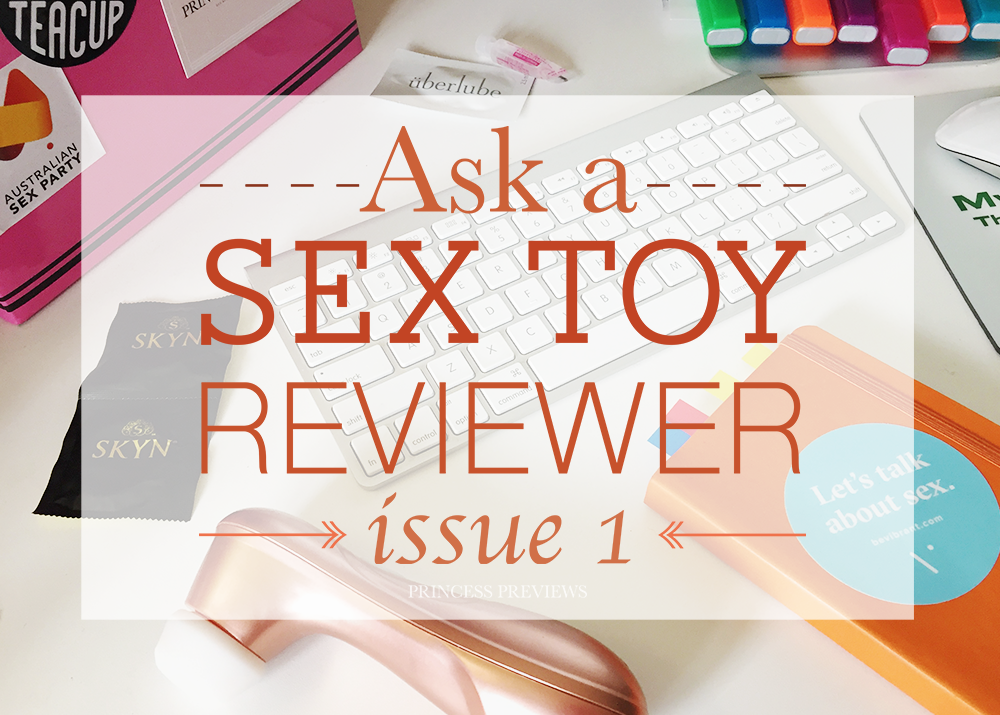 Welcome to my first edition of Ask A Sex Toy Reviewer! In this series I want to hear directly from you, my readers, and find out what queries or questions you guys have about anything from sex toys, sexual health, how to run a sex blog, to even myself! I initially put out the call for questions during my Valentine's Day Giveaway earlier this year, and was so overwhelmed by the great responses! Due to the questions I got asked I decided to put together my recent Sex Toy Materials Guide, which answers many of the queries you guys had, and soon I'll also be publishing a similar guide on lube. But there are still plenty of questions left over that won't be covered in those guides, so I'll be answering them here in this new series. This'll run whenever I have enough questions for a post, but I'll be limiting it to once a month. So without further ado, here they are!
1. I keep hearing that you shouldn't use antibacterial soap to clean toys, so what is the best way?

This is something I only recently learned too! Basically last year some studies found that anti-bacterial soap of any kind (including hand soaps and products like Dettol) can actually be dangerous to use. They may disrupt hormones, increase risk of allergies, and can even make our bacteria mutate to become resistant to it, in a similar way to how you aren't meant to overuse antibiotics. I'm no expert on this matter, so you can read more about this here and here.
So, as you would imagine this caused concern from quite a few sex bloggers who had been using products like the JO Anti-Bacterial Toy Cleaner. If we shouldn't be cleaning our hands with this stuff then we probably shouldn't be using it to clean things we put inside ourselves! So, what do we use instead? Well there are still other toy cleaners on the market such as the Pjur Med Clean Spray that aren't anti-bacterial and are safe for use.
But the whole idea that you need a 'special cleaning spray' for toys is just a lie made up by sex toy companies to make more money. So personally I just use either a mild soap or some unscented dishwashing liquid in warm water. I usually let them soak in this for a little bit before throughly rinsing them and then wiping them down with a cloth. I then let these air dry, before returning them to storage. I put more care into non-waterproof toys, ensuring they are not submerged or wet in certain areas, and for toys with a lot of detail I use a spare toothbrush to ensure no bacteria is left behind. I think with sex toys we like to overthink the cleaning process, but honestly it is just like cleaning anything else.
For sterilisation methods, such as boiling and putting toys in the dishwasher, check out this post to see how you should go about that.
2. Are high quality toys worth the money?

If you just mean high quality as in luxury products that come from brands such as Lelo and L'amourose, then no. Some of the most expensive toys I have tested have been some of the worst, and I have found many toys for under $100 that are much better. Sex toys are the same as any other product, whereas you might be able to get the a similar looking shirt at Ralph Lauren and Target for hundreds of dollars apart, you can also get sex toys that do the same thing for hugely different price ranges. It is one of those things where you aren't just buying a product, but also the 'brand name' that comes with it. The biggest difference between luxury and non-luxury products are usually the quality of the packaging and the length of the warranty, which while may be important for some people, is not for all. But that is what us reviewers are here for, so you can get an idea of whether a product is worth it before purchasing.
If you mean high quality as in materials, then yes. High quality materials such as silicone may seem expensive over cheaper ones like jelly and TPE, but trust me it pays off. Silicone toys will last far longer, and if you take proper care of them should even last a lifetime, so the investment into them will be well spent. Other cheaper toys will likely break down over time and cannot be sterilised, so will eventually need to be thrown out, usually within as little as 6 months. Plus they aren't usually body safe, and depending on what you buy they may make you sick. Furthermore, other materials such as metal, glass and wood should also be bought at their highest quality to ensure they are safe for use. Remember, you are putting these products inside of you, so it is definitely not something you should be skimping on.
3. How do you insert without lube?

This shouldn't be a question you need to ask! Lube is fantastic, make it your best friend! Despite what some media personalities have said, lube is an extremely helpful and sometimes even necessary product for use during both sex and masturbation. If your vaginal fluids are enough to comfortably insert things without lubricant, then great! But if you are inserting larger toys vaginally then at some point you'll probably need to lubricate. Unlike the vagina however, the anus is not self-lubricating, so it is important to always use lube whether you are having sex or just using a small butt plug. Without lube you can cause tearing and harm to both your vagina and anus. So definitely don't avoid lube, always use it if anything is uncomfortable.
4. What is the best dildo for pegging?
Basically any dildo with a flared base can work for pegging, so such a broad question is hard to answer. But I'll go through some of my favourite simple beginner's toys for pegging. While I have never used a harness or done pegging it is something that interests me if I ever had a willing partner, so it is something I often keep tabs on. Silicone is my favourite material for dildos, and so I would recommend either the Godemiche Peg or Tantus Silk. Silk also comes in three sizes, so this may be good if you want to slowly train yourself to accommodate larger toys. After this I would recommend looking through Tantus's range to find toys that interest you, since almost all of their toys come with flared bases.
5. How in hell do you take such great photos of them?
Thank you! Some reviewers do not value photography as much as I do, but for me it is one of the most important aspects of a review and the thing I look at most when reading other blogs. So I always put in great effort to ensure my product photos look good and allow for the toy to be easily understood.
I have been using my Nikon D50 since I started reviewing, and it has been used for almost all my reviews. When I first started I struggled with holding my camera steady and lighting, and so now I have upgraded to using a Velbon Sherpa 200R Tripod with a PH-157Q Head and this Light Box. As for all the backdrops I use clothes from my wardrobe and other various fabrics I have lying around the house. You can check out this photo on my twitter for a general idea of my set up. After all that I do a fair bit of editing on Adobe Photoshop to ensure everything looks beautiful and remove all the dust silicone sex toys like to pick up.
6. Why do prices vary so widely, even in the same category? Form 10 ($, £, €) to 100. Quality materials cost only so much.
Mostly for the same reasons you'll find with any product in the world, I can buy a $10 eyeshadow palette from my local chemist, or I can buy a $100 palette from Sephora. It depends on how good I want it to be, and whether I want to have a trendy brand.
Like you mentioned the quality of materials is certainly a factor, you can find cheap wand massagers on sites like Lovehoney right next to hugely expensive Doxy massagers that are seemingly the same thing. But Doxy wands have a lot more work put into them and are made of the highest quality materials, which are what ultimately mean Doxy is one of the most powerful toys on the market.
But then another factor here is that Lovehoney is a huge company that mass produces many products, whereas Doxy is a relatively small business. Big sites like Lovehoney and mega brands like Doc Johnson and California Exotics are always going to be cheaper in most cases than the more artisan and hand-made products from companies like Godemiche, New York Toy Collective and even Tantus. Another reason is that when you buy luxury toys from companies such as Lelo, Fun Factory or L'amourose, you are also buying their brand name. Plus, companies like these offer warranties and returns services, as well as other extra add-ons like storage bags and fancy packaging.
I don't believe you have to pay for the most expensive items to get good quality sex toys. But always make sure you are buying body-safe products, and remember that the more you spend the longer the product will probably last you (either because it's well-made and uses great materials, or because it has good warranty). Also ensure you don't buy off eBay or Amazon, that $30 Hitachi wand may sound good online but it is definitely a fake.
---
Still unsure about something I covered here? Got a question of your own you are just dying to know the answer to? I'm always happy to answer anything, so feel free to either contact me through any of my social media channels or my contact page! I'll add your question to the next issue, get back to you privately if it's a personal matter, or even create a whole new guide post on it!
Affiliate links have been used in this post.