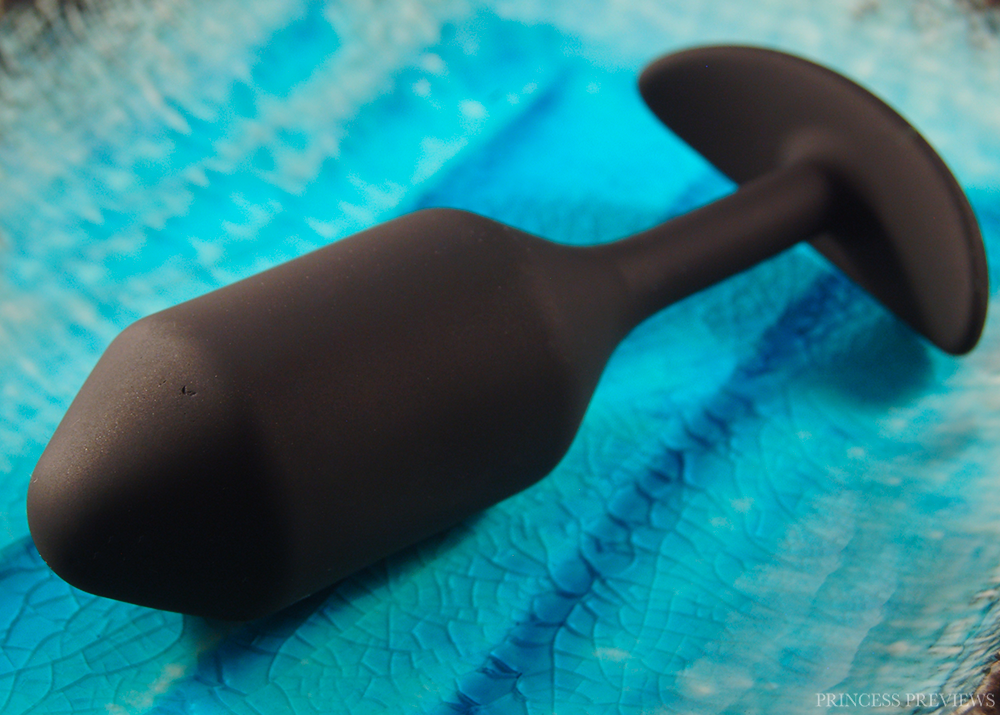 Ever since b-Vibe arrived on the sex toy scene, I've been immensely intrigued by their seemingly amazing range of anal toys. Their first creation, the Rimming Plug, made it onto my list of Top New Sex Toys I Want To Try in 2017, which is not an easy feat for a brand new company! Sadly, I still haven't gotten round to reviewing that toy, but in July they announced something that interested me even more than the Rimming Plugs. It was their silicone Weighted Plug range that they had aptly named Snug Plugs. Now, I am sure there are other weighted butt plugs out there, but this is the first one I've ever heard of, and I think it is a brilliant idea! Weight is one of the most important factors in butt plugs, but unless you want to dish out a lot of money for a metal one, you're going to have a hard time finding anything good. b-Vibe's Snug Plugs not only allow for a weighted plug that is made with silicone, but also make weighted plugs far more accessible due to their low cost. So as you can imagine, I was overjoyed when Peepshow Toys asked me to review one of these for them.
Whenever I get to try something new in this industry I get really excited, and this was a toy I had really good feelings about. While I love all sorts of materials for butt plugs, I find silicone to be the easiest to use and clean, and it is also often easier to recommend to people due to how cheap it is (when compared to glass and metal). But something that frustrates me is that these are often very light, which lets the plug become easily forgotten if used for extended wear. I also find that to have something weighty of any material, it also needs to be fairly large. But does this mean beginners or those that want a small plug should be without weight? Hell no! You should be able to enjoy weight in a plug no matter what your expertise level or preference is. b-Vibe's Snug Plug line aims to fix all these issues, and I couldn't be happier.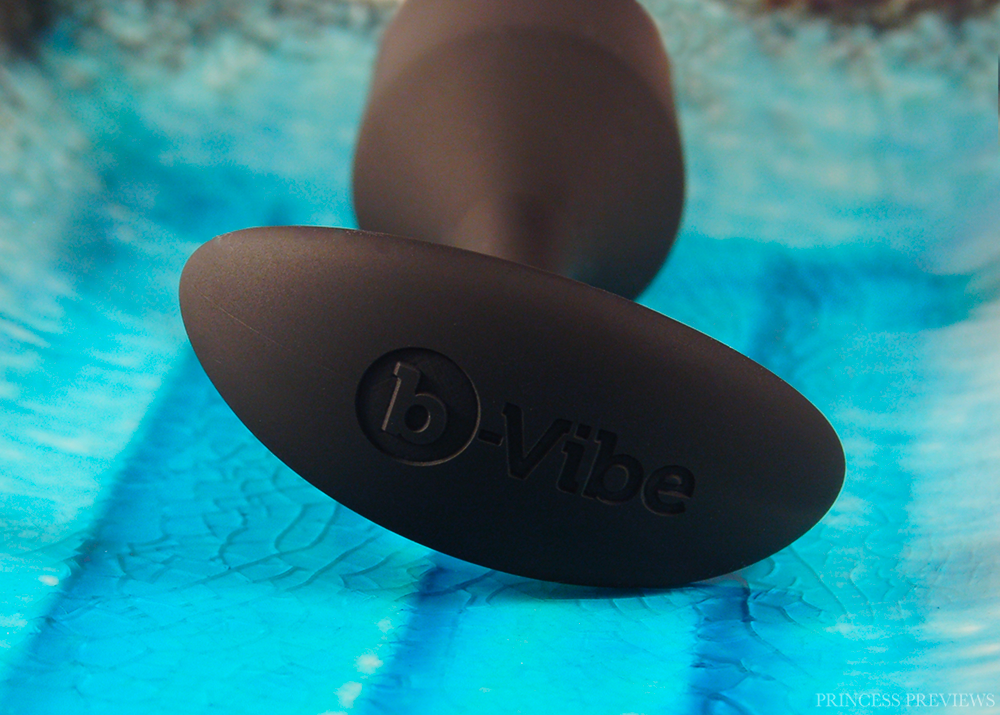 In addition to all these amazing factors, the b-Vibe Snug Plugs just look like good-quality and comfortable plugs, even without their weighted insides. The shape of them fits my preferences, with a T-bar style base (my favourite kind as it fits nicely inside your cheeks, allowing it to be far more comfy than other bases), long skinny neck (a nice contrast from my last plug review), and a tapered head. There is four versions of the plug to choose from, with insertable lengths ranging from 8.6cm / 3.4″ to 13.3cm / 5.2″, diameters ranging from 2cm / .8″ to 4.4cm / 1.7″, and weights ranging from 55g / 1.9oz to 257g / 9oz. The version I have is the Snug Plug 2, which is is 3.1cm / 1.2″ in diameter and 11cm / 4.3″ in insertable length, with a weight of 114g / 4oz. I find this a perfect size for me, as it isn't small (so possibly too large for beginners), but also doesn't require much effort to use. All of the plugs come in black, however all of them, except for the Snug Plug 4, also have their own unique colour too. The plugs have a very faint seam that doesn't effect use, and the b-Vibe logo debossed into the base. Rather than a smooth tapered head, this plug has bevelled edges, however I haven't found these to be an issue in use. The silicone is very smooth, although because of the weights inside it is also very firm, so don't rely on it squishing if you're worried about the sizes.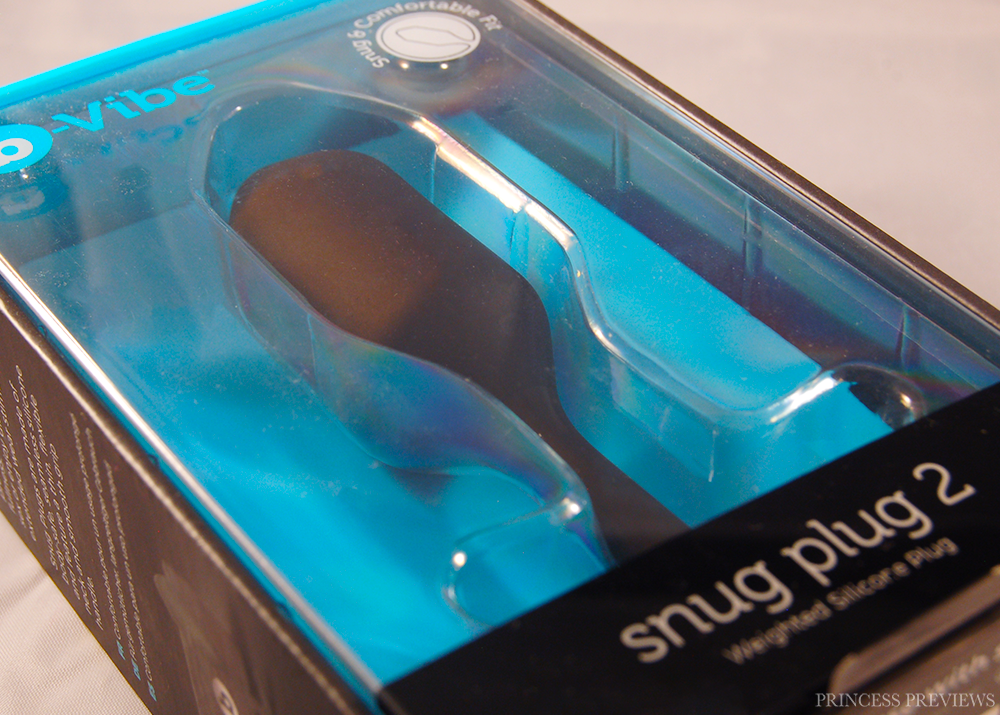 My order with Peepshow Toys for the b-Vibe Snug Plug 2 was placed on the 29th of September and I received it on the 6th of October, which is a fantastic amount of time since it was coming all the way from the US to Australia. The package had no mention of the company that sent it, but did list the items inside as "Massager", which may be an issue if privacy is important to you. The b-Vibe Snug Plug itself came in a very stylish and modern packaging that I was rather impressed by. The box is made from thick good-quality card, which features a clear plastic window at the front so that the toy may be viewed before opening it. Then, rather than having to fuss with opening the box like usual, instead the front of the plastic just lifts up to reveal the toy. On the box the features of the toy are outlined and how it can be used, along with lots of stock photo images of happy smiling people (which is a little strange, but I'm still ok with it). Inside the box is all the add-ons you could ever want. There is a small booklet called 'Guide to Anal Play', and this is fabulous in both the information it provides and its design. I would really recommend reading this if you are new to anal play. There is also a detailed instructional manual, and a fantastic little zip-up purse for storing it in. I've never received anything other than the usual drawstring bags for keeping sex toys in, so this was a nice surprise. Plus it's big enough to keep other things in it too, and can be quickly identified by the b-Vibe logo printed on the front.
I find insertion of the Snug Plug to be relatively easy. I use a bunch of my favourite anal lubricant, and it does take some time and relaxing of the muscles, but otherwise it goes in without issue. I'm not a huge fan of having to prepare myself with smaller plugs before I can put in the one I actually want to wear, so I am glad I don't have this issue with it. I would think that this is little too large for a beginner however, so I would instead recommend the Snug Plug 1 if you are new to anal play. Another thing I like about this toy is that the 'adjustment' period of putting it in doesn't last too long, meaning you can pop it in and then you'll be good to go almost straight away, rather than needing to wait to become use to the feeling.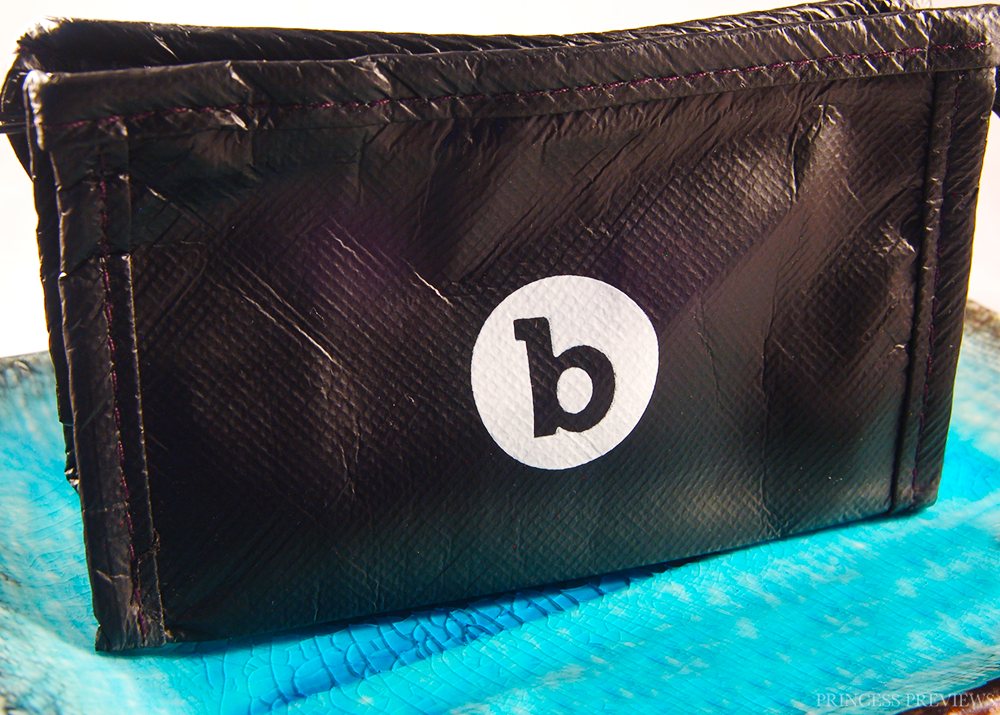 I love all the different uses for butt plugs, that's what makes them so interesting to me, but I find the Snug Plug just screams 'extended wear!!'. It's only during extended wear that I ever want weight in my plugs, as without it I find it easy to forget I'm even wearing an anal toy. You still want a plug to be comfortable, which I find mostly depends on the base, but the weight is what gives you that constant reminder of just how kinky you are being. So, how did the Snug Plug fare? Absolutely perfectly. This plug does all the right things, and is easily the best extended wear plug I've ever tried. The T-bar base and thin neck are super comfy, so sitting down isn't an issue, and I never feel like I have anything unnatural digging into me. Plus, the weight reminds me of the plug's presence, and also feels quite satisfying to have inside of me. I love wearing this around the house while I do chores, and it would be perfect for wearing out as well.
After being smitten from trying the b-Vibe Snug Plug for extended wear, it was time to try it during PIV sex and masturbation. After both experiences I had the same opinion: this is amazing. The weight doesn't really add anything to these experiences, but the size and shape of the toy are perfect when something else is in my vagina. It makes me a lot tighter and increases stimulation immensely, plus angles whatever is inside of me towards my G-Spot or A-Spot. Furthermore, my partner also noted that he loves me wearing it during doggy-style position, as he can then feel it too, letting it stimulates him as well.
Cleaning the Snug Plug couldn't be easier since it is waterproof and made from silicone. Just wash it down with some warm soapy water and then rinse it. Once clean you can leave to air dry, and then return it to its box or storage bag. I like to sterilise anal toys between every few uses, but there is no information about this in b-Vibe's instructions. You can see my notes on sterilising silicone here, but it would be at your own risk as I'm not sure if it would effect the weights. Since the silicone can pick up a lot of hair or lint, you may also need to wash it before use. Make sure to only use water-based lubricants with it, so as to avoid damaging the silicone.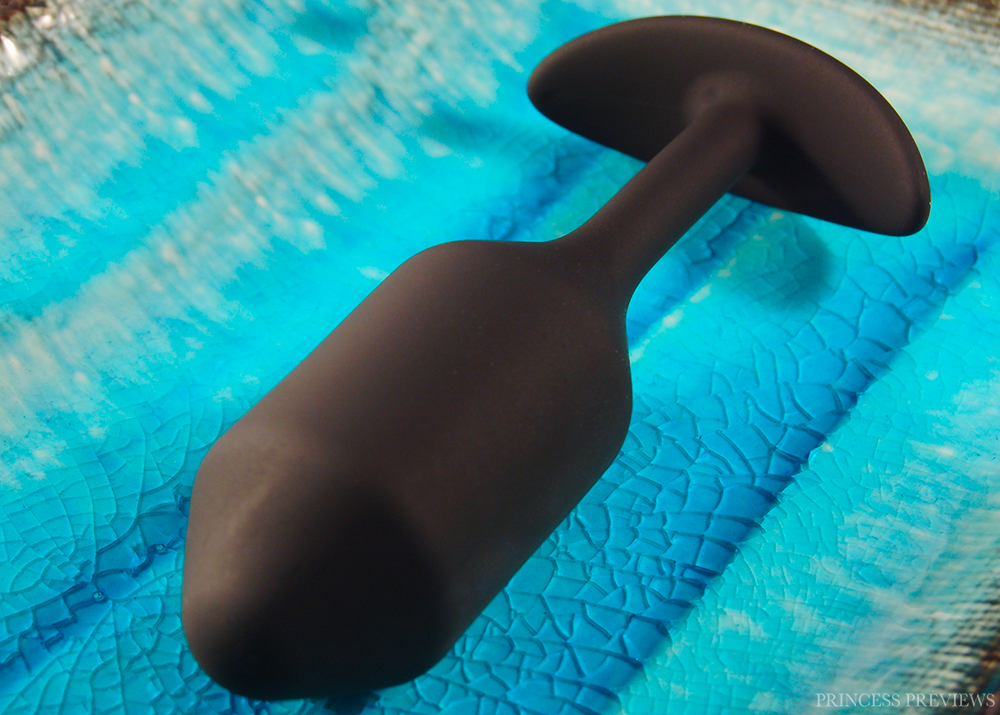 Overall, I couldn't be happier with this toy. This is easily the best butt plug I have ever tried, and since they make up one of my biggest sex toy collections, that is saying something. I have three main uses for butt plugs: extended wear, masturbation, and PIV sex, and it passed every test with flying colours. I particularly enjoyed using it for extended wear, and it was so nice to be able to have something weighted that also wasn't too large. I also love that there is so many different size options in this range, and it feels good to be able to recommend it to people regardless of their preference or experience. Whether you're new to anal play and want a first plug, or a veteran looking to try something new, I would strongly advise buying one of these.
You can buy the b-Vibe Weighted Snug Plug 2 from Peepshow Toys for just $57 AUD / $45 USD, plus use my code GRACE to get 10% OFF your order!
Material - 100%
Appearance - 90%
Solo - 90%
Partner - 90%
Extended Wear - 100%
The best butt plug I've ever tried. Its internal weights make it perfect for extended wear, while the shape and size increases stimulation during masturbation or PIV sex.
I received this product in exchange for an honest and unbiased review. Affiliate links have been used in this post.