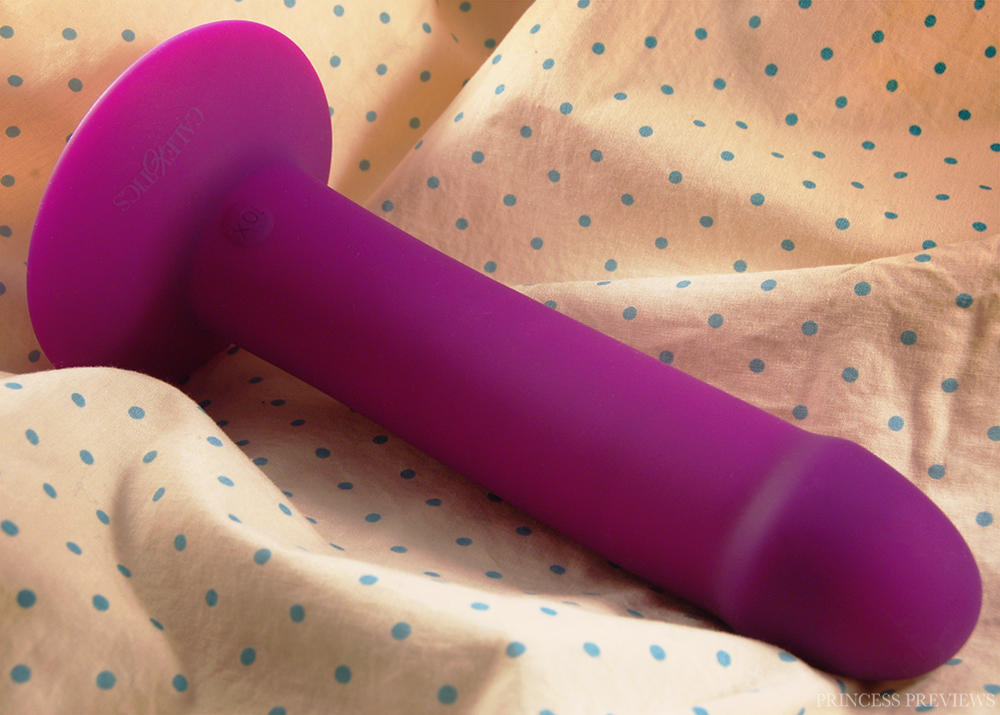 I am a huge sci-fi nut, so the idea of any AI or responsive sex toy design is always something I am hugely interested in. There have been a few, but I haven't heard of anything 'wow' yet, and haven't tried any myself. I believe these toys are going to continue to pop up though, and I'm sure in 10 or so years time they will dominate the market. So recently when I was approached by my sponsor Femplay to review some of their products, I noticed the CalExotics Luxe amongst their range. I was immediately drawn to it due to its supposed 'Touch-Sensitive Technology'. This is the sort of innovative idea that I am really excited to see more of in the sex toy industry, so I was super intrigued to find out more and see how it functioned for myself. I requested it from Femplay and they were kind enough to provide it for this review.
The CalExotics Luxe is certainly an interesting toy that is different from anything else in my collection. At first glance it looks just like a regular silicone dildo, and only after some close inspection would you probably work out it is in fact a vibrator. It only features a single visible button near its base, and this is rather small and hard to spot. Underneath this on the base is then the CalExotics logo printed in a lighter shade of purple. The shape of the toy is quite phallic, with a pronounced head at the top and a shaft with only the slightest curve. It's made with body-safe silicone, and comes in two colours (pink and purple). The most noticeable thing about it when handling it is how hard it is, which is due to the silicone type and the fact that it has motors and such inside of it. I actually didn't expect it to be so firm (although most vibrators are, so this isn't really unusual), and it reminds me a lot of my Tantus Vamp which was made with Tantus's original firm silicone. Luckily for me it is slighter smaller in diameter than the Vamp, with a widest point of 4cm / 1.6″ and insertable length of 17cm / 6.7″. Luxe is also USB rechargeable and fully waterproof, which are words I always like to read on product descriptions. The toy features a suction cup base, which works really well, and this also makes it anal safe and harness compatible.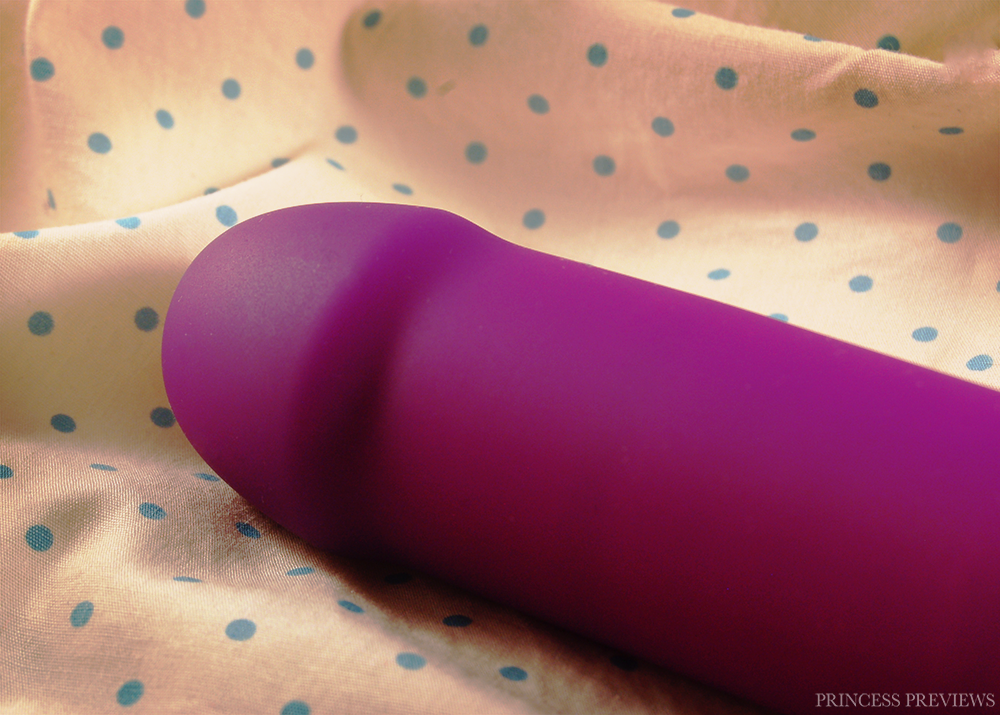 So, you're probably wondering what exactly is special about the Luxe, and what the hell does 'Touch Responsive Technology' mean? Well, on the shaft of the toy there are two 'touch sensors' that are hidden inside the silicone. The idea of these is if either of them is pressed down the toy will vibrate harder, and if both are pressed then the vibrator will vibrate even harder (its maximum speed). You can't access these extra speeds without using the touch sensors. On the advertising and instructions it talks about this function as "the deeper you stroke, the stronger the power'" but I don't know why you would be spending time stroking a dildo, since what's the point of that? Instead, I'm sure the idea of it is actually that the deeper or faster you thrust with the dildo inside you, the stronger the power. Now that is an idea I can really get behind.
I feel as if California Exotics are a brand that need no introduction, but since this is technically my first time reviewing one of their products (my first ever review was actually one of their products, but it was made with an unsafe material and so it's no longer available) I'll give them a quick overview for anyone who doesn't know them. California Exotics (Or CalExotics for short) are one of the biggest sex toy manufacturers in the world and are based in the US. They are proudly women owned and produce a huge range of sex toys, covering pretty much anything you can imagine. They sell things for quite cheap, making them a popular brand for beginners (myself included), but the majority of their products are not body safe, so be cautious when buying from them. Since the Luxe is body-safe it is the first time I have accepted a review item of theirs, and I'm looking forward to seeing whether it lives up to my high expectations.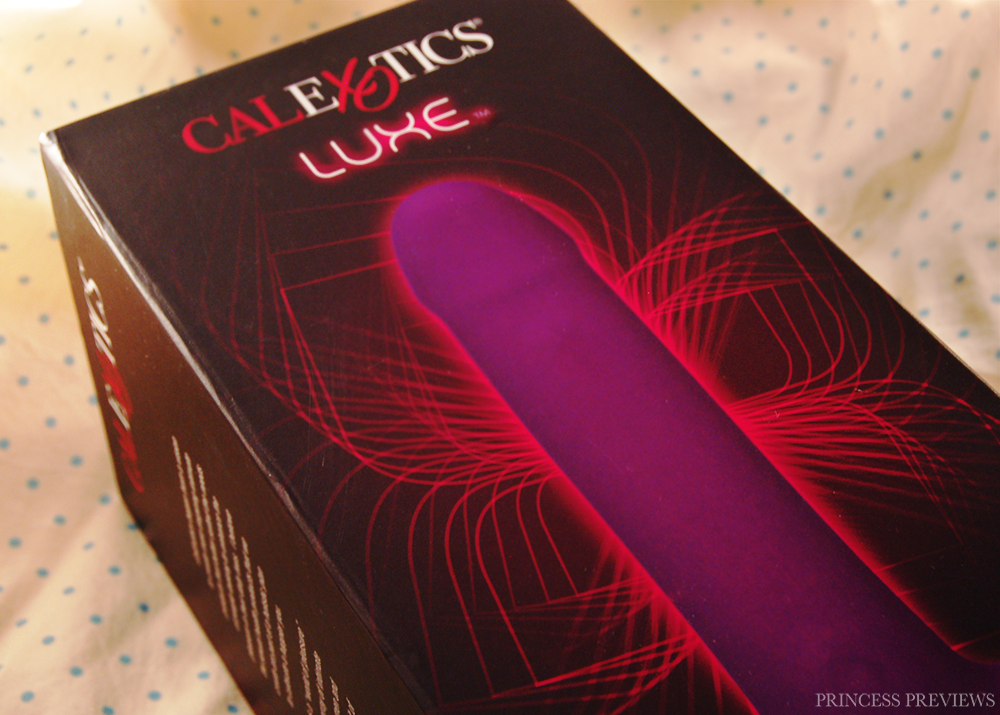 My order with Femplay for the CalExotics Luxe was placed around the 27th of June and I promptly received it on the 3rd of July. The package was completely discreet, with no mention of the sender or what items were contained inside, which is great if privacy is a concern for you. The box for the Luxe itself is big. For a toy that is rather small essentially, this is by far one of the biggest boxes I have received in awhile, so much so that I need to store it in a different location to my other toy boxes. I have no idea why, and there is a lot of unnecessary room inside, so it clearly didn't need to be so massive. Thankfully, despite its size the packaging is actually rather nice. It has a simple photo of the product on the front, along with information about the product on the rest of the box, and then the front of the box unwraps after being magnetically held in place to reveal the toy and charging cord. Frustratingly the instructions for the toy are written on the inside of the box, meaning if you plan on throwing away the box to save space you'll have to learn or record these first. Since the toy doesn't come with an alternative storage solution I use a zip-lock bag to keep the Luxe clean.
Since the CalExotics Luxe is USB rechargeable charging it is super easy. Just plug the cord into the small hole in the toy's silicone above its base, and then the other end into a USB port. It will take 4 hours to fully charge, and after that you should get about 1 hour of play on the highest speed.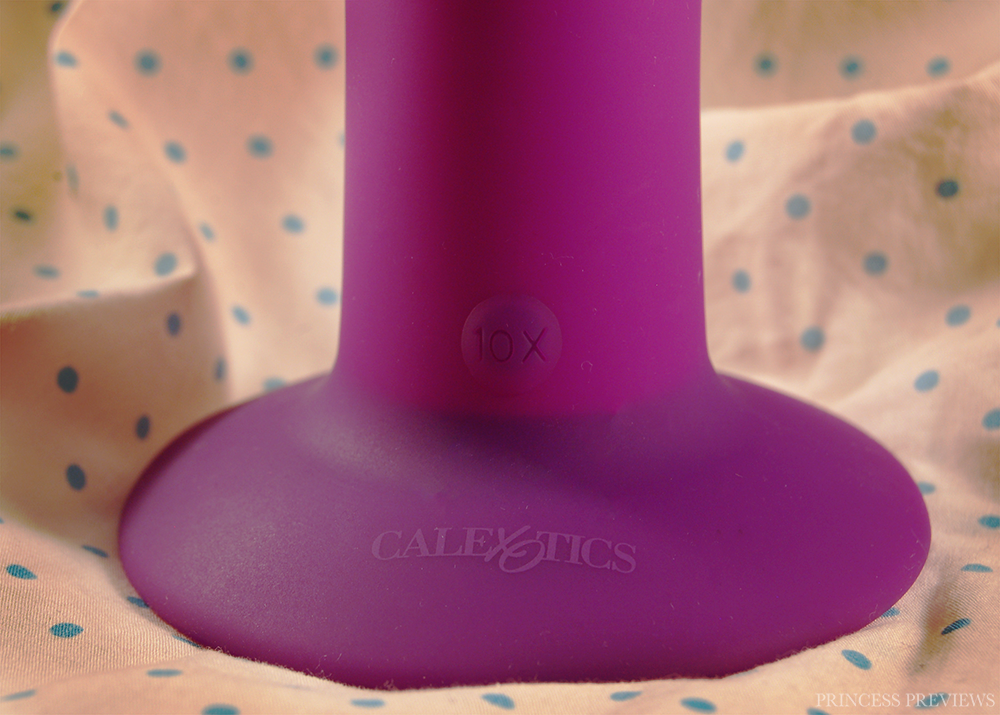 The small single button on the Luxe lets you access the toy's 10 vibration types. It only has 1 steady mode and then 9 pattern modes, but because the 'touch points' allow it to increase its speed twice, it technically has three versions of each mode, giving it 30 modes in total. So while I would usually be outraged by only 1 steady speed, this toy makes it work. Clicking the button once will turn the toy on, and further clicks will cycle through the speeds until the cycle begins again. To turn it off you need to hold the button down for three seconds, which will also annoyingly make it switch to the next vibration in the cycle.  However the toy will always begin at the initial steady speed, making it easy to get back to, which is a feature I love. The button also lights up, so it is easy to locate while in use, and it also helps work out which way up the toy is facing whilst inside you.
Turning the vibrations on for the first time they seem fairly good, although a little weak and buzzy. The noise level is pretty good too, with it certainly being loud but not unreasonable. This may be able to be heard behind closed doors, but if you are far enough away from anyone you are worried about hearing you then I think you'll be fine. Using my hands I find the 'touch sensors' need a fair amount of pressure to activate the first time, but after this they seem to not need as much.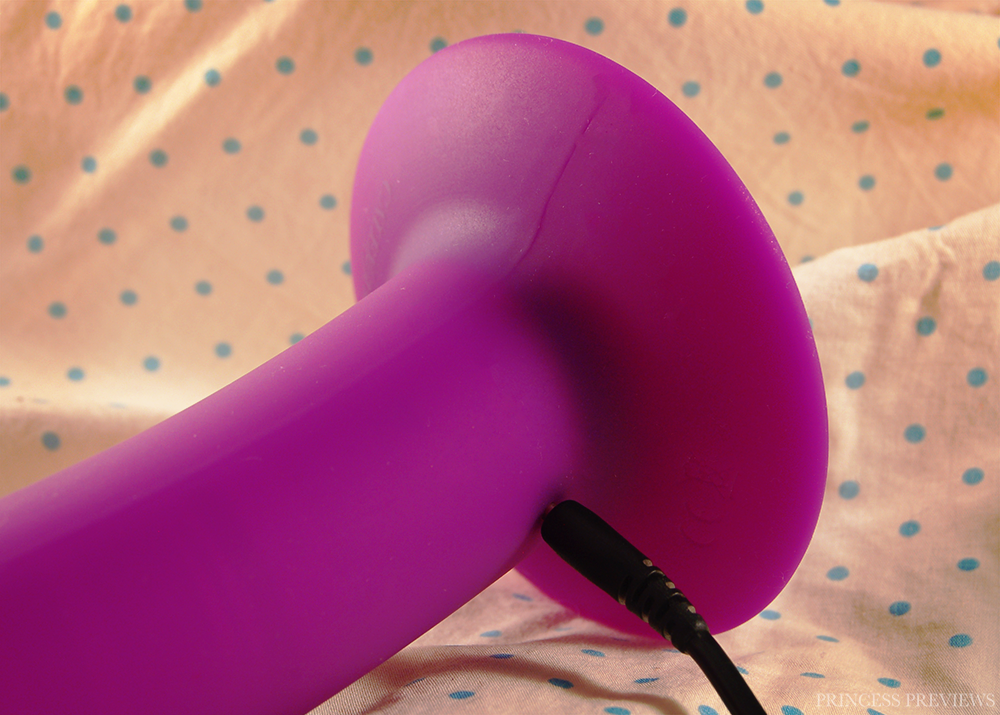 To use this toy I need a fair amount of warming up first due to the firmness of the silicone and its size. I do this by using other toys of gradually larger sizes, and lots of orgasms! Due to this it is certainly not a a toy I can use all the time because of the effort it requires. Once inside I simply find it strange. Before I even turn the vibrations on I feel like my body just don't 'get' this toy. I've never had a toy with such a firm straight shaft before (except for the Vamp, but I struggle to use that one at all), and I honestly don't know what I'm supposed to do with it. It can't stimulate my G-spot at all, and it is too firm for my A-spot. Thrusting it is enjoyable (it's hard for this not to be with any toy), but I don't enjoy it as much as my softer more realistic feeling dildos. Instead it just feels unnatural and alien inside of me, and not in a good way. It's a shame, but after all it was designed to be a vibrator, not a dildo, so I hoped things would improve once these were turned on.
Turning the vibrations on whilst the toy was inside of me for the first time was…. underwhelming. I still found them buzzy, but mostly it was because I had nothing to put them up against. This is my first internal vibrator that isn't designed to stimulate my G-spot, and it quickly became apparent to me that if the vibrations can't hit my G-spot, then what is the point of them? They don't add anything to my thrusting and don't stimulate my A-spot either, so it makes them very hard to enjoy. But what's more, where was the touch responsiveness? No matter how hard I thrusted, the strength of the toy didn't change. Now, I think that toy test was the messiest I've ever gotten while masturbating, taking that toy in and out of me trying to get the touch sensors to go off. After further testing my main conclusion is that they are just very glitchy. Sometimes they work, but the majority of the time they don't. One time the toy even got stuck on the highest setting… which hurt. If it does work when inside of me, it'll be when the toy is at its deepest point (regardless of how fast I'm going). This sounds fun, but if you imagine how fast you thrust a dildo in and out of you, and then imagine it constantly turning off and on the highest setting whilst you do that, you kind of get the idea of how not fun it can be. Plus, the highest level is so overwhelmingly strong and buzzy that it drowns out any clit vibes I might be using, making it hard to use the toy with any others. Overall, I can orgasm with this toy, but I don't particularly enjoy using it, and find the vibrations too frustrating for proper use.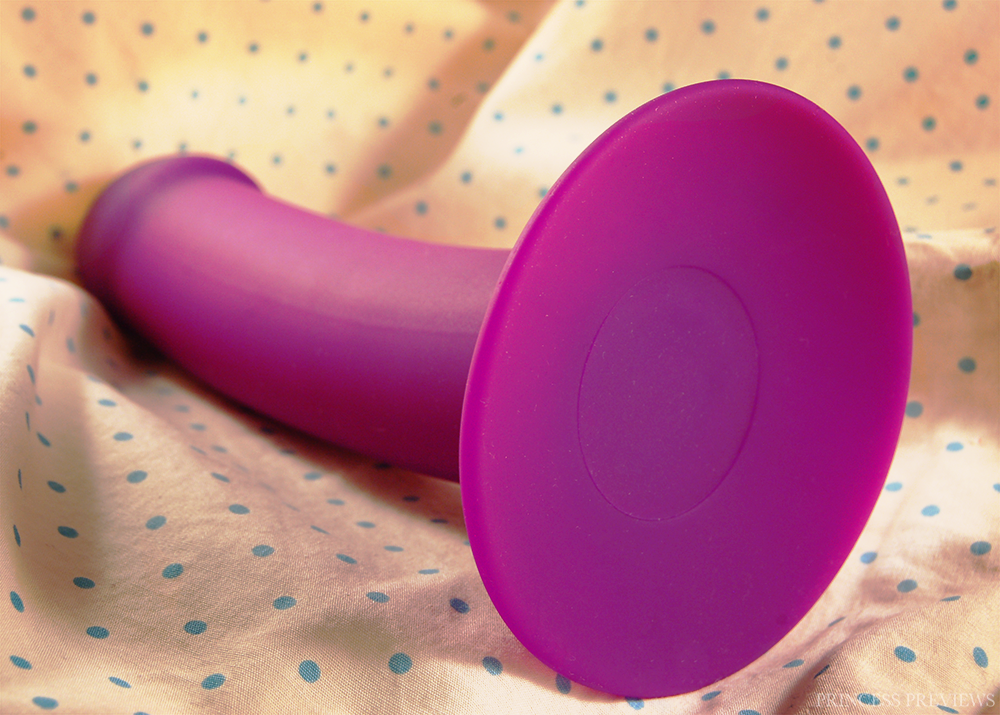 Furthermore, a word of caution to anyone who might get this toy: turn the vibrations on after the toy is already inserted. I once made the mistake of turning them on first, and, of course, the touch sensors activated and put the highest speed on whilst I was in the middle of insertion… ouch!
Since this toy is made with body-safe silicone and is fully waterproof cleaning it is easy! Just wash it in some warm soapy water and then rinse it. Then leave it to air dry and return it to its storage. Ensure you only use water based lubricants with the toy since other lubes may damage the silicone.
Overall the California Exotics Luxe just seems like a toy that was once a really cool idea on paper, and then it was made and didn't make a whole lot of sense, but was released anyway. Looking at it now I can understand why a toy like this would be a struggle, it must be hard to get touch sensors to work whilst the toy is inside the body, and having the vibration speeds turn on and off again whilst in use must be hard to balance. CalExotics clearly had difficulties with this toy, and while I can understand them, there is no excuse for releasing a toy that barely even works to the market with a $100+ AUD price tag. During the many times I tested this toy the 'Touch Sensitive Technology' only worked once, and that was after I spent ages trying to get it to do so, so if you consider this the Luxe's most appealing quality then any customer would be sadly disappointed. If you take this away, not that it is really there anyway, then you are just left with an unenjoyable dildo with weak vibrations. Maybe for some people the shape and firmness of this toy would be perfect for their preferences, but if you are intrigued by the idea of responsive design like I was, then please, save your money.
If you are in Australia you can buy the California Exotics Luxe from Femplay for just $107.49 AUD!
For everyone else you can buy it at Peepshow Toys for just $69 USD!
Material - 100%
Appearance / Design - 30%
Solo - 55%
Partner - 35%
Vibrations - 65%
Noise Level - 70%
The main selling point, the 'Touch Sensitive Technology' barely works, the vibrations are buzzy, and I don't enjoy the shape of the dildo.
I received this product in exchange for an honest and unbiased review. Affiliate links have been used in this post.