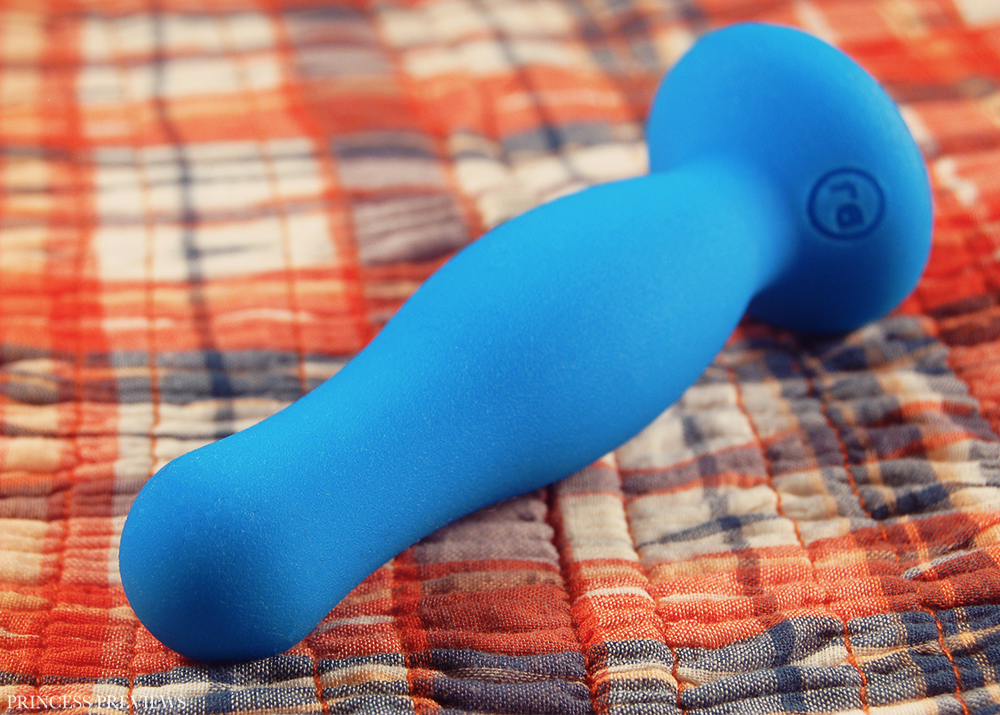 Back in 2016 I started a review series looking at beginner's butt plugs that were both good quality and cheap, so that anyone new to using them would have a few options on what to start with, without breaking the bank. Butt plugs are still one of my favourite sex toys as they are a fantastic entry-level kink toy and very versatile, but sadly 2017 didn't seem my year for them, as I only ended up reviewing one. So, to ensure that doesn't happen again this year I wanted to start 2018 with a butt plug review right off the bat, and to bring back my 'good quality and cheap beginner's plugs' series. In this regard, today's review is on the Doc Johnson American POP! Mode silicone butt plug in 4 inches, which has been kindly sent to me by Peepshow Toys.
The Doc Johnson American POP! Mode butt plug is about as simple as you get with a toy like this. It has a very sleek and thin design, with only a very slight bulge along its length. I have the 4″ / 10cm length version, which is the smallest of the three in this series (the others are 4.5″ / 11.5cm and 5″ / 13cm). The actual diameter of the toy is 1″ / 2.5cm, whilst the insertable length is 3.5″ / 8.9cm. This makes it almost my smallest plug, only just being beat out by my Bondara Velvet plug which has a diameter of .98″ / 2.4cm. However, the Mode's shape and design is quite different to other plugs (Doc Johnson describe it as a 'bowling pin shape'). Whereas most have a large tapered bulb which ends in a thin neck and then a wide base, the Mode does its own thing entirely and is like no plug I've ever tried before. There is no skinny neck, in fact the entire thing aside from the base is a rather consistent size. There is also barely any tapering, only a rounded head to aid insertion. Due to this I think it'll be an interesting review to find out if this design actually works or not.
The toy is made out of body-safe silicone, and has quite a tacky and grainy texture. Its base is round and features the Doc Johnson logo, which is carved into the silicone. The Mode also comes in four colours, blue (what I have), pink, purple, and yellow. I really adore the yellow and blue designs as these are colours you don't see often in sex toys (although sadly Peepshow Toys don't stock the yellow version).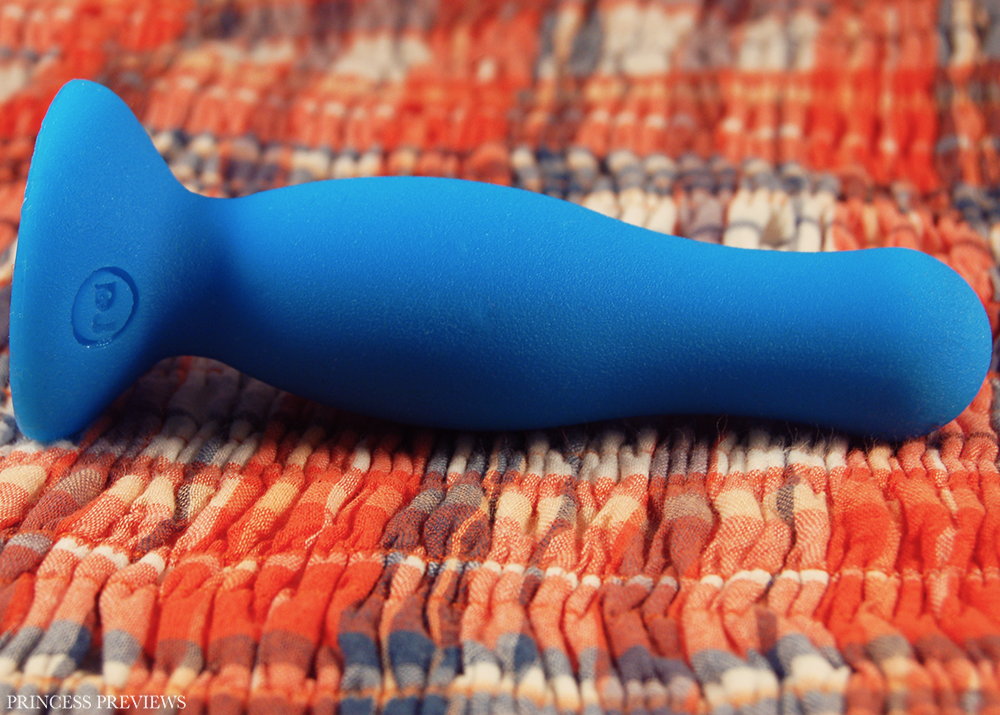 While I have reviewed quite a few Doc Johnson products lately for Synergy Magazine, this is my first product of theirs actually on my blog. Due to this I'll give them a quick introduction, however if you know sex toys then you probably already know them. Doc Johnson are one of the biggest sex toy manufacturers in the US, and probably in the world too. They make a huge variety of products, and cater to all price ranges. All their toys are made in America, and this is a fact they are very proud and open about. Not all of their products are body-safe though, which is why I generally don't review their items. Thankfully, this particular plug is, so I was more than happy to accept it for review. Do be careful when choosing products from them however, as even other toys in the POP! collection aren't body safe, and they don't always make this clear.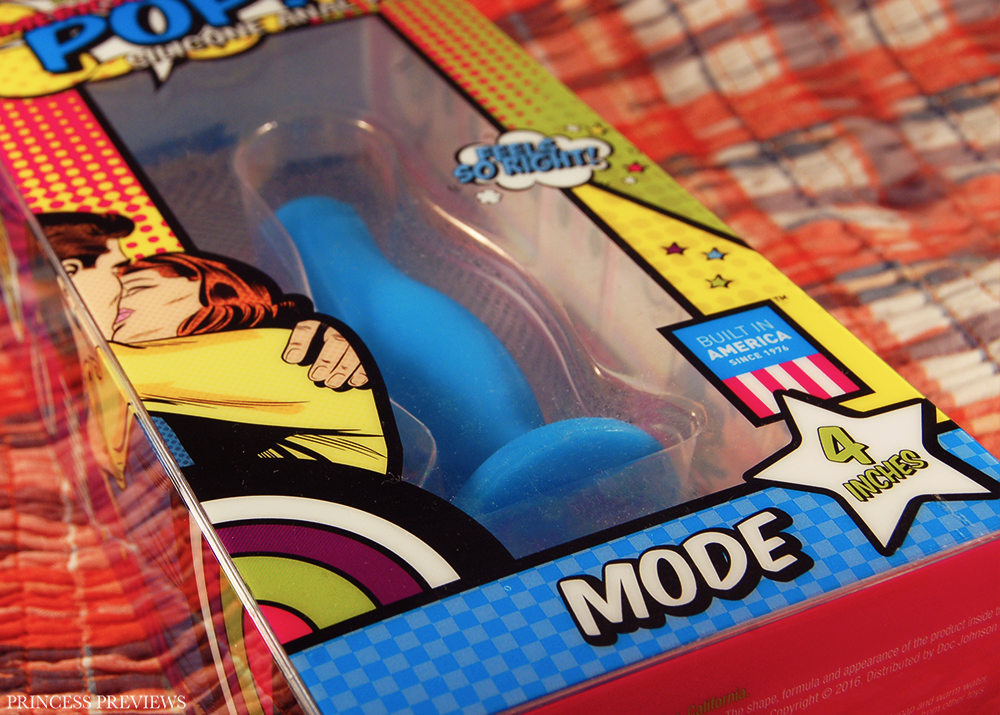 My order for the Doc Johnson American POP! Mode was placed with Peepshow Toys on the 23rd of May and it arrived on the 30th of May, which was a fantastic time frame considering it was coming from the US to Australia. The package had no mention of the company that sent it, but did list the items inside as "Massager", which may be an issue if privacy is important to you. The box of the product itself uses bright pop-art style colours and artwork, reminiscent of a Roy Lichtenstein painting. It is clearly meant to appeal to a young audience, and I think it does this well, especially since it is a toy aimed at beginners. Despite the fun graphics there is still a clear window which lets you view the toy directly, which I like. The box itself feels very cheap, as it's just made from plastic, and there is nothing inside it other than the toy. Brief instructions for cleaning are written on the bottom of the box, which is frustrating as most people will need to write these down to be able to then throw the box away if they aren't familiar with silicone cleaning. The box could be kept for storage purposes, but it is very bulky and large compared to the toy itself.
While I love plugs, it has been a busy year for me and so I honestly can't remember the last time I wore one prior to testing this item for review. Despite this though I found it easy to insert, even without a tapered head (so it should be fine for beginners). However, the strange shape immediately becomes obvious once inside. Usually when putting a plug in it's a lot of work, and then sudden relief once it 'pops' inside and you settle around the thin neck. However, with the Mode there is no relief, and it always feels like it is still halfway through being inserted. It reminds me a lot of a small anal dildo, rather than a butt plug, as there is essentially no 'plug' element. It is quite uncomfortable, and I find my body has trouble adjusting to it, as I constantly feel 'open'. What's more I find it always feels like it is about to fall out, as there is nothing really keeping it in, and a few times it has fallen out, which is not fun. It makes wearing this plug a worrying, and sometimes painful experience.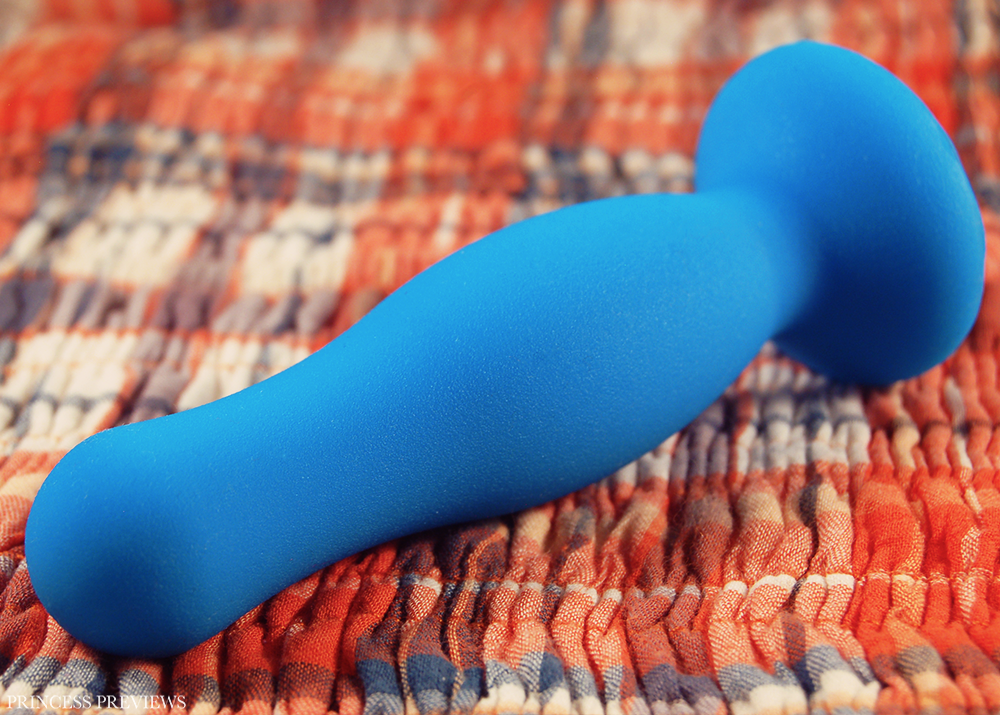 The first time I tried it out it was for extended wear around the house for a few hours whilst I did chores. Aside from the constant fear of it falling out, I found it alright to wear but nothing special. Since it is so light and thin I found it was rather hard to feel, and this was only helped slightly by its length. Furthermore, the round base was very uncomfortable and unnatural feeling, as it meant my cheeks were constantly spread. This is why I generally prefer T-bar style bases for butt plugs, as these fit in place naturally. Any feelings I did receive from the plug itself were mostly overpowered by the uncomfortableness of the base. At the very least I found it comfortable to sit down with, and this eliminates the worry of it falling out. Perhaps this would be a good toy to watch a movie with.
Next I tested it during PIV sex with my partner and alongside my solo masturbation with internal toys. In both cases I found it a struggle, as the toy would often fall out or at least feel like it was about to, which made me spend most of the time worrying about it and not focusing on the task at hand. Plugs should be something in the background that you don't have to worry about, simply adding extra stimulation and pleasure, and this was the opposite of my experience with the Mode. Furthermore, my partner found that he received no extra stimulation from the plug and could not feel it whilst inside of me, which is likely because it is so thin. Overall I did not enjoy using it in these two ways at all, as I found it incredibly frustrating and distracting.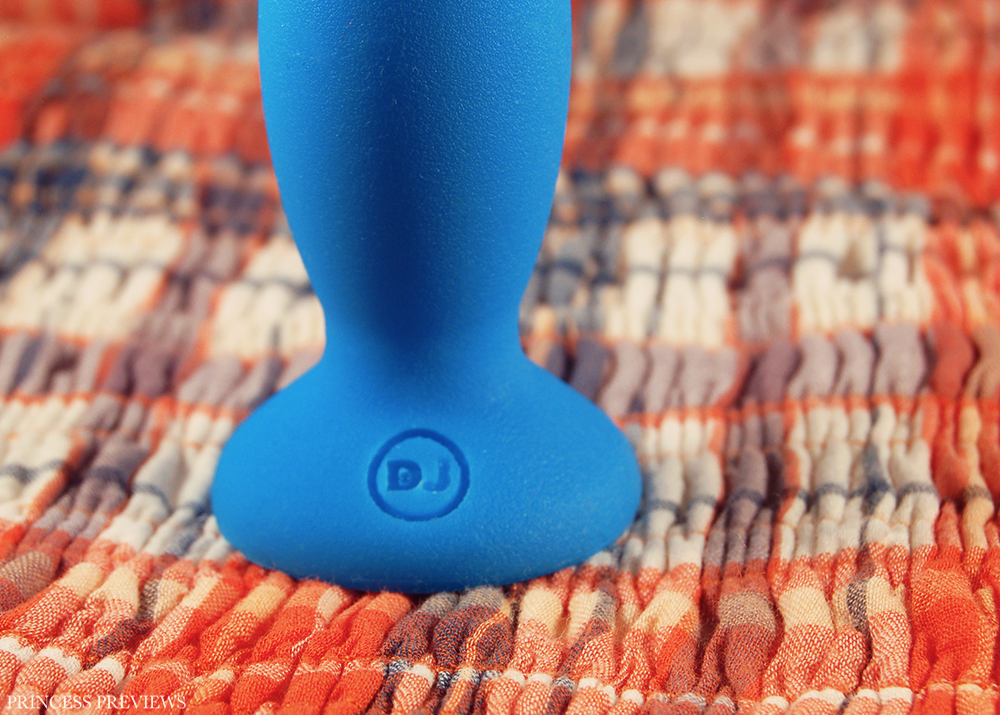 Since this toy is waterproof and made out of body-safe silicone cleaning it is rather easy. For general cleaning just give the Mode a wash with warm water and some soap. Be careful to clean out the Doc Johnson logo on the base of the toy though, perhaps with a spare toothbrush, as bacteria can easily hide there. For a more extensive cleaning, which you should do every few uses or when sharing between partners, you can boil it for 3 minutes. Afterwards return it to its storage solution, such as a zip lock bag. Since the silicone can pick up lint you might also want to wash it before use, and only ever use water-based lubricants with it.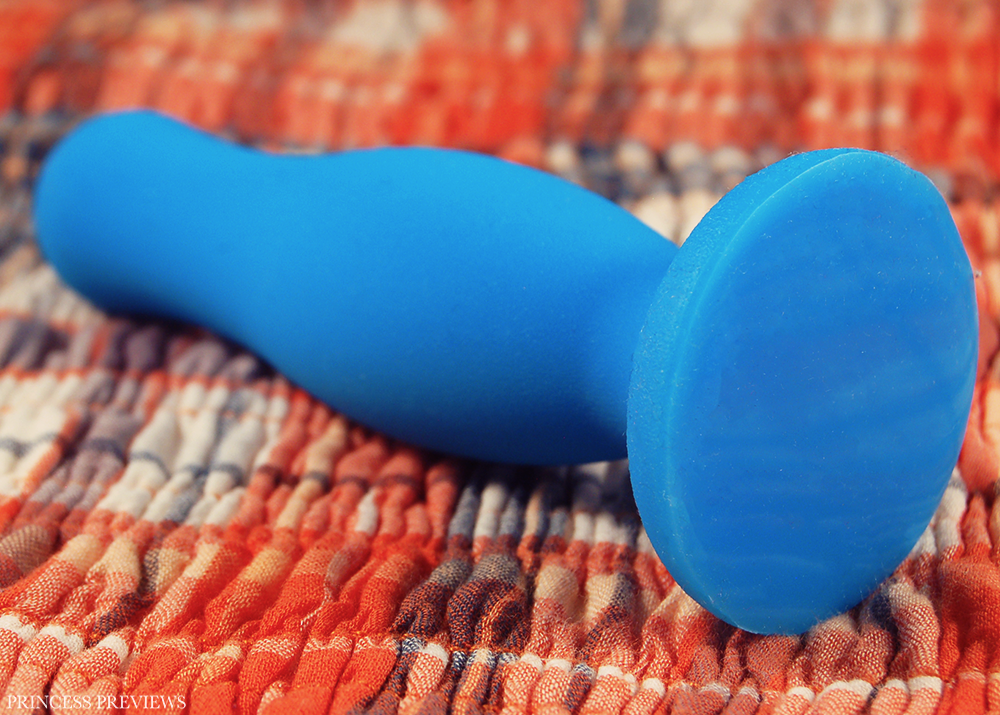 Overall, I am very disappointed by this toy. I like that Doc Johnson tried to do something different by moving away from mainstream plug designs and making their own, but I feel like the flaws the Mode has should have been picked up by their own testers prior to it being approved. I thought it would work, that's why I asked to review it, and I didn't doubt it until putting it in my ass. But after the first test it was clear this is one of the worst plugs I have ever reviewed, and my opinion of it only got worse after every other test. It is certainly cheap, good quality, and suitable for beginners, but would I recommend it? No. You should never have to worry about a plug falling out, that defeats the purpose of them! The only use this might be suitable for is when sitting down, such as going to the cinema or out for dinner, but then again I found the base and lack of thin neck also uncomfortable. Additionally, this might be a good option to use if you are after a small anal dildo for anal training, as it is the perfect size and shape for this. But if you are after a plug, I'd instead recommend checking out my other two reviews in this series.
You can get the Doc Johnson American POP! Mode 4″ from Peepshow Toys for just $24 AUD / $19 USD, and use my code GRACE to get 10% OFF your order!
Material - 80%
Appearance - 80%
Solo - 35%
Partner - 25%
Extended Wear - 55%
Without a skinny neck before the base it feels constantly like it's going to fall out, and sometimes it does.
I received this product in exchange for an honest and unbiased review. Affiliate links have been used in this post.