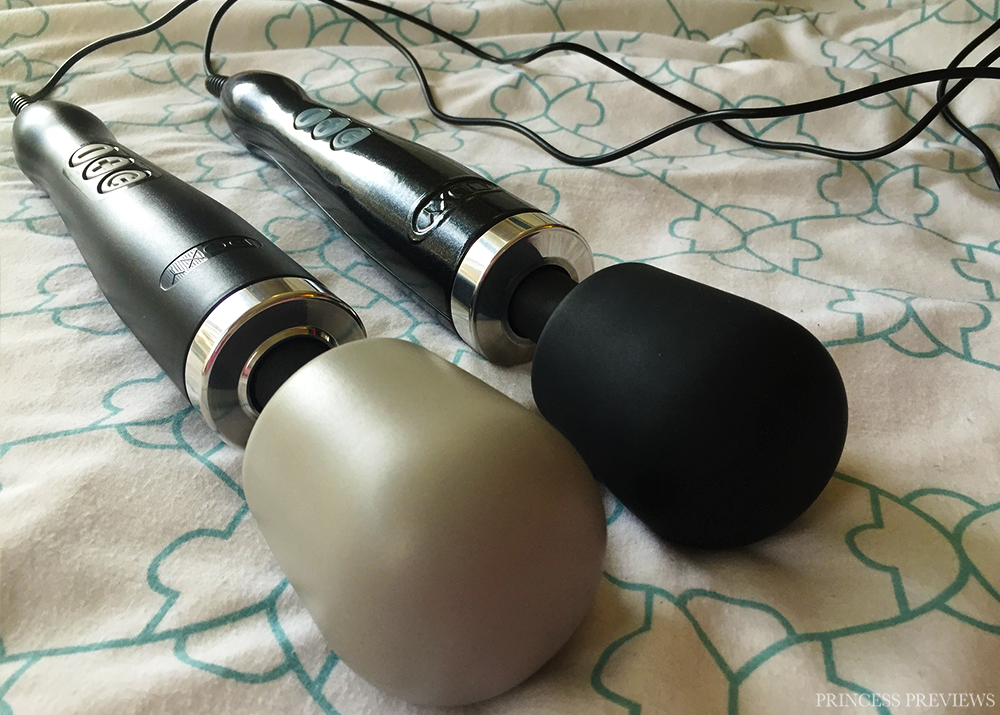 If you know me or are a regular reader of my blog you'll know that I love wand massagers. I throughly enjoy dildos and anal toys but I think of them more like a fun novelty, whereas clitoral vibrators, with wand massagers being my favourite kind, I think of more as a necessity. I'm a pretty busy person and I generally have time to masturbate properly (porn + dildos + more than 5 minutes) about once a week, and once I do then also managing to clean whatever I've used is a whole other thing. Wand massagers, on the other hand, let me cum ridiculously quickly with almost no effort and can require no cleaning if I use them through clothing. They are perfect for my lifestyle and my body.
About two months ago I posted a review for my beloved Magic Wand Rechargeable. While I still love this massager, during the writing process for the review it became very apparent to me how uncomfortable I was recommending a product to my Australian and other non-US readers that they couldn't conveniently or properly use outside of the US due to the Magic Wand's warranty restrictions. Because of this throughout the review I made it quite clear that I would recommend a Doxy Massager over a Magic Wand for those outside of the US, even though I had not yet tried it myself. After the review went live I wanted to make sure I had made the right decision in this recommendation, so I set out to try and obtain a Doxy for myself so I could finally promote a wand I was proud of. So you can imagine my excitement and happiness when I received not one but two Doxy Massagers within about a week of each other. One is an original Doxy Massager in Black that was sent to me directly from Doxy, while the other is the upgraded version, the Doxy Die Cast Massager in Black, which was sent to me by one of my favourite retailers, Lovehoney! While I have written another more concise review just for the Die Cast on its Lovehoney product page I thought by getting both at the same time it would be the perfect opportunity for me to write a comparison post between the two here at my blog. I'll also be comparing them briefly to the Magic Wand in order to point the differences between these two legends of the sex toy industry.
The Doxy Massager is a mains-powered wand vibrator made in the UK which aims to provide an international version of the famed Hitachi Wand (now the Magic Wand) while surpassing its strength to become the most powerful massager on the market. The two models I have may initially look the same apart from some of the colours, but there are many differences that separate the two. The main qualities of the original Doxy Massager is its plastic body and grey PVC head. PVC is a material I usually avoid when it comes to sex toys as it is porous, but since I'll be using the wand externally I allowed it. This means that the head can deteriorate over time and keep bacteria, so I'll only be using this one through clothing and never directly against my vulva. The head however is quite soft, far more so than any of my other wand massagers, plus it doesn't attract lint. My Doxy is black, but it also comes in pink, purple and white.
In contrast, the Doxy Die Cast has a black premium silicone head and a body made of a beautiful and glittery aluminium and titanium alloy. Straight away I'm much more drawn to this version because of its body-safe silicone head, but it is the luxurious metal body that really takes this Doxy to the next level, changing it from just another massager to more like a work of art. The only issue with the Die Cast is that it is fairly heavy, weighing in at 700g / 1.5lb (while the Doxy is only 500g / 1.1lb and the Magic Wand is 600g / 1.3lb), which isn't an issue for me but may be for some. The head is soft and very smooth, but quite firm and does pick up a fair bit of lint. The Doxy Die Cast currently only comes in black or its non-coloured silver version, but versions in red, white, purple will be coming out soon.
The general look of the two toys is essentially the same, they are both 33 cm / 13 inches long with a 19 cm / 7.5 inches head circumference and can come with either a US, AU, EU or UK plug. Both toys have the Doxy name branded on the top of the handle, although the Die Cast's branding is far more defined. Above the handle on both is a metal top and then the neck which allows some good flexibility and movement for the head. The buttons on both are quite large and straightforward, plus they feature the symbol for what it does imprinted on them, making it very easy to control the toy without looking or in the dark. To add to this the Doxy Die Cast's buttons also light up with a cool blue which also really adds to the toys luxury appearance.
The packaging for both was simple, a white cardboard box with the brand name written across it, however the original Doxy's box also came with a sleeve that had a picture of the toy and various information on it. Inside was the toy and an instruction manual that also contained one year warranty information. If you were hoping for something to store the Doxy in however I would recommend getting the non-coloured Doxy Die Cast which comes with an awesome custom storage case.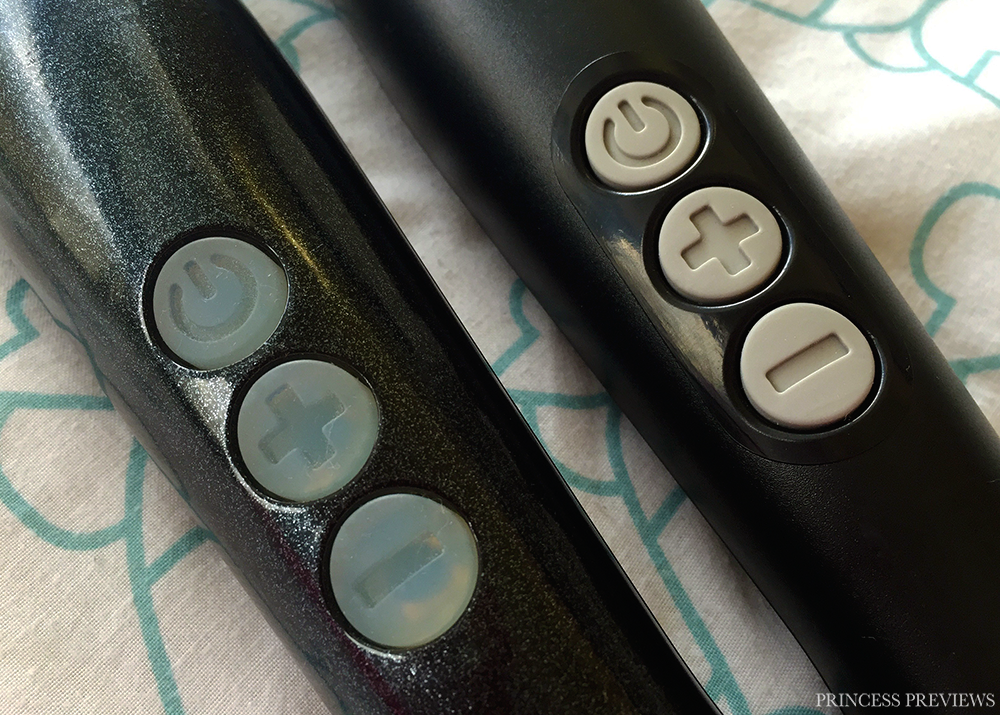 The controls for the Doxy are super simple and rather different from the Magic Wand's which is what really sets the two apart. First off Doxy only has one type of patterned mode, which is more of just an escalating vibration that you can change the speed of using the + and – buttons, whereas the Magic Wand has four different types of patterns with no customization. Next, the Magic Wand has four vibration levels that you can cycle through incrementally every time you hit its button, meaning you could go from a nice easy level to a jack hammer type with just one button click. For the Doxy, however, when you press on a button you can hold it down to slowly increase the vibration levels, making increasing the power a lot more enjoyable and gradual task. Because the Doxy has this gradual increase of its power levels there isn't a defined amount, but I've counted about seven different levels when going through both of them. Another special thing the Doxys do, that the Magic Wand doesn't, is that it picks up the speed from where you left off. So if you are using the Doxy and then get a text message mid-session that you need to answer, when you turn the Doxy back on it'll remember whatever speed you were at and go right back to it without you needing to go through the trouble of finding that perfect setting again. I often stop and start when I'm masturbating so I found this really convenient.
The Doxy boasts that it is '30% more powerful than the Magic Wand' although personally I can't really tell the difference. Maybe it is true, but they are both just so damn powerful that they really just feel the same to me. I can't see anyone ever being disappointed with the strength of either though, so I don't think this is really a worry. As for noise level the original Doxy is easily the loudest of the bunch and of any of my other sex toys. If you live with housemates or parents this is the sort of toy you're going to need for them to leave before you can use it. While the Magic Wand vibrations feel the same as the Doxy's it is slightly more high pitched, and so this is the second loudest. That leaves the Doxy Die Cast as the quietest, and while it is not whisper quiet, I think you could easily get away with it under some covers and behind a closed door.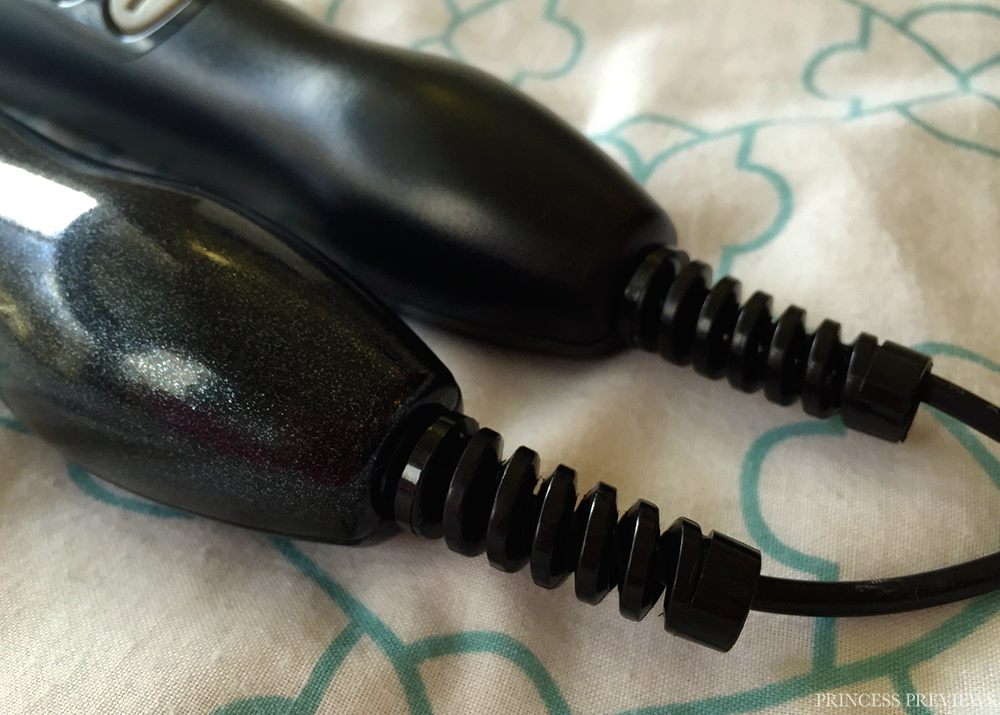 If you've read any of my previous wand reviews I've made it pretty clear I really dislike corded vibrators. They are frustrating to move around and clean, plus if you don't have easy access to a power point then they can be hell. The Doxy was no exception to this as I expected, although they have done a few things to help limit my usual annoyance. First up the cord is 2.8 meters / 9.2 feet long which means if I have the toy plugged in at one end of my bed it can easily reach all the way to the other side. The other thing they've done isn't huge but it is something I really like personally. I generally like to masturbate under covers since I do it when I wake up or before I go to bed, but using a wand massager under covers is not the easiest task since when you have a cord sticking out of it the weight of the covers pushes down on and bends it, which was always a huge issue when I used the Magic Wand whilst it was charging. The Doxy however has a sort of protection casing around the wire (see pictures for a better understanding), which means I no longer have to worry about damaging the cord when using it under my covers, now that is smart sex toy design!
At this point you are probably thinking the difference between the two Doxy's is purely cosmetic and wondering if it is worth the extra bucks for a silicone, light up, heavier version of the toy. However one of the biggest differences and improvements upon the Doxy that has transformed it into the Doxy Die Cast is the improvement on its residual vibrations in the handle. Residual vibration just refers to the fact that while all the vibrations should be contained to just the head of the toy they can often effect the handle too, which can make the toy hard to hold and cause numbness. The Magic Wand and Die Cast handle this really well, however the original Doxy has quite a lot of vibrations in its handle, which while it isn't a huge issue for me as long as I don't use it for long, it could be for some.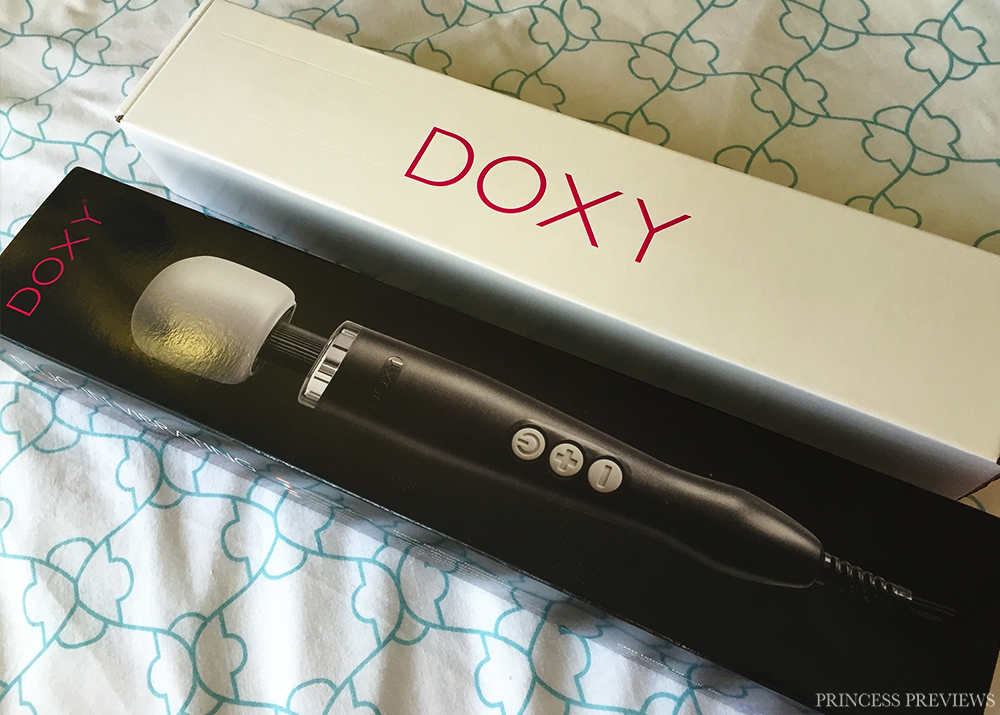 I've found reviewing how these massagers actually feel to be the most difficult part of this review. Essentially they are all the same great toy and all make me generally feel the same way (fricking amazing), and instead it is the different qualities and features I have been discussing that separates them all into the unique and very worthwhile sex toys that they are. I really love the original Doxy, even despite the fact I have to use it over underwear, although while the head is very soft around its width, if you actually press down on it from the top it's quite hard, which I don't enjoy as much as the softer silicone heads of the other two. The Die Cast and Magic Wand are very similar, the only thing I can really say here is that the Magic Wand has a flatter top, making it better for broad stimulation than the Doxy.
When cleaning these toys be careful since they are both non-waterproof, so just wiping them down with a damp cloth and some soap or toy cleaner is advised. For the Die Cast since it has a silicone head be sure to only use water-based lubricant with it and for the original avoid oil-based lubricants. When storing the original Doxy be careful to let the head come in contact with any of your silicone toys in case it causes issues with the PVC.
In conclusion, the Doxy Massager is a powerful wand style vibrator that truly lives up to all my high expectations for it. After comparing the two I've found I enjoyed the Black Die Cast version far more than the original, primarily due to the silicone rather than PVC head, so if you can ever afford both I would definitely recommend the the Die Cast over the original. However, that is not to say the original is not a great toy in its own right and if you choose to get that one instead I'm sure you'll enjoy it just as much as long as you care for the PVC properly. As for the Magic Wand compared with the Die Cast, while the two certainly had many differences that would really depend on your preference of how you like your sex toys to work, the actual use of the toy was pretty much the same. Because of this, if you are in the US I would recommend which ever massager you feel most suited your preferences (cord or no-cord etc.), however if you are anywhere else I would 100% recommend a Doxy instead of a Magic Wand, that way you will get to keep your warranty and get the right plug. I think it is also worth noting that unlike the Magic Wand, Doxy are still expanding and creating new features and attachments for their massagers, so it is really a company you should want to get behind and support. I'm so glad and proud to say that after this the Doxy Black Die Cast has fast become my new favourite sex toy.
You can buy the Doxy Extra Powerful Massage Wand Vibrator for just $199.95 AUD / $134.99 USD from Lovehoney AU and US
The Doxy Extra Powerful Black Die Cast Massager has been discontinued at Lovehoney, so you can buy it directly from Doxy for $258 AUD / $197 USD!
Alternatively, you can buy the Magic Wand Rechargeable for $124.95 USD from Tantus or $171.41 AUD from Vibrant
Doxy Die Cast
Material - 95%
Appearance - 100%
Solo - 95%
Partner - 95%
Vibrations - 100%
Noise Level - 75%
The Doxy Die Cast easily out-does its original and has truly wow'd me. This is one amazing sex toy.
I received this product in exchange for an honest and unbiased review. Affiliate links have been used in this post.