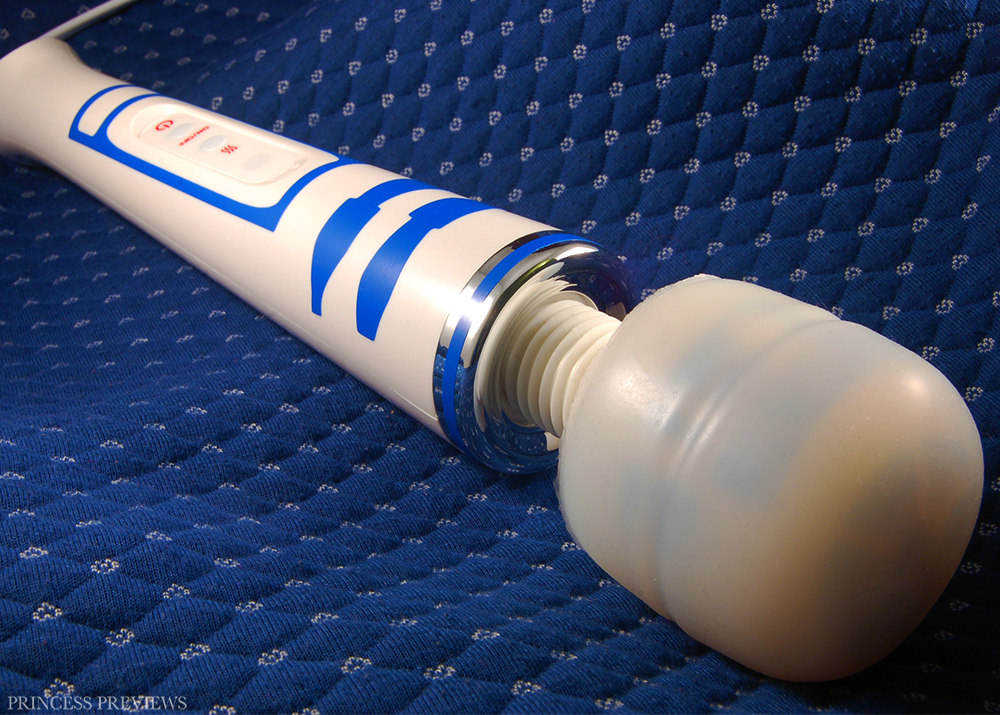 In January I got the pleasure of reviewing Geeky Sex Toy's fabulous Laser Sword dildo, which is based on a Lightsaber out of the Star Wars universe as part of their Star Toys range. I was so pleased to see my geeky reader's reactions to such a unique toy, especially since, as my review states, it is far more than just a novelty piece for the Star Wars lover, but instead a great quality dildo that can stand up on its own against the rest of my collection. So this month I'm excited to be reviewing their R2-V2 Vibrating Wand which is part of the same Star Toys range. This toy, if you couldn't tell straight away, is based off the loveable character R2-D2 from the Star Wars series and when I first saw it I literally lol'd. I'm a big wand massager fan and they are the most used toys in my collection, so this was a product I needed to have. I was lucky enough for the wonderful guys over at from Geeky Sex Toys to hook me up to help fuel my obsession of their products.
Geeky Sex Toys are quickly becoming my one of my favourite sex toy manufacturers. If this is your first time reading one of my reviews of their products I'd recommend checking out my Laser Sword review first so you can get a bit more insight into the fantastic stuff they make and what they are about.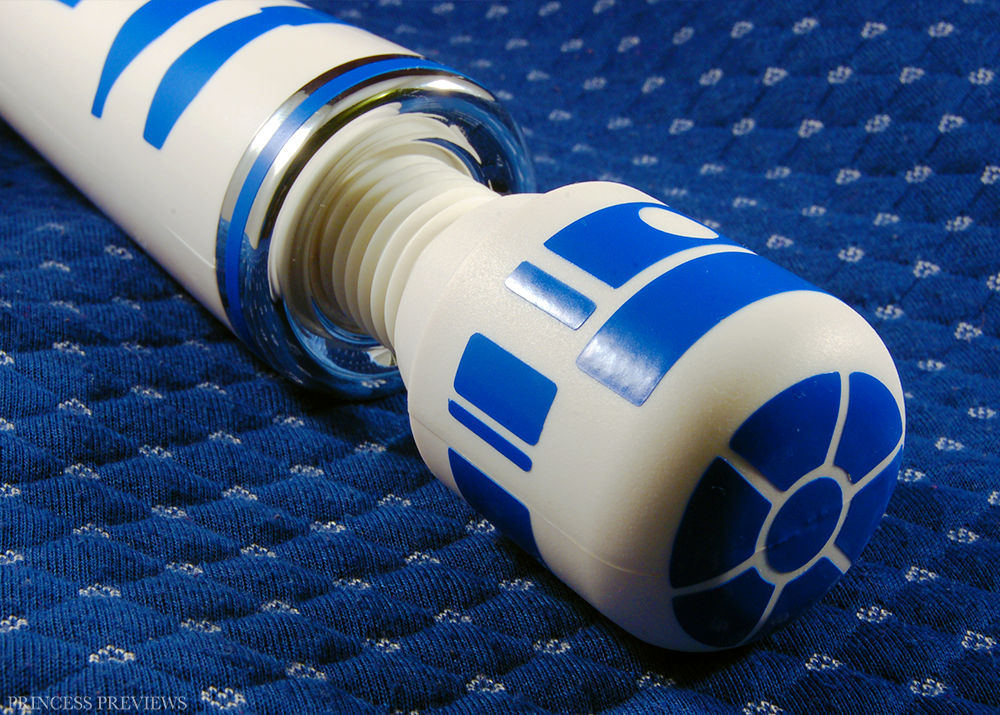 I can't help but giggle a little bit every time I see my R2-V2 wand. Basically it is just a Hitachi style wand with stickers on it to make it look like R2-D2. It certainly feels and looks a lot more like a cheap novelty product than the Laser Sword did, but don't let that put you off. Regardless of its power (which I'll discuss in a bit) I think any Star Wars fan will love this toy just for its visual appearance. If you don't like Star Wars however, and just want this toy purely for its sexual pleasure, then I feel you'll be disappointed and would not recommend it.
The toy itself is essentially the same size and design as my Magic Wand Rechargeable, however the difference between the two is quickly felt once they are picked up, since the R2-V2 is extremely light in comparison. If it wasn't for the fact that it works you might think they forgot to even put anything inside of it. It has two simple buttons and is the sort of toy that needs to be plugged into a power point to work, similar to the Doxy Wand. The neck isn't very flexible and the cord is 1.9m / 6.2 ft long. The head is made of a cloudy clear body-safe silicone to let you see the stickers through it (they don't show up well in the photographs and are a lot clearer in person), plus it can be removed for cleaning. The silicone is soft but also has a tacky feeling and picks up a lot of hair and lint.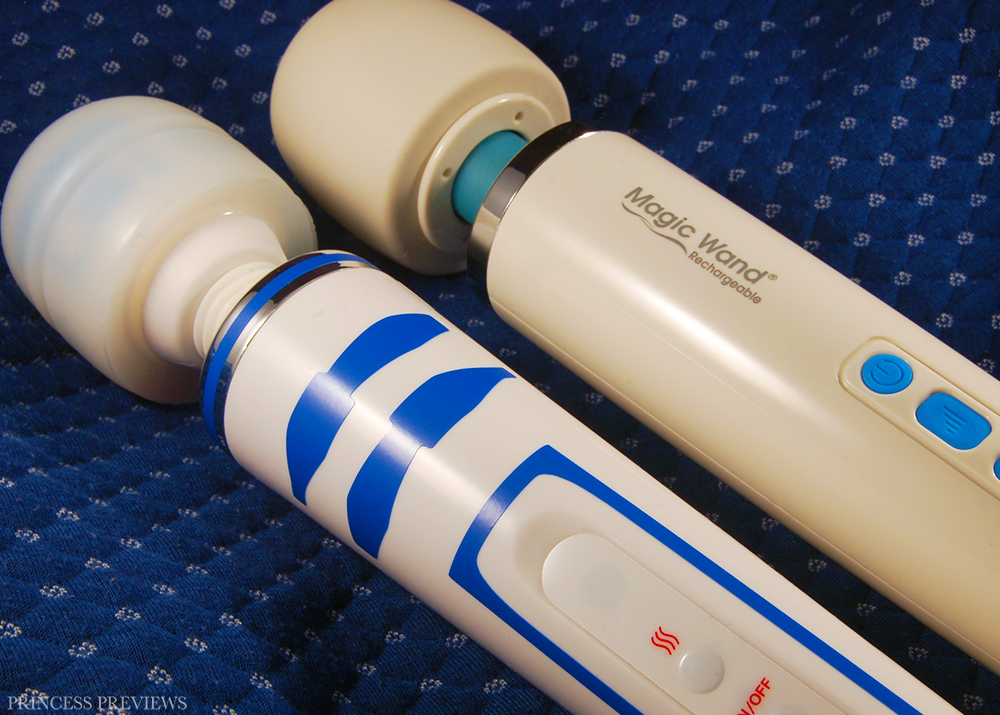 My Geeky Sex Toys order was placed on the 5th of December and I received it promptly on the 8th which was an amazing speed considering it was during the Christmas period. The packaging was very discreet with no mention of what was inside and Geeky Toys was listed as the sender, which if you are someone who collects geeky figurines like me I doubt anyone would put much further thought into it. Since Geeky Sex Toys are a independent operation they don't have extravagant packaging like some luxury products, instead the toy just simply comes with a small instruction sheet on how to use it which is set out like a comic book, and a storage bag. If you read my Laser Sword review you would remember how much I loved its custom red and black drawstring bag, and the R2-V2 has the same. This one is white and blue with a sturdy white and blue string to tie it together. It is the perfect size to store both the massager and its cord and I love it to bits.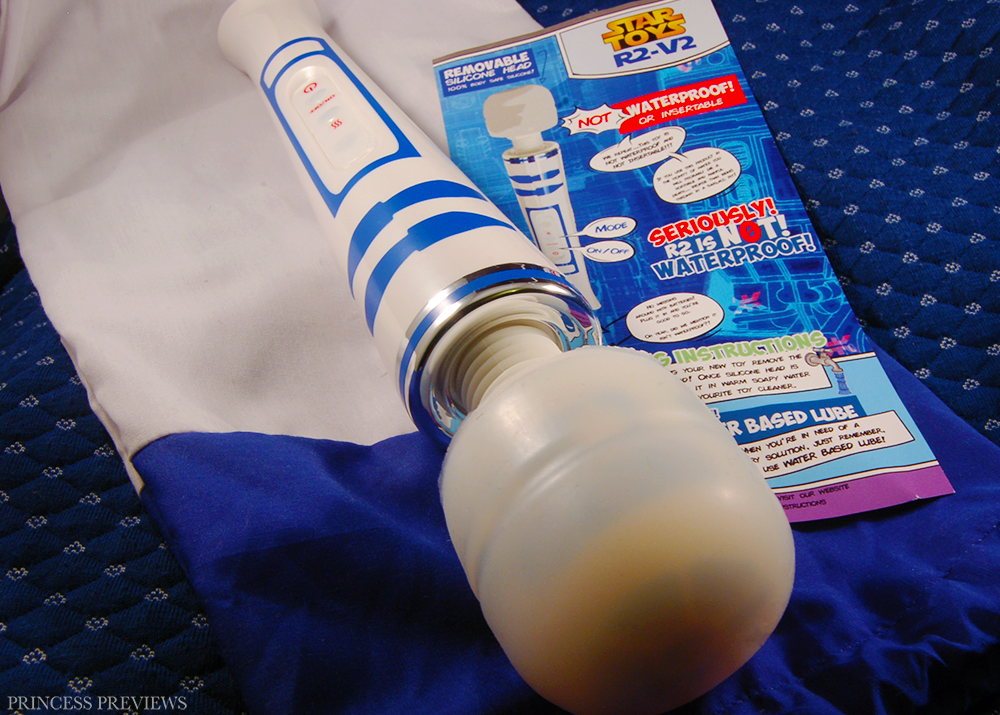 I'm not a huge fan of any sex toy that needs to always be plugged into a wall socket to work, but since some of my favourite wands have been made this way it is something I've learnt to deal with. The toy comes with an Australian plug which is a nice change since I think this is my first sex toy like this that I haven't needed to use an adaptor for. The use of the buttons are slightly different from what I expected since rather than just clicking the 'ON / OFF' button which then puts the toy at the first speed as usual, you instead need to first click to turn it on and then click again on the vibrations button to get it going. There are three vibration strengths, followed by six pattern modes. Once you complete the cycle it begins again and then once it is turned off it begins again. I dislike using patterns, but three vibration strengths for a wand massager is an alright amount in my opinion, I only ever use the first two on my Magic Wand Rechargeable after all. One thing I will note however is that the LED lights that are under the buttons don't exactly look right as you can see in this photo, although this is more of an aesthetic problem than anything.
I wasn't expecting anything spectacular or even great with the vibrations on this toy, so because of this I'm not shocked or disappointed by their overall buzzy and weak feel. They aren't the worst I've ever felt and do have some rumbly-ness to them, but for my more experienced clitoris I can't really enjoy them. I imagine if I were a newbie to wand massagers then I would think they're great, so for beginners you might enjoy this wand. I do get pleasure from it and I can orgasm, it just takes a lot longer than it usually would for me and the orgasm is a lot weaker than I'm use to. I find that the buzzy-ness of the vibrations makes it really hard for me to get over the edge of orgasm, even if I am quite enjoying the pleasure I am receiving. If anything my expectations for what I believed would be a completely novelty toy have been exceeded, since it is far better than some luxury vibrators that I can't even orgasm with.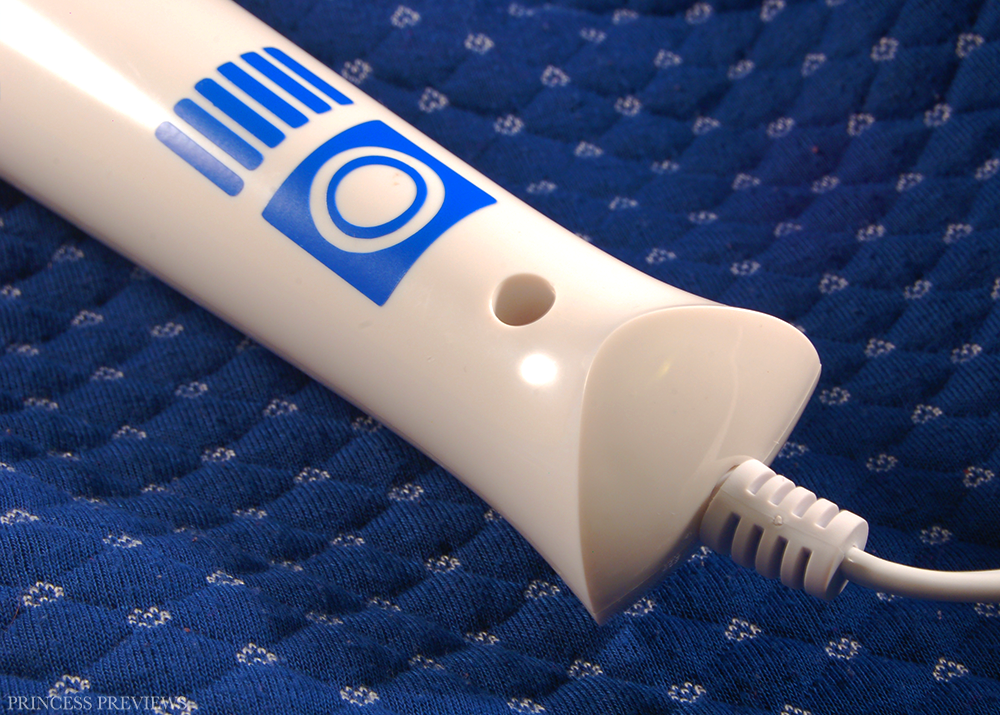 In regards to noise level this toy actually does pretty well as it is quite quiet. As with any wand massager it is probably wise to not use it if anyone is nearby who you don't want to hear, but it is certainly a lot quieter than my Magic Wand Rechargeable. However, the noise that does come from it is at a higher pitch than most toys, and because of that it can give me a headache (the first toy to ever achieve that) if I have to listen to it for a prolonged period, which was certainly an issue during use. I also found the residual vibrations (the vibrations that travel down into the handle) are quite high, meaning that holding it for a extended period made my hand numb or gave me cramps which was also an issue during use.
Since the head is removal and made of silicone cleaning couldn't be easier. Just remove the head after use and wash it down with some soap and warm water. Let air dry and return to the toy, and then then store them in the provided storage bag. Make sure to only use water-based lubricants with the silicone head.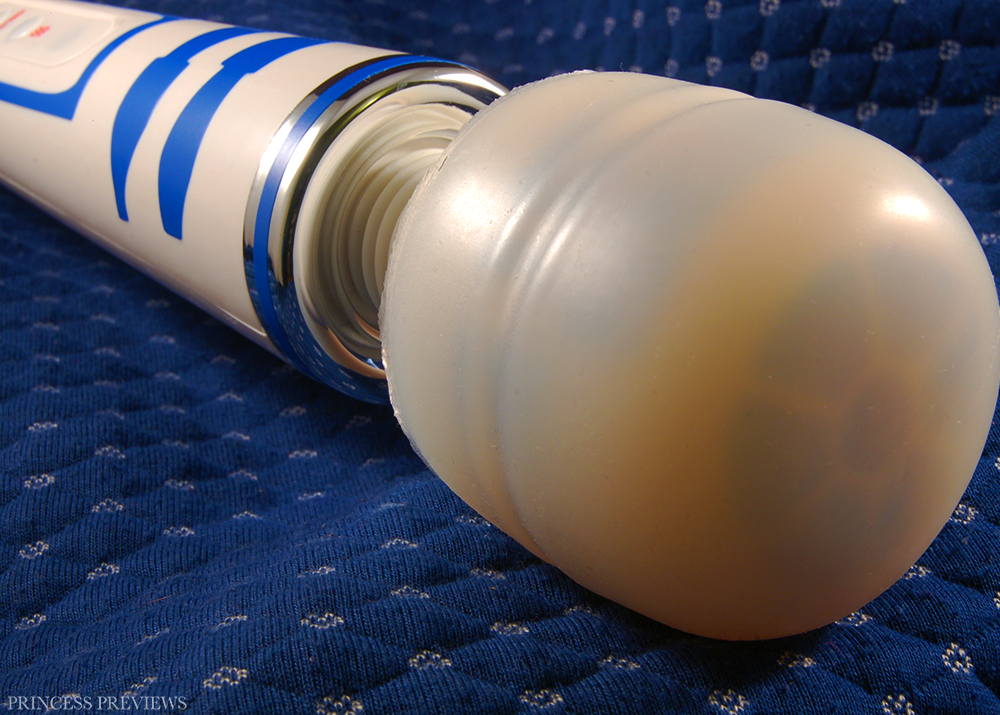 Overall, I love this toy and my expectations for it were exceeded. Sure, it wasn't a great sex toy, but as a novelty toy it certainly serves its purpose and I even find it quite pleasurable which is an awesome added bonus. If you are planning on buying this as an addition to your sex toy collection I would caution against it since it may not meet your usual standards, but if you are just beginning a collection or love Star Wars then go for it. Since Geeky Sex Toys are a new company and this is their first attempt at a wand massager I think they've done a brilliant job. I am no sex toy manufacturer but I feel that wand massagers are probably one of the hardest toys to get right and one of the most expensive to make. The fact that they went the extra mile to ensure the head is silicone, an aspect of wand massagers a lot of companies usually get away with not making body-safe, is also fantastic of them and really shows their commitment to body-safe sex toy products. I'm so happy to be from the same country as such a great company and I can't wait to see their future products!
This version of the toy has now been discontinued, but you can buy the upgraded version directly from Geeky Sex Toys for just $169 AUD / $133 USD!
Material - 95%
Appearance / Design - 70%
Solo - 75%
Partner - 55%
Vibrations - 65%
Noise Level - 80%
A good novelty toy but the vibrations are too weak and buzzy to be much more.
I received this product in exchange for an honest and unbiased review.