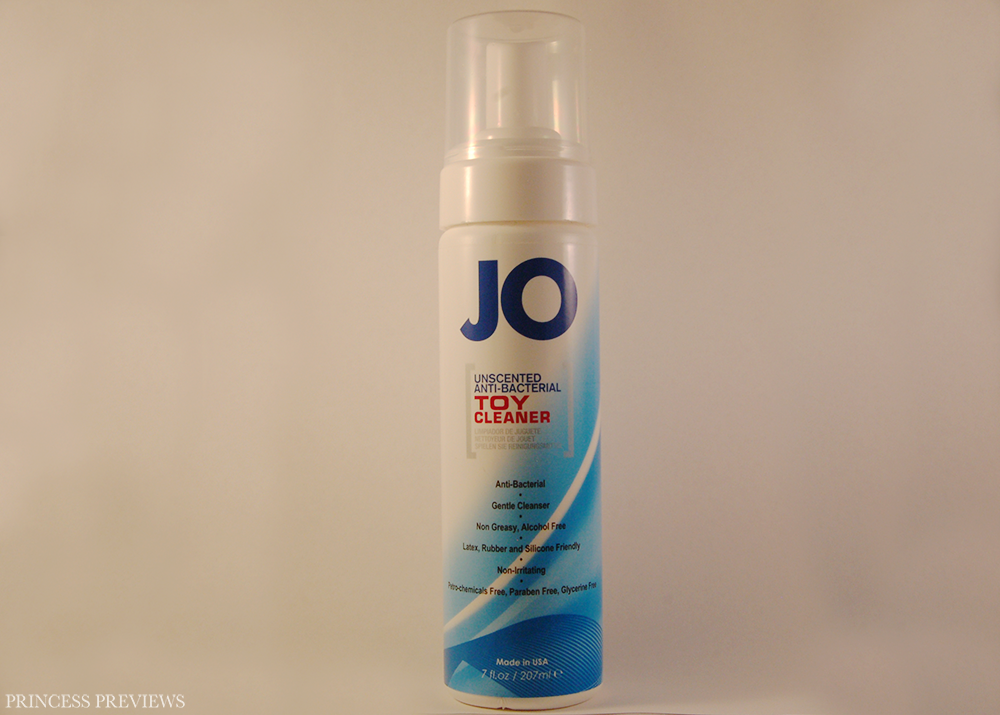 It has recently come to my attention that anti-bacterial soaps of any kind can be harmful. Because of this I can no longer recommend this toy cleaner, instead I recommend Pjur Med Clean Spray which is not anti-bacterial, or just some mild soap.
In 2015 I wrote a mini review about my toy cleaner at the time, the Pjur Med Clean Spray. I loved that little spray, enough to write a review on it, but its 100ml didn't last me long and so in November last year at Sexpo I planned to buy another. Sadly after a lot of searching I found that no-one at Sexpo stocked my beloved spray, and so, annoyed, I sulked over to the JO stand and picked up one of their toy cleaners, sure that it wouldn't compare to my Pjur and deciding I would need to order some online when I had the money. Now flash forward to just-about-November 2016 with this years Sexpo coming up and I can't wait to buy more of JO's cleaner! I still prefer the ease of Pjur's spray-on type cleaner, it was quick and convenient, but JO's foam style has lasted me so much longer and is so much better for your money that I wouldn't want anything else.
JO Toy Cleaner is a unscented anti-bacterial foam style cleaner that I use for all of my toys. It is completely safe for use, being paraben, glycerin and petrochemical free, as well as non-irritating and alcohol free. It is safe for all style toys and fetish items, such as silicone, rubber and latex, since it is water based. It comes in a 207ml bottle and a little goes a long way, although you can also buy a cute little 50ml travel size.
Since it is foam based there is a pump style application nozzle at the top. To use just pump the desired amount of foam onto your toy (I usually only need one pump, but sometimes two if it is a particularly large or dirty toy). Then use a cloth to clean the toy with the foam, for most toys this is rather quick and simple but if there are any areas where bacteria may hide such as on textured parts of the toy or seams then make sure to give this a good clean. Then rinse the toy in warm water and continue to wipe down with the cloth. After that just let the toy air dry and then return to its storage.
Another reason I love this cleaner is that it is very discreet. I like to hide my toy cleaners in plain site and this bottle really fits in with the rest of my products that it sits with (sunscreen, shaving creams etc.). I usually just turn it so the front of it that says 'Toy Cleaner' is facing the wall and then the only thing that can be read on it is the very tiny instructions on the back which I doubt anyone is going to read.
Anti-bacterial spray cleaner is the easiest and most convenient way to clean toys, and can be used 99% of the time. However, please make sure to be wary if you have a toy that isn't waterproof since you may need to use alternate cleaning methods, and for toys with high detail you might need to use a toothbrush to remove any build up in hard to reach areas. If you want to give a toy a higher level of clean (recommended to do every once in awhile) make sure to sterilize it. This is also required if switching toys between partners or between anal and vaginal play. Sterilization methods will depend on the toys material, but most toys can be either boiled for five minutes, put in the dishwasher or wiped down with a 10% bleach solution. Please make sure to check the best methods to clean your toy first. Cleaning your toys properly will help extend their life and ensure you are getting the most out of them.
Overall I find this cleaner isn't as quick as the spray style, but I went through the spray in a matter of months compared to using this foam for almost a year, plus the foam style is cheaper. Due to this even if I see my old spray cleaner this year as Sexpo I'll be giving it a miss and picking up another bottle of JO Toy Cleaner and I would recommend to any toy lovers to do the same if you are currently looking for a cleaning solution!
If you're in Australia you can pick up a bottle of Jo Toy Cleaner 207ml from JOUJOU for $15.95 AUD or get its 50ml travel size for $7.95 AUD.
Affiliate links have been used in this post.