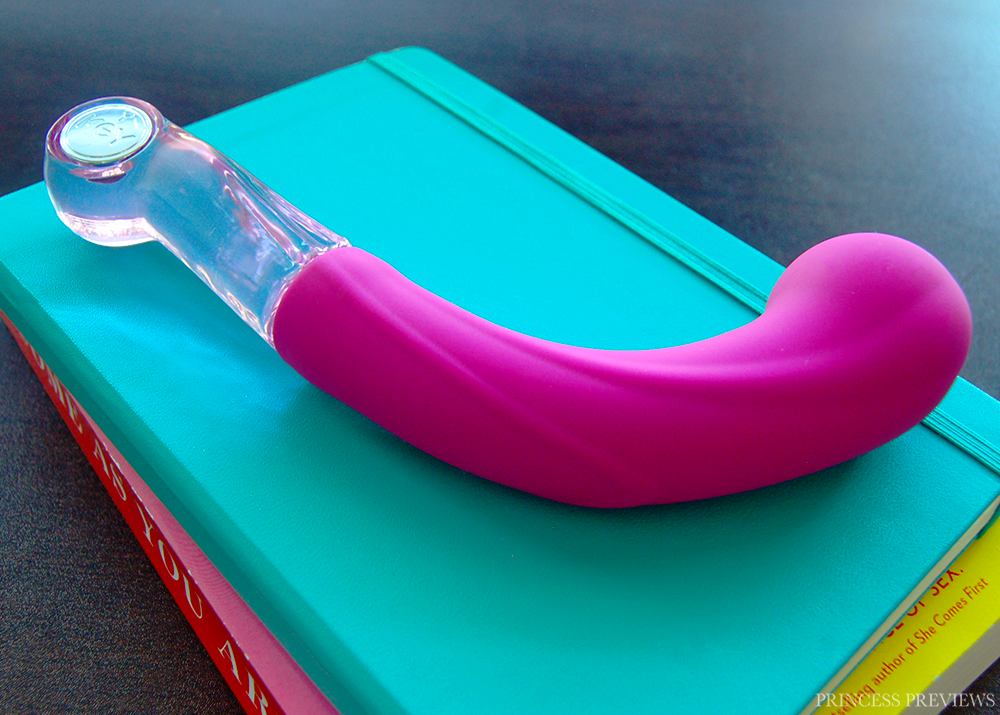 I've recently concluded that my sex toy collection had been lacking a certain something: G-spot simulators. I have a few toys, particularly dildos (with my favourite being the Pack 'n Play No.2) that I can use to stimulate my G-spot, but none of them are specifically made with pleasuring the G-spot in mind, and this was definitely a hole in my collection that needed to be remedied fast.There are two main G-spot holy grails that almost all bloggers will swear by, the first being the Pure Wand by Njoy which is a stainless steel and double sided dildo which is aided by its weight to create maximum pleasure. While I'm sure it is amazing, the Pure Wand is also around $199 AUD, and for someone like me who is not completely sold on G-spot stimulation yet, it seemed like a expensive toy to try it out on. The other, much more reasonably priced, blogger favourite is the Comet G-Spot Wand from Key by Jopen, which seemed to me like the perfect starter G-spot stimulation toy, and so when Mimi De Luxe contacted me about doing a review for them I was over the moon when they agreed to send it for me to try.
The Comet G-Spot Wand is part of Jopen's Key range, and it certainly stands out from the rest of my toys with its distinct shape and look. While the toy is made completely out of glass its insertable body has been covered in body safe silicone which curves into a hook-like shape before ending with a wide bulbous head. I find the glass handle very comfortable to hold, and along it you can find the Key logo emblem which is made from stainless alloy. Since it is glass underneath, the silicone on this toy is completely firm, but still has a buttery soft texture, plus it doesn't attract much lint. There is some textures that run the length of the glass and silicone, which add some interest to the toy but don't do much in terms of actual use. At 12.7 cm / 5 inches it is a relatively small toy in length since it doesn't really need to go very deep to hit its mark, and aside from its head it has quite a small girth too. The head comes in at 3.7 cm / 1.5 inches in diameter, which isn't too bad, but I wouldn't recommend it for dildo beginners. My Comet is a beautiful Raspberry Pink, however it also comes in Lavender and Robin Blue, which are equally as wonderful colours.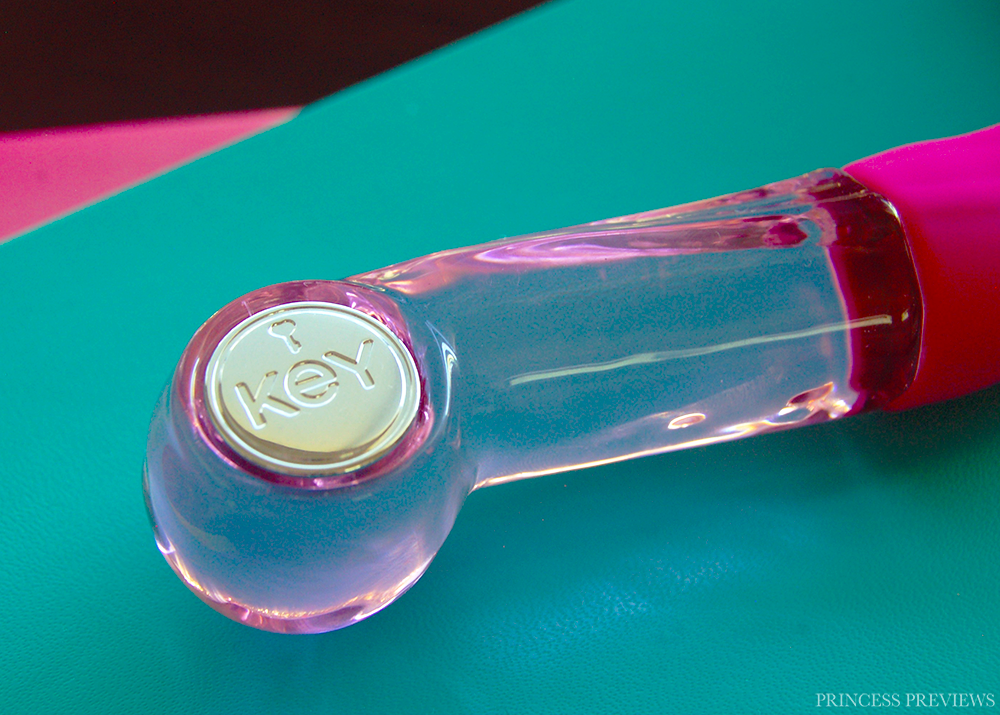 As it is my first time working with them I want to take a quick moment to introduce Mimi De Luxe, who are one of my all time favourite Australian sex toy distributors. They sell a great range of luxury body safe adult products while also boasting a sleek and nude-free website, plus they offer discreet delivery for their products. They are the perfect example of the sort of style I hope the Australian sex toy industry moves towards, and couldn't recommend them enough to all my Australian (and UK, which they also have a store for) readers! Plus they have free Australian shipping, doesn't get much better than that!
Delivery for the Jopen Comet Wand was great and discreet. It was sent on the 14th and I received it on the 17th which I'm fairly sure is the fastest I've ever received anything ever. The packaging for the Comet itself screams luxury. The main box has a cover which shows off the toy and has the key information on it, and inside that is a stylish black box with further information about the toy and a flap that once lifted up reveals the toy nestled among its protective foam. With the Comet comes two small instruction manuals along with a drawstring storage bag and a one year warranty.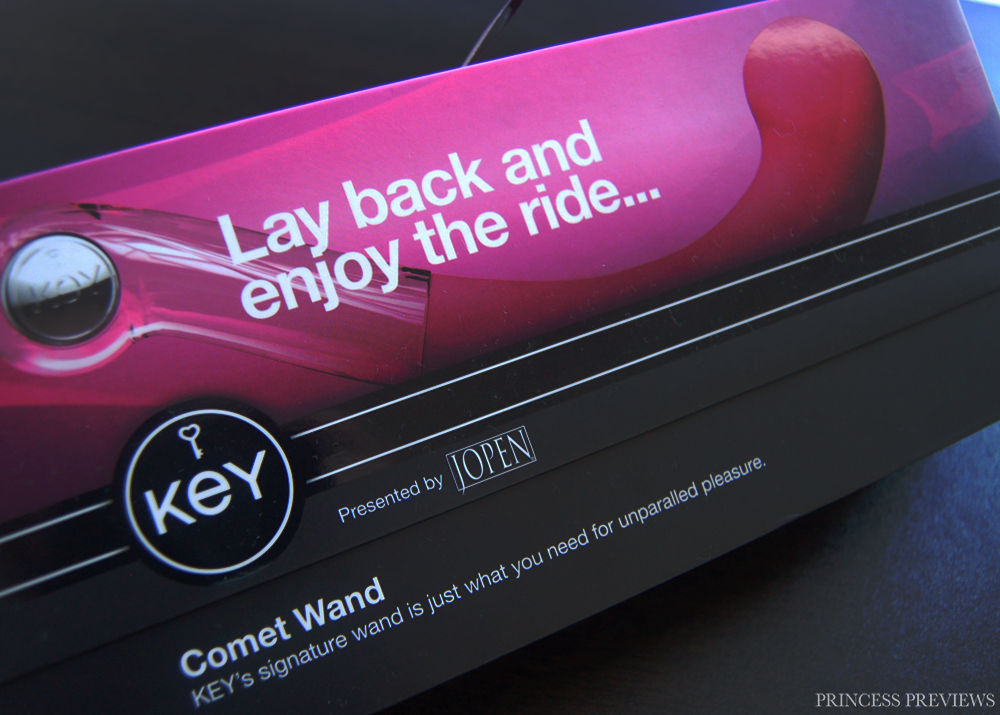 To insert the Jopen Comet Wand you'll likely need a lot of lubrication and a good warm up with another toy and possibly an orgasm beforehand. Because the toy has absolutely no give to it I wouldn't underestimate the girth of its head even if you have other toys of a similar size, especially since there is no build as it is the start of the toy. I personally have had no real issues inserting it (which shocked me a bit since I thought I would) but this toy just seems to fit my body really well. You shouldn't have to force or experience pain when inserting this toy, instead just keep warming yourself up and when you're ready you should be able to insert the toy with ease.
So let's cut to the chase, did I enjoy the Comet Wand and its G-spot stimulation abilities? Very, very much yes. This toy is truly like nothing else I own and it feels goddamn amazing. No matter what I seem to do with it, thrust it, stroke it, or turn it, its large head always seems to rub against my G-spot just right and give me some truly amazing feelings. Because of this it has also quickly become my partner's favourite toy to use on me since it doesn't take much to make me squirm with ecstasy, and I'm certainly not complaining! Once when using it I decided to just ignore the rest of the toys I had gotten out for me to use and just go solo with it for the entire session. Because the head is so big it doesn't just fall out of you like a regular dildo would either, so I can start and stop easily as I wish, but this also makes it all the more tempting to just never take it out! This thing can give G-spot orgasms and blended orgasms with ease, and it makes for a perfect squirting toy (I'm not into squirting personally so i haven't tried it with this or any other toy, but I've heard good things about the Comet's squirting abilities so I'm sure if I attempted to try it with this toy I probably could). My personal favourite way to use this toy is with my We-Vibe Tango to achieve blended orgasms, the two feel like a match made in heaven and together they give me some of the most powerful orgasms I've ever had. I'm not usually a fan of firm silicone dildos, so the Comet is truly an wonderful exception, I really have no faults with it in use.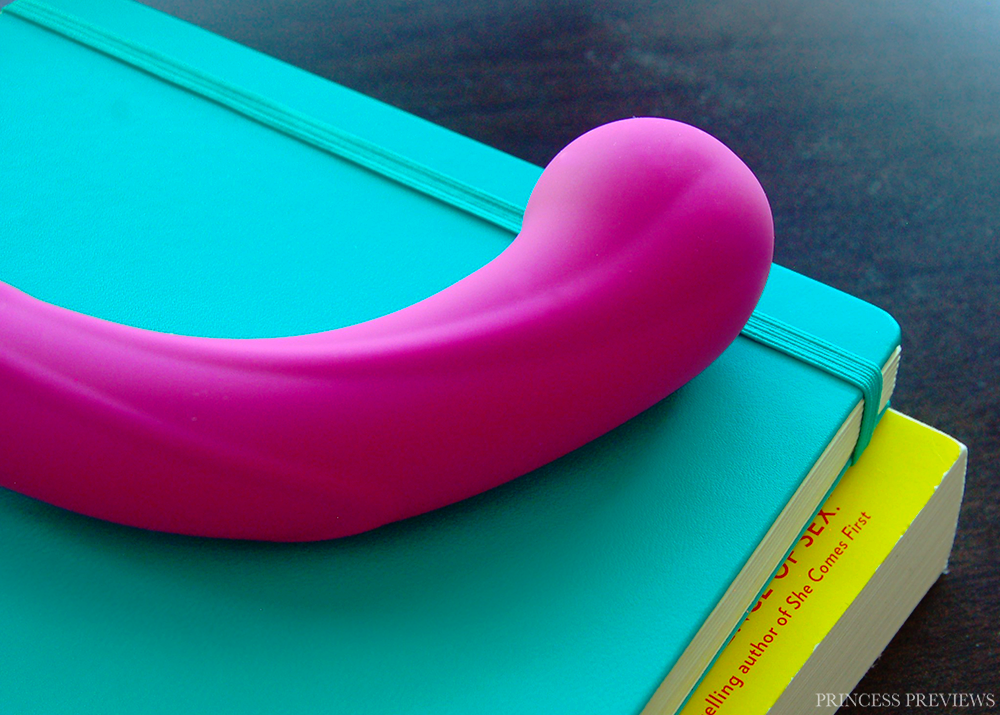 Cleaning is straightforward since the toy is waterproof, just wash it down with a mild soap or toy cleaner and warm water. Put particular care to ensure no bacteria is left around the textures on the silicone, and especially the groove where the silicone and glass meet, which is really my only issue with the toy. Once dry you can store the toy away in its provided drawstring bag. Ensure to only use water based lubricant with the toy, otherwise perform a spot test before trying out alternative lubricants. This toy is not anal safe as it does not have a flared base.
I'm completely blown away by the Jopen Comet Wand. I had certainly heard good things about it before, but since I wasn't completely sold on G-spot stimulation I had no idea whether it would work for my body or not. But I'm so happy I can report that not only did I like it, I loved it! This is the first sex toy where I can get almost constant blended and multiple orgasms from it and I'm so glad I didn't find the head too big for me to use. It was the perfect way for me to see whether I liked G-spot stimulation before upgrading to a Pure Wand, and I doubt it will be long before I get myself one now. I would seriously implore all my readers, if you either love G-spot stimulation or aren't sure yet, get one of these stat!
You can get yourself a Key by Jopen Comet G-Spot Wand from Mimi De Luxe right now for just $90.86 AUD
Material - 90%
Appearance - 100%
Solo - 90%
Partner - 90%
Absolutely amazing for both solo and partner play. My G-spot's favourite toy.
I received this product in exchange for an honest and unbiased review. Affiliate links have been used in this post.