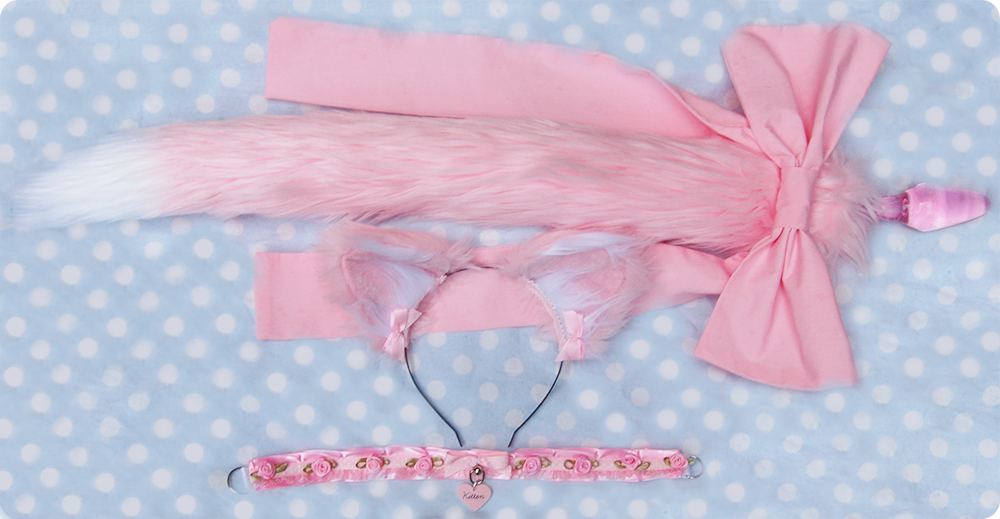 Kitten's Playpen is just about the cutest shop online, ever. It's just basically a team of girls working their butts off to make custom, hand-made products so we can all finally be the lacy kittens we dream of. Their collars are hugely popular and taking the internet by storm, but you can also buy full sets which usually include a collar, ears and tail. Everything is hugely customisable, down to all the colours and lace used, and there are even add-ons to make sure you get exactly what you've always dreamed of. They have also recently begun to stock a 'Novelty' section, which includes some of the cutest butt plugs and paddles ever. Finally, just to go that extra mile, it's not limited to cat lovers, as they currently also stock ears and tails for Foxes, Deers, Bunnies, and Puppies.
My Order
Ever since first hearing of Kitten's Playpen, their work has been the top of my wishlist. It was unfortunately far too much money for me, a student, to afford on something so novelty. So I was somehow lucky enough to have my dream set funded for me by my wonderful Tumblr followers in February. I've always found Kitten's Playpens items to be quite reasonably priced, and their pre-made full kitten sets (tail, ears and collar) cost as low as $70 USD. But for my dream set I wanted to pull all the works, after all if I was going to get a custom set and pay the shipping to Australia, I wanted to get all the bells and whistles. My order ended up a whopping $145.50 USD (that's $195 AUD), and it was truly the biggest thing I've ever treated myself on (but I guess Tumblr treated me!).
The order was for a Tipped Cat's Tail (24 inches and $31 USD), which I also got a Extra Large Bow add-on for (Pin on and $15 USD) and a Glass Plug to wear it with ($25 USD). For my Collar ($20 USD) I got add-ons of Roses ($0.50 USD), a Custom Tag (that says 'Kitten' and cost $8 USD), and Lace ($3 USD). Finally, I also got my Custom Cat Ears ($32 USD).
I placed my order in February, and it was then shipped four weeks ago. When I ordered, they were currently dealing with a large backlog of work and so I was aware of the huge processing times for customs jobs. Since then they have hired more workers and cleared their backlog, but they still estimate around 10-12 weeks for processing times, not including shipping. While the wait is terrible, it's definitely all worth it when you see the level of craftsmanship and love that has gone into each item.
Packaging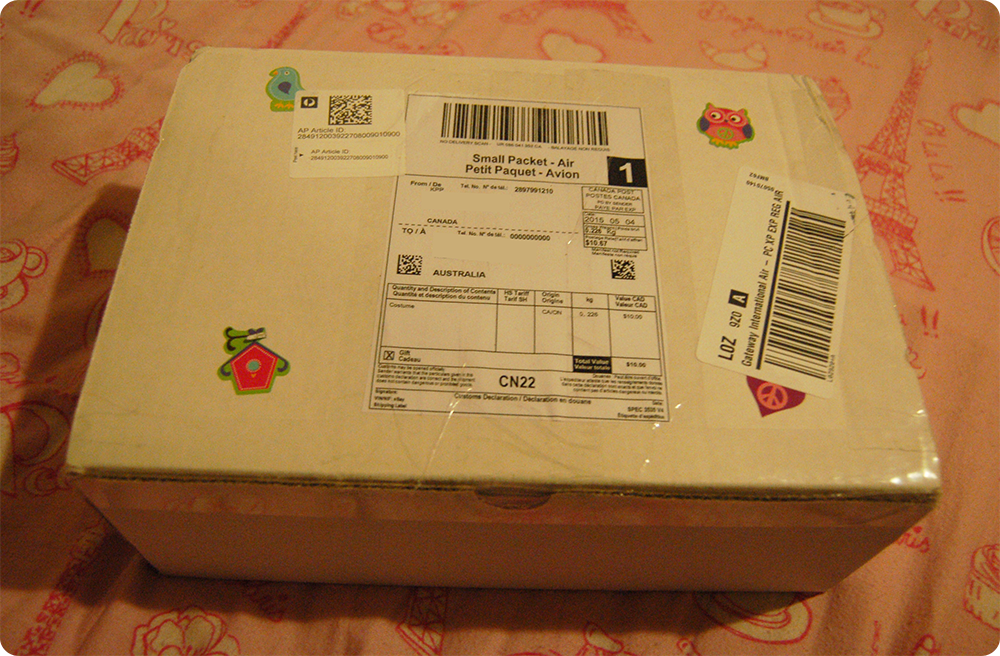 I was updated through emails when my order began processing, as well as when it was sent, so I had an overall idea of when it would arrive. When it finally did, I immediately knew it by the box. While discreet, with a shipping label name of only KPP, the box was covered in cutesy stickers. I'm sure my housemate was a little confused bringing it in for me, but I'd like to think I give off enough of a cute factor for it to be reasonable for me to receive stickered packages. If privacy is a big concern for you though, I'm sure you can personally request to have no stickers since so much care is put into these orders.
Opening the box, everything was surrounded by the prettiest pink tissue paper ever. Other than my order, inside the box I also received two A4 sheets of paper which outline washing instructions for collars, care (detangling and cleaning) and storage instructions for the tail and ears, a thank you note, and a card about where to post reviews or what to do if there is an issue with the order. Unexpectedly, I also received a delicious pink candy lollipop (which I'm actually eating as I type this) which was a really nice touch and added to that personal care factor the whole parcel had about it. My tail's glass plug which was really the only fragile item, was bubble wrapped heavily and tied together with totally cute scotch tape.
Collar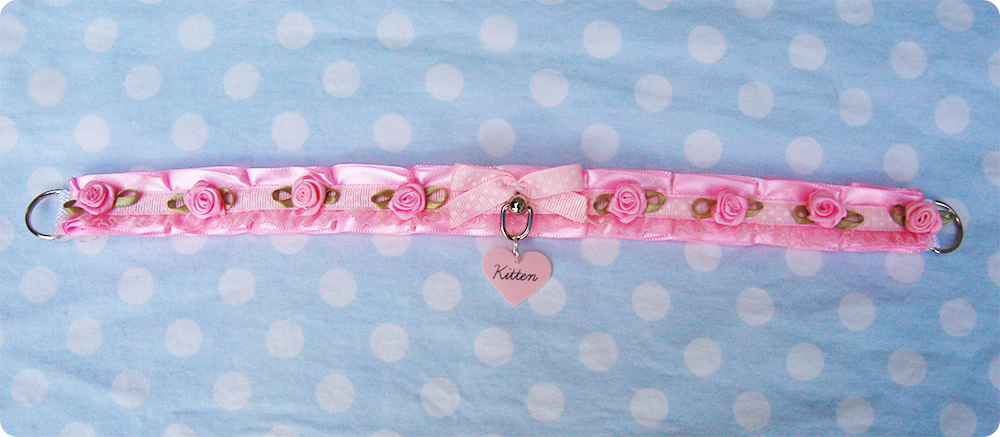 There is so many add-ons, extras and customisable features of the 'Build Your Own Pleated Collar' product it took me forever to decide. I'm not the best at picking colours or designing things either, and so it was pretty hard to visualise what I'd be getting and whether it would look like a train-wreck or not. In that regard, it's great Kitten's Playpen have such a large range of pre-made collars, but I decided if I was going to get one I should try my hand at customising it. Hopefully they'll eventually make some sort of visualisation application that gives you an idea of what the collar will come out like. But, despite this I think I did a pretty damn good job and am super happy with how my collar turned out. I ended up ordering a 14.5 inch collar with white webbing, no fur lining, a D ring, Bubble Gum Pink for the main ribbon and ties, and Pink Polka Dot for the middle trim and bow. As for add-ons, I got extra lace for a lace skirt, a pink love heart shaped tag that says 'Kitten', and eight pink roses. I really can't fault this collar, the craftsmanship is perfect, and everything is quality made. The stitching is all done really well, and the roses are hot glue gunned on so I'm confident I could re-stick them if some how they fell off, despite how well they're stuck on at the moment. The only thing I can really comment on is that the tag is a little weird. It's really not the nicest feeling thing and I don't enjoy touching it. I assume it's because they print their own tags so customers can have whatever they want written on them, but hopefully they'll decide to upgrade their materials for it at some point, which would then make it entirely perfect.
Furthermore, it's super comfortable to wear, and looks amazing on. I guess it just has to be something you are into, but I never want to take it off. Every photo of me seems to look one hundred percent better if I'm wearing it and I feel totally adorable. It's basically a cute expression of my girly side, as well as a turn on sexually through the submissive idea of being collared. My only regret is that mine seems to be a little too big for me, so it falls down sometimes rather than staying tight around my neck like a collar should. If I recall back to when I measured my neck for the order, I think I made it slightly bigger because I was worried it wouldn't fit. This was clearly a rookie mistake, and in hindsight I think I would have preferred it to be tight over a loose fit. But despite this, I love the thing and only wish it was socially acceptable to wear out. I'm thinking I'm going to have to buy another tag now, one that says 'Princess', and maybe even one with my name on it.
Ears
For my ears I ordered pink fur, long white fur on the inside of the ears and pink bows on the sides. I also asked for a headband, since my now retired cat ears used clips and I always hated that. The fur is silky smooth and I would probably spend all my time stroking it if I didn't have the tail for that. The inside of the ears is made with a high quality pink velvet, and there is foam and wires inside to help give it shape and allow for customisation if you want increased ear fold. The headband is really the only downside of the ears, in that it's simply just hard black metal which I'm fairly certain I could accidentally cut myself on as the edges, and especially corners, don't seem to be filed down. I guess it's fair enough since you don't pay extra for the headband, but for $32 USD I would certainly expect a better quality attachment, especially for something that otherwise is so soft and safe, and that risks being pulled off suddenly. The only pro of this is that the ears are attached to it with an adorable piece of lace. Regardless, I still think I prefer having the headband over the clips, and I would assume the clips would have been similar quality, which my hair most certainly would not have enjoyed.
In wearing the ears, I've found that they sit perfectly on my head and are positioned accurately enough to look like I have 'real' ears. An upside to the headband is that it doesn't fall off, and my hair covers it well enough for it to not be seen. As I mentioned before however, I'm 99% certain my ear will get cut when wearing these eventually due to the sharpness of the headbands edges. It is also far too tight, and not at all comfortable to wear. I get a bad headache within about a minutes worth. This is super saddening, and I can see myself just trying to push past it with their cuteness motivating me. If you are planning on purchasing ears here, I suppose I would recommend the clips if you get headaches easily from headbands (I do), but I'm not sure how much better they'd be either honestly. Overall though, the ears are still incredibly pretty, even if the worst part of this set.
Tail
I ordered a 60 cm / 24 inch Tipped Cat's Tail with long pink fur, and long white fur for the tip. I wanted to splurge and get a plug for it as well to make it feel like a proper tail (and to really add that touch of sexual pleasure). I decided to get the pink clear glass plug, since I've had a soft spot for glass toys since forever, and this would be my first one. I feel like it should be displayed more clearly on their website however, just how big this plug is. I own quite a few plugs and this is by far my largest, with a length of 13 cm / 5.31 inches, insertable length of 8.8 cm / 3.5 inches, and girth of 3.8 cm / 1.5 inches. As you can see in the photo below of it compared to my Princess Plug, it's pretty intimidating, especially since the Princess is what I usually recommend to beginners. But still, damn is it beautiful. It doesn't really need to be said because it's glass, but it is so smooth and feels amazing to touch, I can stroke it an equal amount to my tail's fur. It also has a significant taper at the bottom which is where the ribbon attaches it to the tail, which I got in Bubble Gum Pink. For those times when I feel like being a kitten in a more relaxed fashion though, I also got the tail to be made with a pin attachment to put on top of clothing, and I love the fact that you can order both. Furthermore, I chose for the tail to be fully wired so I can customise it to be in whatever shape I want, but this doesn't take away from how soft it is due to the stuffing inside. Finally, to top it off, I also got a Extra Large Bow in Light Pink, which adds that extra touch of cute to my tail, and besides, you can never have enough bows.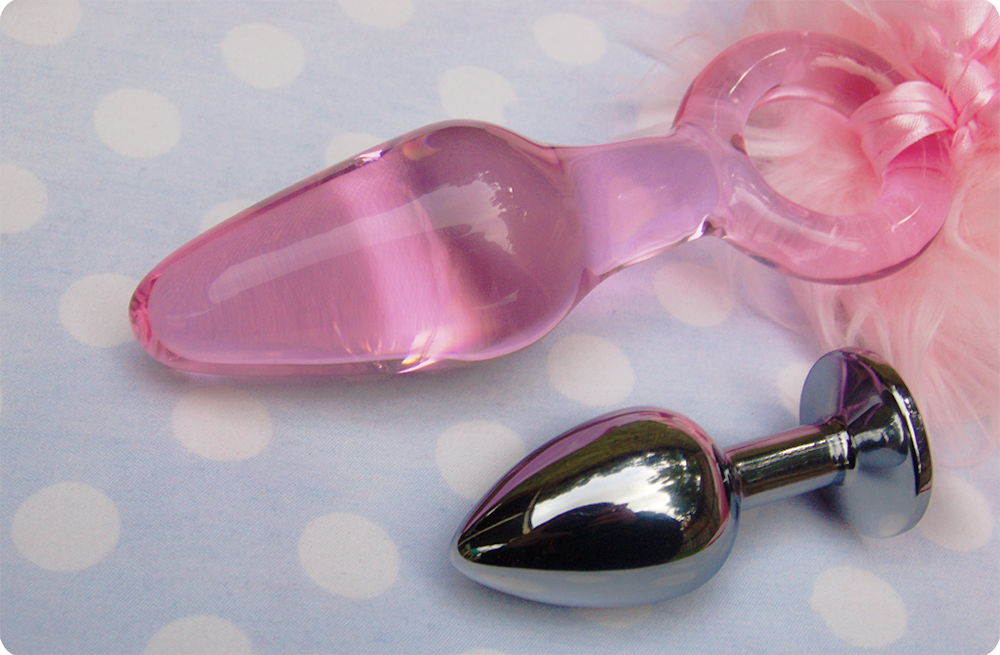 While the plug is indeed bigger than what I'm use to, I found that due to its glass material it slips in fairly easily and smoothly. This is no doubt contributed to by the fact I use a lot of plugs however, and so I would still not recommend this for beginners. It's kind of scary though that there is no 'large size' warning on its store page though (other than the size measurements), because this seems the sort of website a lot of beginners would buy from. If you are use to plugs however, this one is a beauty and feels amazing to have inside you. Despite its size, it is easily the most comfortable plug I own. If it had a flat base rather than the ring I'm fairly certain I'd never want to take it out. The ring really only makes sitting down on a hard chair difficult though, so I'd be more than happy to wear it out shopping or for other activities.
Attaching the tail to the plug is easy as it's just a ribbon tie, however it's pretty difficult, if not impossible, to avoid getting lube on the tail fur and ribbon, so they need cleaning after almost every use. You also have to be careful of the pin attachment when it's not in use, as if it comes loose when the plug is in, as it did for me, you're going to have a very sharp object near a very important area. I've also found that if the tail hangs off the bottom of the plug's ring, like it does naturally, the tail looks like it is just oddly hanging from my ass, rather than coming out of my cheeks in a 'tail-like' fashion. To achieve that picture-perfect look, I have to instead move the ribbon up so it starts as close to my asshole as possible, although this unfortunately means it gets even more dirty. Overall though, the tail is just as fun, exciting, and enchanting as it appears in photos to actually wear, and I can see it being used a lot by me. While it's high in maintenance, the beauty that is the glass plug makes it well worth it, and I can always attach it to my underwear when I don't feel like the hassle.
Since the plug is glass, you can use any type of lubricant you want, and please, do use lubricant to avoid damage and infections. They even stock a large range of lube in case you don't have some already, and even one specifically for anal. Maintenance is easy since the plug is waterpoof and can be detached from the tail. Warm water and soap will do fine.
Conclusion
My Kitten's Playpen order was something I've dreamed about and planned for quite awhile before ordering and finally receiving. While I'm sad to see it has its faults, overall my order and experience with the store has been extremely positive. My large order was all handled perfectly and correctly, and while some materials could be higher in quality, all craftsmanship and sewing is flawless. The items all have a very hand-made feel to them, and you can just tell a lot of love has gone into the process. I would certainly recommend Kitten's Playpen to anyone looking to get an animal kink set, as the wait is well worth it.
You can check out Kitten's Playpen here and purchase one of their pre-made sets, or even customise your own like I did!