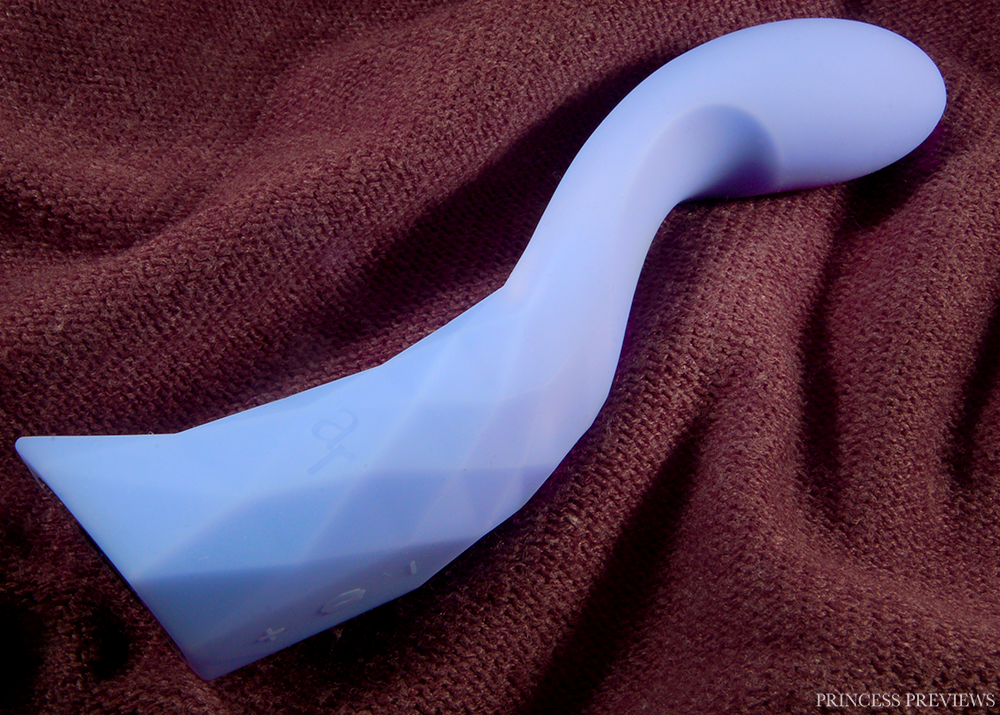 Even though I am a sex toy reviewer and it might seem like I can get whatever toy I want there is still a bunch that I desperately desire but have never had the opportunity to review, and up until now this particular toy has been at the top of that list. Even though I had never tried any products from them before, L'amourose is one of my favourite luxury sex toy manufacturers. I hear constant praise for their products and customer service, and I love the designs they come out with. A few times I have had the opportunity to review L'amourose, and so after much research I decided that the Prism V was the toy I wanted most, however all those times ultimately fell through. But when JOUJOU recently approached me and asked if I wanted to review something for them I was overjoyed when I saw they stocked the L'amourose Prism V and requested it straight away.
The L'amourose Prism V is essentially a G-spot vibrator. This is the first time I have reviewed one of these, although I have tried a few in the past, including the Lelo Mona 2 which is well known as one of the best G-Spot vibrators on the market (although I won't review it here since Lelo are on my blacklist). But, to put it simply, I did not see the hype of the Lelo Mona 2 and it left my G-Spot wanting more. Due to this I started to think that G-Spot vibrators were not meant for me, a fact I even had written on my Body Info page until recently. This toy however (and the SenseVibe Warm which also features a G-Spot vibrator and I tested alongside the Prism V) made me completely change my mind on that, and has opened up a whole new world of sex toys for me.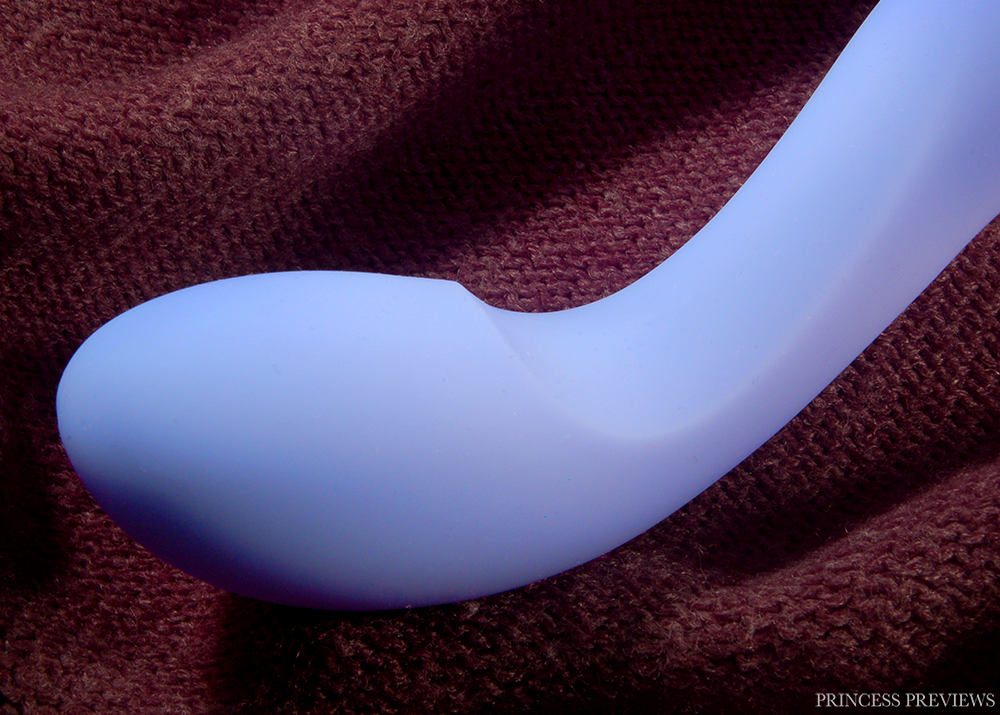 In case you don't already know them, L'amourose are the ultimate company for luxury and high class sex toys. Based in Paris and Shanghai, they produce beautifully designed toys that could just as easily pass as works of art. Everything from their product packaging to storage bags has a essence of indulgence to them, and their toys come covered with fantastic warranties to put you at ease. They currently have a range of collections available that contains everything from penis masturbators to Kegel balls.
The Prism V is part of L'amourose's Prism Collection which also contains the Prism VII and Prism VII Rogue which are both dual stimulation versions of the V, however the Rogue also has a heating function. I chose the V over the VII and VII Rogue as there was a chance that their clitoral arm would not suit my body, and so I didn't want to risk not enjoying the toy as a result of that. The toy is made of a beautiful silky smooth silicone and mine is in their Sky shade, however it can also come in Sunset or Azure. It has a sleek design, features beautiful lines around its head and has a prismatic base. This is the first time I've seen the use of prisms on a toy and it looks absolutely gorgeous, plus it also feels great to the touch. The shape of the toy is great too, featuring a ergonomic design to ensure it is comfortable to hold. It is a very firm toy, which is good since I prefer these for G-Spot stimulation, and since the silicone is such good quality it stays relatively free of lint. With a max diameter of only 3.3cm / 1.3″ this should be easy to insert even for beginners. On the handle of the toy it features the L'amourose logo and on the front there is three buttons available to control the toy. The bottom is the charging port which is made of black ABS plastic, which also works to provide a firm base so that the toy can be placed standing upright, and even though this is exposed the toy is still waterproof. Since this toy does not have a flared base it should not be used for anal play.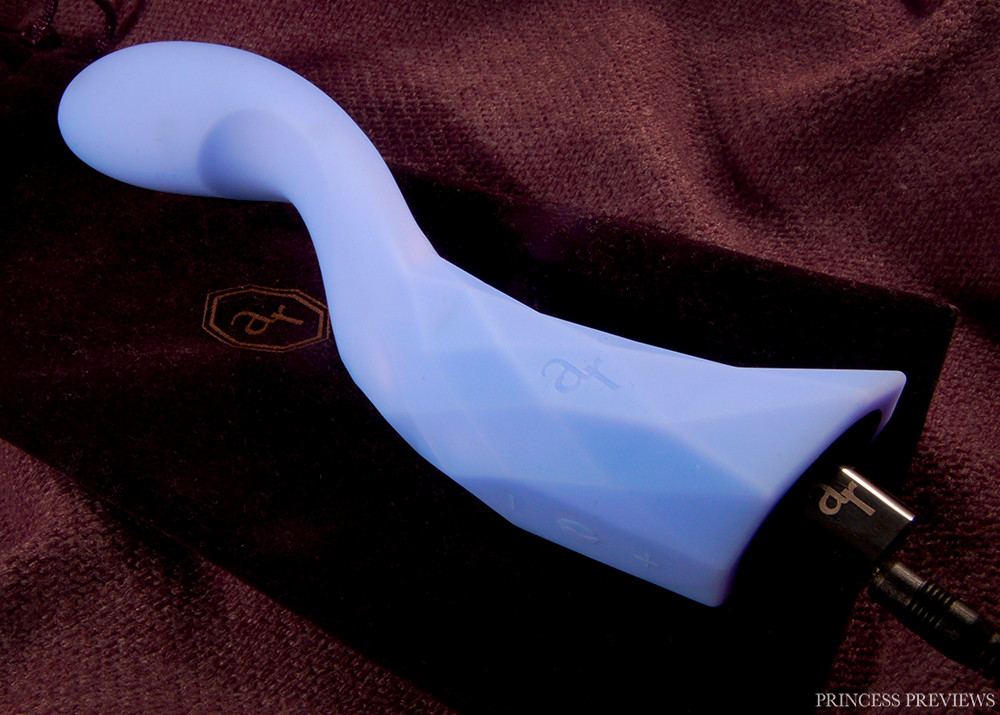 My only complaint about the appearance of this toy is that on one side of it there is four small holes that appear like black dots and feel hollow when pressed down on. I'm not sure if this is normal but I don't feel like it is. I find it rather concerning and it ruins the appearance of that side of the toy for me. They are very obvious in person but difficult to photograph, which is why you can't see them on the photos here, but here are some photos I've circled in the hope you can see what I mean. I feel if I had bought this toy then I would probably try and return it for a new one with my warranty.
My order of the L'amourose Prism V was made with JOUJOU on the 28th of March and I received it on the 10th of April. Usually deliveries from JOUJOU are a lot faster than this but at the time they were in the process of moving warehouses which caused a slight delay. As usual the package was completely discreet, with no mention of the company that sent it or the product that was inside. The box for the Prism V is simple while still maintaining L'amourose's glamorous feel. The front of it is made with a clear plastic, so the viewer can see the toy in all its beauty straight away, and it rests upon a foam cut out which is a similar shade of blue. Then on the back of the box is a list of the main features of the toy. Once opened you can access the toy, as well as the instruction manual, authenticity card, storage bag and charging cable. The toy also comes with a 18 month warranty and a lifetime quality guarantee. Getting all these extras, especially the authenticity card and warranty, helps to cement this even further as a luxury product and really makes you feel like you have just gotten something really special.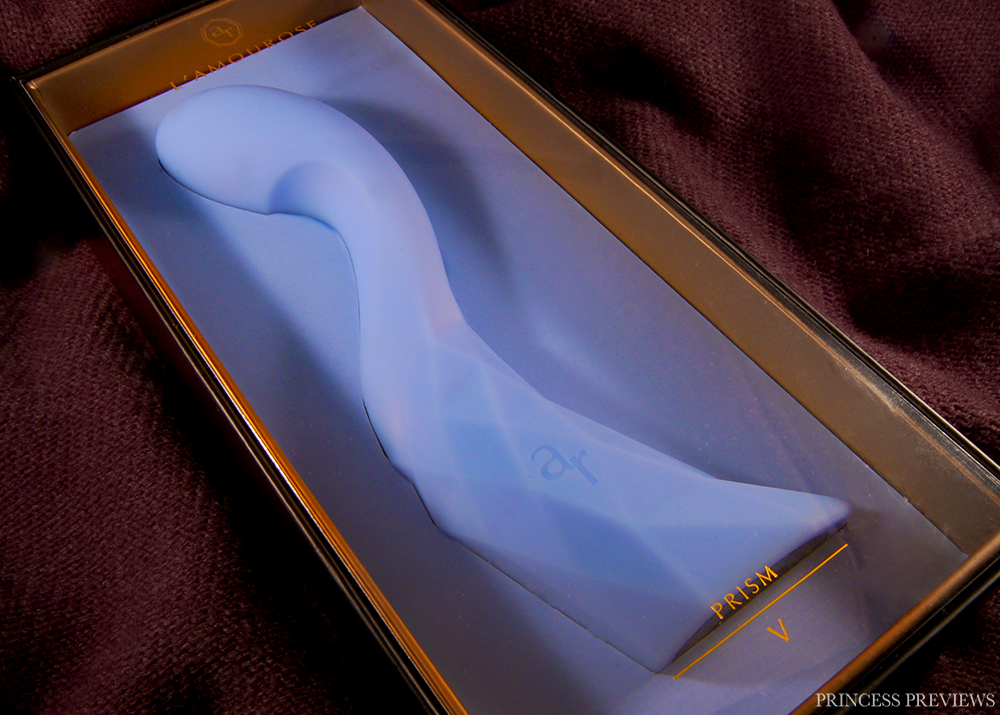 Using the Prism V is rather simple and easy to understand. The plus button turns the toy on and this can then either be held down or pressed to go up through the twelve vibration intensities. The minus button can then be either held down or pressed to decrease the vibrations until they turn off. By pressing the middle button you can cycle through the five vibration patterns, of which one is a steady vibration mode. To put the toy into travel lock you can press and hold the plus and minus buttons. The vibrations on this toy are very rumbly and are easily on par with the strength of my We-Vibe Tango, so this toy can certainly also be used as a clit vibe too. It is a far bit louder, although it shouldn't be able to be heard when behind a closed door and under a cover.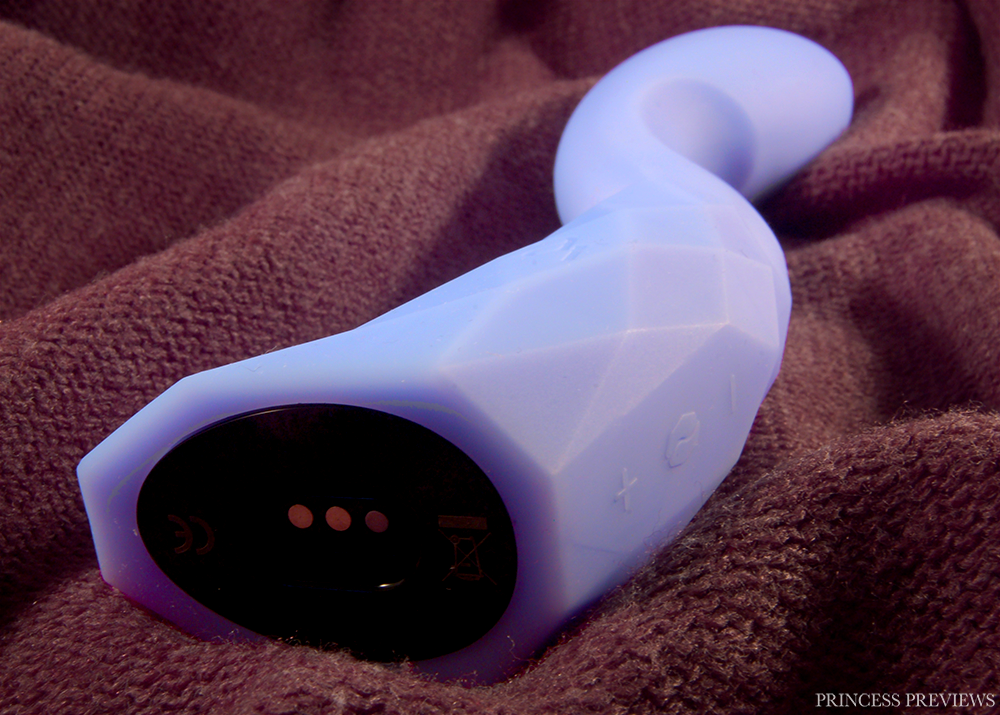 Even though the charger for this toy is held in place magnetically it works really well and is very sturdy. When charging a indicator light will flash slowly and will then become a solid light when complete. The light will also flash quickly to indicate that the Prism V needs charging. A one hour charge should give you around 2.5 hours of play and the toy can stay on standby for up to 100 days.
Paired with a good lube inserting this toy is a breeze. I don't even need to first warm up my G-Spot with another toy, because this one instantly hits its mark. Other than the Jopen Comet Wand or Njoy Pure Wand, which are both curved for maximum stimulation, this is easily the best G-Spot toy I own. I like a lot of pressure on my G-Spot so I still have to use quite a bit of force with my wrist, but once I do so the stimulation I get from it is fantastic. Plus, that's just using it as a dildo, so you can imagine how great it becomes when I actually turn it on. The vibrations are super effective internally and deeply penetrate inside of me a lot more so than my SenseVibe Warm. It is an absolutely astonishing feeling and the first time I used it I couldn't believe I hadn't gotten a toy like this sooner. If I could squirt I assume I would with this toy, since I can easily have super fast multiple orgasms with it. My orgasms also seem stronger than usual and more drawn out, likely since I keep the vibrator pressed against my G-Spot throughout. While ultimately I don't think it beats the Pure Wand, it's certainly on par with the Comet Wand as its vibrations make up for its lack of curved shape. I prefer to pair the Prism V with my We-Vibe Tango since I like to have some clit stimulation too, however the hard plastic of the Tango can uncomfortably catch with the toy's hard silicone, so using the IMTOY Gazelle can sometimes be a better alternative.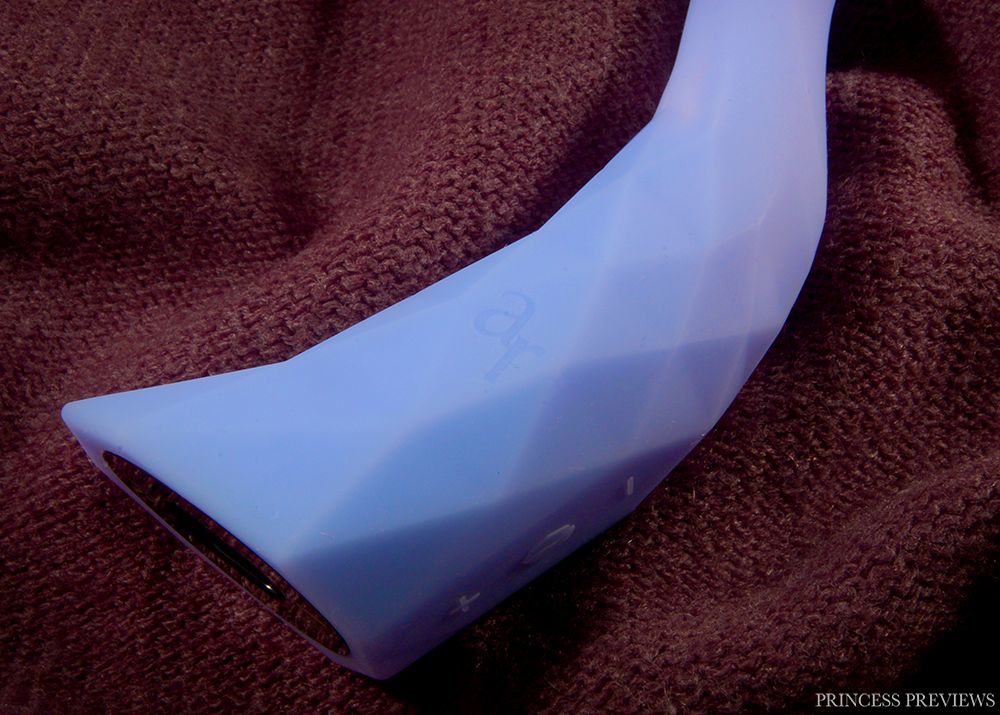 Since the L'amourose Prism V is made of silicone and is waterproof cleaning it is super simple. Just give it a wipe down with some warm water and mild soap before leaving to air dry. It can then be returned back to its storage bag. Also make sure to only use water-based lubricants with it, as other kinds may damage the silicone.
I love reviewing toys that help me learn new things about my body. I had already accepted that G-spot vibrators just weren't for me, and had no plans to get one. But when I heard the good reviews of the L'amourose Prism V I just couldn't resist and hoped that it would change my opinion. Not only did it do so, but it made me discover that I actually LOVE G-spot vibrations. With the Prism V I get all the amazing feelings of G-Spot stimulation that I get with toys like the Jopen Comet Wand, as well as the deep rumbly vibrations that heighten orgasms and extend them out to lengths I never usually achieve. Since it also works so well as a clit vibe it is kind of like a two in one package, so if you are looking to get a toy that can be used both internally and externally this might be perfect. Plus it looks amazing and I feel safe knowing it is so well covered by warranty. If you want to try out a luxury vibrator or are interested in G-Spot vibrations then this is definitely the toy to buy.
You can get the L'amourose Prism V from JOUJOU for just $149.95 AUD / $111 USD!
Material - 80%
Appearance / Design - 100%
Solo - 90%
Partner - 75%
Vibrations - 95%
Noise Level - 80%
Fantastic rumbly vibrations that deeply penetrate my G-Spot.
I received this product in exchange for an honest and unbiased review. Affiliate links have been used in this post.