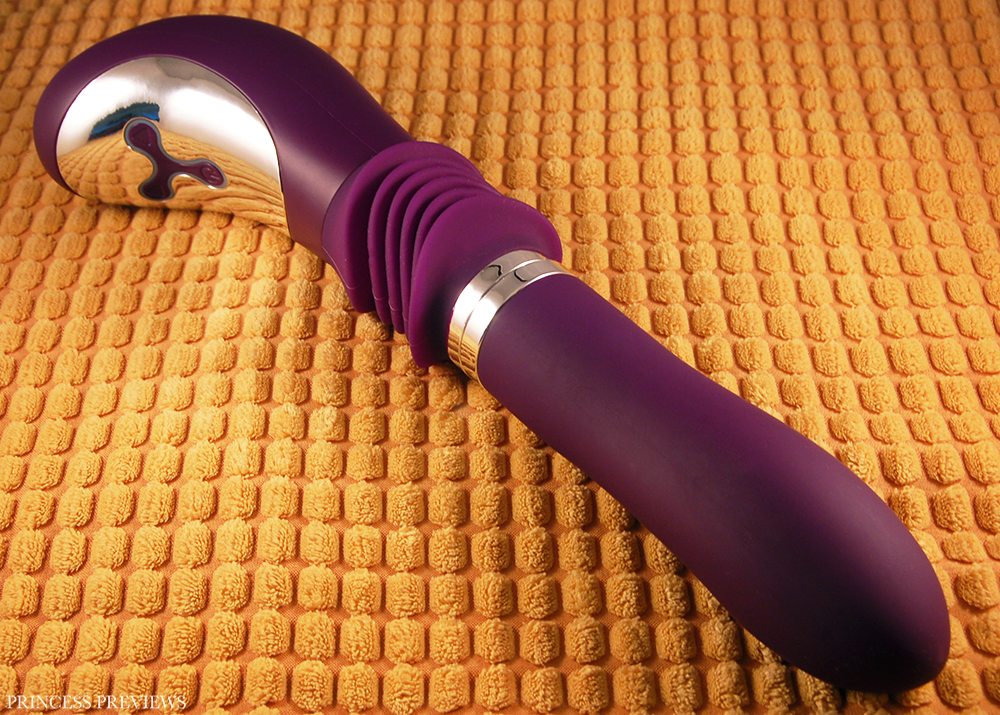 Two of the things I am most passionate about as a sex toy reviewer is trying new things and featuring Australian manufacturers. I've found the best way to scout out both of these is at Sexpo, an annual sex convention here that I usually attend. During Sexpo 2016 I met a number of fantastic Australian manufacturers that I had never heard of before. One such company was Dare Too, the Melbourne-based creator of hand-held thruster vibrator MiaMaxx. After the convention I contacted them about reviewing the product, but this was sadly met with no response. I always remembered the toy though, as even now I haven't tried anything like it, and was very intrigued. So recently when Femplay contacted me about reviewing some of their products, I was happily surprised to see the MiaMaxx as part of the range they stock. I requested it and they thankfully accepted, so now here I am finally reviewing it!
The MiaMaxx is my first foray into the world of fucking machines. It is something that interests me a lot, and I love reading reviews of them from my fellow bloggers. Frustratingly, I've found them harder to find here than in other countries, but that doesn't stop my curiosity. At conventions like Sexpo I have noticed an increasing interest by the Australian public for hand-held versions of these fucking machines however. Of all the ones I noted the last time I attended Sexpo, the MiaMaxx certainly seemed the most promising to me. In addition to the MiaMaxx, Dare Too also produce various add-ons for the toy to enhance your experience of using it. They offer four different sleeves for it (as this is interchangeable), a wall / floor stand to make it hands-free, and a leather holster to keep it in.
The MiaMaxx is easily my biggest sex toy other than my larger wand vibrators, coming in at 36cm / 14.2″ at its extended length, and 29cm / 11.4″ when the shaft is fully retracted, meaning it has 7cm / 3″ of thrusting capability. The shaft itself is not small either, it only has a length of 13cm / 5″, which is a bit short for my usual preferences, however its max diameter of 4.5cm / 1.75″ is what really gets me. 1.75″ is the largest diameter I have ever been able to receive inside of me, and this depends heavily on the density of the material. I only have a few other toys this large, one of them being the Tantus Vamp, which I was barely able to use at all because the material of it is so firm. To be honest, if I had known how big this toy was I probably wouldn't have requested it, as there was a pretty good chance it wouldn't fit inside of me. But frustratingly the maximum diameter is not actually listed on any of its product pages (they say 4cm, but that extra .5cm make a big difference), so I didn't know until receiving it. Its silicone is rather firm, but definitely softer than the Tantus Vamp, so I'll save you skipping to the end to let you know now that it did indeed fit (thank goodness!).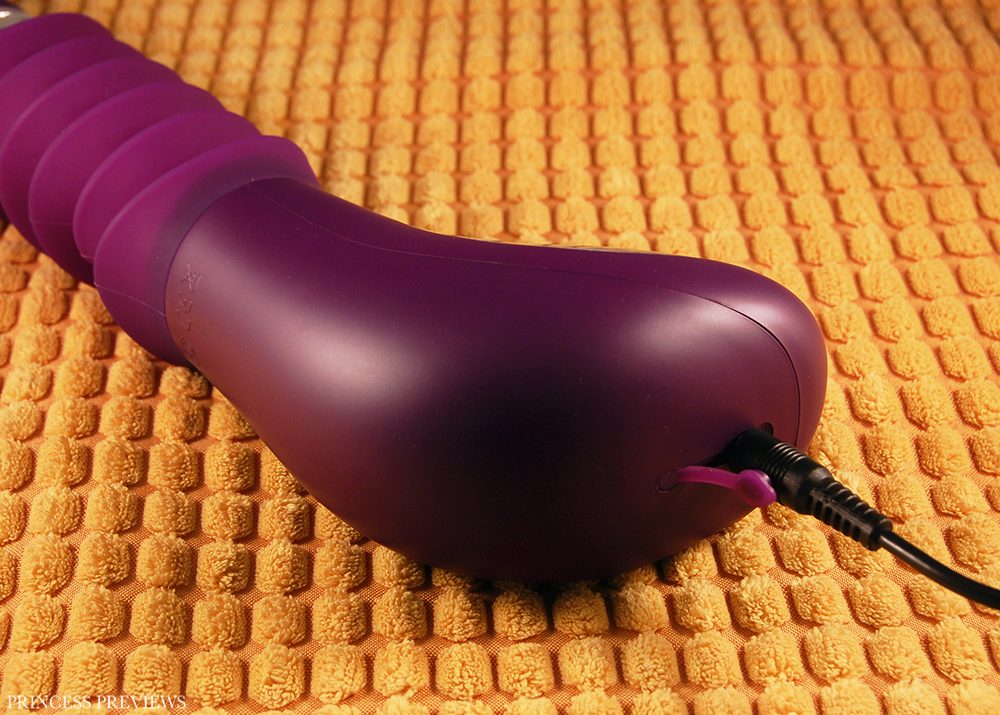 The MiaMaxx is the second most expensive sex toy I have ever reviewed, coming in at $300 AUD / $240 USD, being only beaten out by the O-Wand. So, as one would imagine I have quite high expectations and standards for it. Looking at it I don't really get that luxury toy feel that other higher-end toys seem to have. Its handle uses rather cheap-feeling ABS plastic with a large seam, and on this is a very reflective silver area which also feels low-quality. The buttons are placed in this area, with the three of them using the same purple ABS plastic as the handle. Around these is a strip for LED lights, so they may light up during charging or use. On the very bottom of the handle is a small silicone strip that protects the charging port. The extendable section of the toy is then made with thin silicone that is creased in a way so that it can be easily folded. This also has a seam, and the actual rod that's inside of it, allowing the thrusting mechanism to work, can be easily felt. Finally is the actual insertable shaft, connected to the toy with more of the reflective plastic, which is the most high quality feeling section of the toy. This is made with a buttery soft silicone, which only has a faint seam. It can be twisted to remove, which can be useful for cleaning or if you have another compatible sleeve you want to replace it with. The toy only comes in two colours, black and purple.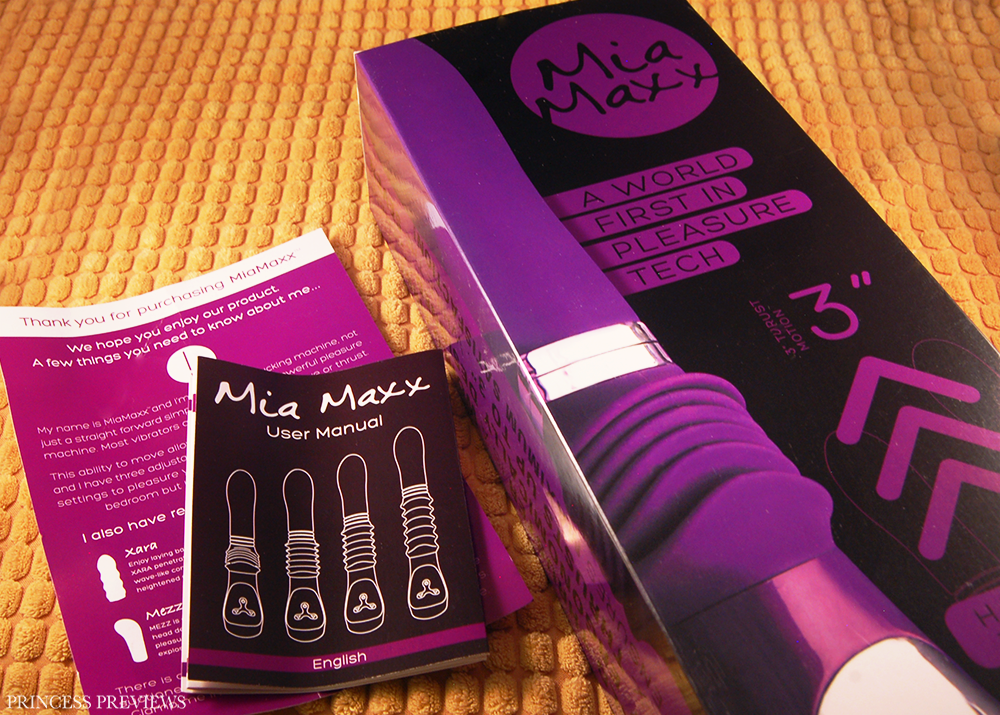 My order with Femplay for the MiaMaxx Hand-Held Thruster Vibrator was placed around the 27th of June and I promptly received it on the 3rd of July. The package was completely discreet, with no mention of the sender or what items were contained inside, which is great if privacy is a concern for you. The box for the MiaMaxx is big, but an adequate size for a toy like this. I definitely don't get '$300 toy' from it, but otherwise it is quite nice packaging. The initial box uses a black and purple colour-scheme, which goes nicely with the toy, and it features all sorts of information about the it. Inside of this is another box, which only has the words MiaMaxx on it, making it far more discreet and perfect for storage purposes. Inside of this is a plastic cut out for the toy to rest in, along with the charging cord, an instruction manual, a 'thank you for your purchase / introduction' sheet, and a storage bag. The bag is particularly nice, being large enough for the toy and also being labelled with the toy's name. The MiaMaxx is supposed to come with a 12 month warranty according to the website and packaging, however in the actual instructions it lists it as a 6 month warranty. The instructions also mention that those without internet should call Dare Too or return the product to the address listed, however there is no phone numbers to call or addresses listed anywhere on the packaging or instructions.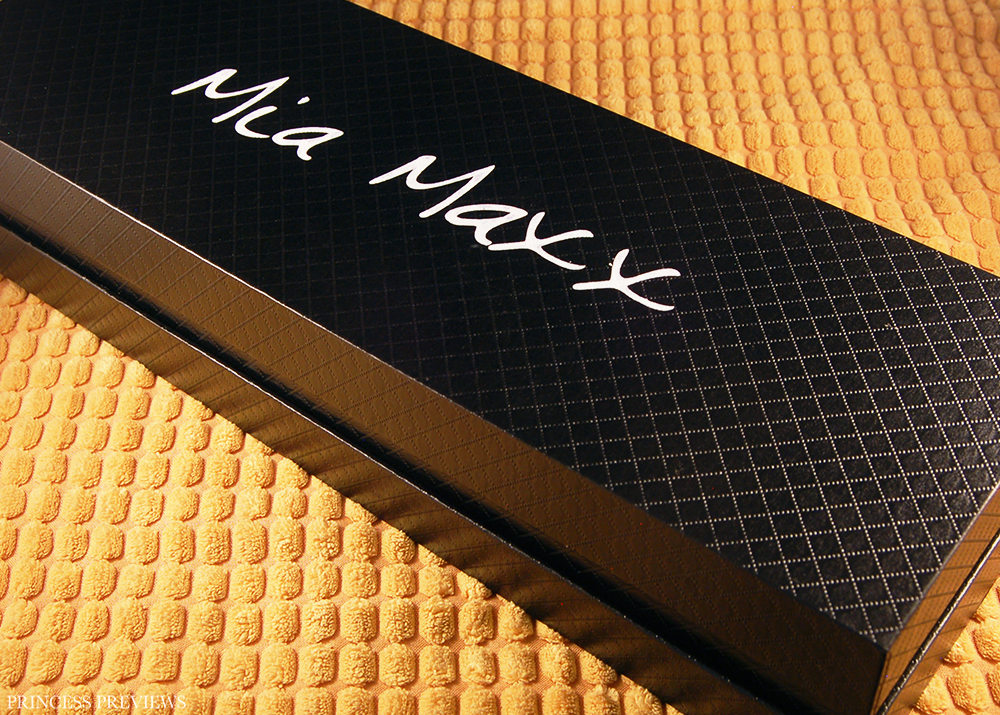 The MiaMaxx is USB rechargeable, which makes charging it is easy. Just plug the charging cord into the bottom of the toy, and the other end in a USB port. Once plugged in, the LED lights around the buttons should start flashing red, and when finished the light will become a constant blue. The website states it should then take 45 minutes to charge, however the instructions say 1-2 hours (I find it takes even longer than 2 hours). Unfortunately it doesn't mention anywhere how much playtime the charge will give you. I have found that this toy does not keep its charge very well however, as I often charge my toys in bulk before use, and have often gone to use this a few days later (after having fully charged it previously) to find it with a flat battery.
The buttons on the MiaMaxx are not very self-explanatory, but once you know what's what they are rather easy to use. The top button is the on/off button (this one is easy as it has the power symbol), while the right triangle controls the thrusting, and the left triangle controls the vibrations. To use it, press the on/off button, which will start the thrusting and vibrations at their lowest speeds. You can then use the thrusting button to toggle through its two other speeds, before looping back to the start. Alternatively, pressing the vibration button will let you toggle through seven vibration modes, three of which are steady, and the rest being patterns. You can also hold down the thrusting button, to turn the thrusting feature off and just use the vibrations. Or alternatively, hold down the vibrations button to turn these off. The LED lights blink and change colour depending on the setting that is on, and if the highest levels of both the thrusting and vibrations are on it looks a bit like a rave party.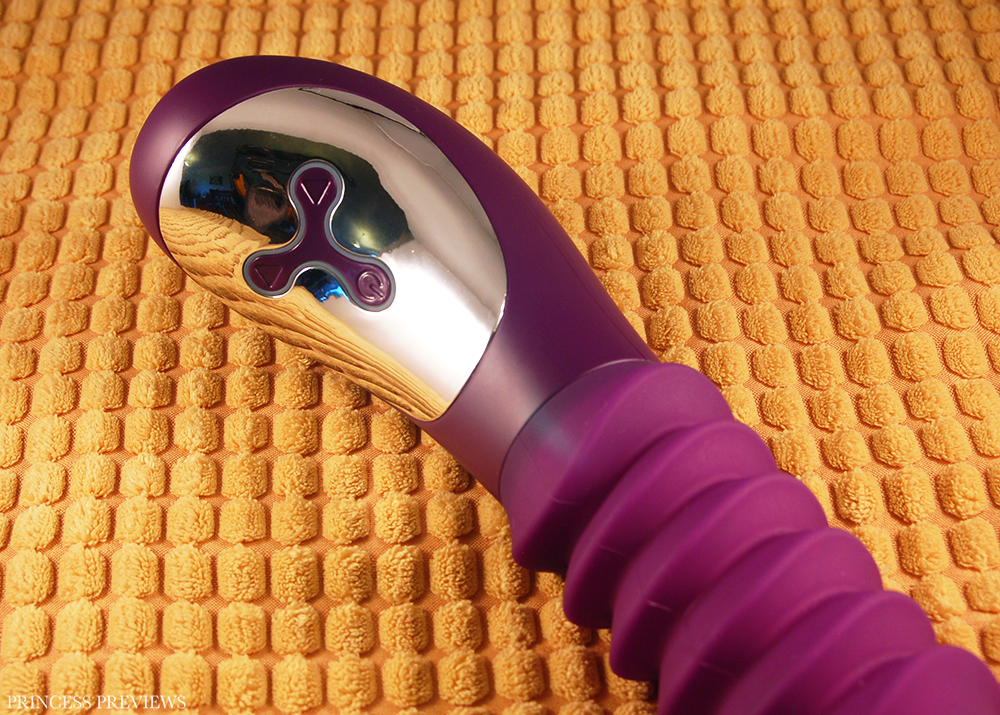 The vibrations are very buzzy and weak, although I see them more as a side element to add extra stimulation rather than the main event, so in this regard they are fine (just not $300's worth). The biggest issue with this toy when turned on is its noise level, which is probably the loudest of any toy I own. This is to be expected however, as a toy like this will inevitably create a lot of noise. The instruction manual even says "I make a little noise in the bedroom but I'm a machine, not a whisperer". Despite knowing of its noise in advance, I still find it unbearably loud at times, and it leaves me in constant worry that the rest of my apartment building can hear it. What's more, the vibration mode which has no excuse for a high noise level, is also extremely loud, making things even worse when this and the thrusts are turned on together. It certainly kills the mood when using this toy with my partner, and means I need to speed up my use of it to ensure I finish before I get a headache.
To use this toy I require a lot of warming up prior. I have a particularly tight vagina, so some people may find they need not warm up at all before use. To do so I use my Tantus Pack 'n Play No.2, and sometimes my Tantus Vamp Super Soft as well. I find the more orgasms I have beforehand, the easiest insertion usually is. After all that I apply a good amount of lubricant, and then find it relatively easy to insert.
It's hard to describe my experience with the MiaMaxx once it's inside of me, but the main thing I want to say is that I just don't get it. This toy does everything it is meant to, and there are no real issues in using it. But I hate it. Like, a lot. I find it extremely boring and not stimulating at all, and it also feels very unnatural and uncomfortable. I don't enjoy having it inside of me, and want to take it out as soon as I put it in me. But I want to like this toy, and feel like I don't really have a good reason to not. This has been one of the most difficult reviews for me to write, and I've tested it far more than I usually test toys for a review, because I wanted to give it more chances. But I've finally given up and accepted this is just not a toy for me.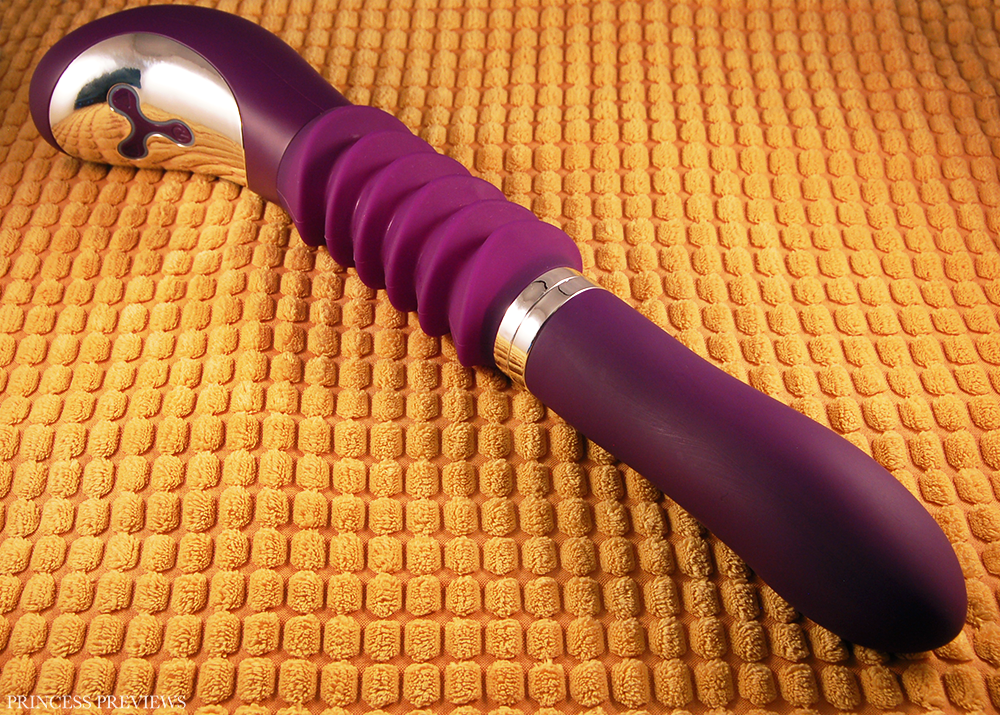 I know other people like this toy, and toys like it, so I don't want to fully put you off with this review. Not everyone likes certain things, and I guess this is something I don't like. If I had more experience with thrusting toys and knew that I loved them, then I would be able to easily say that there just is something wrong with this toy, but since this is my first hand-held thruster I have nothing to base my opinions off of.
Despite all this, the toy did work well when in use (even if I didn't like it). I found it rather easy to hold, even with the thrusting turned on, and adjusting the speeds was also easy in use. The thrusting was a little too slow for my tastes, and even when I turned it up to its highest thrusting speed I felt it lacked any force or strength. The toy will automatically turn off if there is any force on it, which is a fantastic safety measure, but it also meant that it would constantly turn off when I started to get really into it. I also found the shaft far too short, so it felt like it was just teasing me and never going in far enough to make much of an impact. The reflective surface around the buttons also turned out to be a poor choice in use, because it was like having a mirror facing me while masturbating, which may be perfect for some but was not for me. Finally, the noise was one of the hardest parts to deal with when using it. It would drown out my porn and my partner's voice, and made using the MiaMaxx almost impossible for me. In the end, I was never able to orgasm while using it.
This toy is also suppose to be suitable for anal use, however I am not completely sold on this. If the toy goes in past the initial shaft and to the thinner silicone section (which is likely will since it's so short), it will be very uncomfortable and will also create a bit of a plug around the inner rod. What's more, if this thing is still thrusting when that happens, then it could possibly hurt you. I am not an expert in these matters, but personally I would not recommend using it in this way.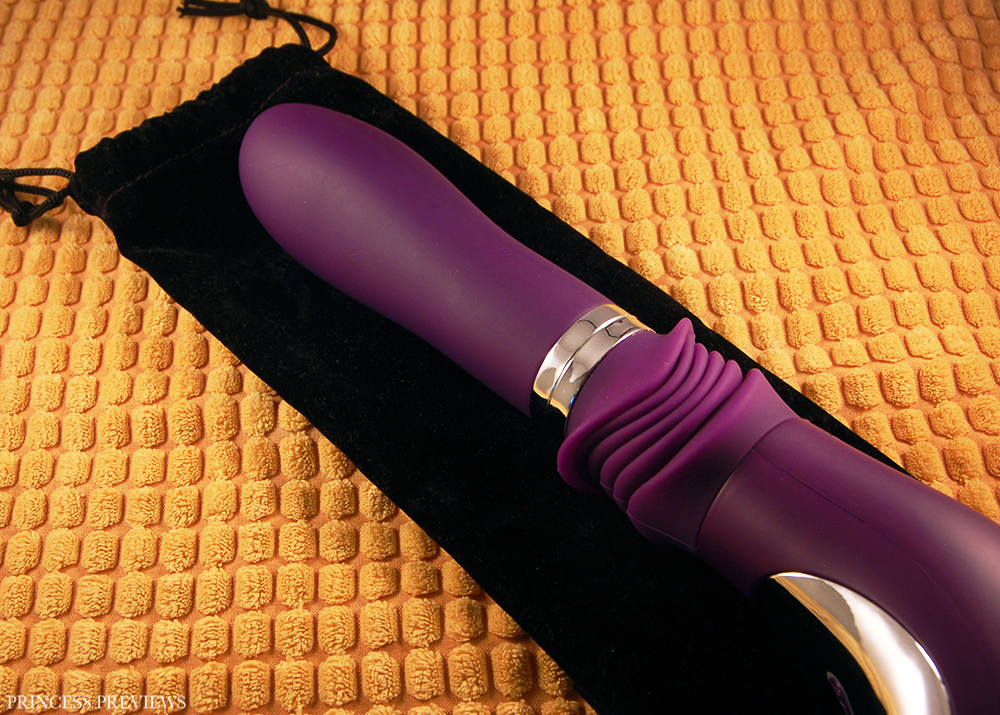 Cleaning the MiaMaxx can be rather tricky, as it is not waterproof. The main shaft is easy, as this can be removed, and since it is just silicone and plastic it can be placed in water. You then may also need to wipe down the handle and middle area, as these may also get messy. The worst part about cleaning it is the reflective plastic strips that connect the shaft to the main body of the toy, as gunk and bacteria will go under these. They are very hard to clean out, but important to do so, and I'd recommend using a spare toothbrush. For all this you can just use warm water and some soap. After this you can dry with lint free cloth or towel. For storage it can be placed either in its storage bag, storage box, or both. Since it is made of silicone, also ensure you only use water-based lubricants with it.
This has been a hard review for me. Is this just a terrible sex toy, or is it just not my cup of tea? I won't really know until I get to try more toys like this. But for now, all I can do is caution my readers in buying it, perhaps it is great, but it's also a lot of money. I may not be sure of my opinion in regards to its use, but I do certainly feel like it isn't up to the standards of other luxury toys. It seems poorly made from low-quality materials, is incredibly loud (both its vibrations and thrusting), and the information provided for it both online and in its instructions seem contradictory, confusing, and inaccurate. It is especially worrying that the warranty seems so unclear, as this is a very important factor for a toy of this price. In addition, the fact that it takes so long to charge and then quickly goes flat is quite concerning, and I would expect far more from such an expensive toy. Overall, I would say if you have the money for this then by all means give it a go (and let me know what you thought!), but otherwise save your pennies and buy something more reliable.
If you're in Australia you can buy the MiaMaxx Hand-Held Thruster Vibrator from Femplay for just $300.99 AUD!
For everyone else, you can buy it at JOUJOU for just $218.91 USD!
Material - 90%
Appearance / Design - 70%
Solo - 29%
Partner - 20%
Vibrations - 70%
Thrusting - 60%
Noise Level - 0%
This toy didn't meet my personal preferences, or my standards for a toy of its price tag.
I received this product in exchange for an honest and unbiased review. Affiliate links have been used in this post.