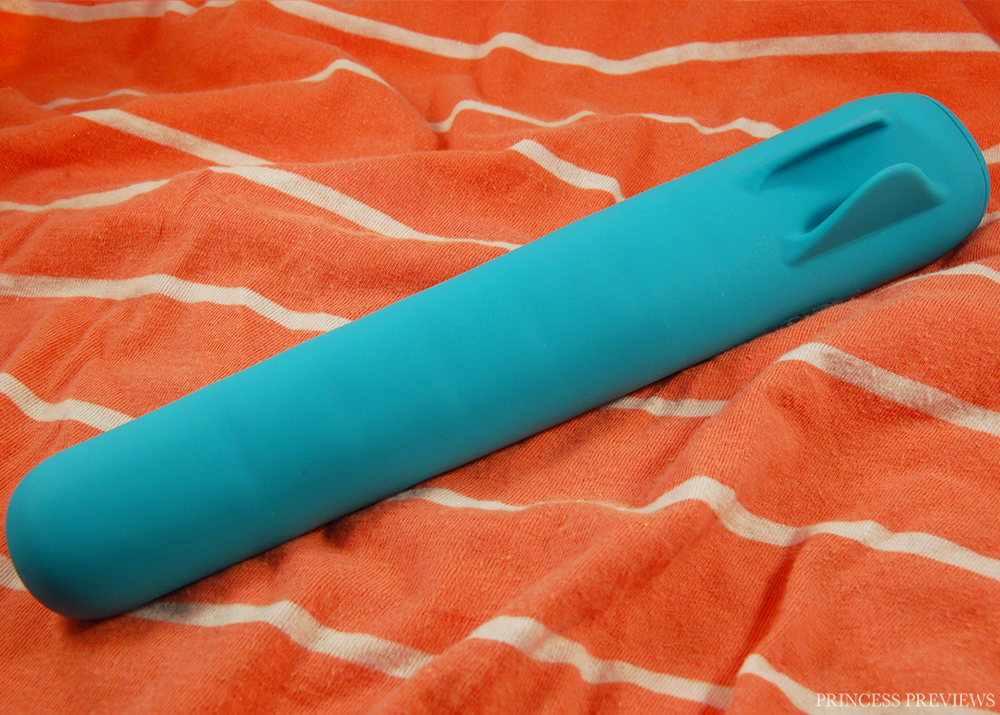 It is not often a sex toy gains the amount of popularity that the MysteryVibe Crescendo achieved before it was even released. What started as a crowd funding campaign in 2005, the Crescendo quickly became seen as the next big thing in sex toys by both bloggers and the sex-positive general public alike. The idea of a bendable sex toy with six motors instantly made headlines, and its innovative design of a gender neutral and fully customisable vibrator that could be adjusted to suit the user's preferences was much welcomed and endorsed by sex bloggers, including me. Plus, combined with its app and six (yes, that wasn't a typo) motors you can even customise and design your own vibration styles and patterns. The seemingly only downside to the toy was its material, which was TPE, but they have now changed this to wonderful body-safe silicone, making what seemed like a already pretty perfect toy even better!
MysteryVibe is a UK based company and Crescendo is their flagship product. They've been working on it for around six years now and I've been excited to try it ever since I heard about it while it was being crowdfunded. The idea is brilliant, versatile sex toys are some of the best because nobody's body is the same, and sex toys such as rabbit vibrators and G-spot stimulators can be a huge, and sometimes expensive, let down if they don't work for you. What's more is we are constantly bombarded by gender stereotypes when it comes to sex toys, visit almost any online sex store and it'll have toys separated into 'female' and 'male' sections, even though most toys can be used vice versa. The Crescendo breaks down these barriers though, and allows it to be used by anyone, gender and preferences aside.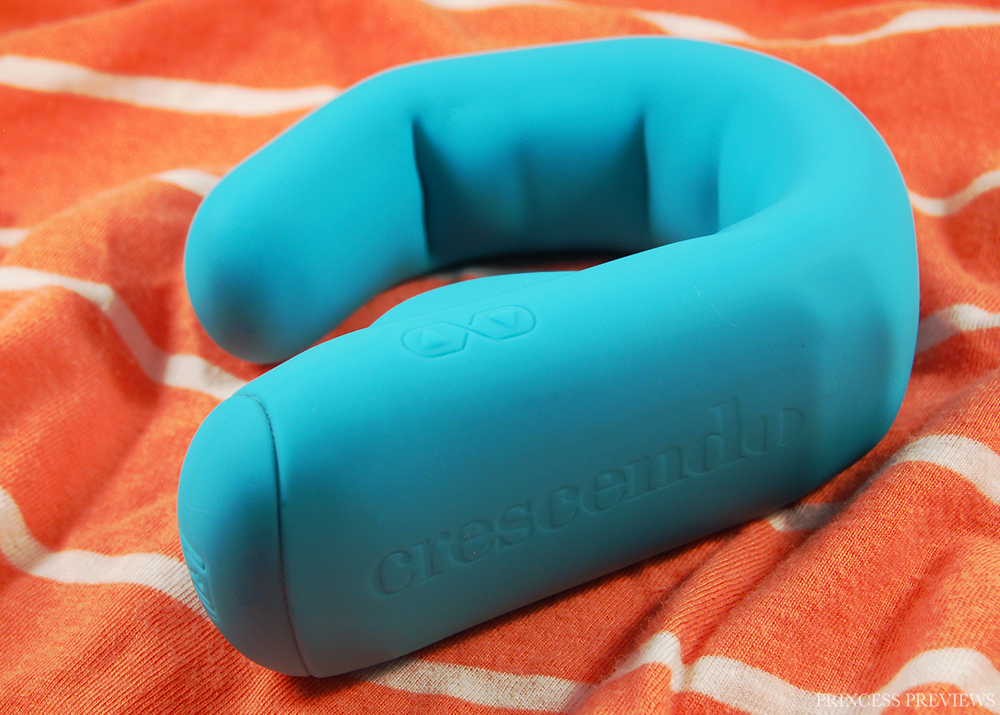 The Crescendo comes in both purple and blue, and personally I just adore the blue which is my favourite colour for a sex toy to come in. Its overall design is sleek and almost rectangular rather than round and it gets slowly wider as it progresses towards the handle. The silicone is matte so it is silky smooth and barely picks up any hair or lint which is a dream come true for any insertable toy, and not something I surprisingly come across often. Near the end I am referring to as the 'handle' it has the name 'Crescendo' imbedded as well as the MysteryVibe logo. On either side of this text is its control buttons, as well as some flaps which are for extra stimulation. At the very top where the MysteryVibe logo is placed is a seam on the silicone which is rather pronounced, and the only thing I do not like about the toy's initial design as it makes me worry about bacteria hiding in it and water getting in. One thing I particularly like is that this toy is rather slim, with its maximum width being 4cm / 1.6 inches and its insertable length being 15cm / 6 inches, meaning it is a toy that needs no warm-up and can be easily used by even beginners to vaginal penetration. The Crescendo ticks all the other usual boxes, it is waterproof and rechargeable, plus can either be controlled with its buttons or through the smart phone application. The Crescendo is not designed for anal or use with a harness as it has no flared base. Lastly, shaping it is easy, it does take a little effort so the shapes stay sturdy, but I never feel like I am going to break it.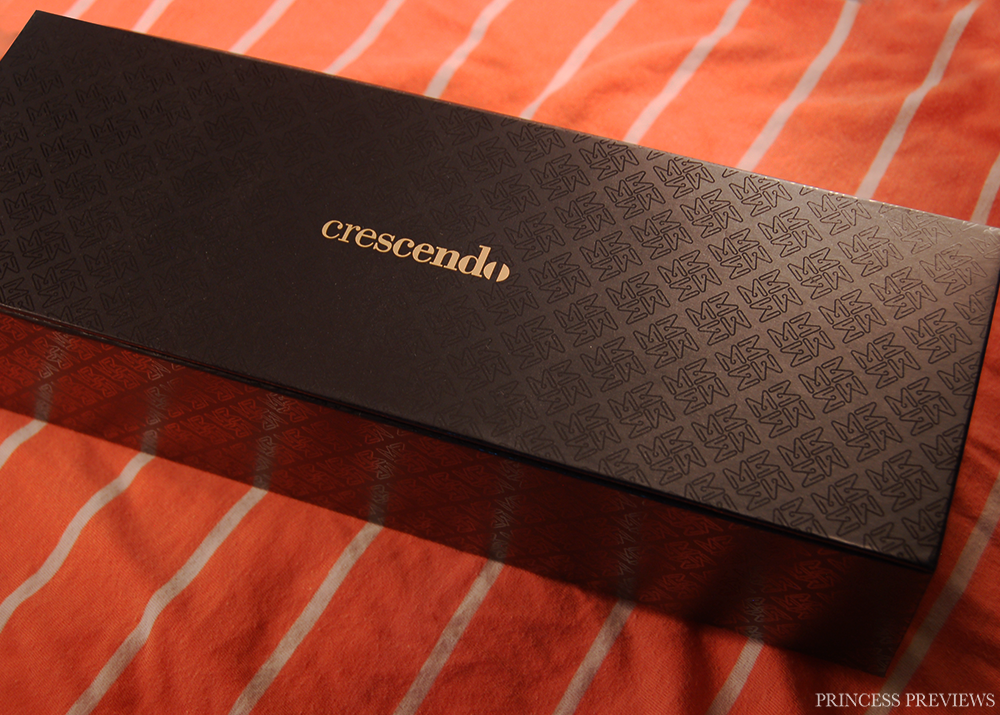 I was offered the Crescendo to review from JOUJOU, one of my favourite Australian stores. It was sent on the 28th of November and as with all JOUJOU orders it promptly arrived by the 2nd of December with the utmost discretion (no mention of who the sender was or what was inside). The packaging for the Crescendo is simple but still very luxurious as I expected it would be. The outer black sleeve contains the toys branding as well as some simple information about the toy on the bottom. Taking that off reveals a very sleek, beautiful black box which only has the Crescendo logo embedded in gold on it and a pattern made up of the MysteryVibe logo that is printed to look like a elegant wallpaper. This box is perfect for storage since it is very discreet as well as gorgeous. This has a magnetic lid which when opened reveals the toy, as well as its storage bag, charging stand and cable, as well as three small black pieces of card which are kept in a cute little envelope and contain information on how to use the toy as well as how to claim your 12 month warranty. The storage bag for the Crescendo is something else, usually these bags are as simple as possible but this one is beautifully padded, has three compartments (one for the toy, one for the charging cable and one for the charging stand) plus it is tied together by a long black ribbon which features the MysteryVibe logo. This is a perfect bag for travelling with the toy since it accommodates for the charging equipment too and the padding offers protection.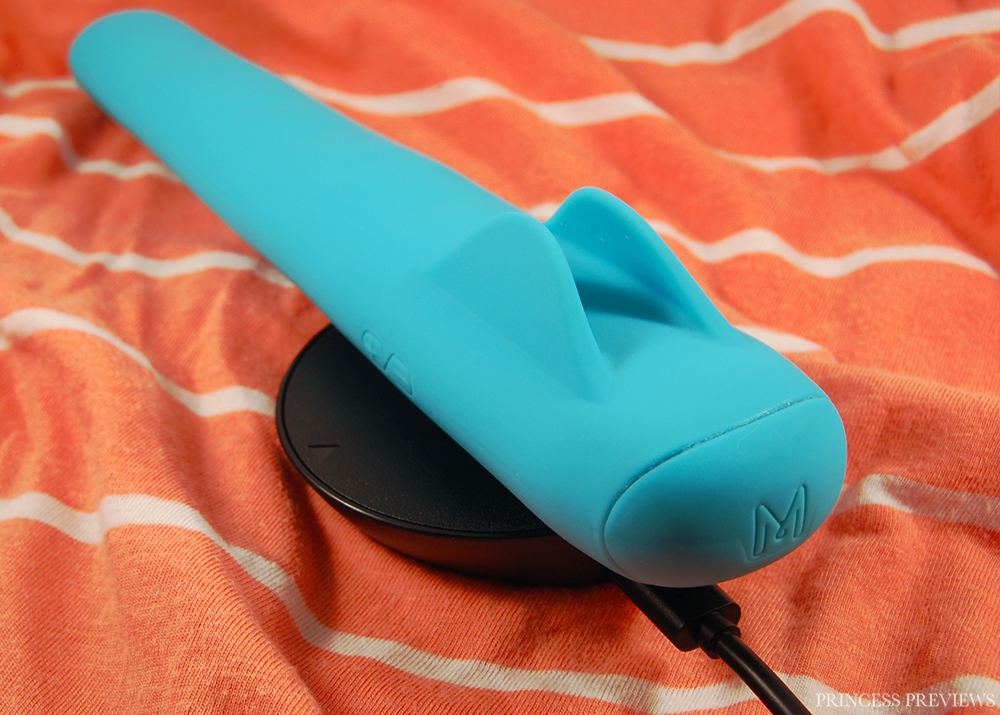 Charging the toy is pretty cool since this is my first wireless rechargeable toy. Basically what that means is that there is still a cable that you need to plug into a USB port but instead of this being plugged into the toy directly it is instead plugged into a charging stand. The toy can then be placed on top of this stand and when the minus button on the toy is lined up with the arrow on the stand the toy will charge. The stand will then blink green to indicate charging and then go solid green when fully charged. Alternatively a red light will come up if it needs to be repositioned. Charging should take 1 hour and this will give you around 2 hours of play time. I really like the idea of this charging stand, although it can be a bit tricky to position perfectly and if you knock it only slightly it can come off charge, making it about as annoying as I find the We-Vibe Tango's always disconnecting magnetic charger. Overall though with practice I believe placing it correctly will become second nature and as long as it is out of the way of being knocked it is quite convenient.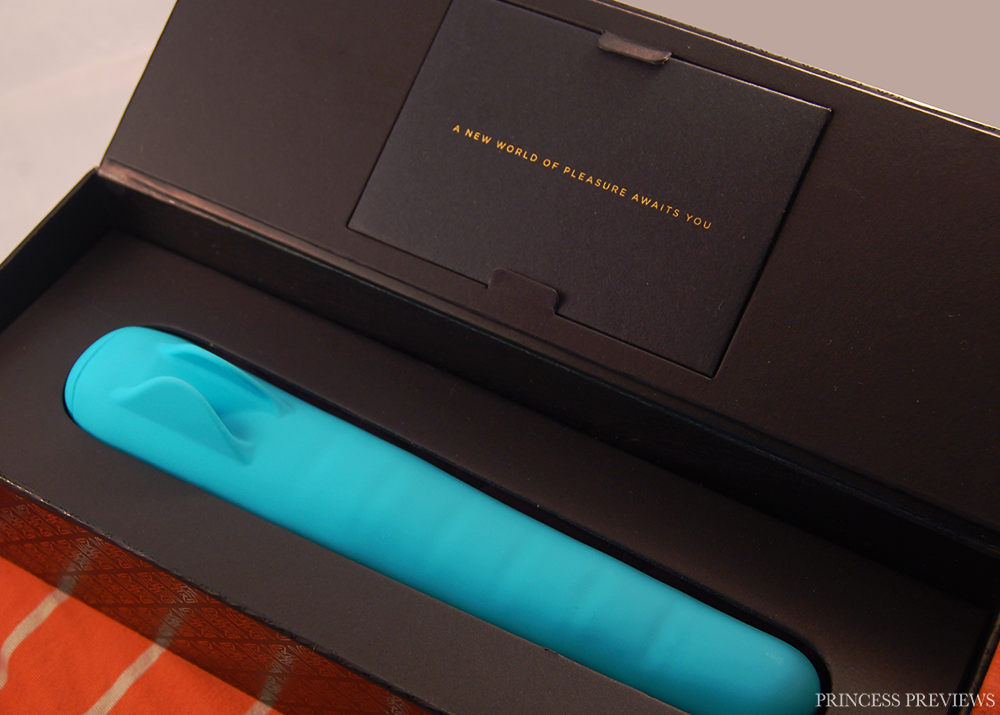 I've really struggled figuring out the process of actually using the vibrations for this toy, both in terms of the buttons and app, so I apologise if information is vague or not spot on for these next few paragraphs. I feel like MysteryVibe put so much effort into creating an awesome vibrator and getting media attention that they didn't actually put enough effort into explaining how to control it. Their tiny instruction manual is very luxurious looking, but personally I would have just preferred a long manual walking me through using it and ideas for shapes to put it in instead. If you need help they do have a FAQ on their website which offers up some answers.
So, first off is the actual buttons on the vibrator, since I prefer to not always be holding my phone while masturbating or having sex. There is four buttons in total, two on each side of the toy. One side features + and – buttons which cycles through the 16 vibration intensity levels while the other side has < and > buttons which cycles through the vibration types. I've said this a few times with reviews but 16 vibration strengths is just too many. I can't see why anyone would need more than four, maybe six maximum, but that's just a personal opinion and I guess some people just want to get a really specific vibration. Changing the vibration types (which needs to be done via the app) is where I get a little confused though. Basically this toy can't be used without patterns, which for someone like me who hates patterns isn't particularly great. But considering this has six motors, I do understand the point because using it without patterns would probably defeat the purpose. Still I wish there was a way to easily access a static vibration strength. The toy boasts a 4GB SD card inside it to store patterns, although at the same time the maximum you can add to the toy is 12, which I don't fully understand. You can turn the Crescendo on and off by holding down any button for 2 seconds, and it'll remember where you left off when you turn it back on.
The app is very edgy and designer, not stock standard at all, but this can make it very confusing. It is available for both iPhones and Android and is easy to find by just searching 'Mystery Vibe'. Its icon is pretty discreet, so you don't need to worry about people noticing it on your app screen. Something this app does that differs from my previous sex toy app review for the IMTOY Gazelle Wand is that the app cannot be opened unless it is connected via bluetooth to the toy, so no playing around with it when you aren't with the toy. This also may however help with privacy concerns since it means no one can get into it without also having the toy on hand. One concern is that a few times I have had trouble connecting the app to the toy, which is not great for the mood while I'm in the middle of sex. Once in the app there is essentially two menus that can be accessed by either swiping up or down.  By going up you get to your pre-loaded patterns and from here you can order them and then play them. There is a awesome visual aid to show off what each pattern is doing to the motors which I find really helps when trying to choose. By swiping down you can preview (like the 10 second previews of songs on iTunes) vibration patterns and then download the ones you like and install them to your Crescendo. The ability to create your own vibes is still 'coming soon'. Overall the app is relatively easy to use once you get the hand of how trippy the interface is. My biggest negative for it is definitely the sound which should never be turned on, it sounds like a 5 year old pressing down buttons on a keyboard and then that on repeat, plus when going through the vibration patterns there is the sound of a women gasping repeatedly.
As soon as I discovered that this toy uses pattern vibrations only things did not look good for my ability to use it on my clitoris. Furthermore I have unfortunately found the vibrations to be quite buzzy. On the lower settings they do have a rumbly feel to them (rumbly as in a deeply penetrating vibration which my clit prefers vs buzzy which I find just tickles my skin) but as it gets higher all the rumble is replaced with buzz and my skin just feels numb to it. I have tried many different times in different ways but my clitoris just does not respond to the vibrations of this toy. I'm not talking it can't get me over the edge of orgasm like some weaker toys struggle to do, but I'm talking it does literally nothing. I relate the experience to my time reviewing the Jimmyjane Intro 2 which was also a dual-motored vibrator and similarly was too buzzy to effect me. I don't consider myself to have a difficult clitoris to stimulate, I regularly masturbate without the help of vibrators, so I'm rather shocked that such an expensive luxury toy failed me on this level.
What's more is that when using the toy shaped kind of like a We-Vibe, curved so that one end is up against my G-spot while the other is on my clit, I found that the 'flaps' that I presumed were meant to cover my clitoris were too high and I could not adjust it to be lower. I tried turning the vibrator around so that the flaps were instead facing away from me so I wouldn't have to worry about them, but still the motor that was designed to hit my clit could not reach. I have always been reluctant to own any sort of We-Vibe or Rabbit vibrator for fear of this issue arising, and now on the world's most 'customisable' vibrator I can't customize it to suit me.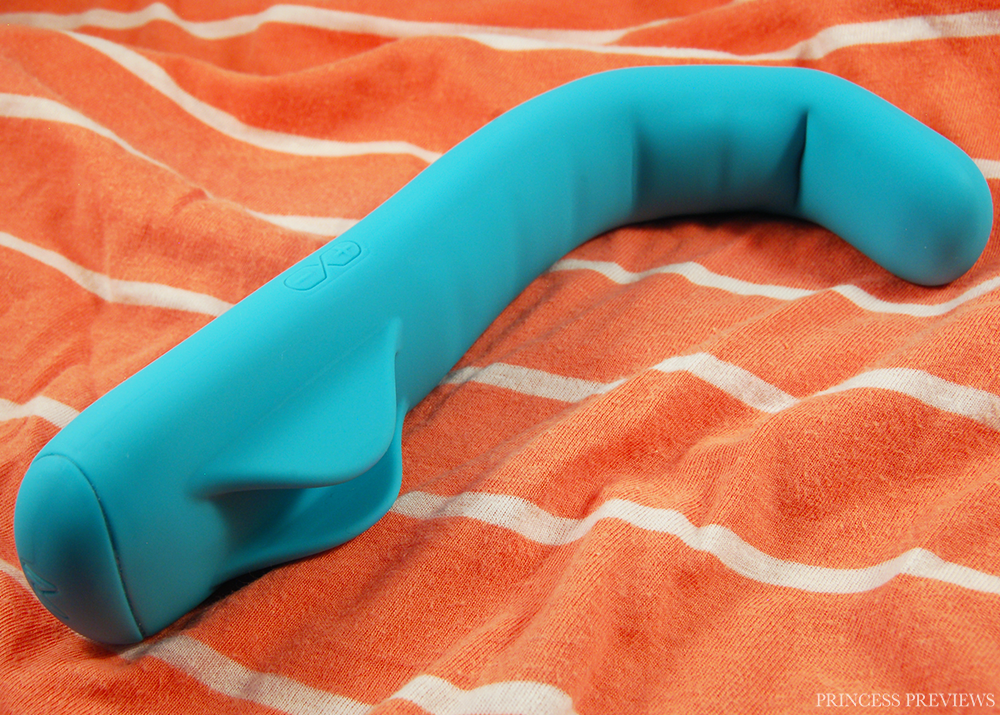 After it was clear this vibrator was not destined to stimulate my clit I moved on to trying it internally. It took a lot of shape testing but I eventually managed to find the perfect way to shape it for excellent G-spot stimulation if curved just right. The only issue with this is I always forget exactly how to make the shape, and as you can imagine having to constantly adjust it can give you some very messy hands. I found that using it on the 'Power Max' pattern but turned down to a low strength, which just means all the motors are running at the same speed, is the best way to use it internally, but since it means the motors on the handle are going off too I can get numb hands after awhile. Using it as a G-spot stimulator and paired with my We-Vibe Tango I am finally able to have some pretty sweet orgasms with it. However it sometimes can be a pain since I need to put a lot of pressure on my G-spot and sometimes the handle can bend thinking I'm trying to adjust it instead.
The Crescendo is quite noisy, especially on its higher settings. I again relate it to my Jimmyjane Intro 2 since due to it having multiple motors I find that even if they are all vibrating at the same speed they can give off different noises, meaning the sound can change as you hold it differently (see here for an example). I tested it on its highest setting with my Magic Wand Rechargeable, which is one of my loudest toys, and they are very similar in noise level, so if you live with housemates or parents I wouldn't recommend using this toy while they are home.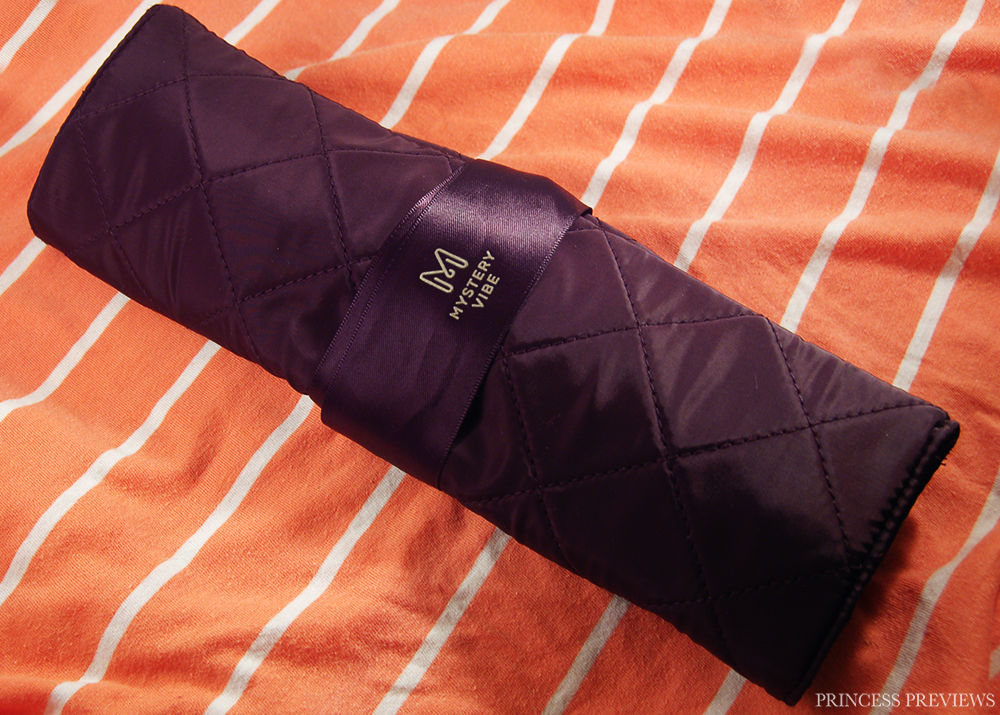 Cleaning the Crescendo is easy since it is fully waterproof. To do so you can wash it with some mild soap and water and then dry with a lint-free cloth. You can then store it in its storage pouch or box. The Crescendo is only compatible with water-based lubricant and it should not be boiled or have any chemical cleaners or abrasives used on it.
In conclusion it is hard to not feel let down by the Crescendo. The concept for it is so good and I really really wanted to like it, but some things just can't be sugar-coated. Without the help of another superior toy like my We-Vibe Tango there is no way I would have been able to have an orgasm with it. Its vibrations just didn't suit my clit, and I couldn't customize it to work with my body, which is its entire point. Using it for my G-spot was good, but you can purchase a Jopen Comet Wand or Njoy Pure Wand which have far superior G-spotting abilities for cheaper, heck you can buy both of those for cheaper and still have some change left over. For MysteryVibe's first crack at a sex toy I think they have done a really good job and thought outside the box with this, and I'm sure they'll get there eventually, but for me this just wasn't it.
You can buy the MysteryVibe Crescendo from JOUJOU for just $269.95 AUD / $204 USD!
Material - 90%
Appearance / Design - 75%
Solo - 55%
Partner - 30%
Vibrations - 20%
Noise Level - 45%
App - 75%
A good concept but the vibrations and shape did not work for my body.
I received this product in exchange for an honest and unbiased review. Affiliate links have been used in this post.