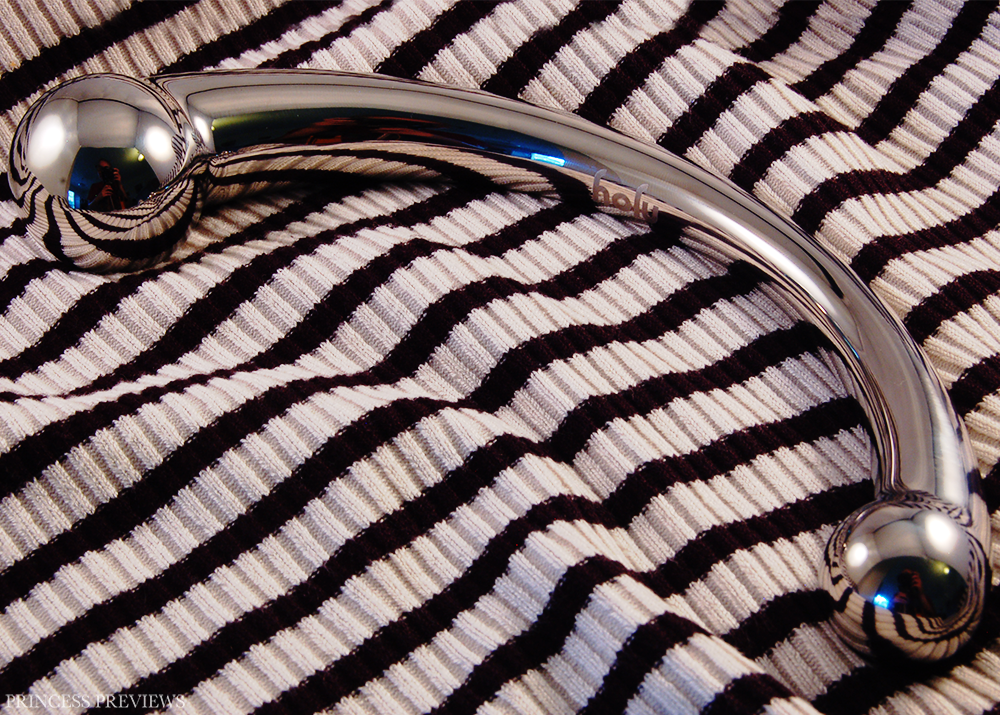 When I started reviewing I made a list of all the toys I believed were Sex Toy Reviewer Must-Haves. I'm proud to say I now own all of them, but for awhile there has been one exception to this and that was the Njoy Pure Wand. Renowned for its heavenly G-spotting and squirting abilities in the sex toy world, the Njoy Pure Wand has been a toy I have probably mentioned in my reviews over a hundred times. One of the main reasons I haven't gotten it till now (other than the price) is that I have a difficult G-spot that loves to hide and I was starting to think it just wasn't for me. This was until in July when I got the Jopen Comet Wand as a cheaper way for me to explore the world of G-spotting before committing to one of Njoy's pieces. If you've read that review, which I'd recommend if you're interested in G-spotting and the Pure Wand, you'll know that I absolutely adored it and instantly made the decision to get a Njoy Pure Wand as soon as humanly possible. So, of course, as soon as I heard one of my favourite stores to work with, JOUJOU, had started stocking Njoy recently, you can bet exactly what I requested!
Njoy is the premiere company for stainless steel sex toys in the industry. While they have a small range, they make up for this in the immense quality of each product. Each item is well known in the sex toy world, from their range of beautiful plugs to their equally as sought after Eleven dildo. Each one is cast in 316 medical grade stainless steel and hand-polished to a mirror shine. These toys aren't cheap, but if weight, solid materials, G or P -spot stimulation or temperature play are your things then trust me, these toys are well worth the investment and will last you a lifetime.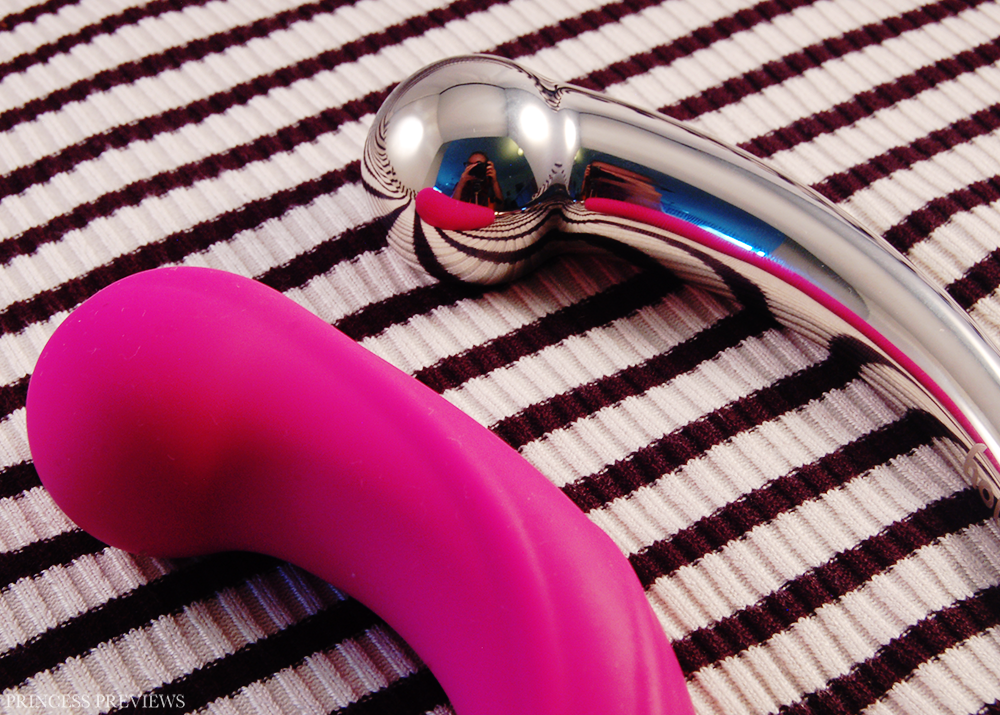 The Njoy Pure Wand is Njoy's most well known toy and this comes down to its G and P -spotting abilities. The toy is curved with two bulbous heads. The smaller one is 25mm in diameter and good for those with vaginas who prefer smaller toys as well as for anal use. The larger head which is 38mm in diameter is for more experienced anal toy users and the primary head for vaginal G-spot stimulation. The metal is completely smooth and polished to mirror-like perfection, and with lubricant you won't find a single touch of resistance during use. The toy may look relatively simple in design, but it is the weight that is the real hero. The toy weighs in at 680g / 1.5lb which is about the same weight as my Doxy Die Cast which is far far larger. If you have weak wrists or get fatigued easily then this may be a issue during personal use, but for everyone else it allows the toy to naturally enter you and lay against the areas it is designed to stimulate, as well as adding a new dimension of pleasure when this weight is applied against the areas. This toy is not harness compatible.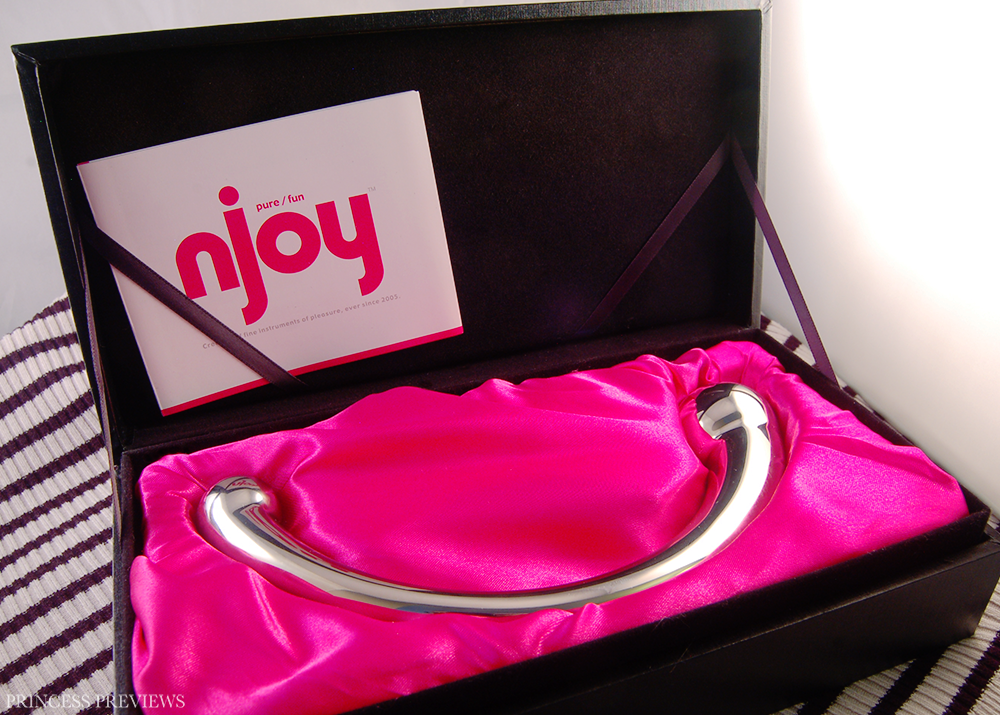 I asked JOUJOU for the Njoy Pure Wand on the 14th of November and as always promptly received it by the 17th. Keeping up with JOUJOU's 100% discreet policy no mention of who the sender was or what was contained in the package was listed, so if privacy is an issue for you then you are in good hands. I have read a few Njoy Pure Wand reviews so I had an idea of what to expect with packaging, but I was still a little blown away by the quality of it. At first you are presented by a white sleeve with just Njoy's logo on it, and upon taking that off it revealed a very sturdy, high-quality made box, this time with a golden version Njoy's logo debossed into it. The inside of the box has the same amount of detail put into it, with ribbon keeping the lid at a 90 degree angle and holding the instruction manual in place. The Pure Wand itself comes nestled among a bed of pink satin which gives off an almost royal feel to it. The instruction manual has some cleaning and care instructions, as well as a list of the rest of their toys. Usually I never keep toy packaging no matter how pretty, but I don't have the heart to throw out something this special so the Pure Wand will be kept safety in its box.
Most reviews you read of the Njoy Pure Wand go something along the lines of "I've never been able to squirt before, but with the Pure Wand I did it for the first time!!". As someone who has always wanted to squirt but never has, this was obviously one of the things I was most excited for in getting the Pure Wand and I wanted my review to play out exactly the same way. But I'll save you the anticipation and tell you right now that I sadly have not managed to squirt with the Pure Wand… yet. Believe me I have tried, but I won't ever stop trying and so if I ever manage to squirt with it I will update this review. It could be tomorrow, next month or maybe in a year, but I am determined to eventually do it with enough practice.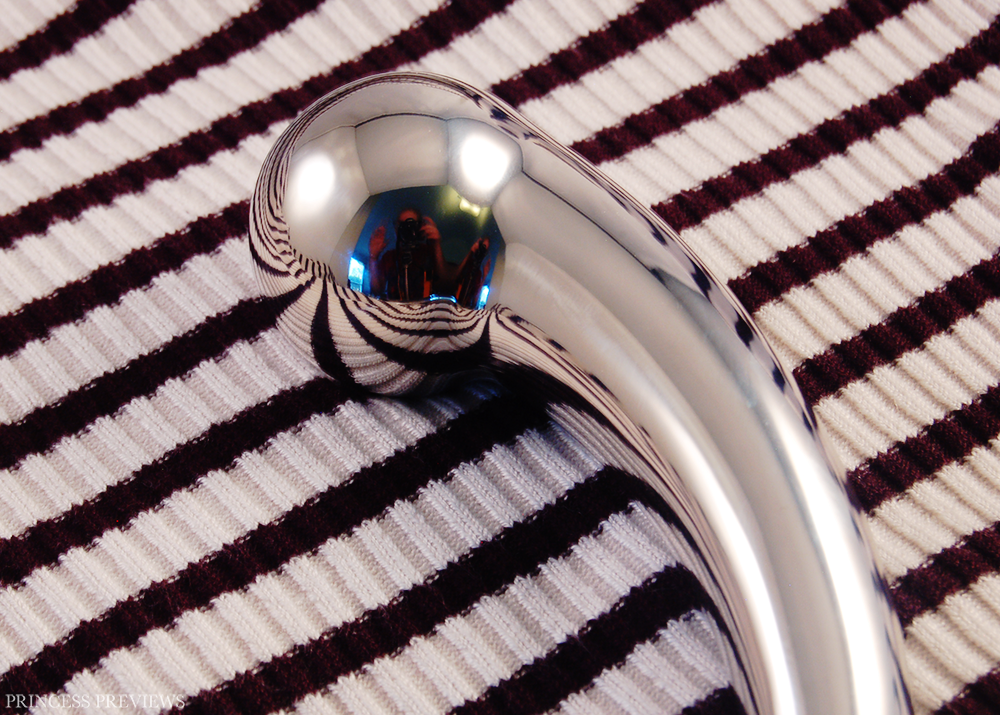 Now that unfortunate news is out of the way, let's move on to the good bits! Due to its slick and smooth material I find with just a small amount of lubricant the larger head of the Pure Wand, the only one I like to use, is easy to insert without a warm up or arousal first. If you do have trouble inserting it then I'd recommend starting off with a smaller toy first or using the smaller end to avoid hurting yourself (although clean it before moving onto the larger end or it will be very slippery). For the Pure Wand I find a little lube goes a long way and doesn't need to be reapplied very often which is great. Since it is metal the Pure Wand is generally very very cold at first but will quickly warm up to your body heat. This makes it good for temperature play and even though I'm usually not into this I quite enjoy the feeling of the icy cold metal against my vulva when I first start using it. If this isn't for you though you can warm it up in your hands or by submerging or running it under warm or hot water before use.
Using it is relatively straight-forward, even for someone with a elusive G-spot, like me, you should be able to feel your G-spot pretty easily with this. You shouldn't need to put it in very deep, but instead just make small thrusts back and forth to stimulate the G-spot. To me the pressure you put on the spot is more important than the strength of the thrusts, and this is aided immensely by its weight. Something else that feels good, particularly when it is still cold at the start, is placing the middle of the shaft over the clitoris so it rubs against it lightly too.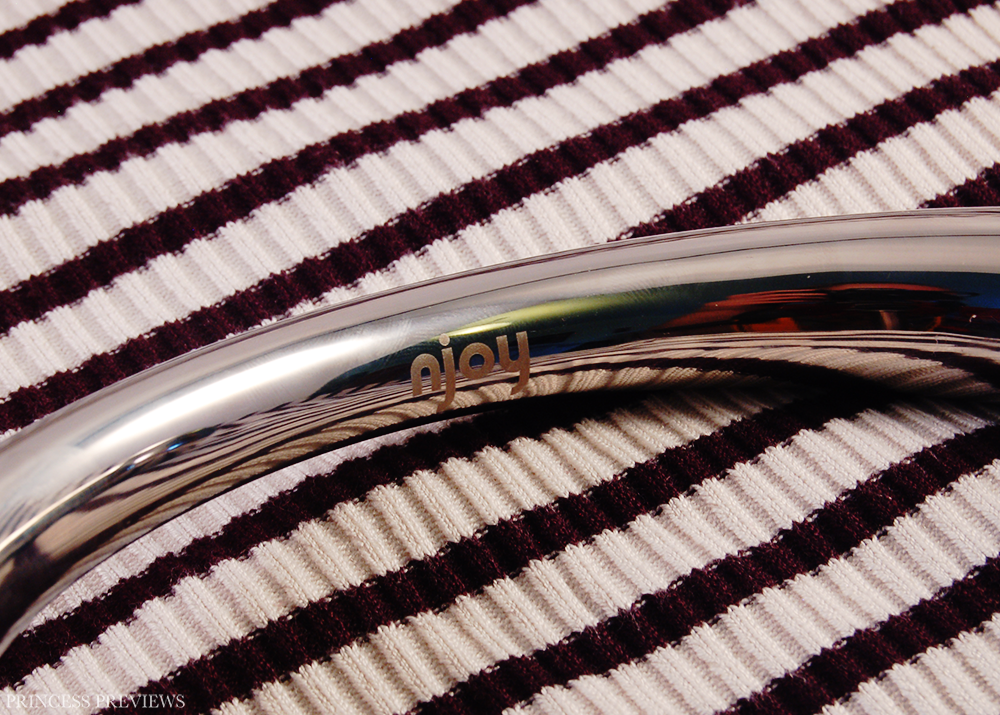 So how did it feel? I don't think I'm going to be able to properly express that without a lot of swear words and capital letters so instead let me give you some facts. This is now my favourite dildo. The Pack 'n Play No.2 has previously been my favourite since August last year and nothing has been able to beat it since. But the Njoy Pure Wand beats it ten times over. Today I came 15 times with the Pure Wand within about 45 minutes. I've never orgasmed so much within a day, possibly even a week, in my life. Usually I only need one orgasm to satisfy myself, two if I'm feeling naughty or three if I'm reviewing things. By three I'm usually exhausted, a mess and completely done. But today I had 15 orgasms just because I could, and I could have easily kept going if I didn't have other things to do today. I've heard before that G-spot orgasms can be addictive but didn't really understand this until now. It was kind of like binge-watching a show on Netflix or eating potato chips, always saying 'Just one more…'. Even now I feel like I could easily go back and keep going, which is insane, because I've cum 15 times already!! I found that my blended G-spot and clitoral orgasms with the Pure Wand paired with the We-Vibe Tango were some of the best I've ever had. In fact, the actual lead up to the orgasm felt like the pleasure from a regular orgasm, before then turning into some kind of ultra orgasm during climax.
The only downside I have found to using the Njoy Pure Wand is when my partner attempts to use it on me. I've heard many great things about partners using the Pure Wand on each other and how amazing it is meant to be. But unfortunately I did not have the same experience. I think this is probably down to the fact that while the Pure Wand can stimulate my G-spot if I angle it just right, at the end of the day it still likes to hide behind my cervix as much as possible. So for anyone else trying to use the Pure Wand to reach it, who can't actually feel what I'm feeling, it isn't that easy. I think it is probably something where practice will make perfect, but we have a lot of other dildos that he can use on me without any effort, such as the Comet Wand and Pack 'n Play No.2, so it's easier to just use those generally. If you are planning on getting the Pure Wand and have a body similar to mine this might be an issue, but personally I wanted the Pure Wand all for myself, so I'm not too bothered by this.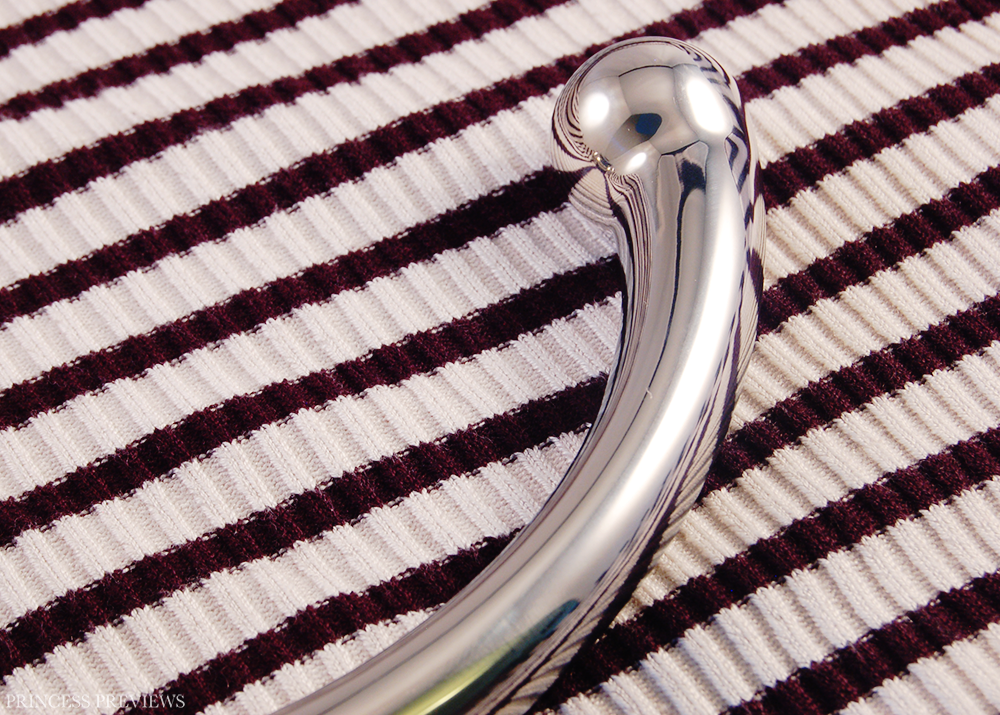 Cleaning the Njoy Pure Wand couldn't be easier although do be careful when holding it while wet as I'm pretty sure it could break your sink or foot if dropped! For regular cleaning soap and water is fine, and then towel drying and a polish with a soft cloth is recommended. To sterilise if you are sharing with a partner or switching from anal to vaginal play you can place it in boiling water or submerse it in a mild 10% bleach solution. Steel toys are compatible with all lubricants.
Overall, I completely and utterly love the Njoy Pure Wand. The orgasms it gives me are downright addictive and it makes me cum harder and faster than any other dildo I've ever owned. I loved the Comet Wand and still do, but the Pure Wand takes G-spot pleasure to a whole other level. Even now writing this I'm getting excited about the Pure Wand and want to go use it again, but I need to push past it to try and finish this review! Basically, get yourself a Pure Wand if you enjoy G-spot stimulation. If you can't afford it then put it on every Christmas, Valentines, Birthday and Anniversary list possible until you get one. If you aren't 100% sold on G-spot stimulation then get yourself a Comet Wand first like I did. Now I'm off to go use it again!
You can buy the Njoy Pure Wand from JOUJOU for just $199.95 AUD / $145.75 USD
Material - 100%
Appearance / Design - 100%
Solo - 98%
Partner - 70%
My new favourite dildo. Insane orgasm skills due to the material, curve and weight. I could use this thing for hours.
I received this product in exchange for an honest and unbiased review. Affiliate links have been used in this post.