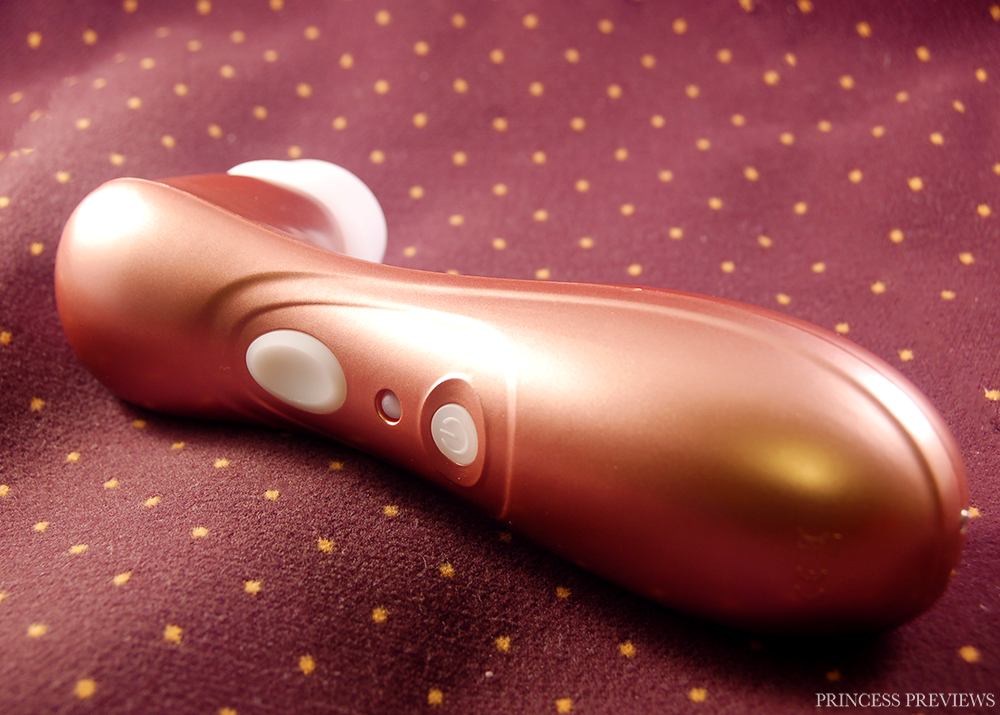 If I had to name one sex toy that was all the rage back in 2015 when I was still a newbie reviewer, it would definitely have to be the oral sex stimulator the Womanizer. This unique new sex toy that created a suction feeling around the clitoris in order to give off the feeling of cunnilingus put sex toy reviewers in a frenzy, with it being unanimously loved for its exceptional oral sex stimulating and orgasm skills, while also being hated for its name, cringe-worthy designs, and price. Since I was still starting up when it came out I never got the chance to try it despite being a lover of all things clitoral stimulation, plus it was far too expensive for me to buy personally. This year, however, saw the launch of the Satisfyer Pro 2, a cheaper and more stylish looking product (although still a slightly cringe-worthy name) that mimicked the technology used on the Womanizer. With its much more reasonable price I patiently waited for it to arrive in Australia so I could buy one for myself and finally find out what all the fuss was about, but I was lucky enough to be contacted by Mimi De Luxe first and asked if I would like to try one when the first shipment came in.
Just a quick note: The Satisfyer Pro 2 is my first ever oral sex stimulator, so while many reviews of it have it compared heavily with the Womanizer mine is coming from a clean slate with no comparisons. 
I want to start this review by cutting to the chase a bit, this is both one of the best sex toys I have ever used and the worst. It has given me the quickest, strongest and most powerful orgasms of any toy I have ever used, but at the same time is easily the most frustrating and annoying to operate. My love-hate relationship with the Satisfyer is definitely a first for me, so I'll explain it in more depth soon.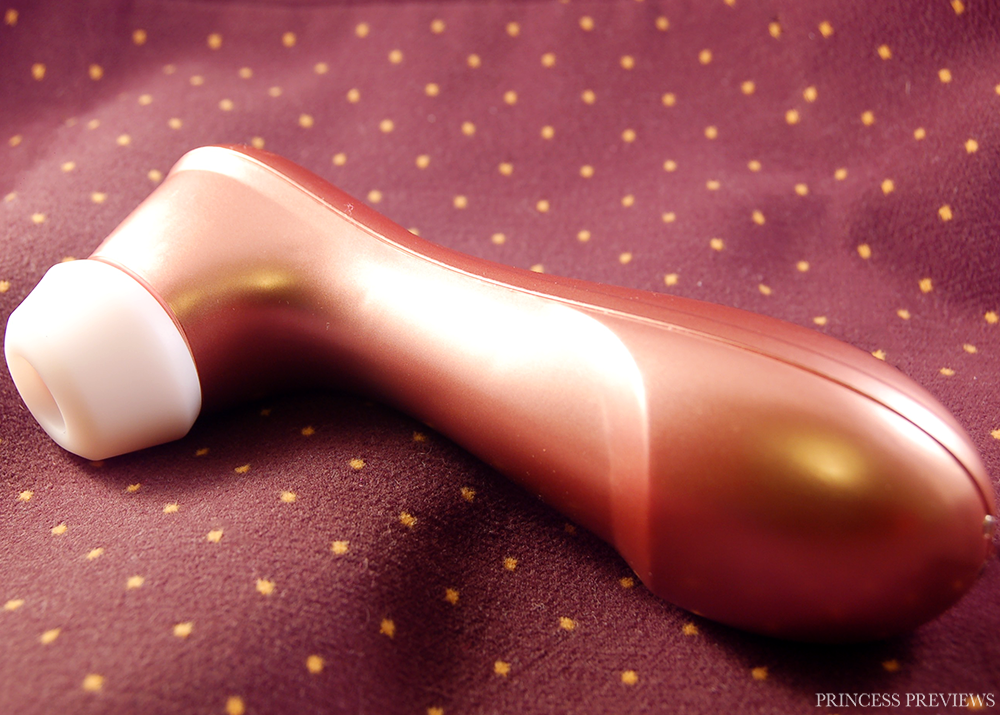 My first impressions of the Satisfyer is that it instantly feels very stylish and chic, with its rose gold body and sleek handle, both of which are design elements that are very 'in' right now. It doesn't really look like a sex toy either, more like some feminine makeup or shower product. Holding it just feels good, with it being the perfect size so my hand fits around it comfortably while my thumb naturally rests against the main button which controls the intensity, plus it is light weight so my arm never tires when using it. The smaller button is the on/off and the LED light above it will turn on when the toy is in use, will flash when it is charging, and will stay on when the toy is fully charged. The Satisfyer is USB Rechargeable, and uses a magnetic charging dock to connect to the toy, kind of like the We-Vibe Tango except the magnets are actually strong so it doesn't fall off all the time. You'll need to fully charge it before first use and the initial charge time may be up to 8 hours, but after that charging should take around 2.5 hours which will give you around 30 minutes of usage. The body is made from ABS plastic while the head is made from body-safe silicone, and the toy is waterproof so using it underwater is meant to be even more stimulating. Lastly, the silicone head is removable to make cleaning a breeze.
For a limited time Mimi De Luxe are offering free express delivery with the Satisfyer and I was lucky enough to be included in that so my order was placed on the 16th of August and I promptly received it by the 19th of August, once again making Mimi De Luxe the fastest online store I have ever used. As usual Mimi De Luxe's packaging was completely discreet, with the product arriving in a plain brown box with no mention of the company or what was inside anywhere on the box. The packaging for the Satisfyer is quite simple, with it just being a cardboard black box which depicts the Satisfyer and has some information about it on the sides. There isn't anything wrong with it but also isn't anything right with it and for a $100+ toy that is marketed as luxury I would usually expect slightly more thought put into how they present the toy. Inside the box the toy is kept in place by a cheap piece of black plastic which also contains an instruction manual and the charging cables.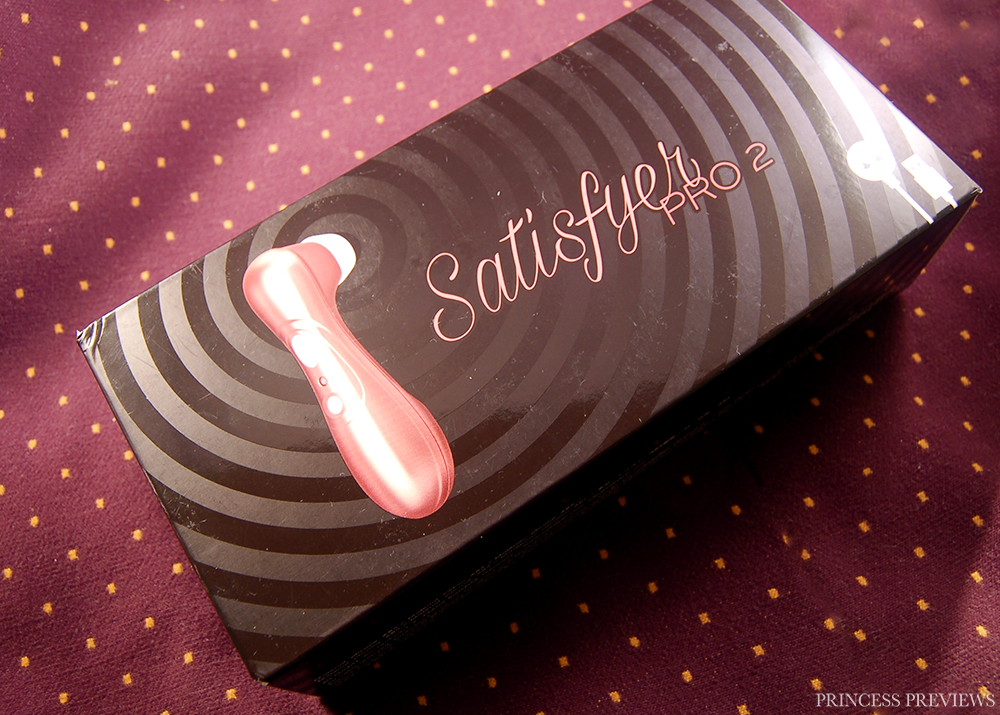 Operating this toy is easily the most frustrating aspect of any sex toy I've ever come into contact with. It seems simple enough: turn it on with the small button (it'll start at level 1), cycle through the 11 levels using the larger button, and then turn it off by pressing the small button again. The hint there is that it has 11 different levels. Not 7 strengths and 4 patterns, but 11 different strengths. This is just a stupidly high number, the sort of thing that sounds great on paper and when advertising but in reality it just doesn't work. A toy is always going to have predefined lowest and highest strength, just because something has a lot of levels doesn't make it stronger, it just makes it take longer to get to the top level. By having a lot of levels it means the increments between each button press is incredibly hard to differentiate, making pressing the button feel almost useless. Plus, I'd usually be able to tell the difference between level 1 and 11 because once I reach the top level of vibrators they generally then start again at the bottom (e.g. 10, 11, 1, 2), but instead when the top level of the Satisfyer is reached it starts to go back down again (e.g. 10, 11, 10, 9), meaning that telling the levels apart from each other is basically impossible. When I first got it I thought the larger button was broken because I couldn't tell if anything was changing, but after listening to it quietly I can just about make out the subtle changes from one speed to the next. This made for a horrible time during my first few uses, with me sitting there for about 5 minutes just trying to figure out what speed it was on before I could even use it, and then getting confused mid use and having to take it off to check. I think the most difficult thing about it is trying to put it on its highest setting during use, because unless I count to 11 in my head it's impossible to tell, and one wrong click and I have to click 22 more times to get back to it. In my more recent uses I've kind of gotten the hang of it (aka stopped bothering to try and change the speed), but it is still definitely a huge negative and can make using the toy feel really frustrating. Thankfully, while I am no sex toy manufacturing expert, it does seem like an easy fix, and if the toy had maybe just four levels it would be perfect, so hopefully this is a change that'll be made by Satisfyer soon.
The noise level is also an issue. While it doesn't sound like traditional vibrator, so you might be able to get away with it, if you have thin walls or roommates this probably isn't the toy for you, since it is really quite loud. However, newer models of the toy are apparently 90% quieter, so if privacy is an issue then picking up this version of the toy should solve it. The newer version has the Satisfyer logo on the handle to make them easy to tell apart from my model, but if you are unsure what model your retailer stocks make sure to ask them prior to purchase.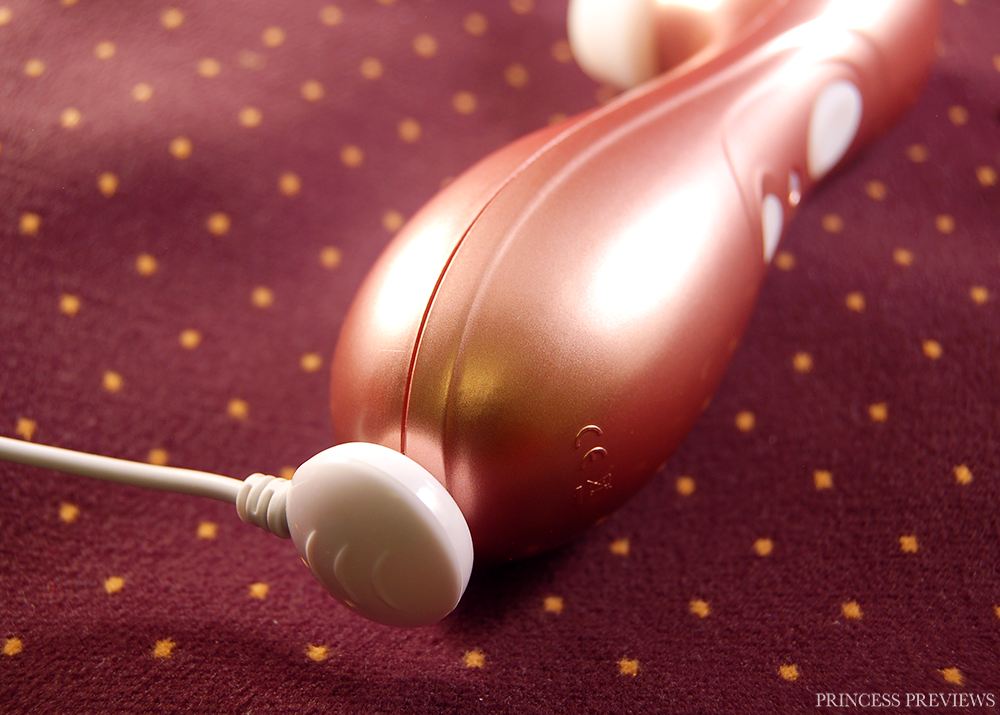 Now those negatives are out of the way, let's jump right into the positives. Putting the soft head around my clitoris is relatively simple, it may take a little bit to get perfect and this will differ depending on your anatomy but once it's on it is pretty simple to remove and reapply. I like to, and would recommend, using a little bit of lubrication to aid the stimulation, and I have found my Good Clean Love Almost Naked lube works a dream since it is more like a paste than my usual runny lubricants so it can be applied directly to the clitoris without going everywhere. Once the Satisfyer is on it is a sensation I have never experienced before, although if I had to relate it to anything it would be oral sex. It is extremely intense, and at the beginning of my sessions with it I usually have to take it off and on for awhile before my clitoris adjusts to it. Even though the fact that it is not directly touching the clit is meant to make it less intense, I find it far more so and I can understand if some people may find it too much. Usually when I masturbate with clitoral or wand vibrators such as my Doxy Wand I like to relax into it and really enjoy myself, masturbating for around 5 minutes before ending it with usually one orgasm but sometimes more depending on how I'm feeling. Using the Satisfyer is essentially the opposite however. It isn't relaxing and doesn't give off the usual nice pleasurable feelings I get from masturbation. Instead, I need to remember to breath and it has a real knack for making my eyes water. It makes me cum hard and fast, always in under a minute and I'm always eager for more. The orgasms are the kind where I go from laying down to sitting up from their force, and are easily the quickest I've ever had too. Basically you could say that all my vibrators up until now were a nice and romantic making-love kind of sex, and now my clitoris has had a taste of rough, dominating, doggy style for the first time. There isn't anything wrong with the former, but boy is the latter the thing of fantasies.
One of the things the Satisfyer boasts is that it is fully waterproof and can be used in the bath for increased stimulation. Sadly I don't have a bath to test it out in but I did try it in the shower which is also meant to do wonders. Having the water around the toy certainly allowed for it to increase the suction feeling on my clit, and if it wasn't for the fact that I don't particularly enjoy standing in the shower while masturbating (I'm prone to fainting) I'm sure it would easily be my favourite way to use the toy. I also tested the toy out while using dildos in bed, however I found the Satisfyer's stimulation too powerful to really be able to use a dildo properly, plus the Satisfyer's head got in the way a bit, which I also found when trying to use it during intercourse. This would probably be an alright toy to use during foreplay with a partner, although it may be easier if they watch you using it on yourself, since placing it properly on your clit and getting the strength right isn't always the easiest. Mostly though I would just recommend this as a solo use toy that is used alone rather than paired with a dildo.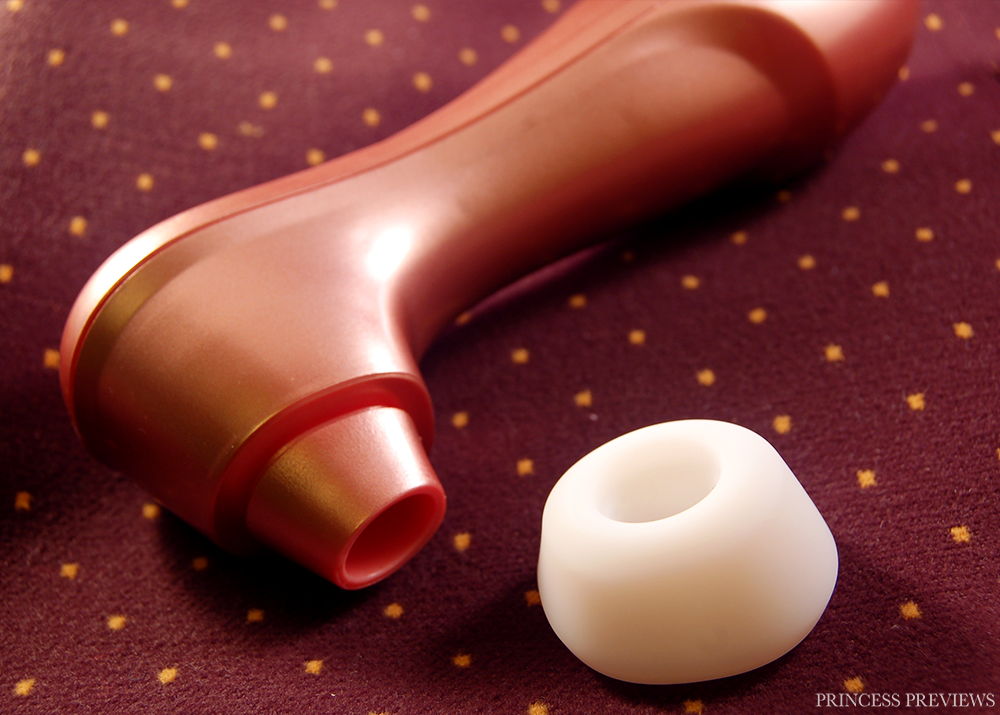 The Satisfyer quickly became the easiest toy to clean that I own. Simply take off the silicone attachment, give it a wash with some toy cleaner or soap and warm water and leave it to air dry. Then the silicone head can be put back on and the toy can just be left on your night stand or in a zip lock bag for safe keeping. Since the head is made with silicone only use water based lubricants with it. I would also note though that I have found prolonged use of the toy can make my clitoris quite sore the next day, so I wouldn't recommend using it excessively if you are planning on having any rigorous sex or further masturbation within the next 24 hours.
Overall the Satisfyer is downright amazing. While its button functions certainly need work I feel like this is an easy fix, and if they do make this change then this will be one of the best toys on the market. The fact that they have already fixed the noise level on the newer model has already shown that Satisfyer are willing to take on criticism and make changes to their product to enhance the user experience, which is really fantastic and I hope they continue to do this. Considering the amount of orgasms I have already had with this toy in the short amount of time I have had it I am completely dumbstruck, not only by how good it is but also by how cheap it is! If you are at all interested in this product and are willing to battle the annoying 11 strengths then I implore you to buy one of these and give it a whirl, you won't be disappointed.
You can buy the Satisfyer Pro 2 from Mimi De Luxe right now for only $129.95 AUD
Material - 100%
Appearance / Design - 15%
Solo - 95%
Partner - 60%
Strength - 90%
Noise Level - 20%
A fantastic toy, that is just let down by its excessive intensities and noise level.
I received this product in exchange for an honest and unbiased review. Affiliate links have been used in this post.