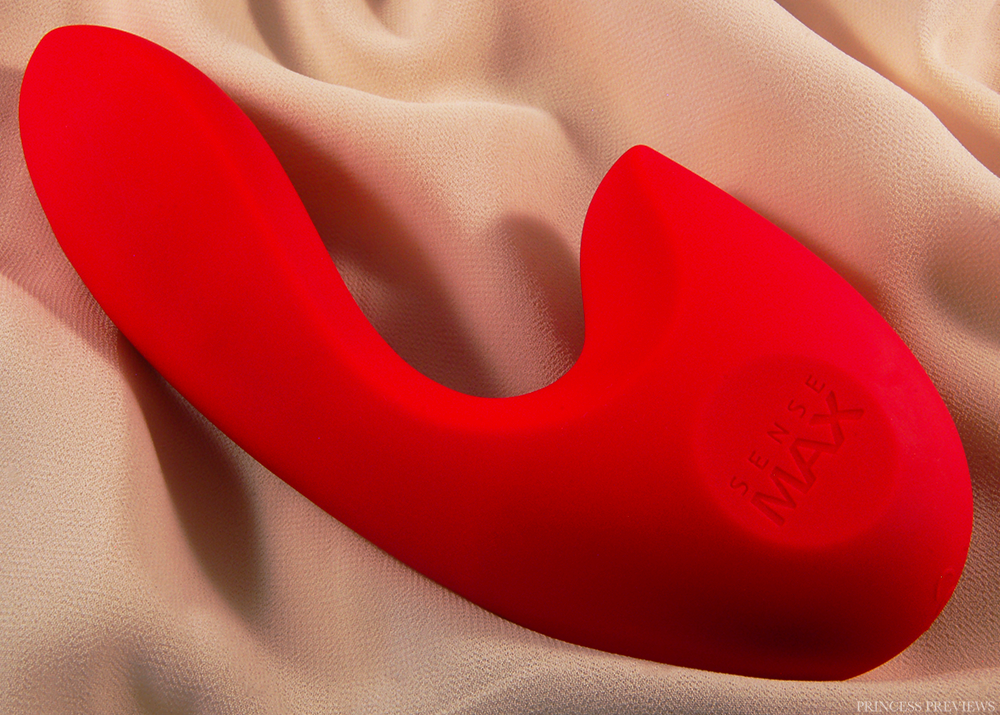 I have been buying sex toys for four years now and reviewing them for two, but I have always avoided any toys that combined clitoral and vaginal stimulation. I love the idea of them and they certainly are popular, but I have read far too many negative reviews where the clitoral arm does not sit properly on the user's clitoris, and that wasn't a risk I wanted to take. Even since I have been reviewing and getting toys for free I have still avoided them because I feel they are just too subjective of a toy to be able to properly recommend to my readers. The adjustable MysteryVibe Crescendo, which I reviewed earlier in the year, was the closest I've come to one of these toys so far, however even that didn't work out and I was left with a motor that was too high up to reach my clit, putting me off the idea even more. But I know it is a big part of the sex toy world that both myself and my blog are missing out on, so when I was approached by SenseMax to review the SenseVibe Warm recently I decided it was finally time to face my fears and try out my first dual stimulation toy.
SenseMax are a brand new company on the sex toy scene based in Hong Kong and quickly branching out all over the world. When I was first contacted by them I could find barely any information or stores stocking their products online, but I am now happy to see their name has fast become well known and well stocked. They have great sex-positive values and body-safe sex toys, and they primarily specialise in VR toys for those with a penis. However, their two SenseVibe toys, the Classic and Warm, are more orientated at those with a vagina and clitoris. The idea behind SenseMax is to take sex toys to the next level, and they all seem very futuristic.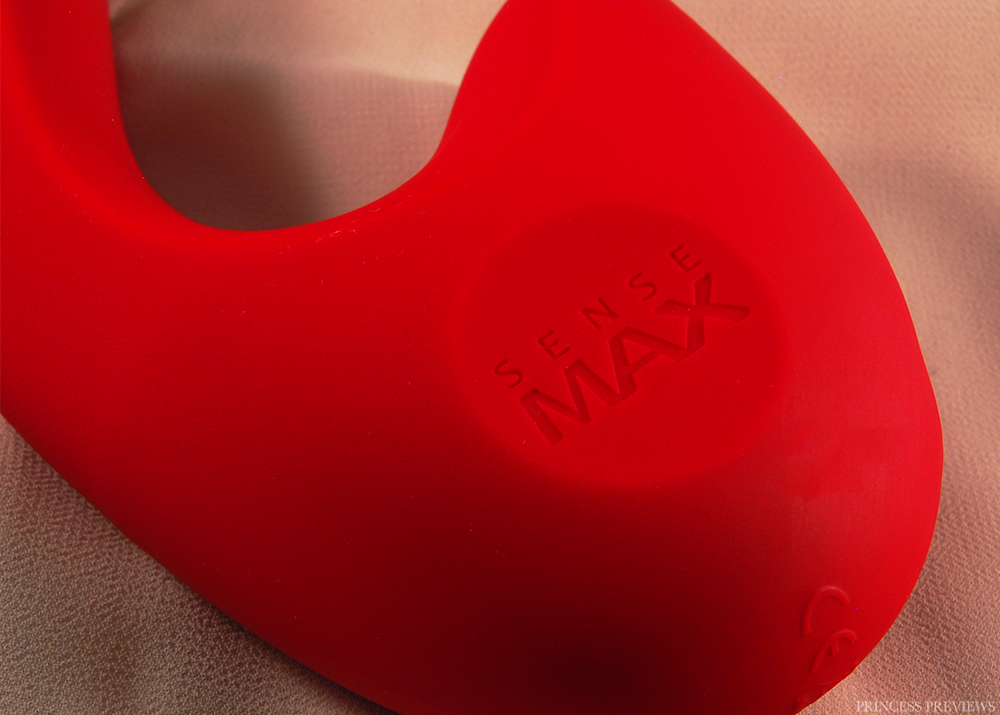 The SenseVibe Warm is a dual stimulation vibrator with heating functions. To me it is basically the perfect toy for a lazy cold winter afternoon, as it is essentially two toys in one (half the cleaning, work and money!) and it can heat you up from the inside. Plus, it is simply beautiful and easily the most gorgeous toy I have reviewed all year. Everything about it is sleek and luxurious, and the shade of red is extremely vibrant, making it immediately stand out amongst my other toys. The silicone is buttery and it has some great chiseled edges to make it look even more stylish. The SenseMax logo is imbedded in both sides of the toy but is placed well so it doesn't interfere with use or cleaning. The silicone is extra firm, but the thinnest part of the neck in the internal shaft is really flexible so it is not uncomfortable when in use. The largest point of the internal shaft is 3.4cm / 1.3″ in diameter, so it should be rather easy to insert if you already have experience with vaginal insertion. It does have a seam running its length which is the only thing that takes away from its luxurious design, but this is so small that it won't effect use. On the front of the clitoral arm is three buttons, a plus, minus, and circle, which controls the heat and patterns, and the toy has two motors, one in the external shaft and another in the internal shaft. Finally, the toy is fully waterproof and can heat up to 43° C / 109° F.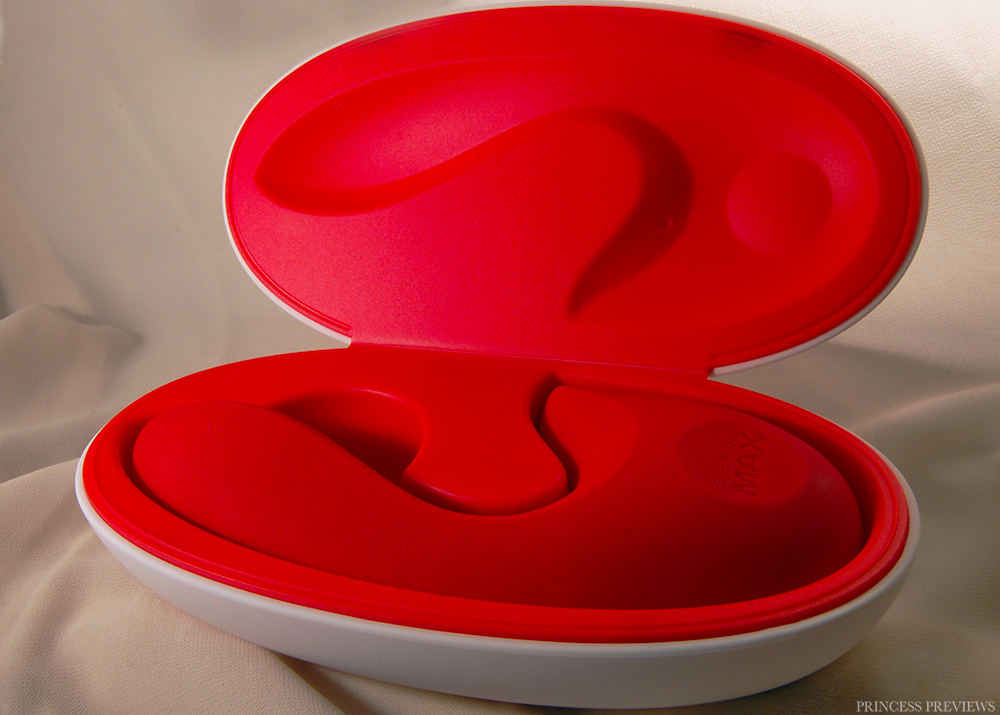 But that's not all, because the SenseVibe Warm also comes with a incredibly stylish and hygienic storage box which is also what charges the toy. That's right, there is no holes or charging points on the toy itself, instead you plug your USB charging cable into the case, place the toy inside the case, and then it magically charges! There isn't any sort of connection points inside the box, the whole thing is plastic, so I have no idea how it actually charges the toy, but it is very cool and all feels super futuristic. The box itself is white on the outside and features the SenseMax logo, while on the inside it is red. The lid magnetically closes so chances of it coming open by itself are slim, although if it is turned upside down the toy will fall out, which are some considerations when travelling with it. This box looks extremely discreet and I doubt anyone would think a sex toy would be contained inside, instead it just looks like some sort of large glasses or gaming console case. When charging it should take around 6 hours for 1.5 hours of playtime, and it can keep its charge on standby for up to 100 days.
My order for the SenseVibe Warm was placed on the 29th of March and I received it on the 10th of April. Unfortunately the packaging was not at all discreet, with it being clearly written on the package contents that it was a SenseMax SenseVibe Vibrator. However this is likely because SenseMax are only a manufacturer and do not sell their own products, so they would not have a system set up for discreet packaging. While this can be frustrating as a blogger it is understandable. You can rest assured that when buying any SenseMax products from my recommended retailer at the end of this review that you'll be getting a discreet package.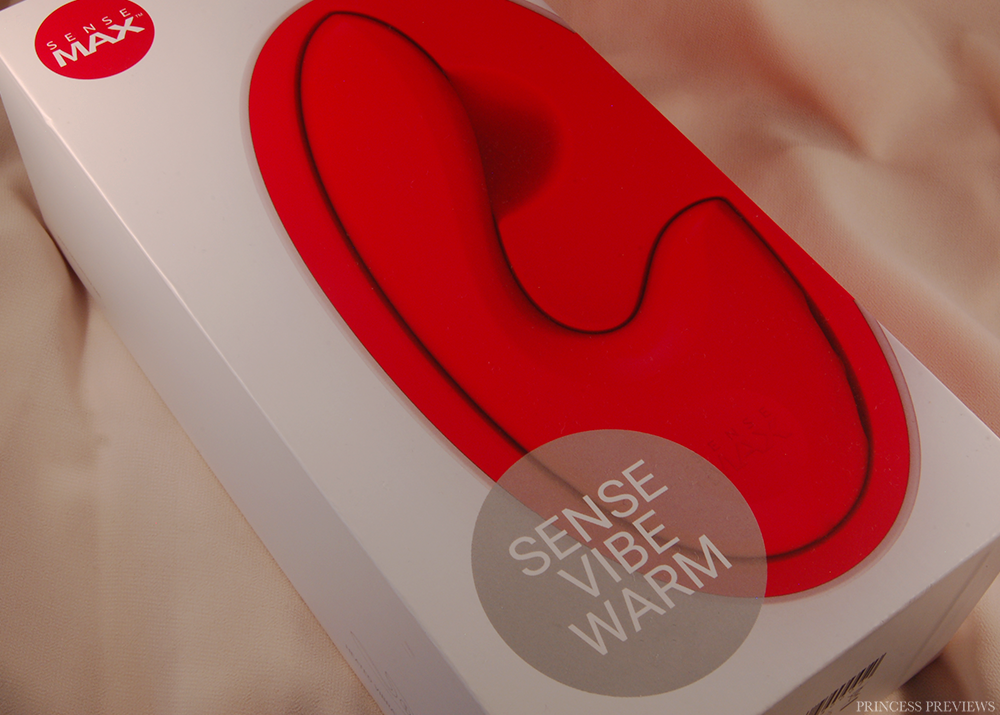 The packaging for the SenseVibe really reflects how stylish the toy is. On the front of the box an image of the toy is displayed, while on the back the main features are outlined. Upon removing the top lid of the box there is an illustration of the toy, which can be moved out of the way to show the case which contains the toy. The card that has the illustration on it is attached to the box and is also the instruction manual. Due to this it has another illustration on the other side to show how the buttons work, and then on the opposite side of this is more detailed information on how the toy works and its 12 month warranty. Once the toy is removed from the box the charging cable can be accessed. I love the design of this box, but while the instruction manual looks cool I feel it is not very practical. When I was initially using this toy rather than having to keep a small booklet with me I instead had to have the entire box, and when I finish with this review and throw out the box it'll mean I am also throwing out the instructions, which is quite frustrating since I normally prefer to keep them.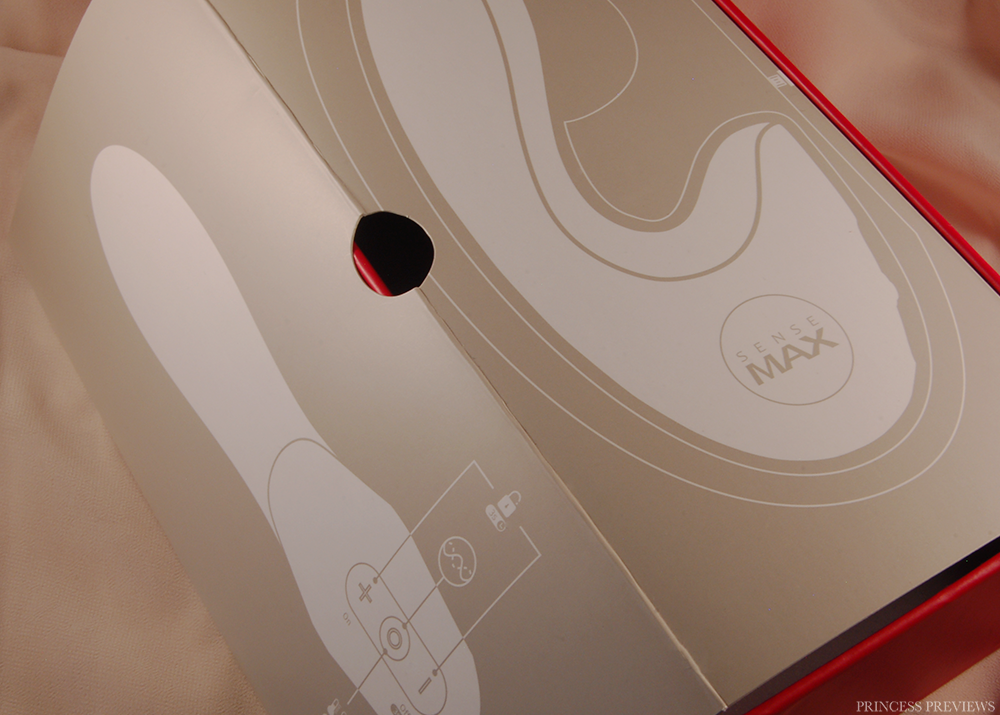 To control this toy it can be turned on with the plus button, and then this will activate whatever mode you last had it on. In total there is eight modes, with there being steady vibrations of both motors together and separately, as well as patterned combinations of the two. The plus button can then be pressed repeatedly or held down to cycle through the 12 vibration strengths of that mode (the website says 18 but I've definitely only counted 12 on mine). Once it reaches the highest level you can use the minus button to go back down through the levels, until eventually it'll turn back off. To switch modes just click the circle button which will cycle through them. To turn on the heating function press and hold the round button for three seconds and then wait a few minutes for it to heat up if you want it warm prior to use. The toy can then be travel locked and unlocked by holding the plus and minus buttons down for three seconds. I love the vibrations in this toy as they are very rumbly, although the internal shaft is more so than the external one. It is slightly noisy but not so much that I think it could be heard when under bed covers and behind a closed door. While I feel like 12 speeds is unnecessary it is nice that you can slowly ramp up to the speed you like, and overall using this toy is pretty simple and easy.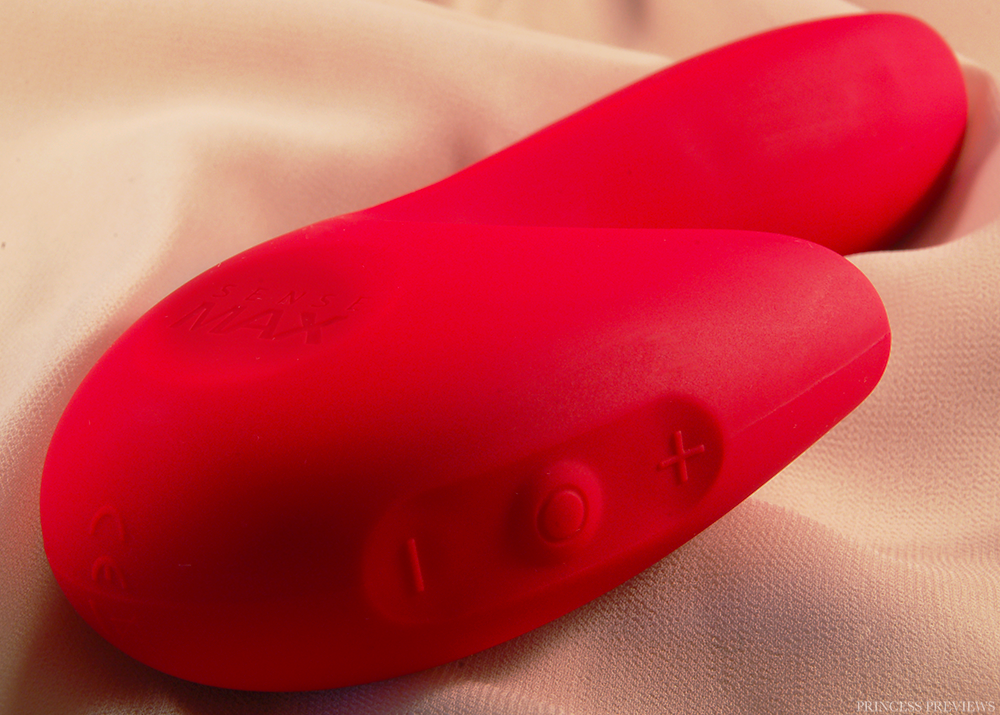 I find this toy easy to insert with the aid of some good lube even without any prior warming up due to its slim size and silky silicone. Since it is winter right now warming it up beforehand is a really nice touch that I have been enjoying, although if it was summer I probably wouldn't use this function. Other than feeling nice during initial insertion I don't find that the warming effect really does a lot for me though. When inserted it is easy to see the buttons due to their location, making them convenient to press and use. Plus I'm happy to report that despite my worrying, the external arm does in fact sit perfectly over my clitoris, so I can use this toy as it was designed. Although I must stress that toys like this are subjective, and it might not work for everyone. I've found that having both motors running at their continuous speed is my favourite mode to use on this toy so both my G-spot and clitoris are being stimulated, although when I first start using it I quite enjoy the patterned modes to warm myself up with.
When using this toy I can't help but question why the heck I waited so long to try out a dual stimulation sex toy. To put it simply, I love this toy! It's the sort of amazing orgasm combo that I normally only get when I find an amazing g-spot vibe and a fantastic clit vibe that also happen to pair really well together, except instead this is just one amazing toy that can do both things at once for half the price. I love the internal arm, it hits my G-spot really well and the deep rumbly vibrations against it are truly perfect. This is the first time I have actually enjoyed an internal vibrator also, which is kinda a big deal for me. The external arm is just as good and rubs against my clitoris fantastically while still not being too overwhelming due to the silicone material. Plus even though the external vibes aren't as rumbly, the stimulation I get from my G-spot out-weights this. I don't even need to put this toy on a very high speed to enjoy it, usually I have it on around speed 5 and bring it up only if I really feel like I need more. When using the SenseVibe Warm I usually orgasm in under a minute, and can easily have multiple orgasms with it. It is one of those toys that brings me to orgasm so easily I find it addictive to use, and often have trouble stopping myself from just spending hours with it.
Since this toy is made from silicone and is waterproof it is really easy to clean! Just give it a quick once over with some warm water and mild soap. Then leave it to dry and return it to its storage case where it can recharge. Since this toy is made from silicone ensure you do not use silicone based lubricants with it as it can ruin the material.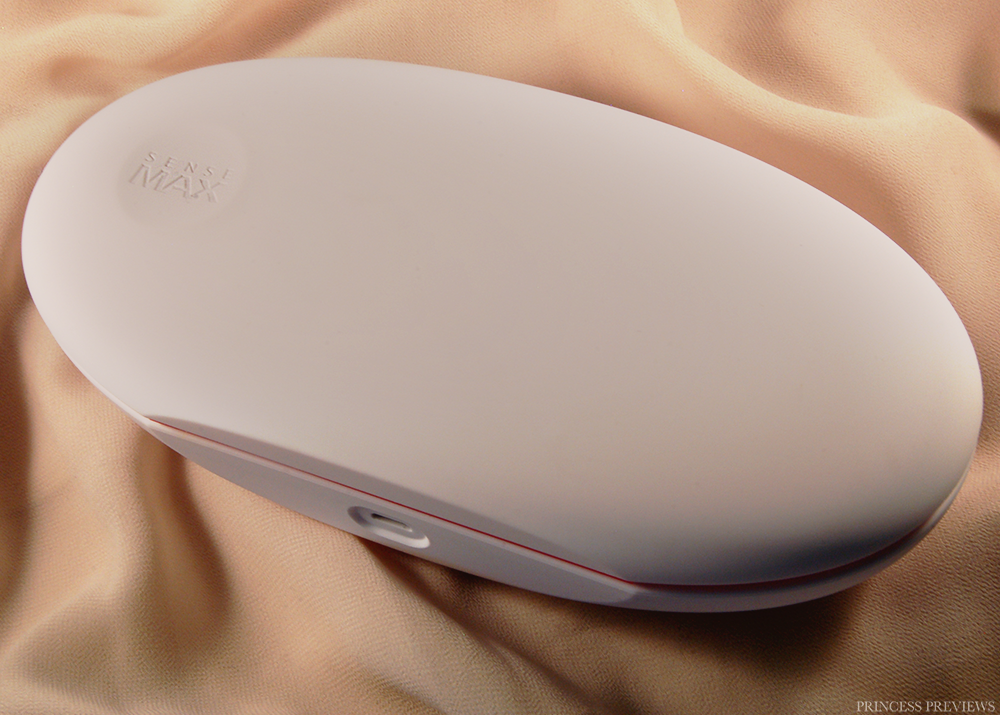 Overall I am completely smitten with the SenseMax SenseVibe Warm. I've had a run of bad luck lately with luxury vibrators not being worth their high prices, but I feel like this is finally over since this is definitely worth its price tag and is easily one of the best things I have tried this year. At this point I am so use to pairing internal toys with external vibrators, so being able to achieve the same thing with only one toy is crazy cool for me. It makes things a lot more convenient too, since I only need to use one hand to hold the toy (meaning I have the other one free to touch my partner) and the vibrations are more in sync. Plus it means less cleaning and I only have to take one toy instead of two when I travel. Having the charging and travel case is also a really nice touch, and it makes it feel a lot more special than if I was just putting the toy away in a drawstring bag. The warming was a nice touch but not essential to my enjoyment of the toy, so if you aren't interested in that you can also purchase the Classic version of the toy for a cheaper price. While I think it is important to keep in mind the subjective nature of dual stimulation toys and that this might not work as good for you, I can't help but want to recommend this to all my readers. For SenseMax's first vulva-orientated toy they have done an amazing job, so I cannot wait to see what they come out with next. This is certainly a company to watch and a toy to buy.
You can purchase the SenseMax SenseVibe Warm from SheVibe for just $200 AUD / $149 USD!
Material - 100%
Appearance / Design - 95%
Solo - 95%
Partner - 80%
Vibrations - 90%
Noise Level - 80%
Felt fantastic on both my clitoris and G-spot, but might not work for everyone.
I received this product in exchange for an honest and unbiased review. Affiliate links have been used in this post.