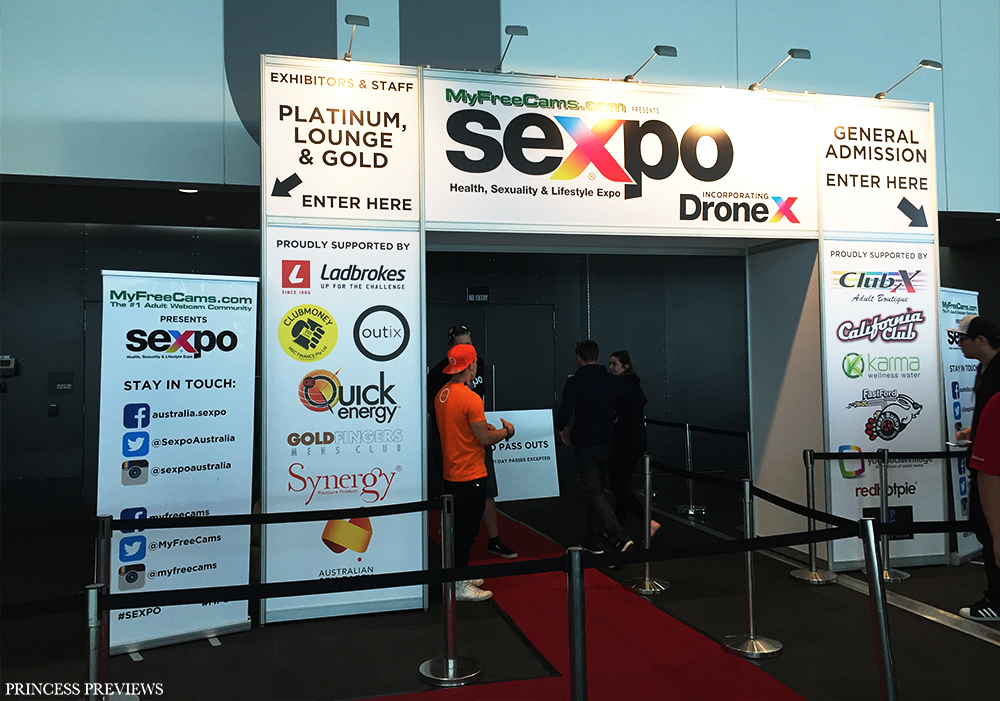 This weekend I attended Melbourne's Sexpo 2016. It was my third time going to the event that has taken a special place in my heart. Sexpo was where my interest in the world of sex took flight and changed me from a girl who had never even been to a sex store before to one that walked out with 10 new toys. Of course none of these toys ended up being body-safe and they got me sick, but in a weird way I'm thankful for that because it lead me to research safe materials which lead to my blog. So in a way Sexpo helped create me, and I've been looking forward all year for the 20th year anniversary edition of the event.
While other countries have multiple sex conventions, summits and trade shows, Australia mostly just has Sexpo. It is a huge convention that spans four days and brings in thousands of people ranging from completely vanilla types to the most kinky of them all. In a world where talking about sex is seen as taboo, Sexpo always provides a breath of fresh air by giving us a space to actually feel open about our sexual desires. It takes away the usual mental image of a small and sleazy sex shop by replacing it with an event that is in the same halls PAX Australia and Oz Comic Con are held. As someone with social anxiety I struggle to go into sex shops personally, but at Sexpo the open space and convention feel (when I practically grew up at anime and gaming conventions) makes me feel at home. This is my third consistent year of attending Sexpo Melbourne and it has been my favourite year yet.
This year I was lucky enough to obtain a press pass for my partner and I which gave us free tickets to all four days as well as VIP privileges. This was the first time I've been media or VIP anywhere and I felt pretty special, thanks again Sexpo! I was also very lucky this year to meet fellow blogger Hysterical Em! Our blogger circle is very small in Australia so I was delighted when Em started up their blog in October and even happier when I found out they would be attending Sexpo! I managed to wrestle my anxiety into submission in order to spend Thursday of the show hanging out with them. This was my first time meeting another blogger and it was an absolute blast to be able to talk about my sex toy interests to someone who actually cared.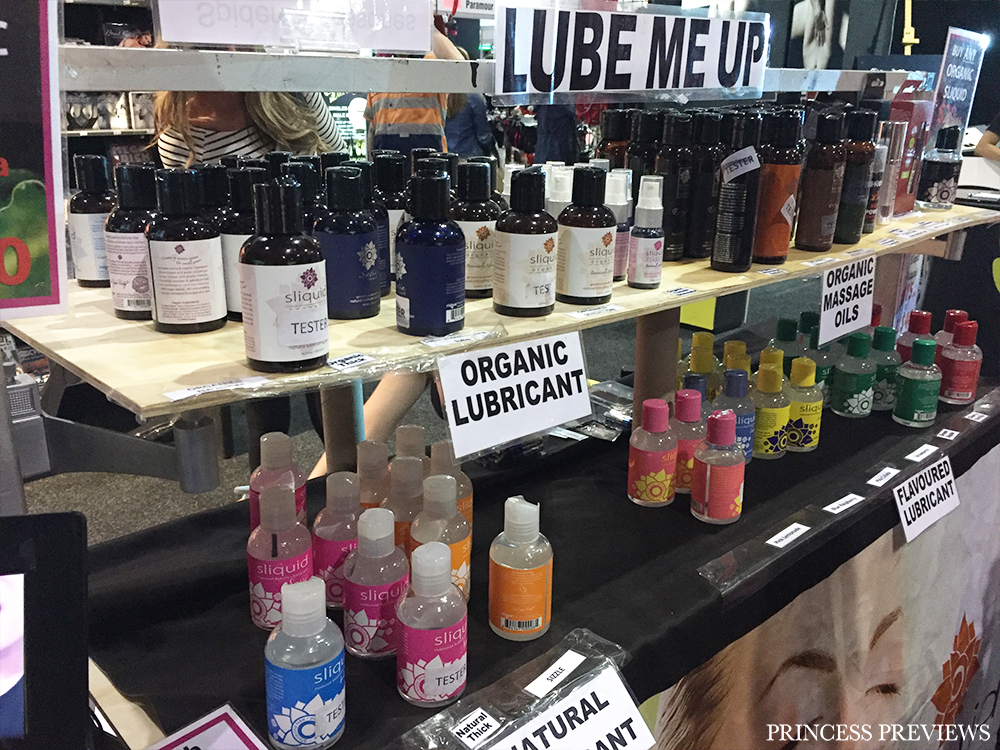 For the first time this year I also attended some panels and shows! I got to see one of my favourite Australian sex educators Siren Vandoll teach her 'Touch-a, Touch-a, Touch-a, Touch Me: Scening with Sensation Play' workshop which was a fantastic look into the world of sensation play which I'm now very much interested in. I also got to attend the Sexy Cosplay Competition hosted by Lucie Bee, whose work I'm also a big fan of. As a cosplayer myself this was awesome and I was very impressed by the work that had been put into the costumes. There was also a lot more hands on touching of toys than I usually find this year, and I even got some ice cream at the JO stand that had their flavoured lube poured over it as a topping. I had chocolate and surprisingly it was actually really nice!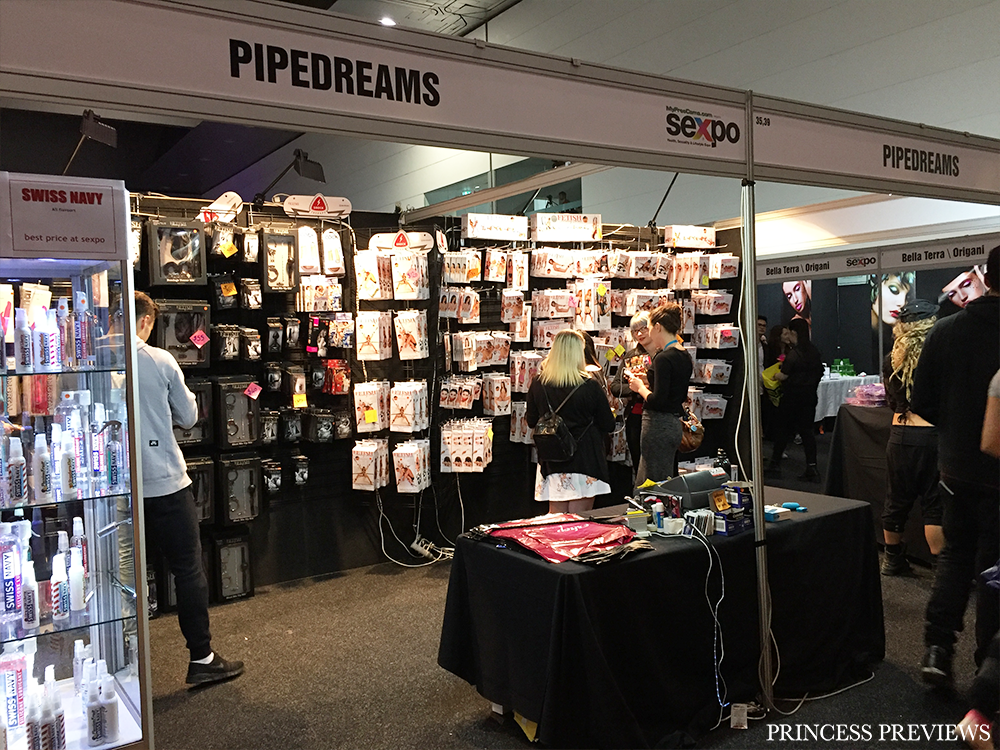 While this was by far the best Sexpo I've been to in terms of its shows and workshops, the variety of sex toys available was a let down. Sexpo's retailer stalls are primarily either sex toys or fetish orientated stands, and I'd estimate about 70% of the items sold at the show are sex toys. Despite this the range of body-safe toys is about 1 out of every 100 and actual brands or retailers in attendance is minimal, with most stalls just being called things like 'Everything $10' and selling unbranded or knock-off versions of toys. The first year I went I didn't know much about toys, but I do remember there being many Lelo and We-Vibe toys among other silicone options. Last year there was less, but still I found a few Lelo, We-Vibe, D.VICE and Tantus toys, with Fun Factory being particularly prominent. This year clit stimulators seemed very popular, so Satisfyer, Womanizer and Shegasm were out in numbers. But other than them and OVO, Rocks Off, IMTOY and AVE there was absolutely no reputable brands that I knew of. Not only did they not have stands, but I didn't see a single Lelo, We-Vibe, Fun Factory, Tantus or any other body-safe, ethical, popular brand (that I know of) toy at all. Thankfully due to personal circumstances I had no money to spend this year anyway so I wasn't too disappointed, but it was a big shock as someone who likes to believe the sex toy industry in Australia is improving rather than getting worse. It is hard to believe that at a sex toy based convention nobody decided to stock some of the largest names in the industry, it's like if you went to a gaming convention and there was just no Nintendo or Sony games. Thankfully our lubricant game was on par to last year, with Sliquid having a space with the same stand as 2015, and while I don't use fetish gear, penis orientated toys or condoms they seemed to also be well stocked.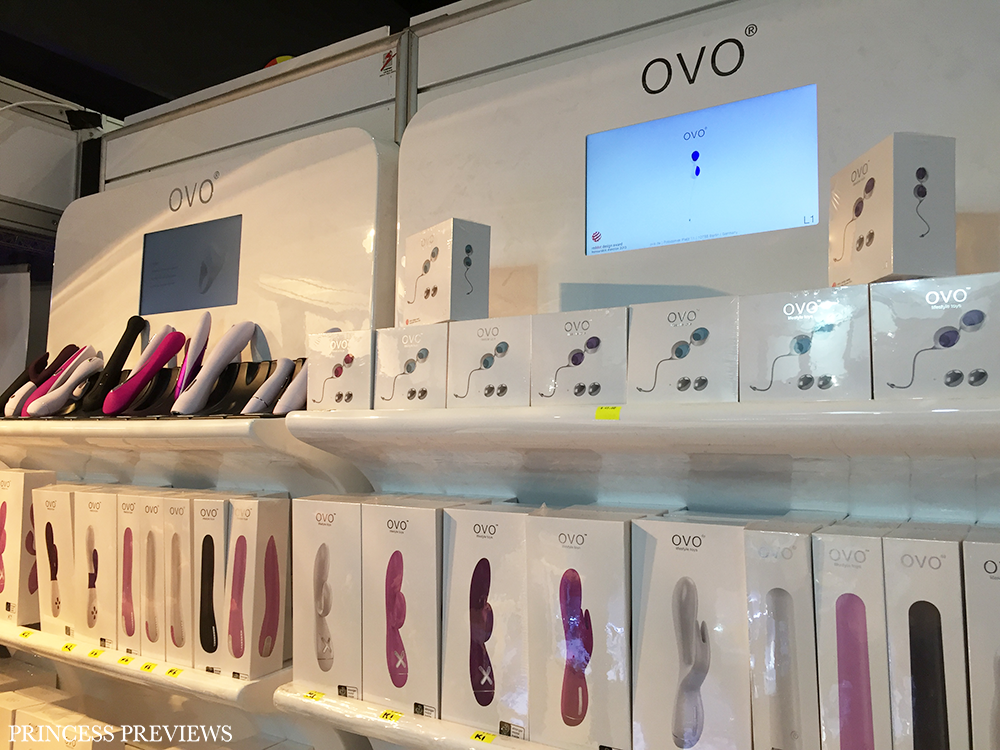 The very few toys that I knew of I enjoyed getting to play around with. OVO were the only ones out of the previously mentioned brands that had their own stall at the convention. It was the same stall as last year which shows off their large range of vibrators. IMTOY had a small section of a booth which showed off five of the products from their new Zoo range. I just reviewed their Gazelle wand which is part of this range, so I was very interested to check out its sister toys. Similarly Rocks Off also had a small section of another stall which only stocked a few of their products. AVE's Sky vibrator was available at a stand, it was my first time seeing it in person and it was as beautiful as I imagined, although also behind glass so I didn't get to play with it.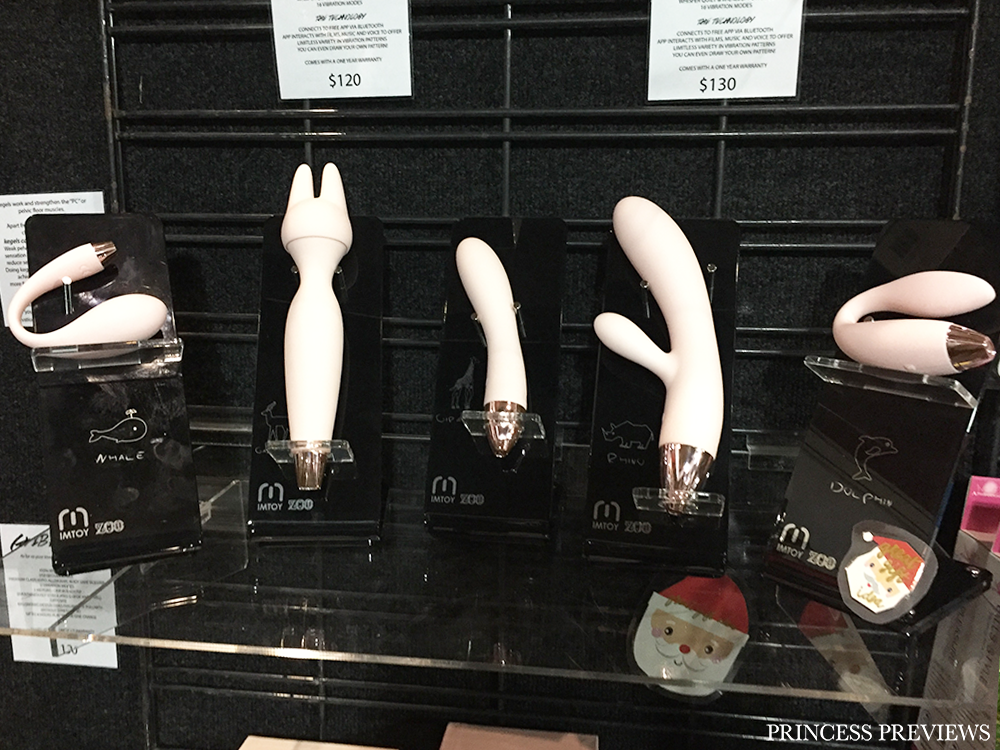 Since clit stimulation seemed to be the 'thing' this Sexpo I did get to spend a lot of time playing with the brand new Satisfyer models and Shegasm model. I'm so over the moon by both Womanizer's and Satisfyer's decision to create more entry-level priced models of their clit stimulation toys. Previously they were so high priced that I don't think I could ever justify buying one personally until I get a higher paying job, but now with Satisfyer's cheapest model being around the $70 mark even I could afford one. While it is hard to compare the suction with just my finger I didn't feel a huge difference in abilities between the Satisfyer Pro 2 and its cheaper models. I also particularly liked the Shegasm's wheel control button vastly over the Satisfyer Pro 2's frustrating button (I had so much trouble with it at the convention I was asked if I needed help because I looked so lost, even though I own one!). While I did see some Womanizer models these were minimal compared to the others.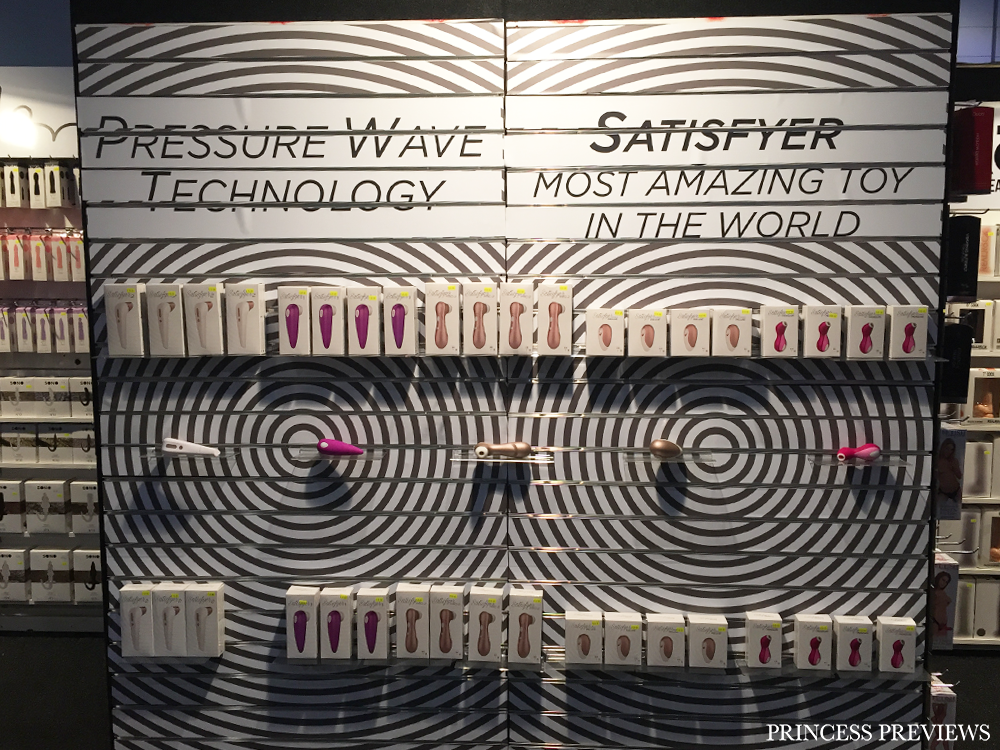 One good thing that did come out of there not being many big brands was that there was plenty of room for some amazing, body-safe Australian companies to step into the spotlight! This year I had the pleasure of being introduced to four Australian based companies who produce body-safe toys and who I hope I can feature on my blog in the future! There was MiaMaxx, a Melbourne based company who have created a vibrator that can thrust 3 inches automatically and that also comes with different attachment style ends so it can match your needs. Similarly Erotic Sex Toys who are based in Adelaide and sell a range of products (not all body-safe) launched their Sex Gun toy over the weekend which is also a thrusting style toy with replaceable heads which I vaguely remember being told was also made of silicone. They also had toys on show such as the Rexy which adjusts its speed based on the temperature of the clitoris and depth of penetration. Then there was Cloud Nine Adult Concepts who are based in Brisbane and have created a range of wand massagers with silicone heads called The Hummingbird and The Mini, plus they both also come with a range of wand attachments!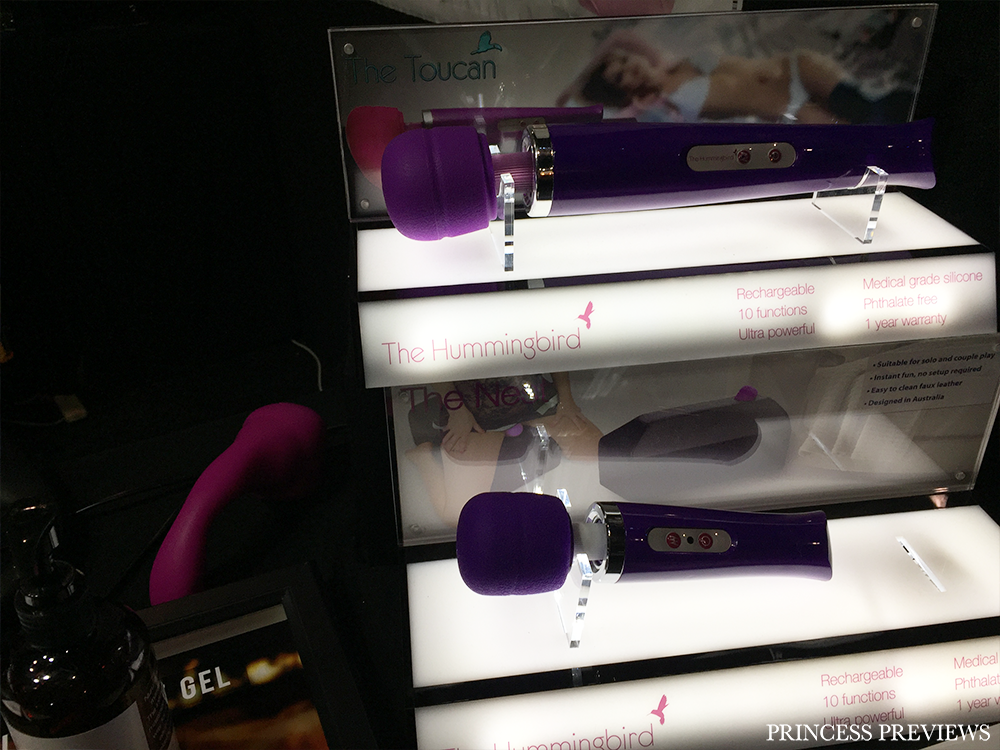 Finally there was Geeky Sex Toys who are based in Queensland, and I don't think I've ever been more proud that a company is Australian owned. You've probably seen their range of Pokemon sex toys that came out earlier this year when Pokemon GO was all the rage, and since then their range has expanded into a beautiful merge of pop culture and body-safe sex toys, my two favourite things, and I absolutely love everything they produce. Normally I just talk about one or two favourite toys, but for these guys I can't pick just two, they have Star Wars (lightsaber), Salior Moon, Game of Thrones, Legend of Zelda, Doctor Who (sonic screwdriver), Superman, Guardians of the Galaxy (Groot), Alien (Zenomorth) and Iron Man dildos. To top that off they also have a R2-D2 wand massager, Dragons Egg vibrator, Batman and C-3PO butt plugs and a Green Lantern cock ring! I don't think you can get a much better line up than that, and I'm so happy they won Best Exhibitor at the convention. As you can see I am very smitten with them, and will be saving up my pennies soon for one of their toys, although heavens knows how I'm going to choose from that list!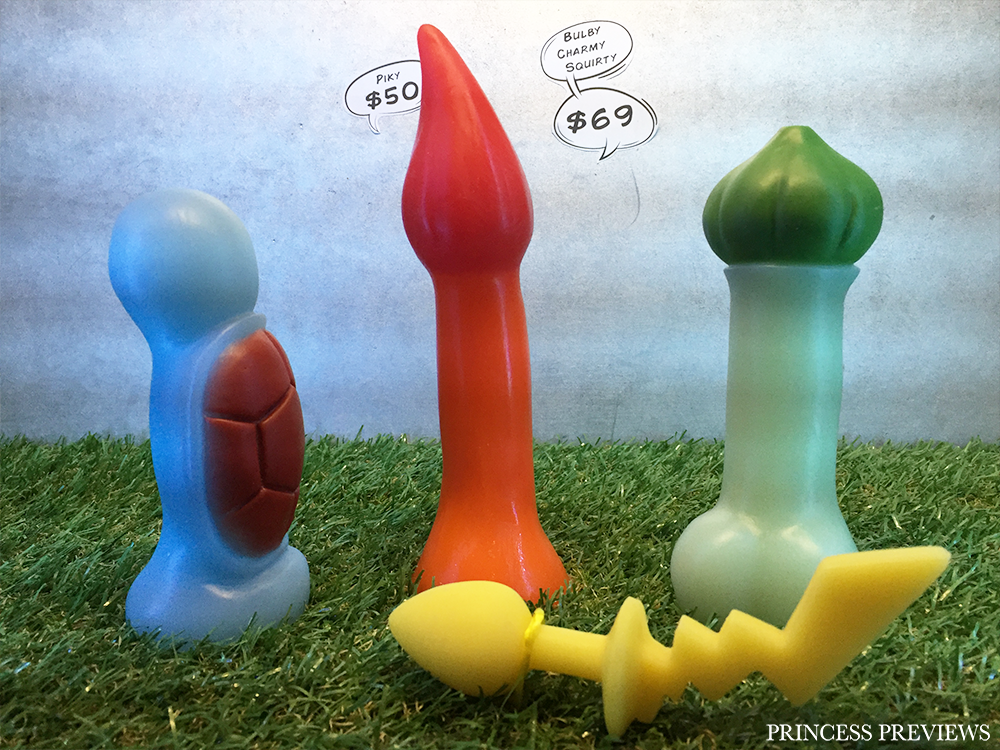 Overall I had a wonderful time at Sexpo this year. Australia has a long way to go in the world of sex toy retail and educating the general public about unsafe materials, so the lack of availability of body-safe options sadly was not too surprising. However it was great to see far more Australian based brands producing body-safe toys than previous years and I very much hope this trend continues. Getting to see some of my favourite sex educators and porn stars was also an amazing experience, as was meeting my first fellow sex blogger out in the wild! I'm hoping to attend as many sex positive events as I can get my hands on in 2017 so hopefully I will have more event wrap-up posts coming your way!