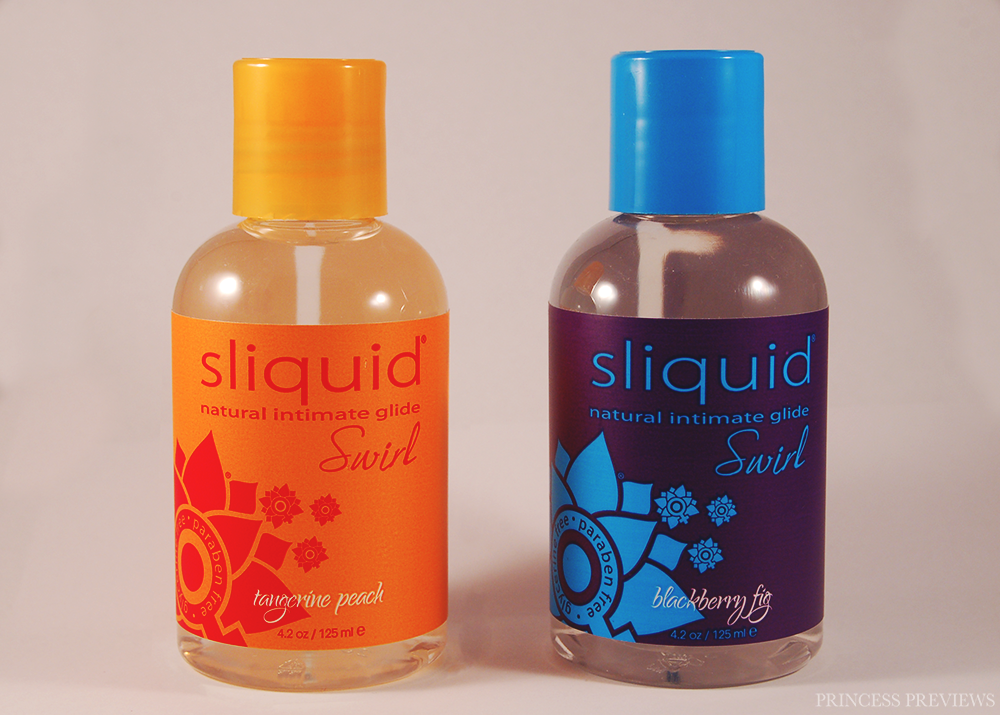 Ever since I started blogging I have been mentioning how much I wanted to try Sliquid's flavoured lubricant range, Swirl. One of my first reviews was on two of their best-sellers, Sassy and Sea, and they, alongside Satin which I reviewed last year, are still my favourite lubricants. Sassy is for anything butt related, Sea is for dildos, and Satin is a fantastic in-between that also moisturises for a luxurious feel. But for activities that involve taste, I have had nothing. Of course, I have owned flavoured lubricant previously that I somewhat enjoyed, and I even raved about trying some chocolate flavoured lube that was poured over ice-cream at Sexpo last year. But none of these compared to the good things I had heard about Sliquid's flavoured lubes. Sadly, despite my longing over the Swirl range and all the delicious sounding flavours that it includes, I hadn't ever gotten the chance to try it. That was until recently, when one of my favourite Australian sex stores, Nikki Darling, offered me some for a review. Admittedly, Tangerine Peach and Blackberry Fig were probably not flavours I would have chosen personally, but at this point I am more than happy to try anything to get my hands on some of these bottles.
The two bottles of lubricant were sent to me from Nikki Darling on the 23rd of August, and I received them on the 30th of August. This was a surprising amount of time to reach me since I am in the same city as them, and I had some major issues receiving the parcel. You can read about these in detail over at my Satisfyer Pro Penguin review, which I also received in the same parcel. Despite this, the parcel itself was sent completely discreetly, with no mention of the company name or what was inside the package.
The bottles of the Sliquid Swirl range are exactly the same as their Naturals and Organics lines, which is fantastic since I find these bottles perfect for storing my lubricant. They are rather small, with a content of only 125ml / 4.2 oz, but a small amount of lube goes a long way, so they will last a long time. Both the bottle and label feel really good to the touch, and the label's silky-smooth finish is especially exquisite. While these are quite low-price lubricants, they can easily be mistaken for more luxury types. The cap is a push style where you can then squeeze the sides of the bottle to get the content out, which I find very easy to use and quick to apply. Something I particularly love about these bottles that my previous Sliquid lubes do not feature, is that the caps match the colour of the flavour and label. This is super helpful for how I store my lubricants, in which I can only see the top of the bottles. Usually I find picking between my Sliquid Sea and Sassy quite frustrating, since they both have white caps. However, the colours caps of the Swirl range eliminate this problem completely, plus they look great.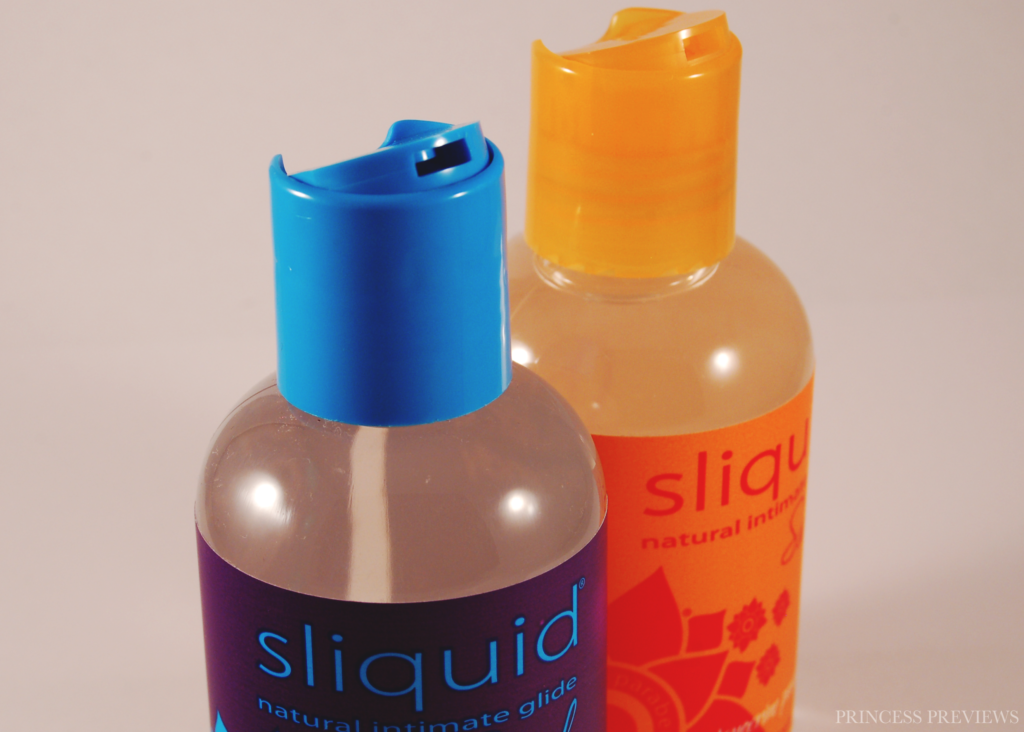 The thing I love most about the Sliquid range is their ingredients, which are all DEA, glycerin, glycerol, paraben, PEG, propylene glycol, sorbitol, and sulphate free, as well as hypoallergenic and non-toxic. My vagina is very sensitive to some of the ingredients placed in regular lubricants, which had left me pretty wary of using lubricant, until I found Sliquid. Plus, Sliquid is always gluten free and vegan friendly, making it even more perfect. Usually a full list of ingredients can be found on Sliquid's website for their products, but since I can't find it I'll instead list them below:
Tangerine Peach
Purified Water, Plant Cellulose (from Cotton), Cyamopsis (Guar Conditioners), Tangerine and Peach Flavouring, Aspartame, Potassium Sorbate, Critic Acid 
Blackberry Fig
Purified Water, Plant Cellulose (from Cotton), Cyamopsis (Guar Conditioners), Blackberry and Fig Flavouring, Aspartame, Potassium Sorbate, Critic Acid 
The texture of a lubricant is something I am always most interested in, as this is what determines my use of a lube. Personally, I have come to prefer thicker lubricants, as I find they last longer, are more protective, and don't run as fast during application. However, that is for using with sex toys, while my Swirl lubricants main job will be oral sex, since what is the point of a flavoured lube if you aren't tasting it? In this regard, I felt a lighter and thinner lubricant would work far better, as you don't want a gross slimy feeling in your mouth, but instead want to be able to feel your partner naturally just with the addition of the flavour. With this in mind Sliquid Swirl certainly met my expectations, being only slightly thicker than Sea (which feels almost like water), and thinner than all my other lubes. It runs fairly quickly, but again less than Sea, and has a very light feeling. It is quite long-lasting, and takes awhile to dry, however the only downside I have found is that is can leave a tacky feeling residue on the skin once dried.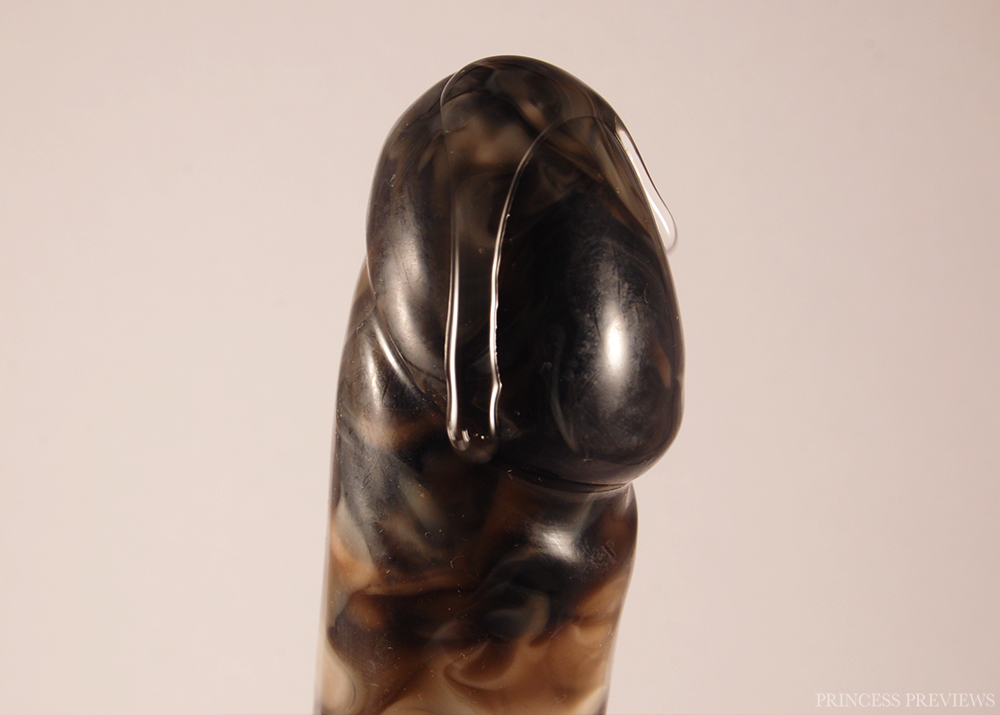 I have plenty of lubes I enjoy, so the main test with these lubes was their taste, and the feeling they create in my mouth. The Swirl range is full of amazing sounding flavours, such as Cherry Vanilla, Green Apple Tart, Pina Colada, Pink Lemonade and Strawberry Pomegranate, however the two flavours I am reviewing, Blackberry Fig and Tangerine Peach, aren't those that I normally enjoy, so I was unsure what to expect. I started with Tangerine Peach, as I am more familiar with these fruits than Blackberries or Figs, and therefore felt more confident with it. I found the smell really nice and fruity, and it reminded me of ice lollies from my childhood. Upon tasting it I found that the slimy feeling of the lube instantly dissolved, so that all I was left with was the flavour, which was exactly what I was hoping for. I enjoyed the taste very much, and it was almost strange how you could taste both the tangerine and the peach at the same time. The critic taste of the tangerine was quite prominent however, so if you don't enjoy this sort of flavour then this probably wouldn't be for you. Moving onto the Blackberry Fig, I instantly found the smell and flavour far more intense than the Tangerine Peach. This was also very fruity, and while I barely ever eat either of these fruits I really enjoyed this one, even more so than the Tangerine Peach. I found this one far sweeter than the previous, which was much more appealing to my palette and preferences.
After trying the lubes out for taste testing, it was time for the real deal, trying them out in use with my partner. As I haven't used flavoured lubricants for years, I found the experience super strange at first. I can kind of relate it to when you eat a food that looks like another food (Heston's meat fruit, anyone?), and your senses get confused. Even though I went in expecting the flavours, it was still a strange experience to taste them instead of my partner. This just took some getting use to however, and apart from this, the overall experience of using them was great. Strangely, I actually enjoyed the Tangerine Peach flavour more than Blackberry Fig when using it with my partner, even though it was the other way round when trying them alone. This was as, while I liked the sweetness of Blackberry Fig by itself, I found it too overpowering in use. Meanwhile, I found the more tangy flavour of the Tangerine Peach had a more natural feel to it. This is just me being picky for the sake of the review however, as both were great. Overall, I've found using them a really fun experience, and an easy and quick way to add something extra to oral sex sessions.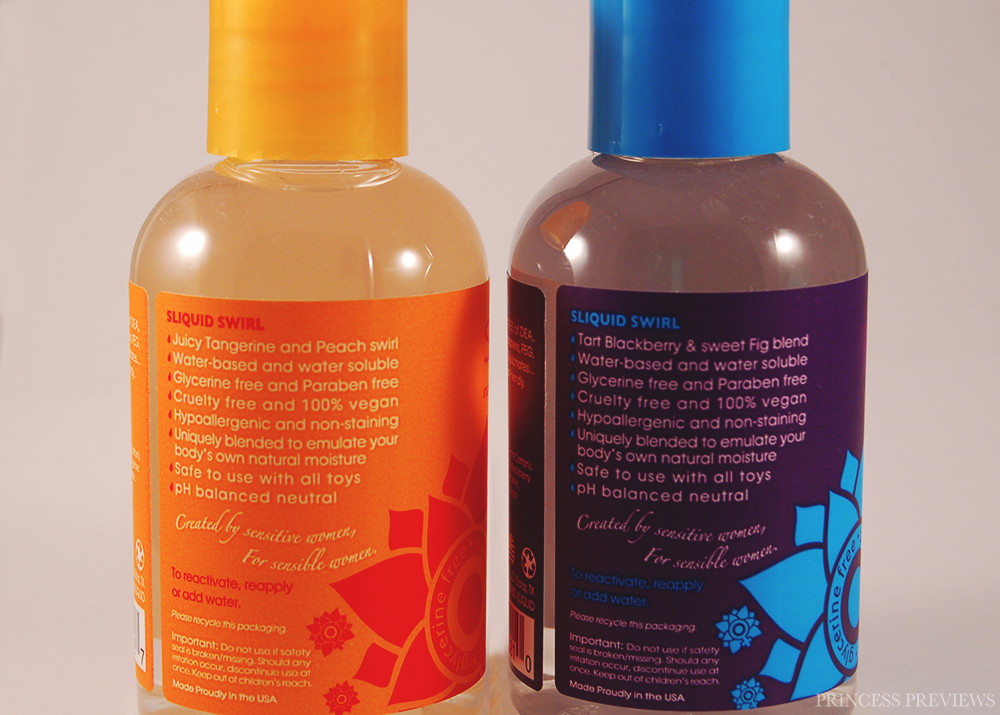 When you want something as long as I have wanted the Sliquid Swirl range, you risk being very disappointed when you finally get it. But I am so happy to say that these lubricants met, if not exceeded, my expectations. My biggest worry with them was that it would feel slimy and unnatural in my mouth during oral sex, which would have been a huge issue for me as I enjoy feeling my partner in my mouth. But instead I didn't even notice the texture of the lubricant in use, as it dissolved instantly. Even though both flavours weren't those I would have normally chosen, I found them really nice and both very different. Plus, in total there is eight flavours to select from, so I feel like no matter what your taste preferences are you're going to find something for you. In addition, the bottles were easy to use and looked attractive, and the ingredients list is fantastic as usual. If you are after a flavoured lube, then look no further, because this is the range for you. Happy flavour choosing!
If you are in Australia you can buy the Sliquid Swirl range from Nikki Darling for just $25 AUD each!
For everyone else, you can buy them at Peepshow Toys from just $10.99 USD!
I received this product in exchange for an honest and unbiased review. Affiliate links have been used in this post.