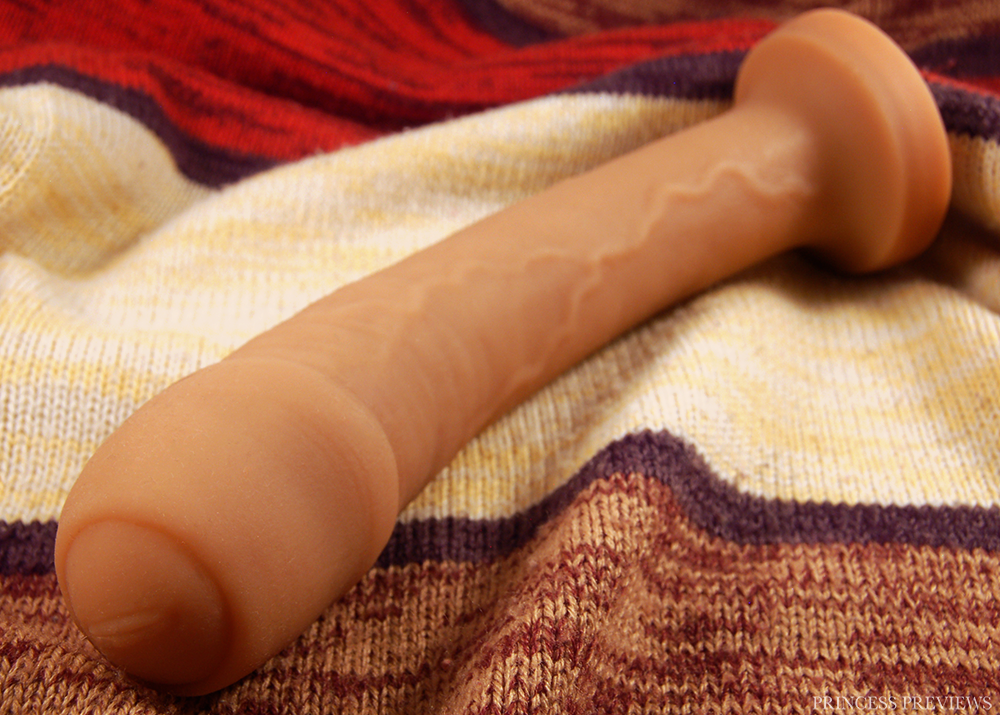 This is my first review of 2017 and this year I've got a lot of big goals for the blog. One of them is trying to diversify my posts and review products. Different types of toys, writing more about my opinions on certain topics rather than just reviews, and so forth. So, on that note, even though it's a little bit of a stretch, I thought that this sex toy would be the perfect way to kick off the year. The Tantus Uncut #1 represents a step forward in dildo diversity. If you hadn't noticed, this particular dildo is uncircumcised and features a foreskin. I've read a lot of reviews on this toy before deciding to get one, and bloggers often talk about how they have never had a uncircumcised partner before, but that is because the majority of them are from the US where around 80% of males are circumcised. I, on the other hand, live in Australia where only around 30% of males are circumcised, so as you can imagine all my partners have been 'uncut'. This also explains why you've likely never seen a uncircumcised dildo or penis in the media before, because the majority of our porn and sex toys come from the US! I was so happy to see the penises that I know and love represented when Tantus announced the Uncut, and since have been so glad to see many other sex toy companies continue this awesome trend.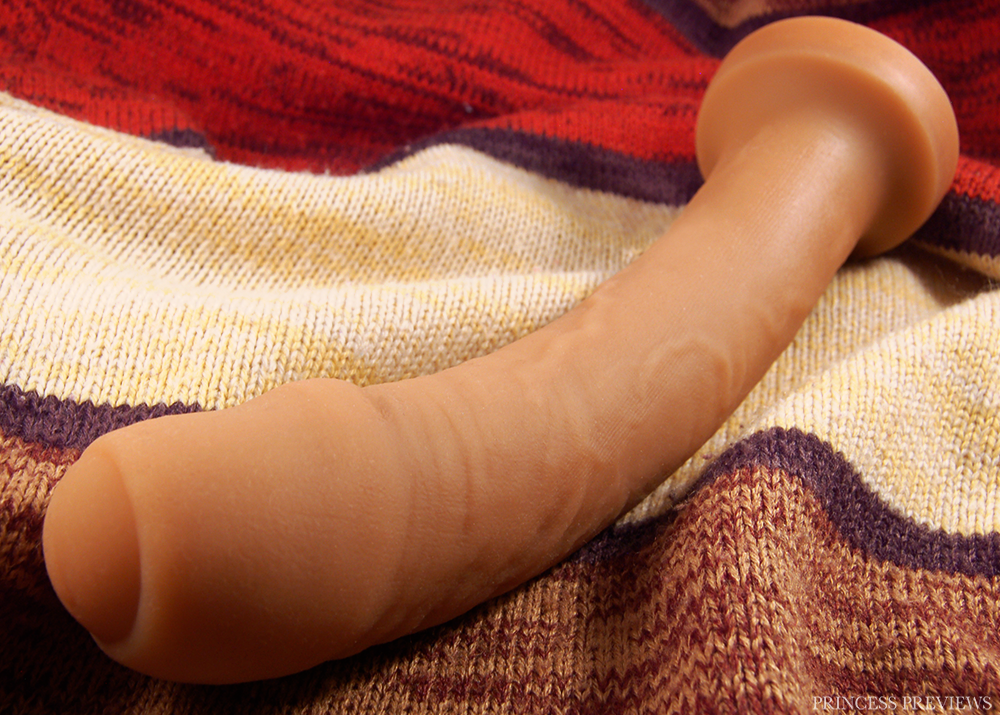 Tantus is my favourite manufacturer of hand-made silicone dildos and their products constantly rank in my favourites lists, so I knew exactly what to expect in receiving the Uncut #1 and that I would likely love it. Plus it is made with their Dual Density O2 silicone which I just can't get enough of. I rave about it enough already in my Flurry and Gary reviews, but if you haven't read them it is basically a firm silicone core surrounded by a softer outer silicone layer that makes the dildo feel totally realistic and absolutely amazing in use. The outer silicone is extremely detailed and realistic, and has the same overall look and feel to it as the Gary. It has veins, wrinkles and even skin pores which all come together to create one of the most realistic dildos I own, and that's before you even feel its dual density. The foreskin is up on it and even though it is not retractable it feels very realistic. The toy is very long in length and features a huge curve in the shaft which is made even more prominent by the weight of its head. Due to this I have been unable to have it stand upright on its own, which isn't an issue for me but may be for you depending on how you store your dildos. This is my first Tantus dildo to not include their usual logo on the base which I find a pain since I usually use it as a way for me to ensure it is facing the right way up when in use.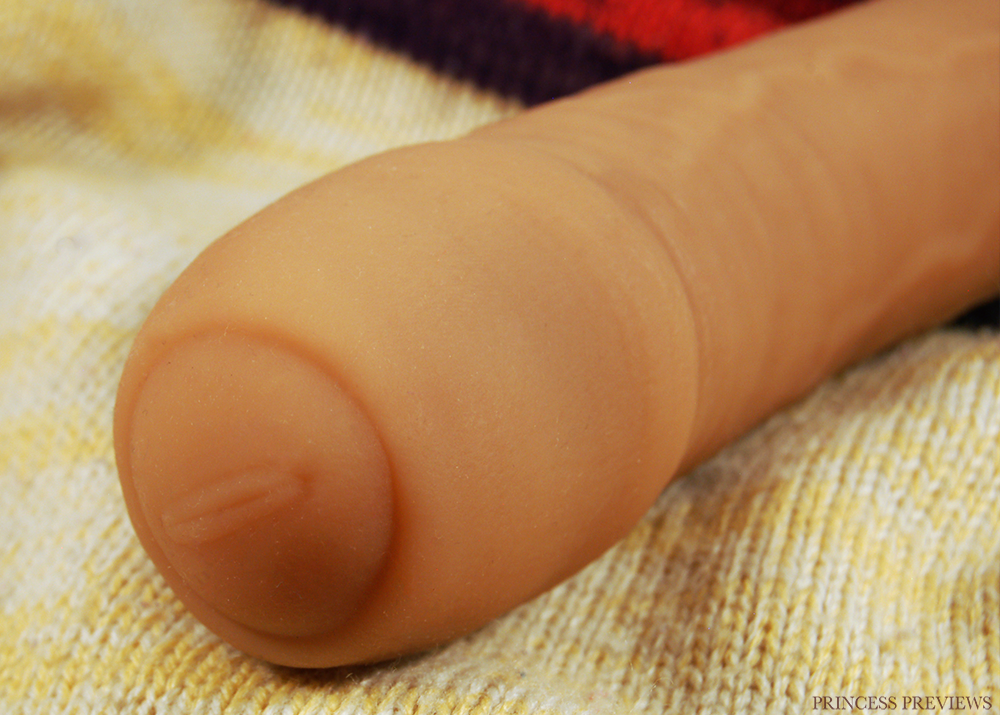 The Tantus Uncut #1 is now the largest dildo I own, coming in with an insertable length of 19 cm / 7.45 inches and a diameter of 4.5cm / 1.75 inches. I knew the size upon ordering it, but yet it still surprised me when it came and even now, plus it makes all my other dildos look absolutely tiny in comparison (see a lineup of all my current Tantus dildos here). I was concerned about its girth, as it is the same size as one of my other Tantus dildos, the Vamp, which I found far too large and could not handle. I was determined though that with a softer silicone such as the Tantus O2 line (the Vamp was made out of Tantus' regular firm silicone) I would finally be able to conquer 4.5cm / 1.75 inches, and am happy to report I was correct. If this does seem a bit too much for you though, you can always order its smaller and cheaper brother, the Uncut #2, instead. I ordered this in its Cocoa colour, and due to its base it is both harness compatible and anal safe.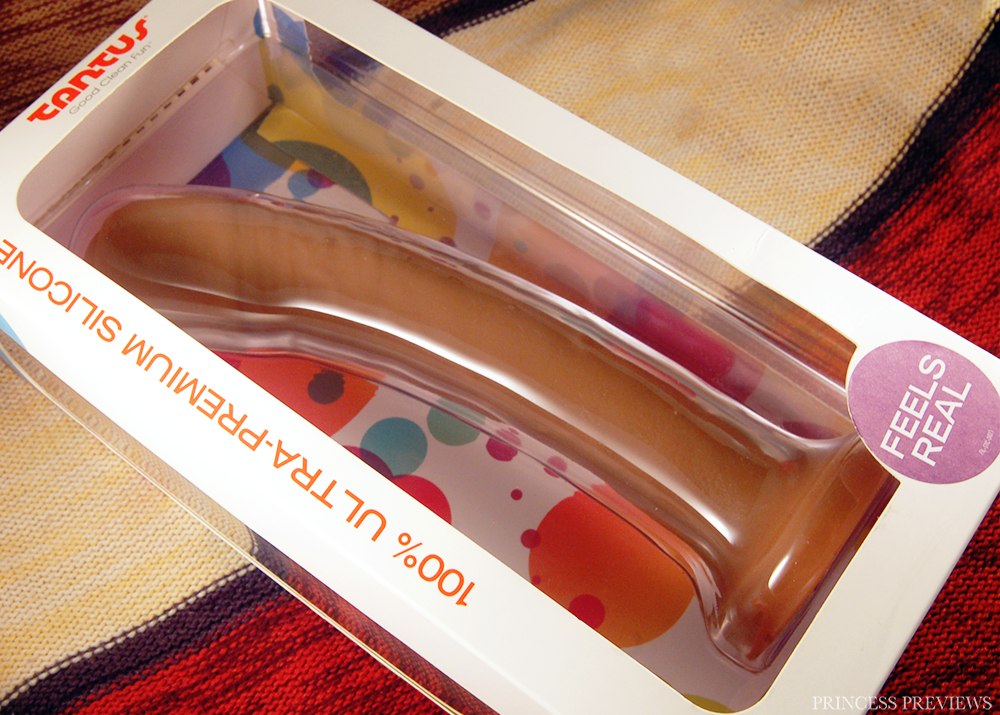 My order was placed with Tantus on the 6th of June and I received it on the 29th of June which was slightly quicker than international orders to Australia usually are. The package arrived in a plain brown box with no mention of the company on it but 'adult novelty' on the label, so if privacy is an issue for you then you may want to consider this. The Uncut #1 was packaged in Tantus's usual non-graphic cardboard box which has a plastic insert to show off the toy. These boxes can be reused if opened carefully, but are quite bulky, so if space is an issue then I would recommend later storing the dildo in a zip-lock bag as Tantus toys don't come with storage bags.
As previously mentioned I was initially concerned about the size of this toy but I quickly found that after 2-3 orgasms with gradually larger toys (I tended to go from the BS Atelier Alex, to the Tantus Pack 'n Play No.2, to the Tantus Gary) I was able to finally conquer the Uncut #1. It certainly is a tight fit, and on some days of testing if I was having a particularly stressful day I found that no matter how much warming up I had I could not fit it, but for the most part I found that with adequate warm up I could insert it with minimal to no pain or discomfort. In case you are thinking this sounds way too much, as a general rule my vagina tends to not do well with girth, so for most people I believe this size would probably not need as much of an extensive warm up. The ridge of the head combined with the foreskin is its largest point however, and once this is inserted I find the rest of the length quite easy to insert and a far more doable size. My vagina is only 15 cm (6 inches) long so I am not able to fit its entire length inside me but this isn't really an issue, if anything there is more to hold.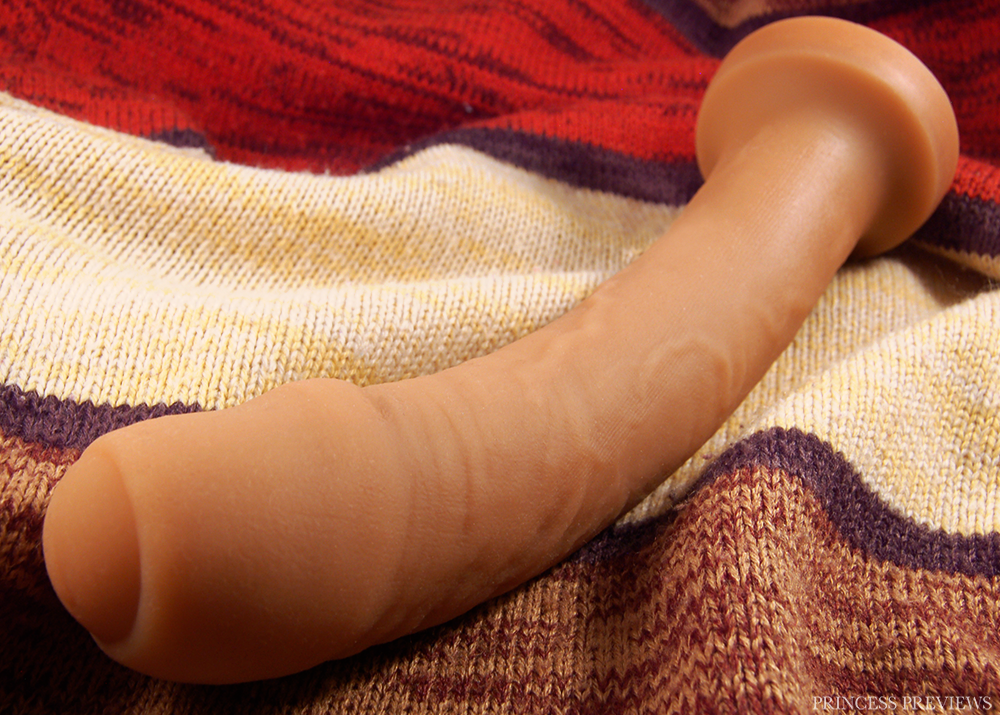 I knew when buying this it would make the perfect A-spot dildo and that is what I have been planning on using it for. I found A-spot heaven when reviewing the Tantus Gary, and had high hopes that the Uncut #1 would surpass it and be even better. Initially when using it to stimulate my A-spot it felt good but wasn't the fireworks I was hoping for and didn't stand out compared to the feelings I received from the Gary. However, I found if I use the extra length of the toy to curve the base towards me I somehow manage to achieve a level of A-spot stimulation I have previously never experienced. I'm not 100% sure why this makes it feel so different, but I've summed it up to the different angle combined with the extra vaginal stimulation. I feel a little bit like a broken record from my last Tantus review, but this is hands down the best A-spot stimulation I've ever achieved. I can't help it if Tantus are just so good at making dildos!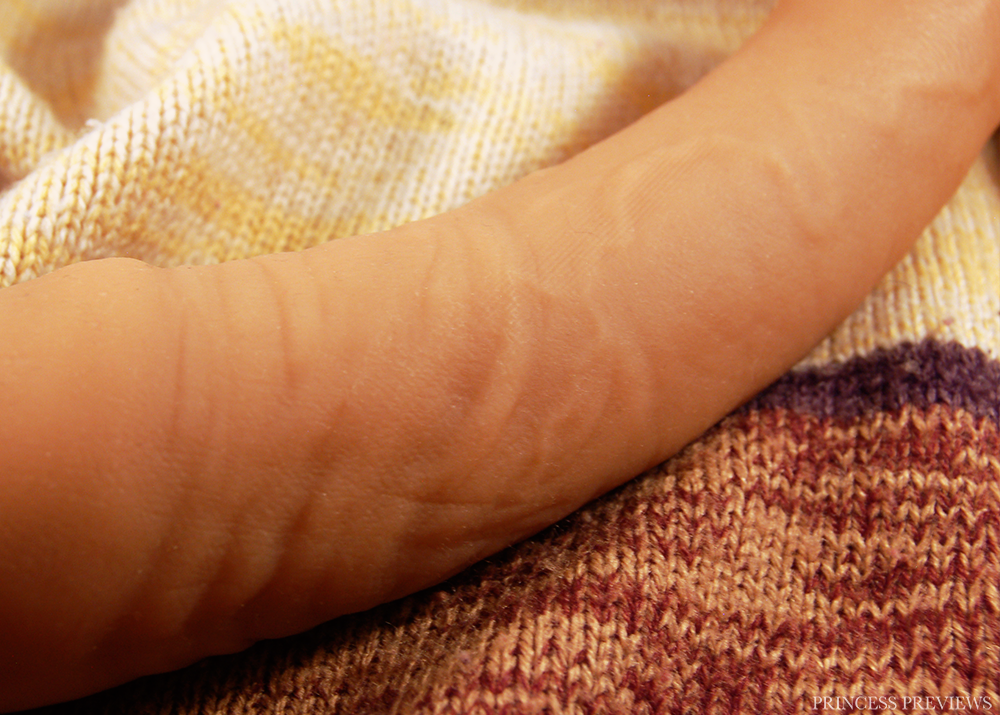 Since the Tantus Uncut #1 is made with 100% Ultra-Premium Silicone cleaning is relatively easy, however due to how highly textured it is Tantus recommends always boiling it or placing it in the dishwasher to ensure it is fully cleaned and this will also sterilise it which allows use between orifices and partners. After cleaning place it in a zip lock bag for storage. Since the silicone has a matte finish the dildo picks up lint easily, so if it begins to get dusty make sure to give it a quick wash before use. Always use water-based lubricant only with this product, or perform a spot-test before using any alternative lubes.
I'm more than a little bit smitten with the Tantus Uncut #1. Firstly, it gives recognition to the uncircumcised penises of the world that I know and love. Secondly, the level of A-spot stimulation I can achieve with it is just out of this world. In all honesty though, even though I can achieve more pleasure with this dildo than others like my Tantus Pack 'n Play No.2 and Gary I am still more likely to use them instead just due to how long it takes me to warm up to be able to use it. As I mentioned before I need to use these other dildos anyway just to be able to take the Uncut #1, meaning that apart from any occasional lengthy masturbation sessions, I'm probably just going to stick to using them. This, however, is down to my anti-girth vagina and doesn't take away from how amazing this toy is. If I were someone who could easily take its 4.5 cm (1.75 inches) then this would likely become my new favourite silicone dildo, as I'm sure it will for many people. Thank you to Tantus for bringing yet another wonderful toy into the world.
You can get yourself a Tantus Uncut #1 direct from their website for only $155 AUD / $114 USD!
Material - 100%
Appearance - 95%
Solo - 90%
Partner - 60%
A great dildo that can create amazing A-spot stimulation but due to its size can take a lot of warming up to be able to use.
I received this product in exchange for an honest and unbiased review. Affiliate links have been used in this post.