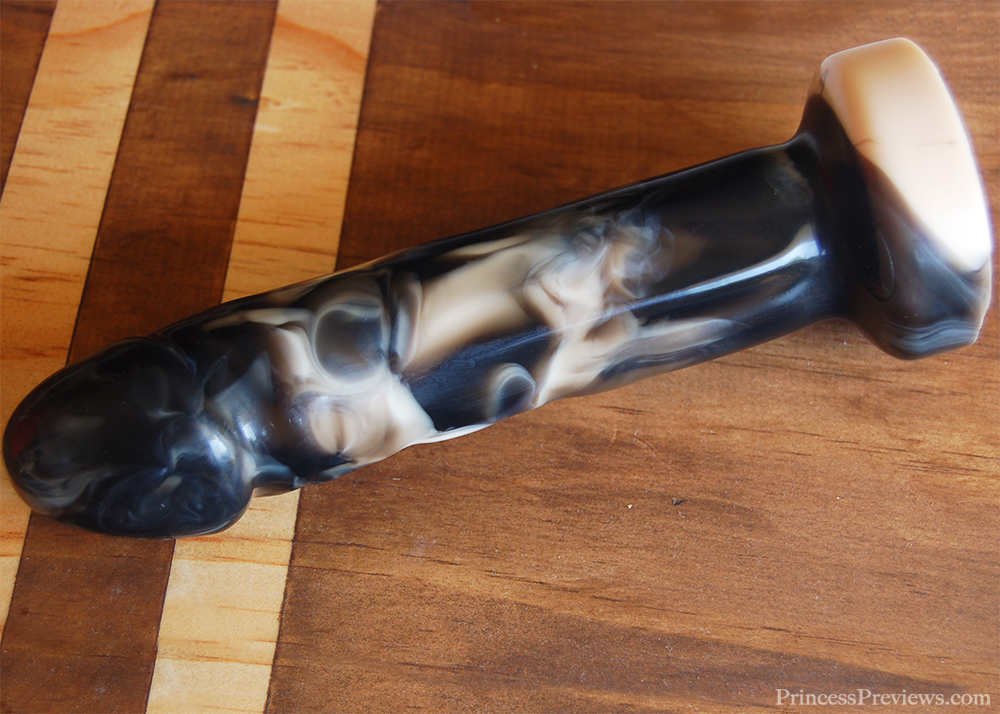 If I were to pinpoint the most surprising thing I have found out about my body since starting this sex toy journey, it would be that I have a really small vagina. By that, I mean that while I have an average looking one, and have a little above average depth, my vagina's opening is very small, meaning I have a lot of trouble with above average girth toys. I still hope to one day be a Size Queen (a term used by bloggers who enjoy big toys) like a lot of my other favourite sex toy bloggers and be able to enjoy some of their favourites, but right now that's not the case, I'm more like a Size Princess at the moment. That is totally ok, everyone is different and it doesn't really effect me too much. But it is something I didn't know when purchasing the Tantus Vamp. I don't see it as a mistake, because it helped me to learn myself, but ultimately it turned a toy I have read many positive reviews on, into something not so positive for me.
I just want to start right off the bat by quickly stating that I do love my Tantus Vamp. It gives me incredible orgasms and feels like nothing else I have. It is just the huge warm up time that I require to be able to use it (plus I need at least one orgasm prior). I have tried it a bunch, both for this review and my camming work, but for my lazy masturbation sessions it is not something I would reach for. Most people can fit a toy this size quite easily, as it is only just above average in girth, so if you have never tried a toy this size before and don't know if you'd be like me, chances are you aren't! If you feel you would struggle with its size similar to me but also feel you have the time to warm up, then you'll absolutely love it, and if you aren't like me and know from experience you can comfortably take it, then you can ignore all this and just enjoy my review! For those worried about its firmness, you can check out my review of the same toy but in a Super Soft density here, in which I give a much more normal review.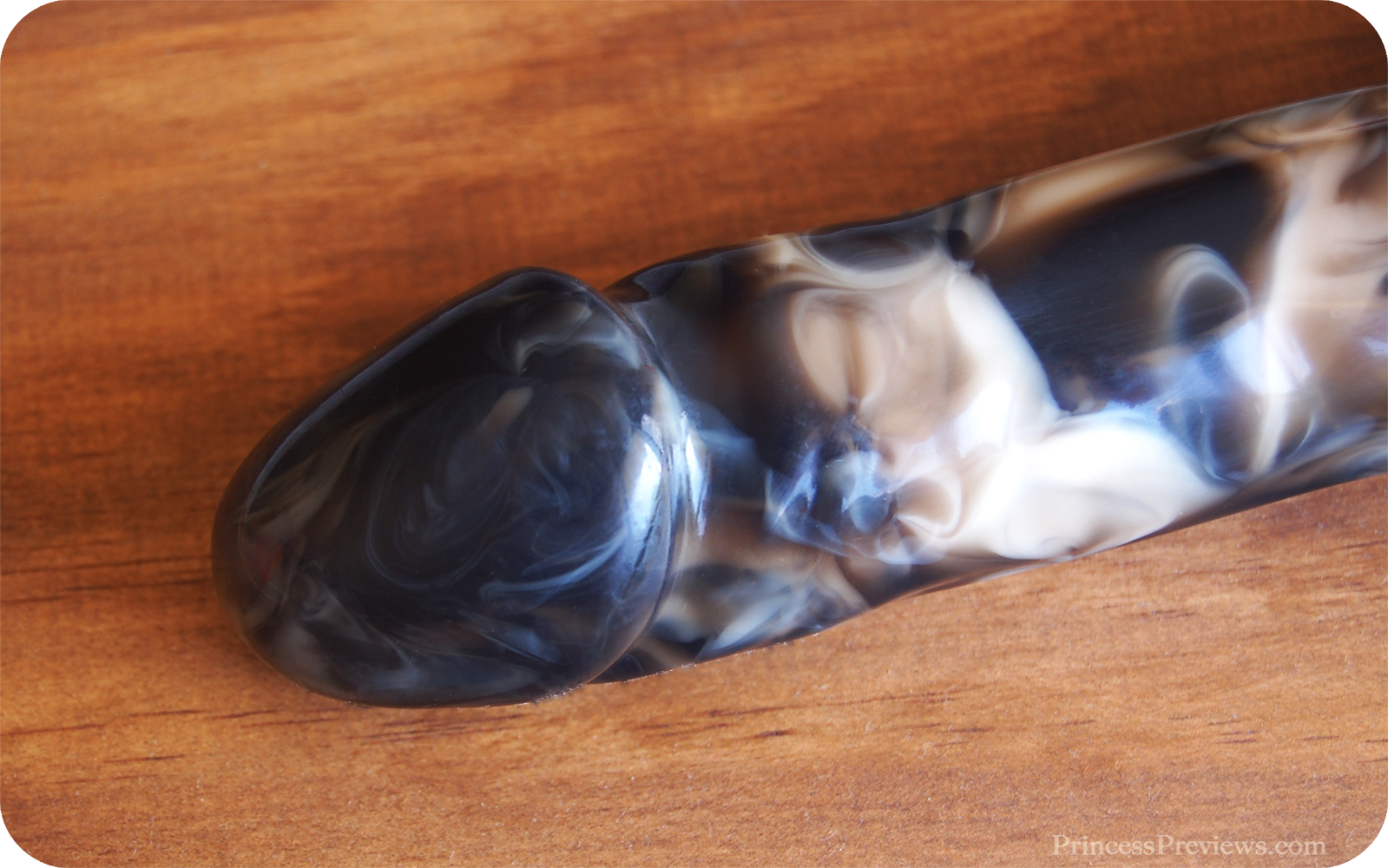 So, as you've probably worked out by now, The Vamp by Tantus is my biggest dildo yet, in terms of length and girth. The thing about it to me that makes it so intimidating is that the silicone is very firm, as is the case with non-O2 Tantus dildos. There is barely any room for squish, which makes insertion so much harder. If I had a toy with the same girth but made from softer silicone I could likely fit it quite easily. Its shaft diameter is 4.3 cm / 1.7 inches, which I can handle pretty well after a good warm up, but it is the prominent head that gets me, bringing the size up to 4.4 cm / 1.75 inches, which I have yet to be able to enter comfortably. Thankfully, this ridge is only at the start of the dildo, so once in it kind of acts like a plug and I can thrust away as much as I want without worrying about it (until I need to take it out). The length is 18 cm / 7 inches, which is comfortable enough for me and I have no issues with. As with all Tantus dildos it is made from 100% ultra-premium silicone, meaning it is body safe and non porous. You can clean it easily, plus sterilise it to give it an even further clean which is especially important if you are sharing between people (more details on this below). Plus, because of its flared base this dildo is also strap-on and anal compatible! My Vamp is just the regular dildo version, however there is also a vibrating version for a little more money that comes with a hole in its base, where you can insert a bullet vibe or suction cup.
You can buy The Vamp in a few different ways. Firstly, you can buy it as you usually would for its regular price from the Tantus website. Through this it comes in two colours, cream and purple haze. But if these colours aren't your jam, or you don't have much money to spend, you can also usually buy it through Tantus' Grab Bag deals. With these you can get Tantus' toys for hugely discounted prices with the only downside being you don't get to pick the colour, although personally I reckon this is more of an upside! Tantus really get creative with these and you could wind up with anything from a pink glittery dildo to a bright green one. I received a beautiful cream and black marbled dildo which has a super dreamy cloud effect as you can see in my photos.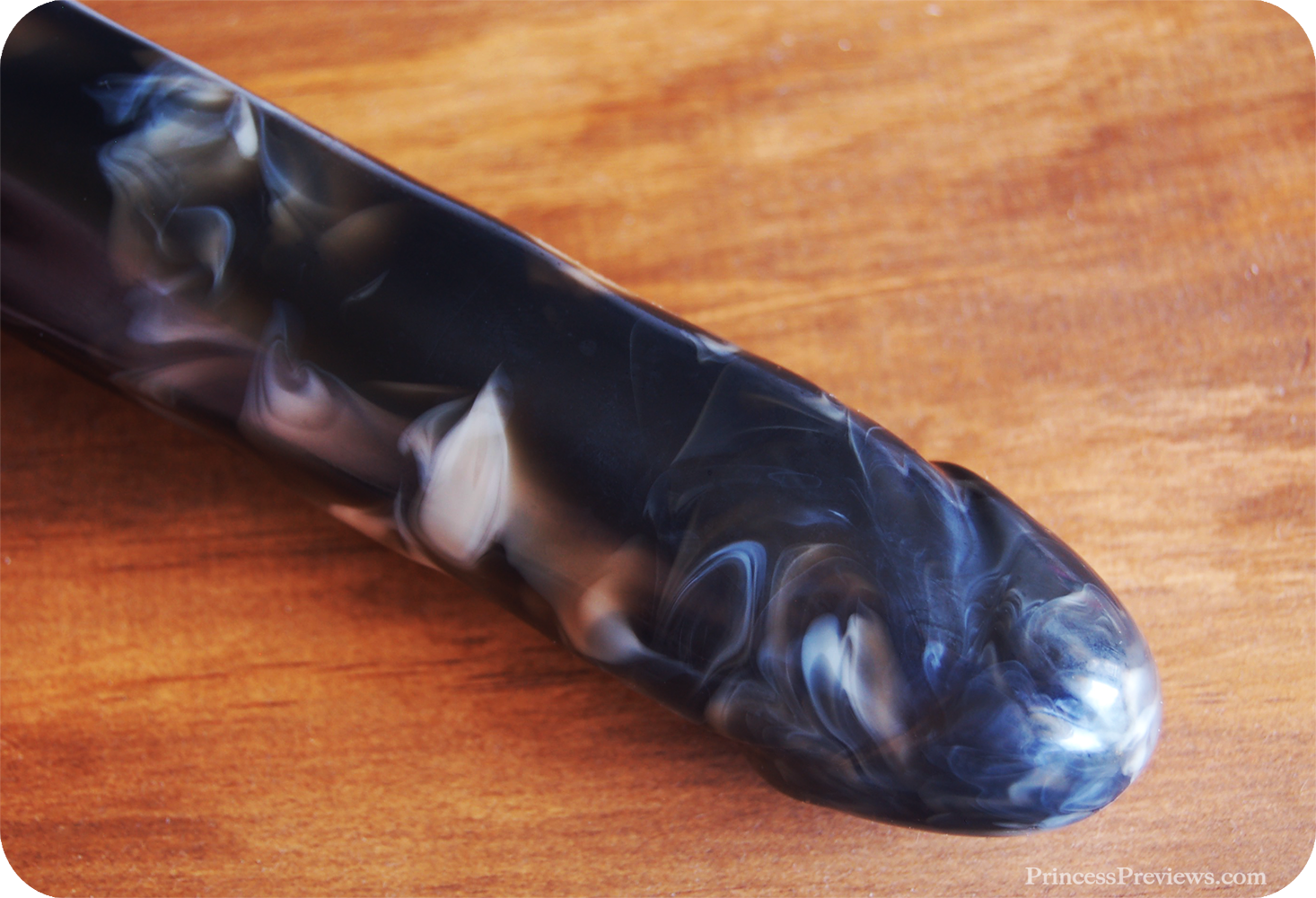 Because mine is a grab bag product, it doesn't come in the regular Tantus packaging, but instead a sealed bag. This can be reused as a storage solution, but the packaging sticks to the silicone and putting it back in or out of its bag is a real hassle. Instead I use regular zip lock bags for my storage. The Vamp is ultimately a realistic style dildo despite its colours, and due to this it has some light bumps and veins throughout. The head on the other hand is very prominent, not only having a huge coronal ridge, but also having a dip under it to make it feel even larger. To make thrusting a little easier, the width also lessens as it gets closer to the base. The material is firm and smooth but does have quite a lot of drag. Because of this it picks up lint and hair suuuper easy, so make sure to wash this before use as well as after. It also means you'll need quite a bit of lubricant when using it. Finally, on the base there is a small Tantus logo.
I hate writing negative reviews, especially about a toy that I know is good, it just doesn't work for my body. I mean seriously, google 'Tantus The Vamp review' and you'll find heaps of A+ reviews for it. But, putting that aside, this is my review, and it is my opportunity to represent anyone who feels the same way I do, you are not alone!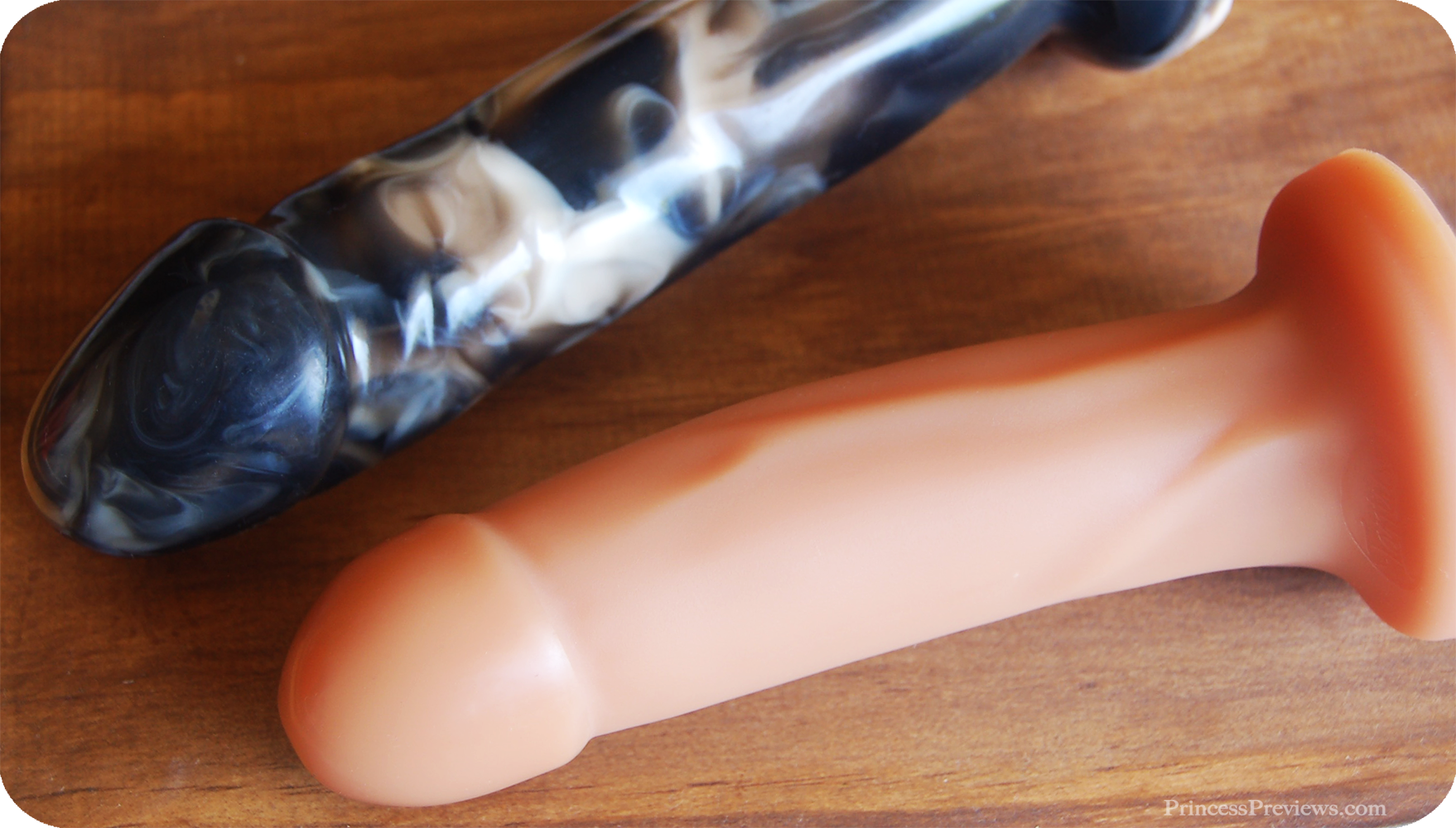 The Vamp and my Tantus Pack 'n Play No.2 which fits me perfectly.
Using The Vamp gives me a total sense of mind-melted overwhelmingness. It kind of makes my body respond in a similar way that it does to anal sex. I get hot and flustered when it is inside because its just so much, and my body isn't use to it. This essentially means it feels like nothing else I have or can use. When I'm using it I can put down whatever clit vibe or wand I was using beforehand because I can't bring myself to focus on anything but it. The only downside to this is that actually thrusting with it can be a pain, because I'm so out of it during use. To combat this my favourite way to use it is to have it used on me, so letting my partner do the work, which he enjoys just as much as me. One of the things I also like about The Vamp is that I can use it cowgirl style, because it is long enough for me to bounce around on with its base on my bed, despite not having a suction cup. Orgasms with it are on a different level as well, and are the sort where I need a good 5 hour sleep afterwards.
Cleaning The Vamp is super easy since it is non-porous and waterproof. Just use an anti-bacterial toy cleaner and warm water to give it a rinse over, and give some extra care when cleaning out under the head of the toy. To sterilise it you can either boil it for 5 minutes, put it in a dishwasher or wipe it down with a 10% bleach solution. Make sure to not use any silicone based lubricants with it, and if you do make sure to do a spot test first.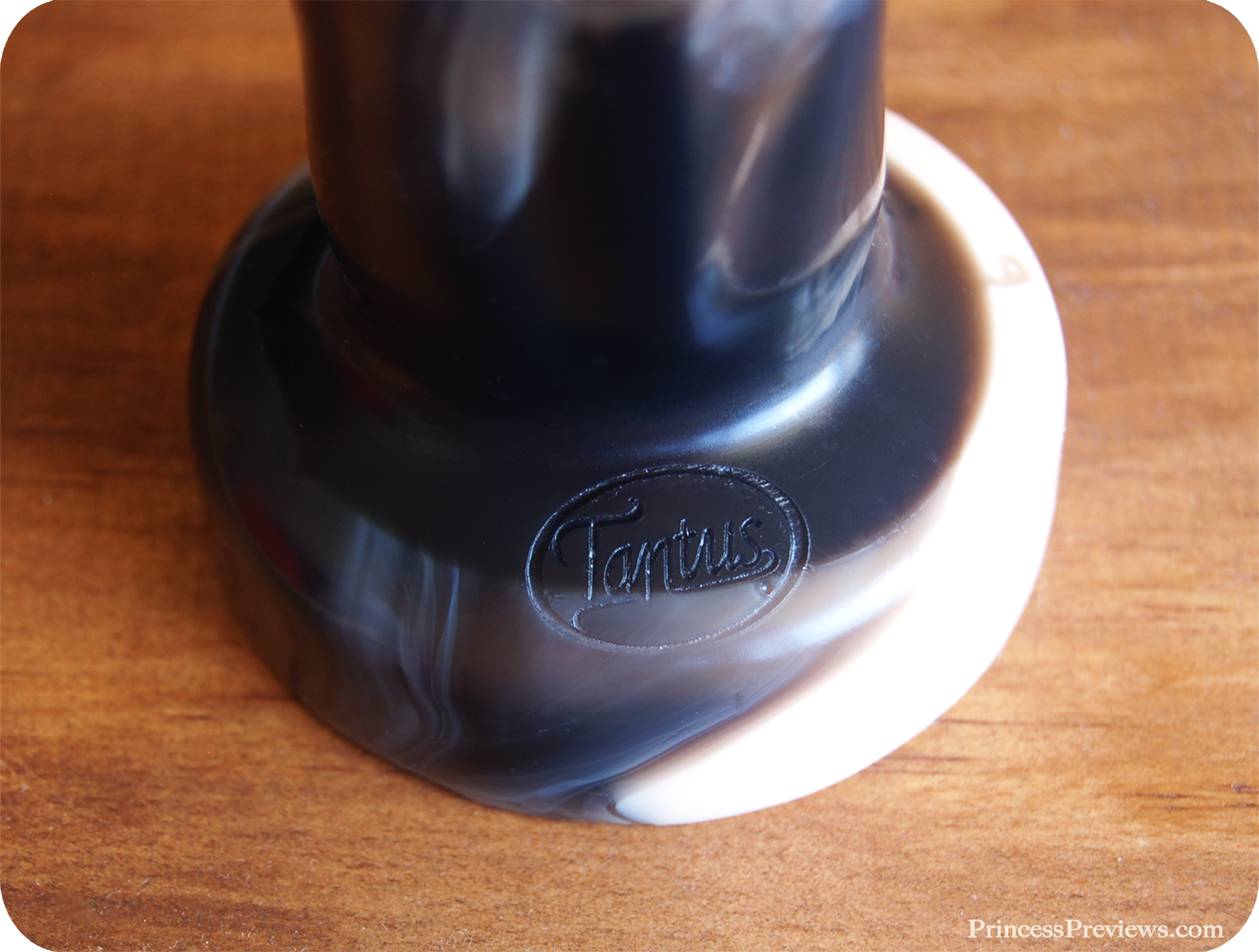 My review of The Vamp by Tantus is a bit of an odd one. I love the toy theoretically, but my body does not. It has a lot of great positive reviews by people I highly respect, but unfortunately I cannot personally give it a good review. I would really recommend if this does sound like a toy you would enjoy, read some other reviews and I assure you that you won't be disappointed. But if you feel like this would be too much for you to handle as well, then I'm glad I could provide a toy review you can relate to. Thanks, but sorry, Tantus!
You can get The Vamp by Tantus for $69.35 AUD / $50.55 USD or pick up a grab bag version for just $54.86 AUD / $39.99 USD!
Material - 85%
Appearance - 85%
Solo - 30%
Partner - 35%
A great toy in its own right, but the size and firmness of the dildo just doesn't work for my body.
Affiliate links have been used in this post.