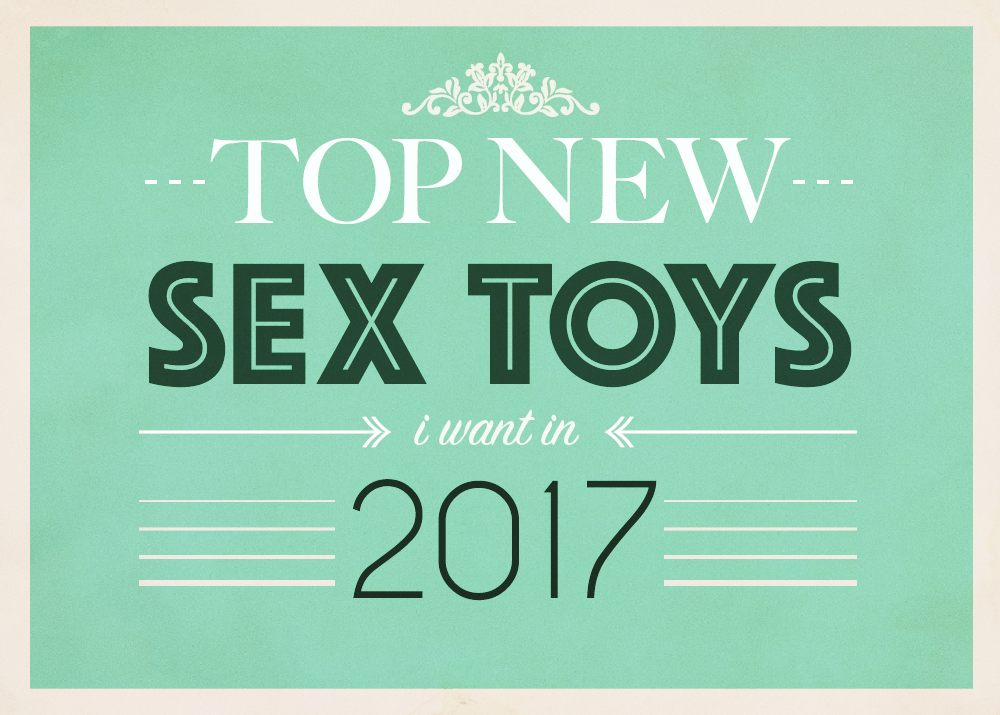 Alright, so March might be a little late to write about what toys I am most excited for this year, but I think we can all agree that 2017 is going pretty damn fast! Plus, I was clearly just waiting to hear more about what's coming out this year rather than just being too lazy to write this any earlier. Basically each year brings about the chances for more ridiculously crappy sex toys to be brought into the world, and, by contrast, more amazingly fantastic sex toys. In these crazy and often emotionally draining times we live in right now, good sex toys are becoming more important than ever and I have my fingers crossed that this'll be a good year for the industry despite everything. So in this post I want to take a look at some of my favourite toys that came out in 2016 and early 2017 that I haven't had the chance to try out yet, as well as toys that have been announced but currently aren't available for purchase.
This was actually one of the suggested topics that I've slowly been going through from the questions I asked during my giveaway last month. I got some really good feedback and ideas for posts (like this one) and all of the questions that were sent in will either be addressed in upcoming posts or a new Q&A post series I'll be starting soon (if you have any questions send them in here!).
We-Vibe Sync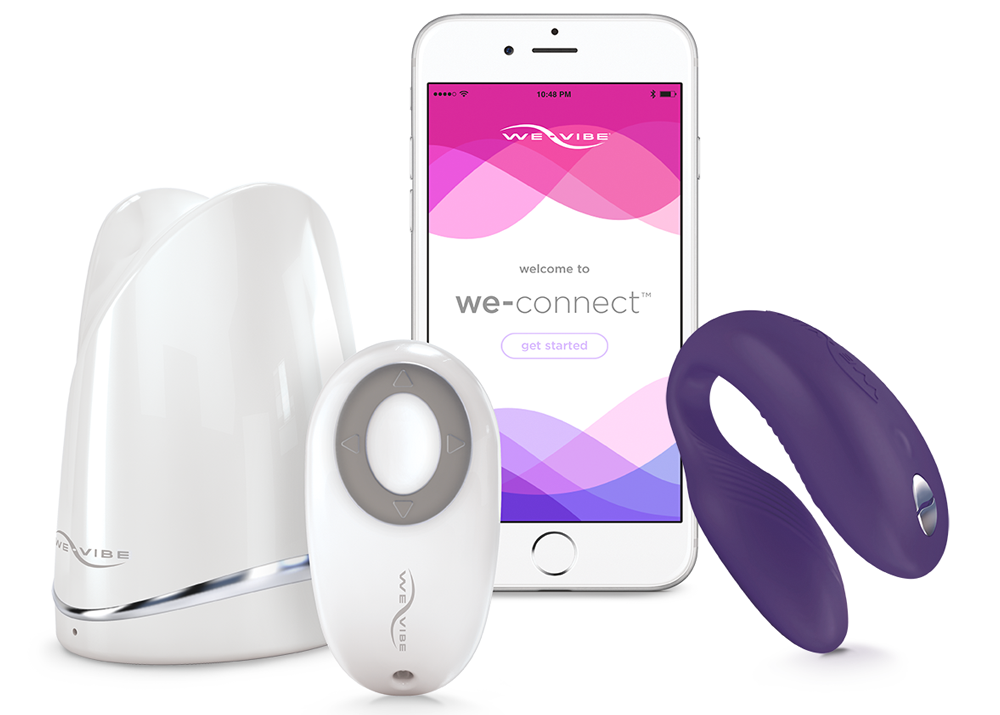 One of the very first sex toys I knew by name was one of the We-Vibe iterations. I remember it coming out when I was 18 and being popular enough that it was being covered by mainstream media. I never ended up getting one, and soon learned when I entered the world of sex toy reviewing that was probably for the best, since they rarely work for everyone's body type. The idea of the We-Vibe, if you aren't aware, is for one arm to sit inside the vagina against the G-spot while the other rests on top of the clitoris (it then becomes a partnered toy if a penis is inserted into the vagina too, so they both get stimulation). But not everyone's G-spot is in the same place, and neither is everyone's clitoris, so the chances of it managing to hit both of them perfectly I can't imagine is very high. This has made me avoid We-Vibe and similar toys since learning this. But, recently the newest version of the product, the We-Vibe Sync, has come out to glorious reviews.
Basically, the We-Vibe Sync is the same usual We-Vibe design that many have come to know and love, but this one features two adjustable points, one for the G-spot and one for the clitoris, that lets the toy better meet the requirements of your body. It is also meant to allow the toy to sit more comfortably when adjusting your sex positions, and is compatible with We-Vibe's mobile app. I've been following reviews of the toy and they have been great, so I would be very eager to get my hands on this toy to try sometime this year.
You can purchase a We-Vibe Sync from Vibrant for $264 AUD / $199 USD!
Mini Doxy Die Cast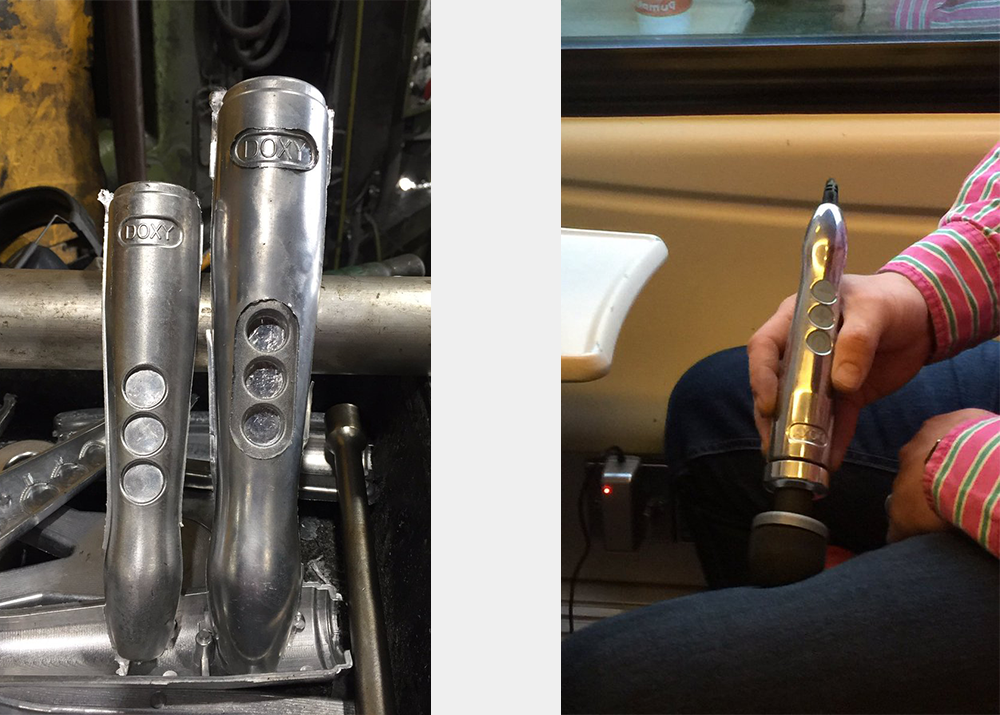 The Doxy Die Cast is one of my favourite sex toys. A powerful wand massager that hits the spot every time, plus is absolutely gorgeous. However, that beautiful metal body and powerful motor is also very heavy (700g / 1.5lb), and while this isn't a complete issue for me I can imagine it might be for a lot of people for various reasons. So, recently I've been getting extremely excited due to a few teaser images Doxy have been posting on their social media about a smaller version of the popular wand. This should likely reduce the weight plus it'll make it a lot more travel convenient, hooray! They were also showing them off at Eroticon last week and I am very jealous of all the bloggers who got to see them!
Plus, if you want to get really fancy Doxy just released two new versions of the original Die Cast design, one in matte black with a 18k gold rim, the other in full 18k gold, wow! I don't think these are toys I'm going to be able to buy or review anytime soon, but they look amazing!
[UPDATE 18/3] We have more news direct from Doxy North America's twitter account! As if it wasn't already sounding amazing, we now know that the toy will also feature a removable head for easy cleaning, plus alternative heads will be made that can be switched with the regular one! It is meant to be coming out around the end of US/UK Summer, I can't wait!
[UPDATE 30/12] Doxy Number 3 is the offical name, and it is now on sale! Check it out here at Vibrant for just $190 AUD / $150 USD!
Unicorn Horn Dildo from Geeky Sex Toys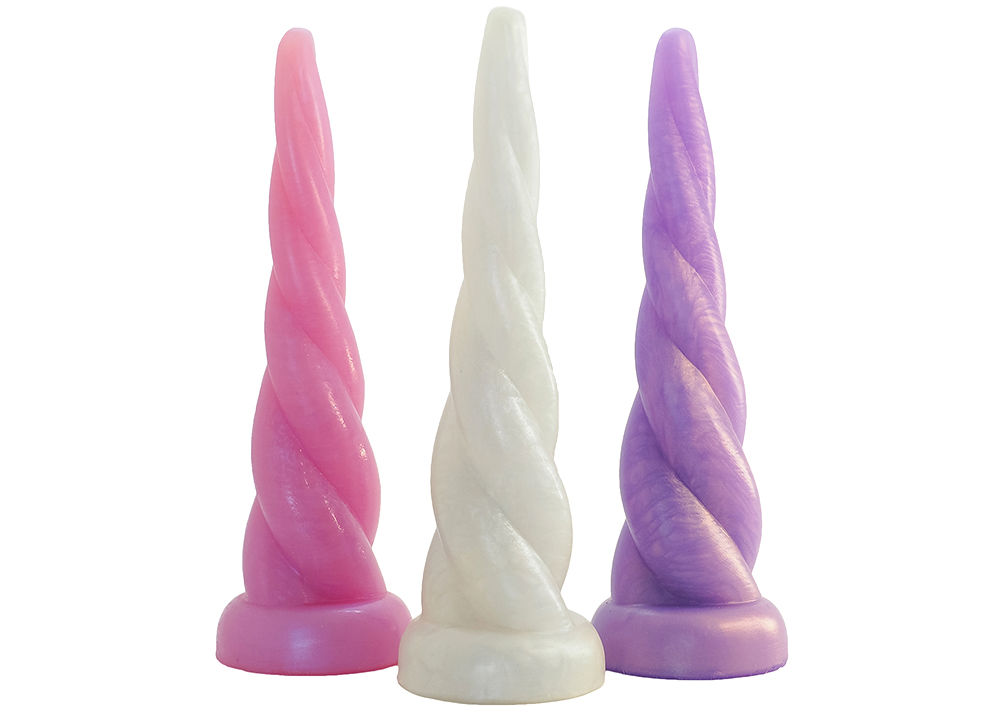 I've been slightly obsessed with Australian manufacturer Geeky Sex Toys lately, and recently reviewed two of their Star Toys range, the R2-V2 Massager Wand and Laser Sword dildo. But now to fuel my desire for their toys even more they have gone and released a Unicorn Horn Dildo. I am a sucker for anything cute and have been wanting a unicorn horn dildo for a really long time, but despite there being a few options around I have never really seen something that I really loved the look of before. But this is it and it is beautiful.
Geeky Sex Toys make all their own 100% silicone toys right here in Australia and the the Unicorn Horn comes in three great colours. Plus, it comes with a suction cup and is pretty cheap for a silicone sex toy! They also just released some Power Ranger themed butt plugs if this is more your thing.
You can purchase a Unicorn Horn Dildo from Geeky Sex Toys for $50 AUD / $37.70 USD!
Godemiche Roxy & Doxy Bullet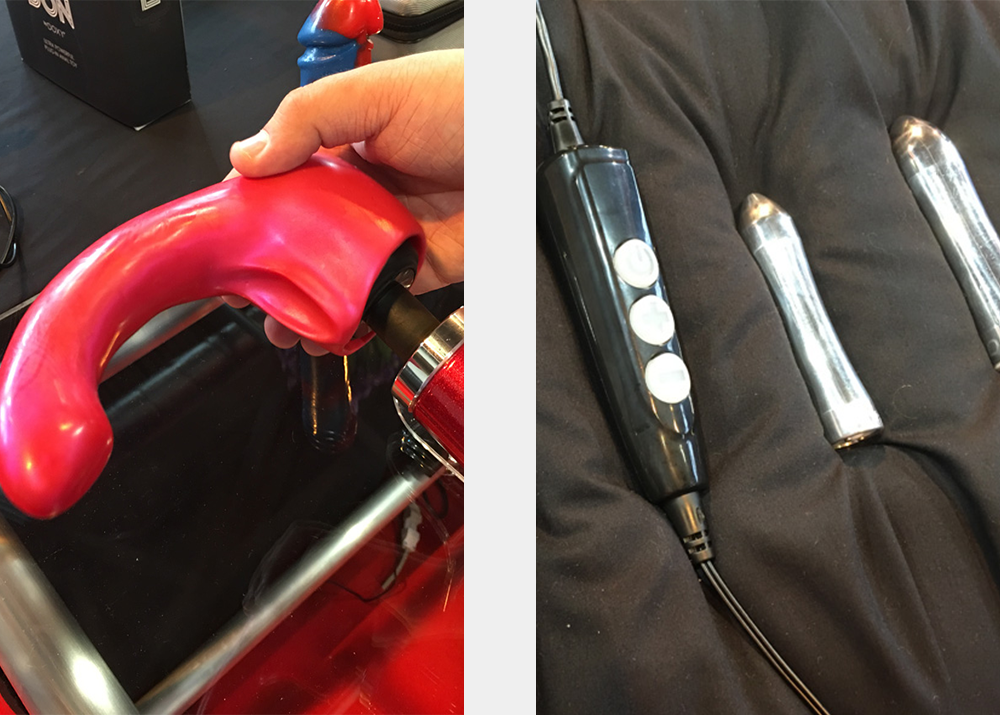 These toys I know practically nothing about and I'm just going off various gossip and whispers I've heard, so I'll talk about them all together here. At the ETO Show last year Doxy unveiled that they were working on a mains-powered bullet vibe and two rechargeable versions. Its vibrations were said to put the We-Vibe Tango's to shame, so you can imagine my excitement at this. During the same show Godemiche also announced they were working on the Roxy, a Doxy Massager dildo attachment, as well as a version of their Adam dildo that would be compatible with the Doxy bullets. All three of these products sound absolutely amazing so I hope they are still in development and will be released sometime this year. If so count me in to try them out!
Funkit Signet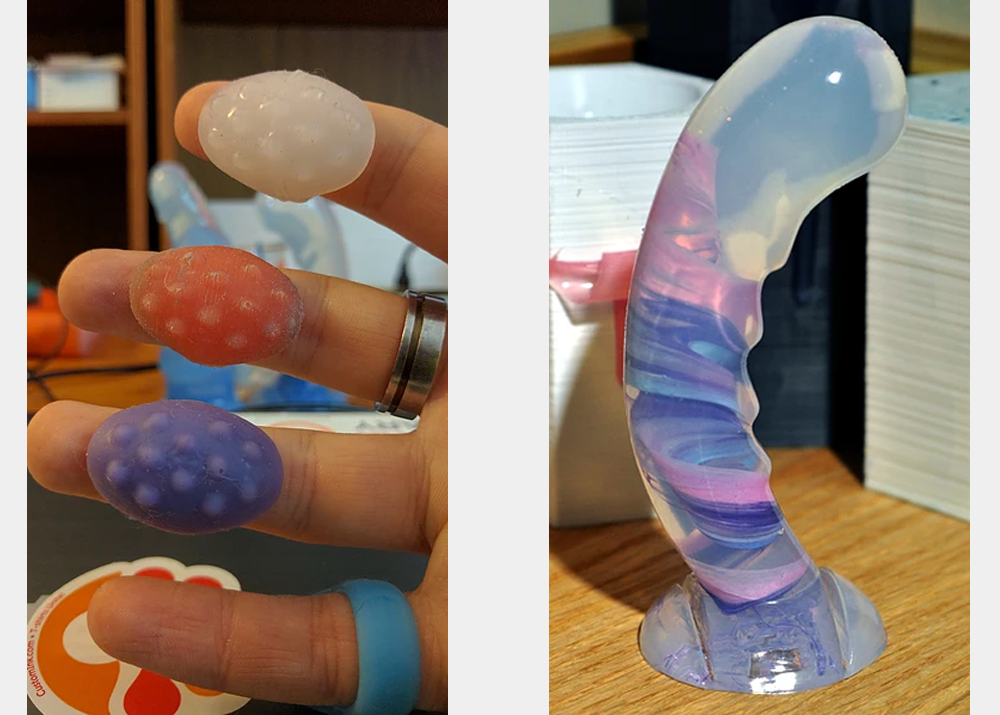 I grew up masturbating just stimulating my clitoris with my hand without any sex toys till I was 18, and I still use this method whenever I am away from my sex toys or don't want to make any noise if my partner is asleep next to me. So I was really interested in the idea behind the Funkit Signet which was an IndieGoGo campaign product last December. Basically it is a ring you can wear or put on a small toy (such as a We-Vibe Tango) for added texture which I thought was a really rad idea. Sadly, the campaign failed, but Funkit are planning to try again at some point in the future and I really look forward to a time when I can get my hands on one!
In the meantime Funkit also sell some absolutely gorgeous translucent silicone dildos that I would love to try out. They look almost like glass, with their cloudy clear silicone and colours throughout, so it is hard to imagine what they would actually feel like as silicone. I think the Swing would best suit my dildo preferences so this is certainly a toy I hope to review sometime this year.
I will update this page when I have more info on the Funkit Signet, and the Funkit Swing can be bought at Funkit Toys starting at $89 AUD / $67 USD!
BS Atelier Oben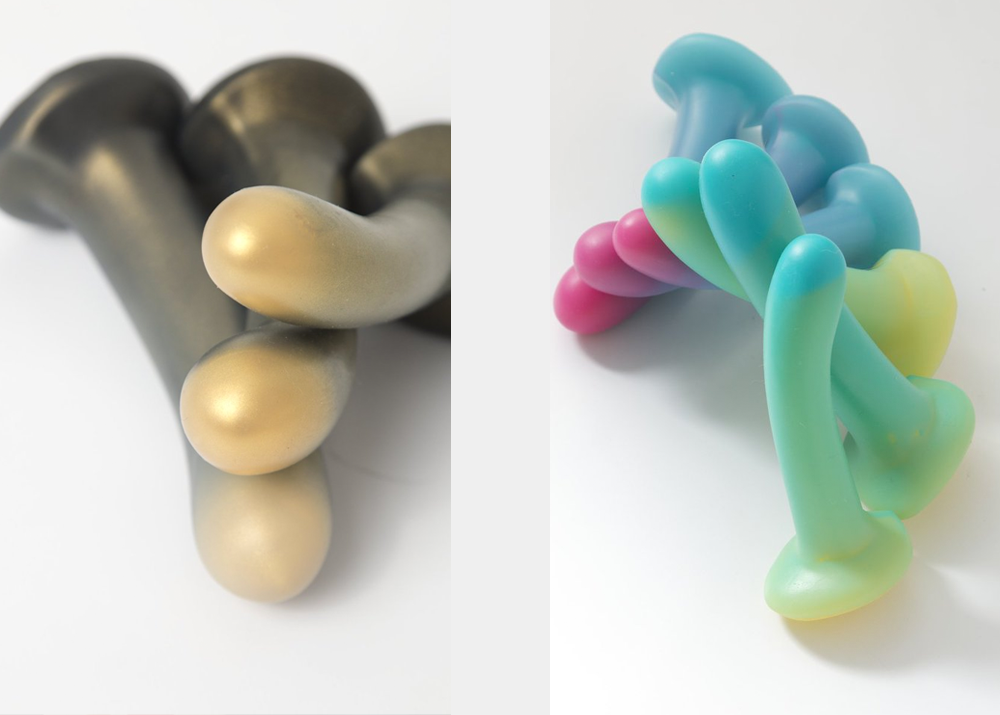 I've always been a big fan of Spanish manufacturer BS Atelier and reviewed their gorgeous Alex dildo last year for them. This year they've released a new toy however, and I am completely obsessed with it. It is called the Oben and is designed as a very simple and smooth dildo for pegging or anal / vaginal training. Similar to the Alex it probably wouldn't actually do much for me in terms of pleasure, I don't need anal or vaginal training and I sadly don't have anyone to peg. But the beautiful gradients of the toy are just too much for me, I have to have one! If I did get one I have no idea how I would choose the colour scheme, do I want Fresh Lime, Tropical Fruit or Golden Night?! Plus don't even get me started on the fact I can choose my own custom colours.
The Oben comes in three gradually larger sizes and has a tapered tip, smooth body and soft silicone tip for easy insertion. The body features a firmer silicone and has a oval base for twist control and to make seeing which way up the toy is facing easy. If you haven't already I would really recommend checking out BS Atelier's range of fantastic hand-made toys, although I warn you may feel an urge to spend ALL the money!
The BS Atelier Oben can be bought at BS Atelier starting at $87.74 AUD / $66.18 USD!
B-Vibe Rimming Butt Plug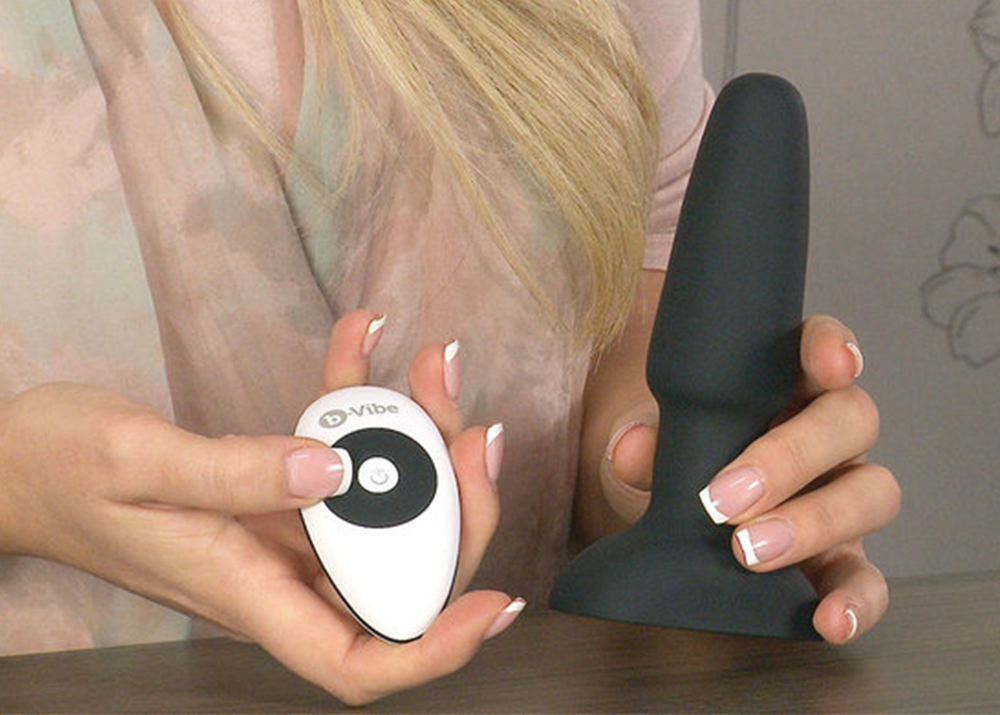 This is possibly the oldest toy on this list, I think it came out sometime last year. To be honest I haven't been keeping up with news on this toy or read any reviews, but the idea of the world's first 'rimming butt plug' is something that has stuck in my mind since its release and I haven't been able to shake. Butt plugs are a lot of fun, especially when combined with another toy or sex, but on their own I can find them to be a little boring, especially since I don't really enjoy internal vibrations. The idea behind the B-Vibe, however, sounds really interesting, and I'd love to either try it or a toy with similar technology sometime.
The B-Vibe can either be controlled at the base of the toy or with a remote control, and has the ability to both vibrate and rotate beads around its base to give off the feeling of rimming. The packaging for it all looks very luxury-like and it even comes with its own storage box. The biggest downside to this toy it seems is that it is not fully waterproof, which would be an issue when wanting to properly clean the toy. It is also very big, as much as I like the sound of the rimming technology I might need to think twice before ever accepting this toy for review, and if you are a beginner and thinking about getting one I would probably reconsider.
You can buy the B-Vibe Rimming Plug from Lovehoney for $189.95 AUD / $149.99 USD!
Tokidoki x Lovehoey Unicorn Massager Wand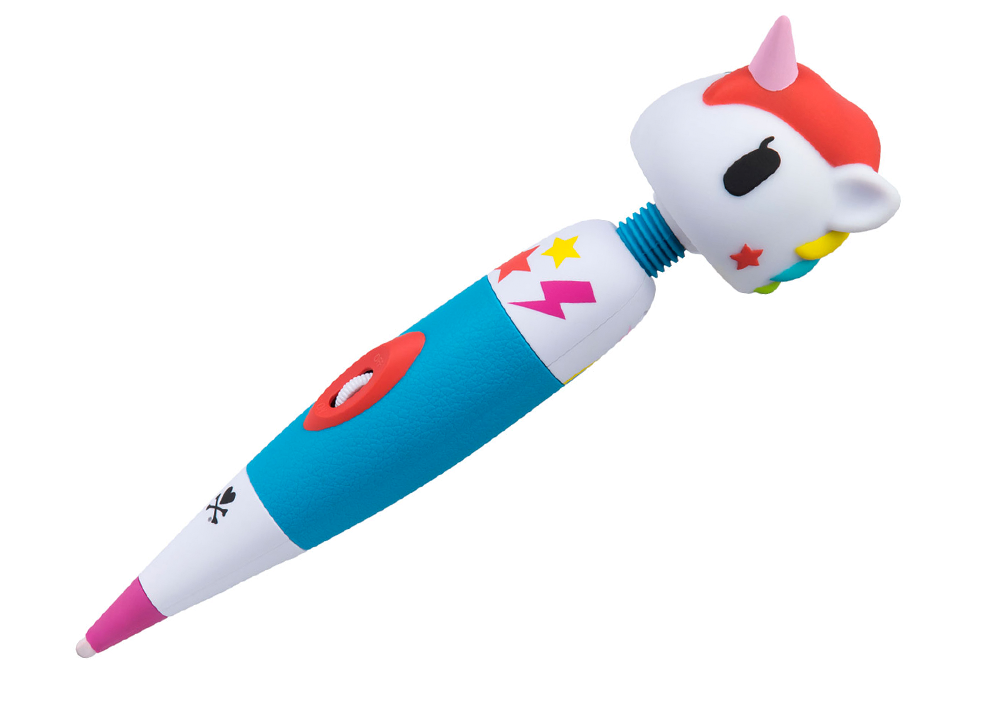 You can never have too many unicorn themed sex toys in my opinion and this is certainly one of the most crazy! This toy takes Lovehoney's wand massager and gives it Tokidoki's kawaii spin, turning it into easily one of the cutest sex toys on the market. I doubt the power of the wand will be anything special, so I want this for the exact same reasons I wanted the R2-V2 massager, because it looks awesome and I want it as part of my collection. The unicorn head does thankfully come off for when you want to use the toy, and I have heard some pretty good reviews of the thing regarding its vibrations.
If kawaii items are really your thing Lovehoney even has a whole Tokidoki range out now featuring vibrators, bullet vibes and more. They are all ridiculously cute and if I could own all of them I would.
You can buy the Tokidoki x Lovehoney Unicorn Massager wand from Lovehoney for $160 AUD / $119.99 USD!
So what toys are you guys most excited for this year? Let me know in the comments!
Affiliate links have been used in this post.