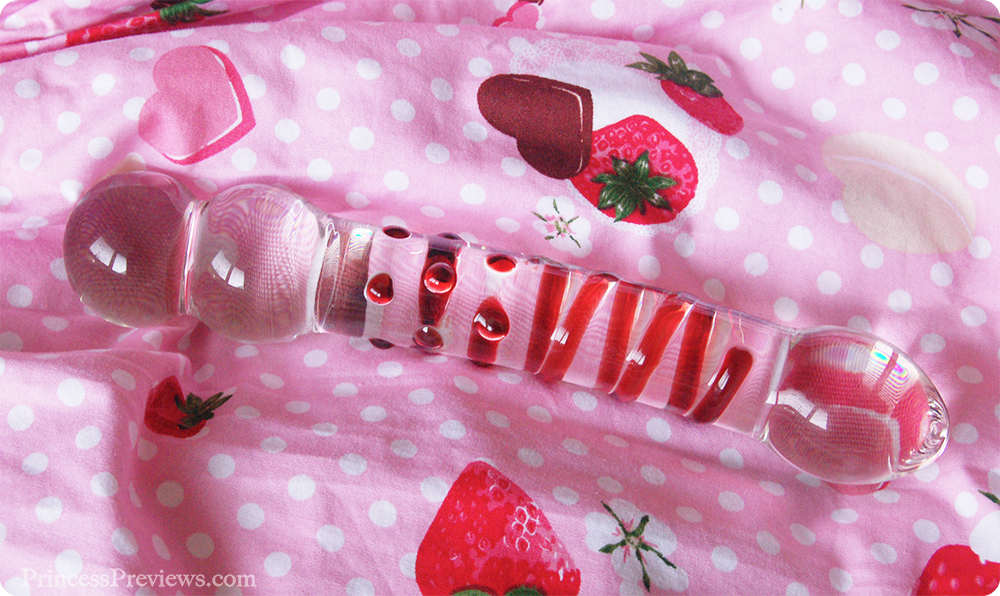 Update: After events that transpired after my review, which you can read about in detail here, I can no longer recommend A Touch of Glass as a trustworthy retailer or manufacturer. 
The Cherry Delight by A Touch of Glass is my first glass dildo, and because of this I really had no idea of what to expect with it. Upon receiving it however, it was immediately named one of my all time favourite dildos. Being double ended means you are practically getting two dildos for the price of one, and I have yet to find a fault in either. Hours of work goes into hand crafting each one, making them all unique, and you can really tell this is a quality product you are going to have for life.
I've always wanted a glass dildo. Well, probably not always, but I essentially grew up using Tumblr, and if there is one thing that Tumblr likes it is glass dildos. As pretty as they can be in the pictures though, I've always wondered if they would ever actually feel as good as they looked, or if they were purely bought for aesthetic reasons. More so, what if it was to break, either because of my clumsy nature or the long trip to Australia, and so since glass is usually quite expensive anyway, I decided to stick to less risky seeming materials. When I started reviewing sex toys however, glass once again rose to the top of my wish-list, but seemingly around the same time a lot of people began complaining that their Icicles glass dildos were breaking on them. Pipedream's glass dildo range Icicles are what I remembered seeing on Tumblr so many times before, and so once more I pushed the thought of trying glass out of my mind. But then I began reading reviews of a UK based store called A Touch of Glass. All fantastic, highly recommended, and all the products come with a free lifetime warranty, meaning if it was to break it would be replaced with a new or superior model. All my fears disappeared, and I finally felt truly safe to place a glass dildo on the top of my wish-list.
Upon being approached by A Touch of Glass and offered a dildo for review, it was like a dream come true. I had my pick from all their products, which took awhile to choose. They all look amazing and some of the biggest contenders for my attention was the Lady Rose, Blue Moon and Purple Blaise. Something about that G-Spot simulation and knobs just drew me in. Of course, the Cherry Delight won it for me, because of those reasons and added to by its beautiful red texture. The Cherry Delight was sent out to me on Monday the 17th of August, and to my surprise turned up at my door on the following Monday the 24th. This is my first time ordering from a UK retailer, but I have become so accustom to US deliveries taking around two to three weeks I was expecting a similar time frame, if not more! This delivery was literally faster than most Australian retailers packages get to me. Nice! It arrived in a plain box with no mention of A Touch of Glass or Glass Dildo Shop anywhere, but rather just eShops, and the product was simply listed as 'Glassware'. It was packaged very safety leaving no chance of breakage during its journey. The package also contained a beautiful thick-material drawstring pouch which suits perfectly, and I personally adore because I love the colour, as well as a sheet of information on its material, how it was made, and temperature play, which makes it feel a lot more personal than having to go on their website to read these things after receiving the product.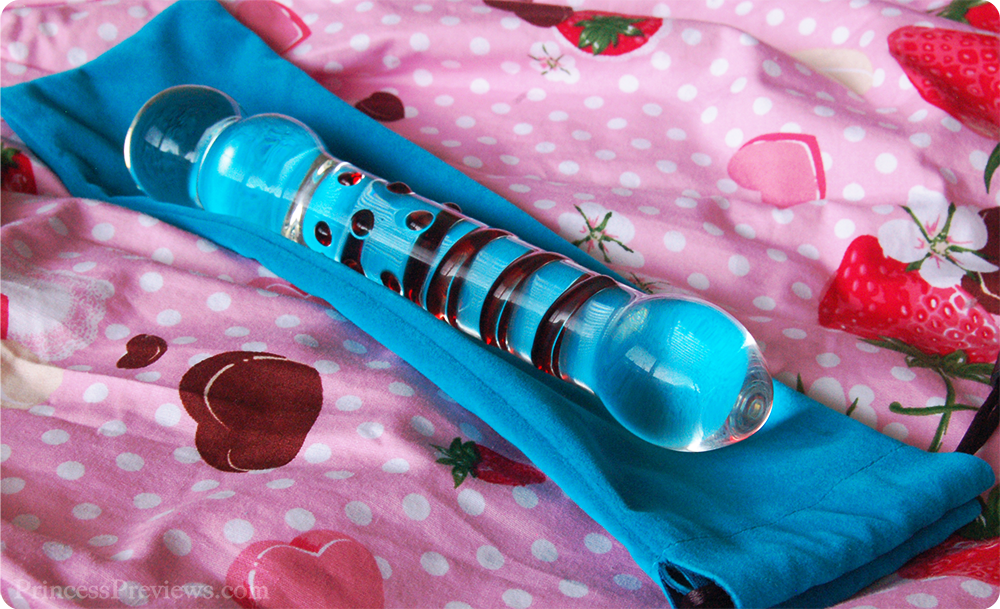 Another perfect quality A Touch of Glass's products have going for them is that they are made with premium 100% borosilicate glass, meaning it is hypoallergenic, non-toxic and non-porous. It's the strongest glass available and because of this it also works great for heating and cooling if you are into temperature play, as well as boiling if you wish to sterilise it.  A Touch of Glass recommends placing your toy into a bowl of warm or cool water before use to add the element of temperature into your play sessions. I personally can barely stand using mine at its room temperature (which is quite cold), so being able to warm it up easily in this way is fantastic, plus its unbelievably arousing to use when hot and really makes me love glass even more.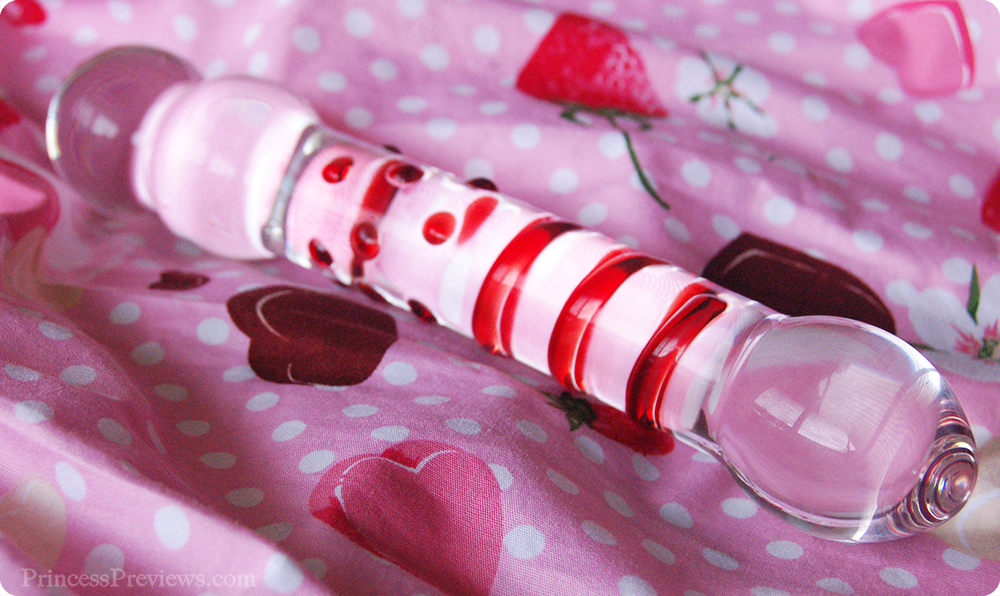 The Cherry Delight is a double ended dildo, meaning you can choose which side you prefer, switch between the two, or use both in the same session. As with most glass dildos however, this is not anal or harness compatible.  When choosing my Cherry Delight I was mostly interested in the more phallic end, and thought the bulb end would be more of just a novelty, but I was hugely surprised by how much I enjoyed both. In regards to the phallic end, it is definitely my favourite side to start with, because of its tapered tip which allows for easy insertion. This dildo is small enough in girth that I need no warming up to insert it, which I adore, although I still use a good amount of lube on it to reduce any friction. The head of the dildo hits my g-spot perfectly and easily, and so fast thrusts lead to an incredibly quick orgasm, but one of my favourite things about this end of the dildo is how stimulating the texture is when used slowly. Both the swirl and dots on the glass can be felt superbly by my vagina, and particularly around my entrance. This makes the beginnings of a slow masturbation session such if I'm watching porn particularly more pleasurable than usual, as even though I am not aiming for orgasm or hitting my g-spot yet, I am still being increasingly stimulated by the texture.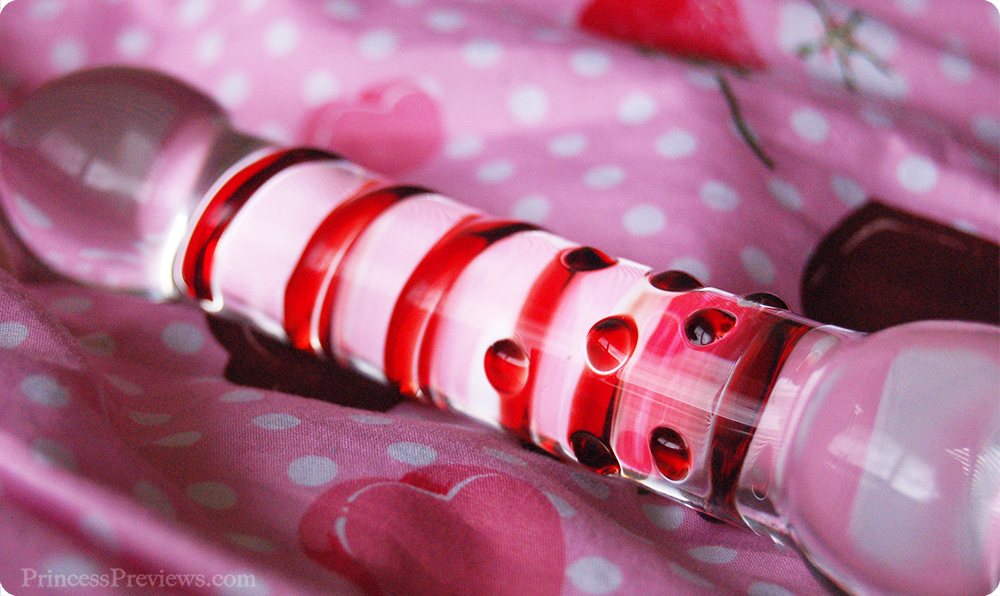 As for the knob end, I will admit I was hesitant at using it in the beginning, opting mostly for the phallic end which I adored instantly. Upon trying the knob end though, I'm not sure if I'll ever want to switch again! The knobs give me more of a 'full' feeling when they are inside of me, which I love in internal stimulation. Furthermore, it gives me a larger area to hit my g-spot with, making the feeling even more intense. I don't notice the textures as much on this end, but they can most certainly still be felt, and it can be inserted right up to the head of the opposite end. When being inserted and un-inserted, the knobs also give a popping sensation that I really enjoy. I can g-spot orgasm easily with both ends, or use a clit vibe for an even faster orgasm. I find my Jopen Lust L2 works well for this task, as my larger wands knock against the glass. Overall, I love this dildo. It hasn't left my bedside since I got it, other than to clean, and never before have I taken to and used a dildo so much since receiving it. Since I'm a fan of squish, my favourite dildo remains to be my Tantus Pack 'n Play No.2, but the Cherry Delight has easily taken its rightful place as my number two.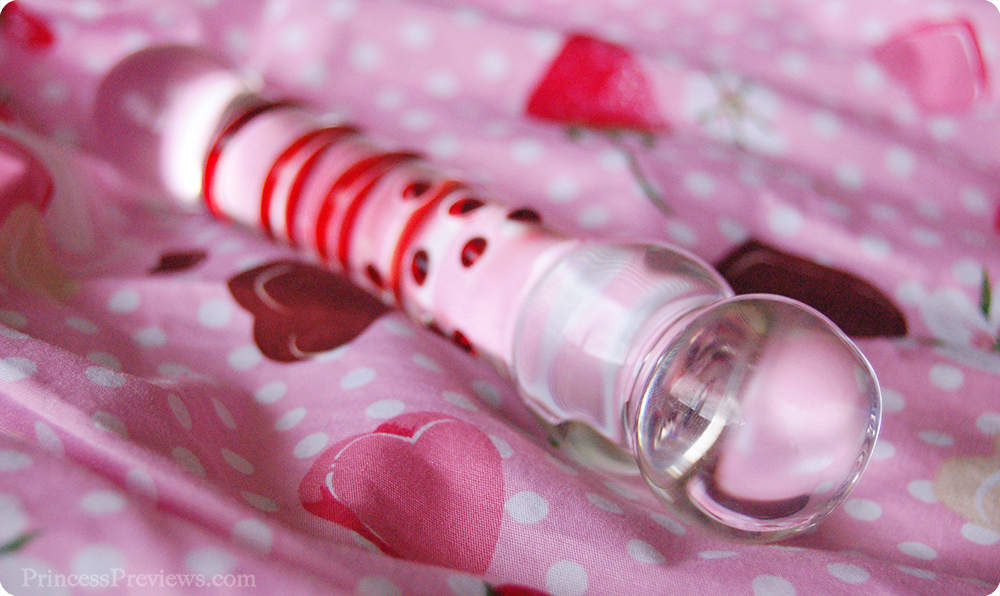 Because of its borosilicate material, you can sterilise it either by boiling it or using a dishwasher, particularly needed if you plan on using it between partners. But for a quicker cleaning method, you can also just wipe it down with a anti-bacterial toy cleaner and warm water. Since it is waterproof, cleaning is super simple. I take care to clean around the textures, but still this takes barely any time at all.
So just in case you forgot, not only does this dildo exceed basically everything else I own in terms of pleasure, it also has a free lifetime warranty, is made of the best and safest glass possible, and did I mention they donate 5% of all sales to the Breast Cancer Foundation? Both ends are absolutely out of this world, and because of them you are essentially getting two dildos in one. Not even beginning to mention how much I adore the texture on it. While it may be on the higher end of the price bracket, there is no doubt in my mind that the quality A Touch of Glass puts into their glassware is well worth this if not more, and with their lifetime warranty you can finally feel safe in your glass purchases.
You can get your own Cherry Delight from A Touch of Glass for just £42.99
I received this product in exchange for an honest and unbiased review. Affiliate links have been used in this post.