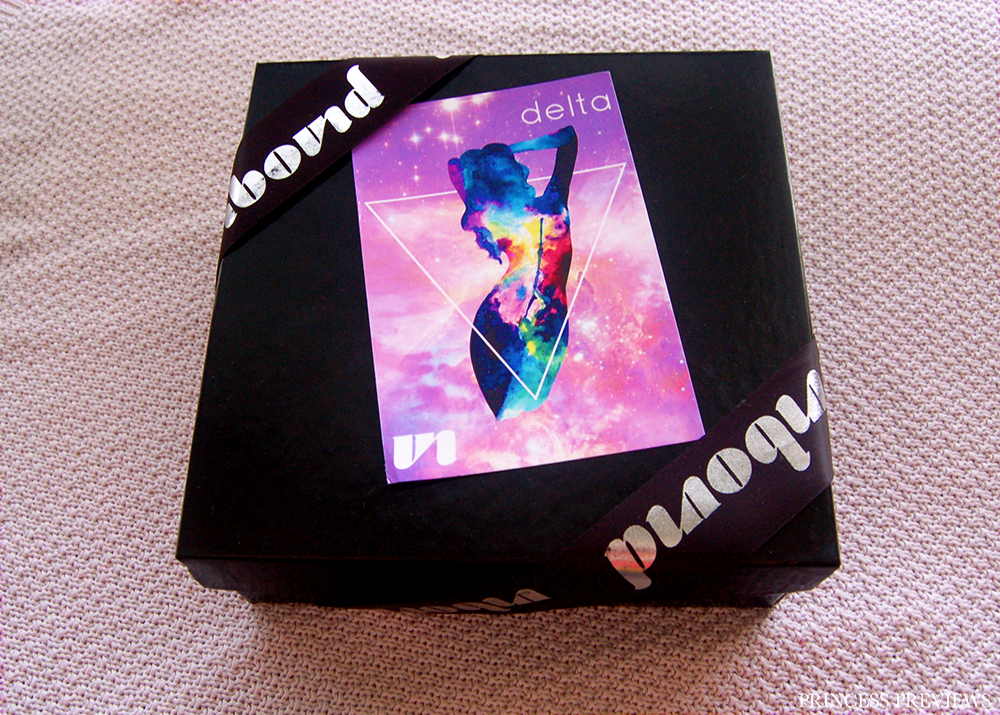 I love subscription boxes. They're one of my favourite things to splurge my money on. There's really nothing more fun than once a month or so getting a box of goodies sorta unexpectedly delivered to your door, and then ripping into it to discover what treasures lie inside. Before them the only time I got a bunch of gifts in this way was during christmas or my birthday, so basically getting a subscription box makes it feel like christmas multiple times a year, who wouldn't want that? Recently a new trend has hit subscription boxes: sex toys! I feel like I hear about a new box almost weekly. Unfortunately, I haven't been too impressed with the range I've seen available. Almost all generally appear to feature non body safe toys and lubricants filled with things you do not want near your vagina. I'm not surprised really, body safe sex toys can be expensive and good lubes are few and far between. Plus there isn't a whole lot you can give a person or couple without having to specifically know their preferences (e.g. are you interested in anal?). Thankfully, my opinion changed about sex toy subscription boxes when the awesome guys from Unbound contacted me about a review.
About Unbound
Unbound is a quarterly subscription box service and they have really hit the nail on the head when it comes to providing a luxury, yet inexpensive, adult based subscription box. They aim to take away the usual intimidating experience that comes with choosing a sex toy online or in-store and instead provide an curated box of goodies that can be discreetly delivered to your door for either singles or couples. They have a store associated with their box, and it was the first thing I looked through to get an idea of the types of products they would possibly include. Immediately I was presented with a great range of body-safe silicone toys and trendy lingerie and accessories. My favourite thing I noticed straight away is that they stock Good Clean Love Almost Naked Lubricant. Other than my beloved Sliquid, this is the only other lubricant I own and use and I don't see it stocked in stores very often. Next I looked into their boxes and each is designed around a certain theme. Most contain one sex toy and then a range of other goodies such as lubricants, massage candles and one even contains a book. A particularly fun looking one is filled with a tarp, canvas and body paint among other things, which looks like it would be a super cool couples experience.
It'll set you back $65 USD every three months, which if you think about it is only $22 a month which really isn't too bad. Shipping prices for those in the US are pretty good ($7 USD), and while they do ship outside of the US it does get a bit more expensive, with Australian shipping being $35 USD. Which poses the question, would I pay $136 AUD for this subscription box? Probably not. But then again there are so many US subscription boxes I would pay for if I lived in the US and yet can't afford in Australia, so unfortunately I'll just add it to my long 'If I ever live in the States' list.
When you sign up you receive the current box straight off, and then after that you'll get a box every February, May, August and November. You can look at what the current box and past boxes contain on the website, plus you'll receive notice of what will be in your box a week before in case you aren't interested in it and want to skip the month. On the one hand I feel like this takes away from the excitement of not knowing what you're going to get, which is one of the things I like most about subscription boxes, but on the other hand since these are adult products which depend greatly on a person's taste I suppose it is best to check first. One of the most awesome things about Unbound is that they do offer refunds upon request if you aren't happy with your box, plus you can cancel or pause your subscription at any time.
My Box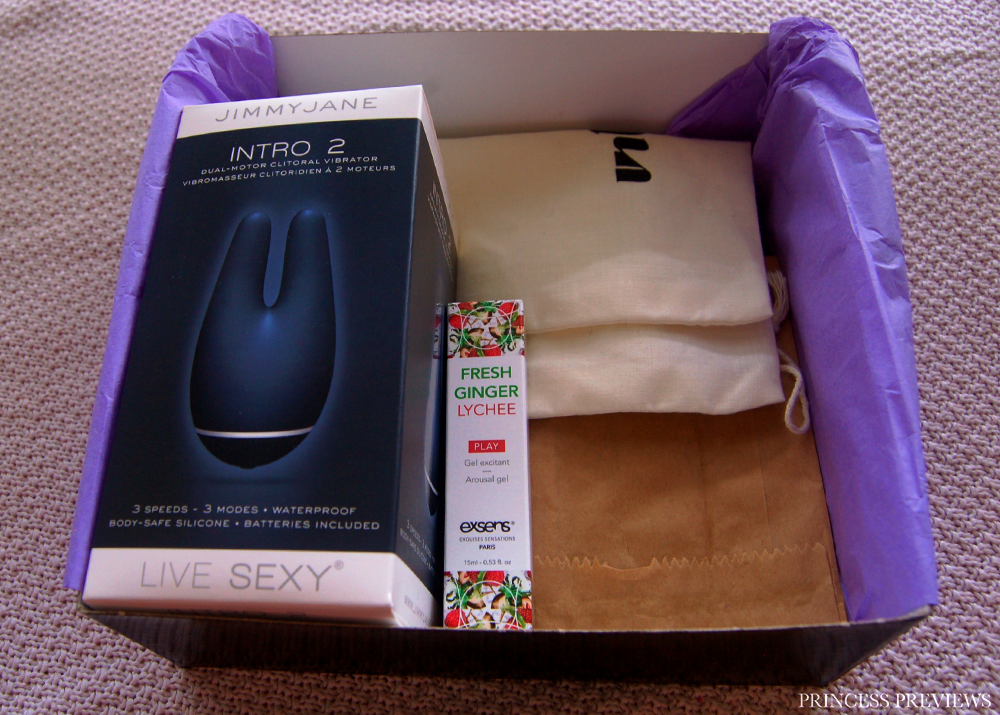 I received the May 2016 box which is the 'Delta' box, so if you're reading this around then there is still time to get the exact same one as me! The theme for the box is based around indulging what Unbound refers to as 'the golden triangle', the clitoris and nipples. Since I am all about bringing pleasure to those three areas, I couldn't imagine a better box for me to review. The items in the box are all designed to be small in size but big in impact and they can be used together for an awesome pleasure filled night with your partner or alone. Of course they can also all be used separately, but I think the idea that every item in the box has been chosen to complement each other is really smart. Within the box there is a Unbound body chain and some Silver Mimi Nipple Pasties from Bijoux Indiscrets which together create a super sleek and sexy look to start any night off well. Then there is some Fresh Ginger Litchi Cooling Stimulation Gel from Exsens which can be put onto your clit or nipples to enhance your pleasure, followed by the Intro 2 vibrator from Jimmyjane which has dual motors to surround you in vibrations. Lastly is a drawstring bag from Unbound to put your goodies in afterwards with the quote "Too much of a good thing can be wonderful" from Mae West.
My box was sent around the 16th of May and I received it on the 6th of June, which is just a bit under how long it usually takes for items to get here from the US. At first I thought the packaging was all good, it comes in a plain brown box with no mention of the company anywhere. Unfortunately, written under the contents section of the label is 'Vibrator'. This is the first time I've received something so blatantly labelling what is inside a adult product order, especially for a company with 'discreet' boxes. Usually it says something like 'Massager', but nope, this one just straight up says 'Vibrator'. I think what is most funny is that there are so many other items inside, why couldn't it have said 'Jewellery' or 'Lotion'? Sadly this isn't really a laughing matter. The entire point of Unbound is for it to eliminate the awkwardness of online and in-store sex shopping by providing an easy and discreet alternative and then I get this? Thankfully I live with my partner and don't know any of our neighbours or the postman, but it is still pretty embarrassing, and if I was someone who ordered from Unbound trusting that they would be discreet for a particular reason I would not be ok with this and would probably expect a refund.
The next thing I found weird about my packaging was that the little card that lists all the items that is usually face down inside subscription boxes was attached to my brown postage box. By that I mean it had been sticky taped to the flap of the box, so when closed it can't be seen but once you open the box it lifts off with the lid. I guess because you already know what the products are they didn't try to hide it like usual? But still I thought this was really odd and it looked pretty stupid honestly. The actual box is just a plain black cardboard box which is actually pretty low quality. I was a little taken aback because on the website the boxes have the Unbound logo imprinted and look like they are made quite well, which is the norm for most subscription boxes, yet mine is just about as basic as it gets. It did have a ribbon which is branded with the Unbound logo which I guess is cool, but I can't reuse a ribbon like I usually reuse boxes. Inside the items are hidden by some purple tissue paper and then they are all laid out nicely in their individual packaging. The only thing I found weird about the inside of the box was the packaging for the body chain. Since it is an Unbound product the chain must not have any actual packaging, since mine came in one of those brown paper bags you normally buy alcohol in that has been then stapled to keep the chain inside and sticky taped at the end. This is probably the least glamorous packaging possible considering it is meant to be a luxury chain.
Body Chain from Unbound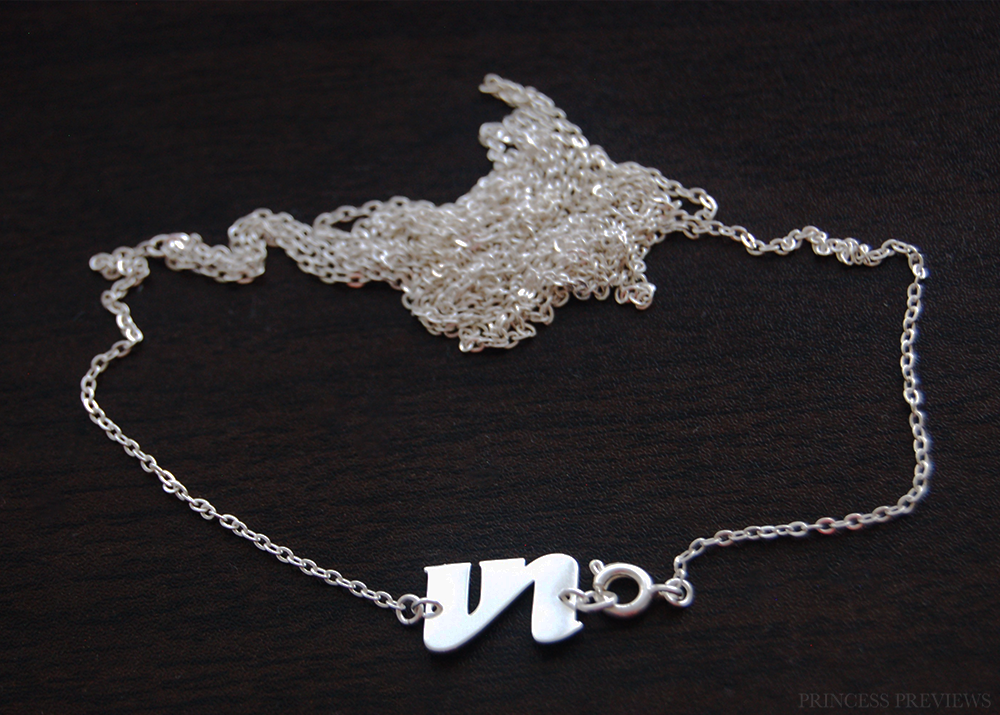 I'm gonna be honest, I don't wear much jewellery. In total I have one necklace and I wear it about once a year. I was super excited to try this chain though because I think it looks rad in the picture of the mannequin wearing it and I thought I'd look rad in it. Somehow the chain managed to get the better of me though and I honestly have no idea how to wear it. Or, at least, I think I know how to wear it, but it looks nothing like the picture. The chain is designed to form an X shape on your body, going over your neck, meeting in the middle just above your belly button, and then going out over your hips to help your boobs stand out and add some glamour to your body. The latch for the chain also has a little Unbound logo next to it, and is close to the middle part of the chain, so it'll rest somewhere to the side of your belly button. The problem I find is that the Unbound logo weighs the chain down and rather than looking all symmetrical and sexy it just looks kind of silly. While it wasn't exactly my thing, my partner still thought I looked good in it so I can't really complain about that.
Silver Mimi Nipple Pasties from Bijoux Indiscrets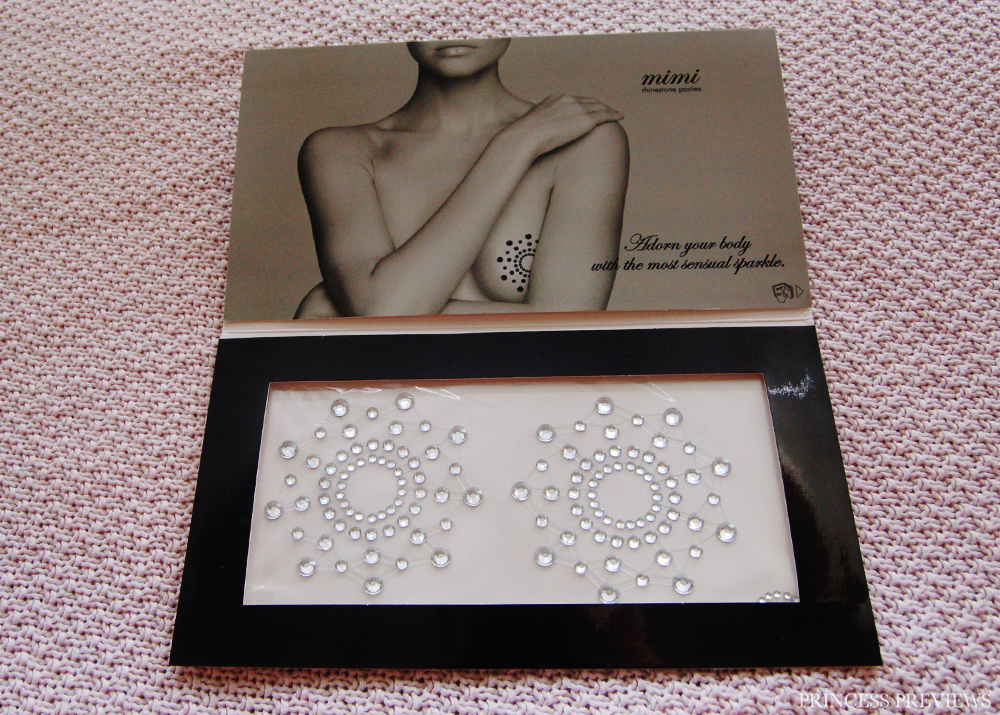 I'm a big fan of boobs, mine in particular, so this is what I was probably most excited for after the actual vibrator. I've never owned nipple pasties before, and I really like the idea that these complement and highlight my nipples rather than covering them up. Once on I found they looked really, really good and the hole fit over my nipple well. I was almost immediately disappointed though since the widest ring of rhinestones didn't fit perfectly (it was pinched up as if it didn't have enough room to lay flat) so I attempted to peel that part off again to reapply. Sadly I wasn't aware that after just a few seconds of stick it would not be able to restick at all, and this gradually got worse until half of the pastie was just hanging loose which looked not so great. This was pretty sad because otherwise I think I would have totally loved these.
Fresh Ginger Litchi Cooling Stimulation Gel from Exsens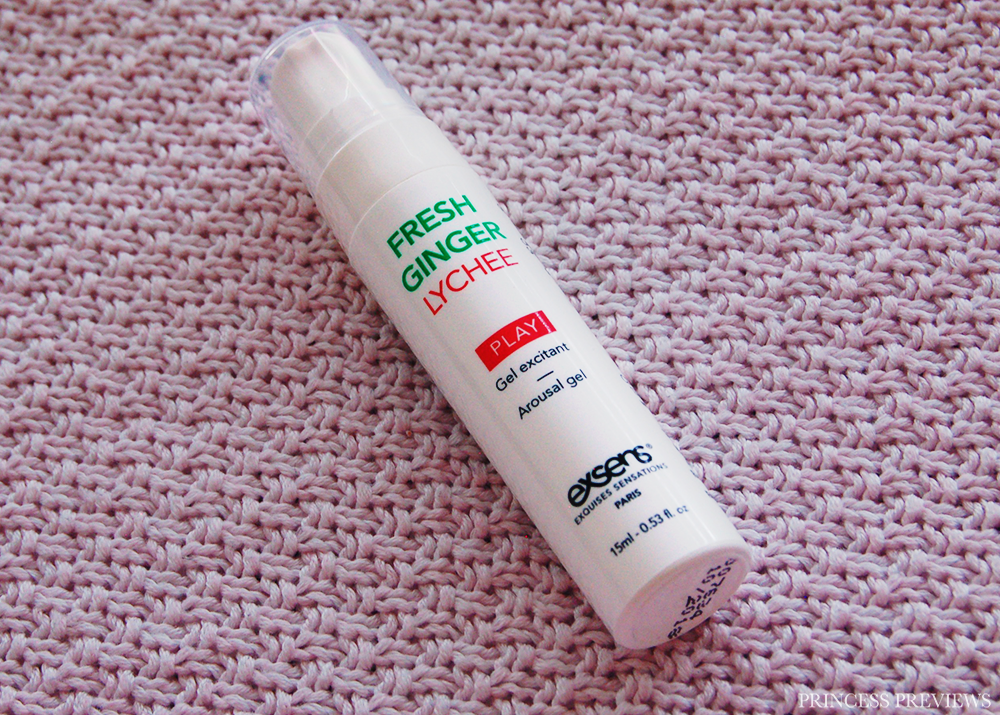 I only have one other stimulation gel but thankfully that is cooling too so I know what this is suppose to feel like. I've gotta say though I really didn't get much pleasure from this. When I first tried it on my nipples I got absolutely nothing except for the strong smell of ginger, even when I used more than recommended. It did give a kind of lube effect that made it easier to use the Intro 2 on my nipples which was nice, but I could have achieved this without my nipples also smelling funky. When I used it on my clitoris next I did feel something after a few minutes of applying it, but it mostly just a very dull cooling sensation, nothing like the punch I expected or get from my other gel.
Intro 2 from Jimmyjane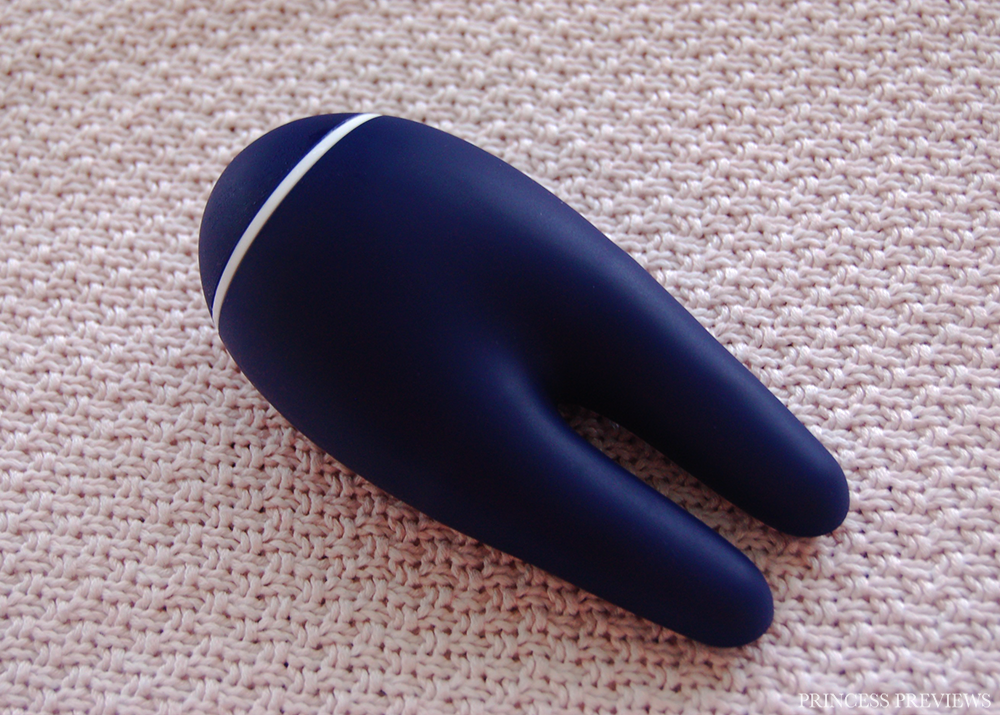 Being a clit vibe lover the Intro 2 from Jimmyjane was by far what I was most excited for from this box. It is made from body-safe silicone and has a really interesting design I was eager to test out. As you can see it has two ears and each has its own motor. The idea of the design is to put your clitoris in between the two ears to surround it with vibrations and thus pleasure. This whole concept sounds awesome, and I was totally psyched to give it a try. Unfortunately it just didn't work for my body. I found if I put my clit in between the two ears it wouldn't make contact with either of them, so it was like a weird teasing moment where I could feel the vibrations but not enough to give me any pleasure. This may be okay for some (and great for foreplay teasing) but I need vibrations and pressure to be directly on my clitoris. While the idea behind the Intro 2 didn't work for me I still had a lot of fun with it just using one ear directly on my clit. It was a shame since using only one ear kind of defeated its purpose, but I orgasmed nonetheless and that's all that really matters.
Considering it is a sex toy that has come from a subscription box, I think overall the Intro 2 does pretty well. It is waterproof and has three levels of intensity and three patterns, although the vibrations are very buzzy. It is battery powered which is a bit frustrating, but thankfully the battery comes with it so you can just pop it in and off you go. The only weird thing I have found is that the two motors in its ears don't really vibrate consistently. Instead it's more like they alternate between being the strongest which is pretty noticeable in use. This isn't really an issue personally but I don't know if its meant to be like that or if it's an error in my product. Another thing is that when I hold one of the ears, sometimes the vibrations change which I've demonstrated in this video. This doesn't effect much and other bloggers have stated they have the same issue, but it's just a bit confusing since I always think I've accidentally pressed the button when in fact it is just doing it by itself.
Drawstring Bag from Unbound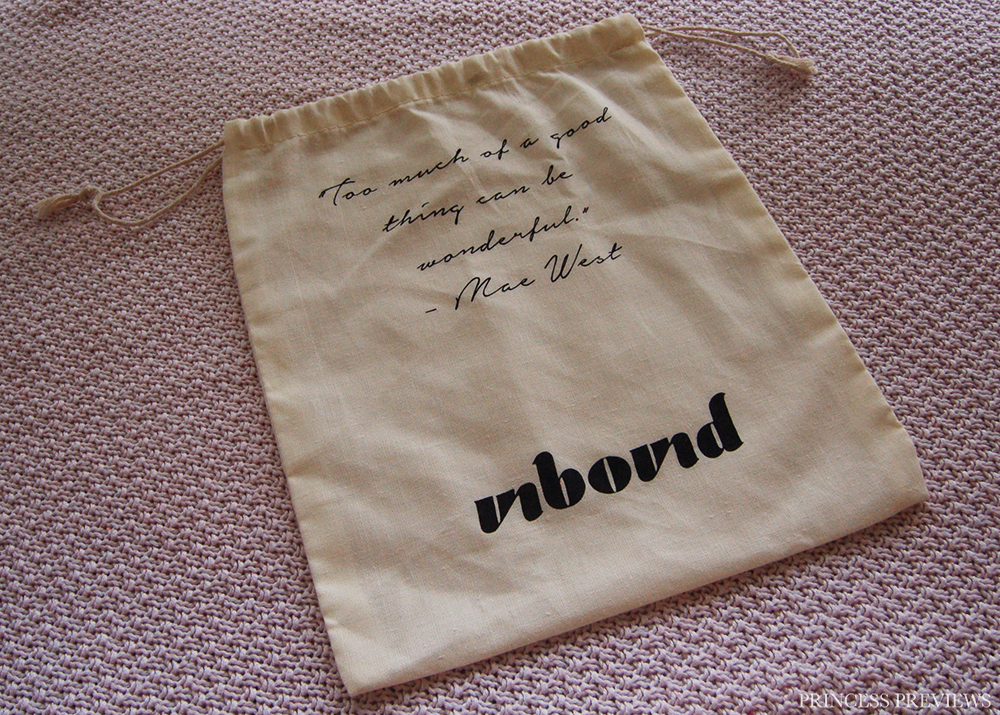 The drawstring bag is well made and feels nice to the touch. I love the quote on it and it is the perfect size to keep some of my larger vibrators or dildos in, and I could fit quite a few clit vibes too. Right now I'm using it to store my Fun Factory Stronic Eins, but I can imagine it would make the perfect travel bag for my sex toys in the future.
Overall
Each product I received in my box had faults that somewhat ruined them for me; a chain I couldn't wear, a stimulation gel that didn't stimulate, pasties that didn't paste, and a vibrator that didn't vibrate me properly. I also found issues with the packaging which was a big turn off. I think ultimately if I received this box as a customer I would return it for a refund. Despite all of this however I do still believe that Unbound's boxes are worth subscribing to. If I was a sex toy newbie that was unsure about choosing my own products (which is who the boxes are aimed at) I think I would have been more than satisfied with this box. Based on the other boxes I also feel like they do provide good products, I was just unlucky this one didn't really work with me personally. I guess it is up to you as a reader to decide what you think based on my review, and if you do subscribe, enjoy!
You can subscribe to Unbound any time for just $65 USD and do it before August to get the same box as me! Plus use my discount code GRACE30 to get 30% OFF your total order!
I received this product in exchange for an honest and unbiased review. Affiliate links have been used in this post.