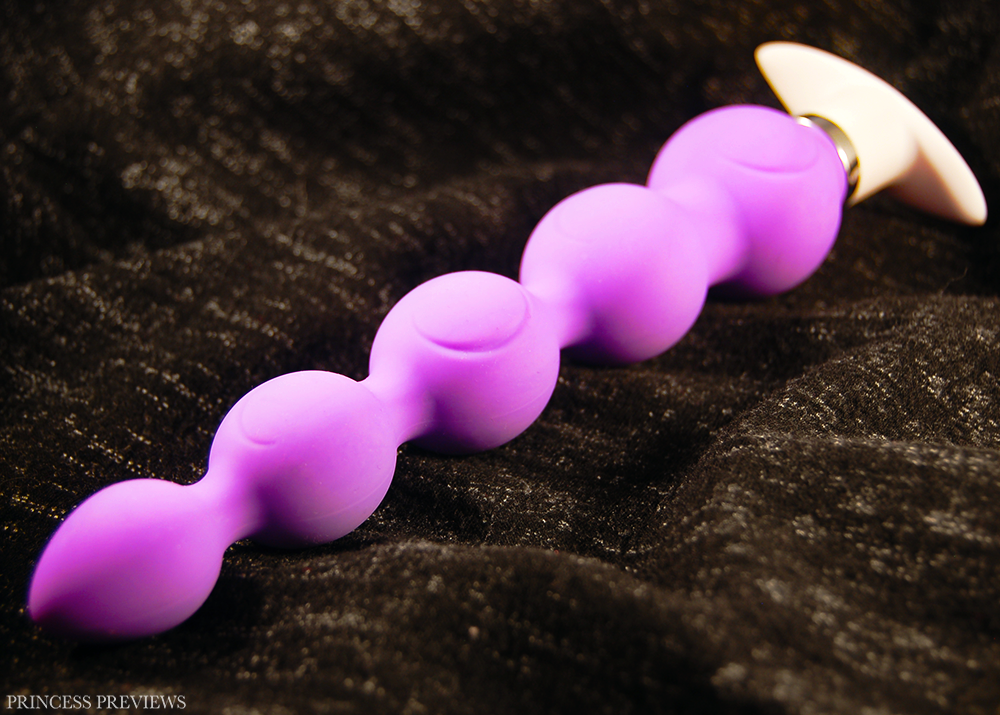 The thing that makes me most happy about running this blog is seeing readers trust my recommendations enough to base their own purchases off of them. But not everyone can afford to spend hundreds of dollars on a sex toy, and so it is important for me to find cheap alternatives to recommend rather than just focusing on the luxury toys. This is my second VeDO review of the two Peepshow Toys recently sent me, and after the astounding success of the Luv Plus Clit Vibe I have been very excited to try out their Quaker Anal Vibe. To me, brand new company VeDO have already proven themselves to be worthy makers of cheap yet still body-safe, good quality, and well designed sex toys. For its price I thought the VeDO Luv Plus was extremely well made, and since the Quaker Anal vibe is even cheaper it certainly has a lot to live up to.
The Quaker Anal Vibe is essentially a vibrating anal beads toy with five levels. Anal beads are a toy I find really interesting, because they are essentially perfect for both beginners and experienced users. If you are a beginner then this is a great way to start exploring anal play, as you can slowly work your way up, learning to take length and width at the same time, while if you are experienced then this will certainly be a brilliant toy for you that you can potentially use right from the get-go. This is an experience you cannot get with a anal plug, since to get the same effect you would need to buy five of them in varying sizes, plus it does not teach length at all. Due to this I have been wanting to review anal beads for sometime, so was very eager to get my hands on the Quaker when I saw it was part of Peepshow Toy's VeDO range.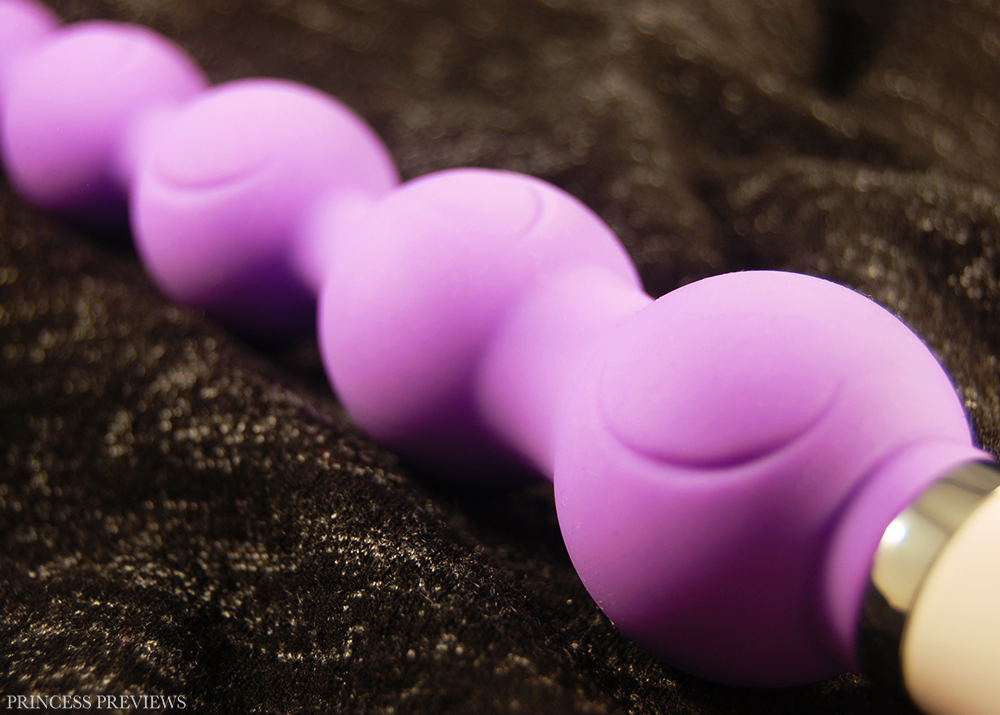 The Quaker is made of body-safe silicone and is waterproof, although it does require batteries (AAA), which accounts for its cheaper cost than the Luv Plus. It is 21cm / 8.25″ in length and its widest point is 3.6cm / 1.4″. It boasts 12 vibration settings which can be controlled with a single button in its base. The silicone is silky smooth and does have some slight squish to it but otherwise is rather hard, and it only picks up a small amount of lint. Each bead is textured on both sides with a half moon type of shape which looks very nice but I feel is impractical for cleaning purposes. This toy comes in black, pink, orchid, burgundy, midnight and indigo, and while I usually prefer to go for black with my anal toys, I couldn't resist the look of orchid.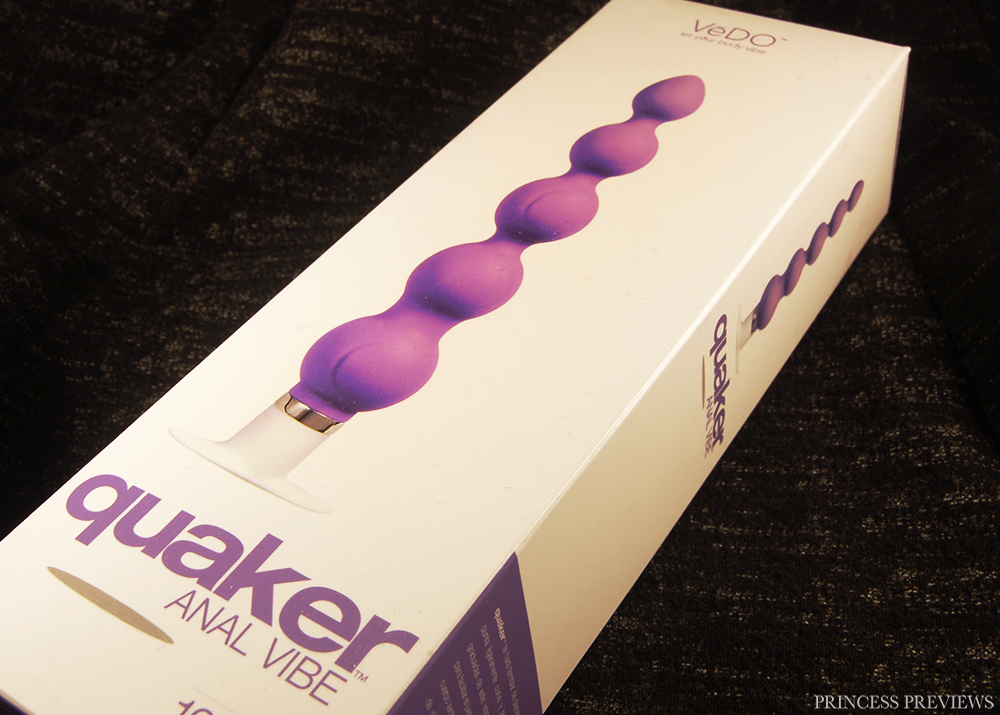 My order from Peepshow Toys was confirmed on the 11th of February and I received it on the 20th, which, since it was coming from the US, is really quite fast. The packaging was completely discreet, with no mention of who sent it or what type of items were contained inside. The packaging for the Luv Plus is simple and what I expected for its price, being a simple cardboard box with images of the toy and descriptions about its features. Inside the box the toy came resting in a clear plastic insert and with a small instruction manual / product guide. The toy does not come with the batteries it needs, so this is something you'll have to buy separately. I usually tend to avoid buying non-rechargeable toys since batteries can be expensive and frustrating to buy, but when toys are this cheap it can be inevitable. My only negative with the packaging was the instruction manual, which desperately needed to be spell checked, as there was quite a few off putting spelling mistakes, a issue I also brought up in my Luv Plus review.
This toy only needs one AAA battery, and to do so the base can be easily unscrewed. The single silver button underneath is where you can control the toy and cycle through its 12 vibration modes, 3 being steady and 9 being patterns. I found the button and vibrations a lot more on par with my own preferences than on the Luv Plus, which I had a fair amount of issues with. For instance the button is far easier to press down which means it can be cycled through a lot quicker. It can then be turned on by pressing the button once, turned off by holding down the button, and will always revert back to the start of the cycle once turned off. Furthermore, since the button doesn't stick out it makes things easier when trying to insert the beads by reducing the risk of pressing it by accident, unlike my other two vibrating anal toys, the Rocks Off Booty Quiver and Tantus Perfect Plug Plus, where one must be careful to avoid the button. The vibrations themselves aren't great, with it being more buzzy and a lot weaker than the Luv Plus, but this isn't personally a huge issue for me since anal vibrations are more of a pleasant sensation than something I am trying to use to help me achieve orgasm.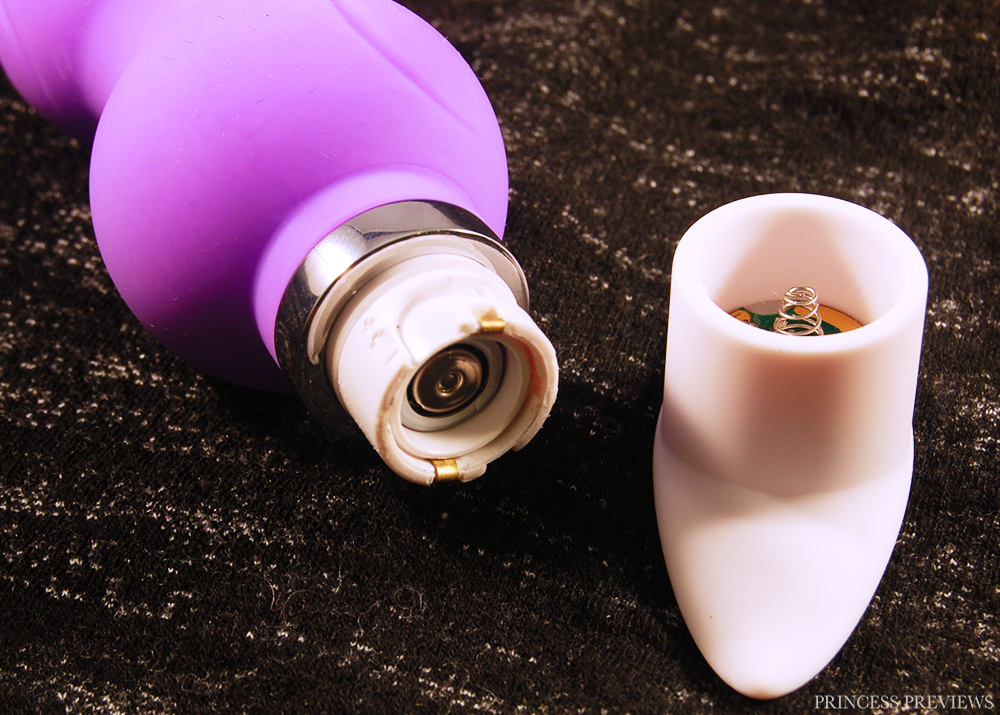 This toy was a challenge for me. I consider myself rather experienced with butt plugs and can take those that are much larger than the widest bead on this toy. But I rarely have anal sex and have never used a long anal toy such as a flared dildo before (except the Tantus Splish, but that thing is tiny). So the length was completely new for me and something I really had to work on and practice with to be able to take. Initial insertion itself is a little trickier than with plugs since it is so long and flexible, making aligning it and pushing in frustrating. I'd recommend having a partner help with this or setting up a mirror if you are struggling. Lots of lube will also be required when using this toy and I would recommend Sliquid's Sassy which is my favourite lubricant for anal play.
I find the first two levels of this toy really easy to insert, and the first one is so small it'll come out on its own if you don't hold it in. On the third level I feel full, and that's where I've found I often hit my struggle point. Sometimes I have a break and relax for awhile before going back to it, but other times, especially when I was first trying this toy, I would just leave it at that and try again the next day. On the fourth level I usually feel like I have hit my limit and am satisfied to stop there, however I have once gone up to the fifth level too. Personally, even though I know I can make it to the fifth bead I prefer to just end it at the fourth, five is just too overwhelming for me and until I practice more I feel perfectly satisfied with just reaching the fourth bead. When using these toys it is important to not beat yourself up if you cannot take as much as you want, anal play is about slowly training your body and even experienced users have bad days. You should always listen to your body when using toys like this, and remember that anal play should never hurt!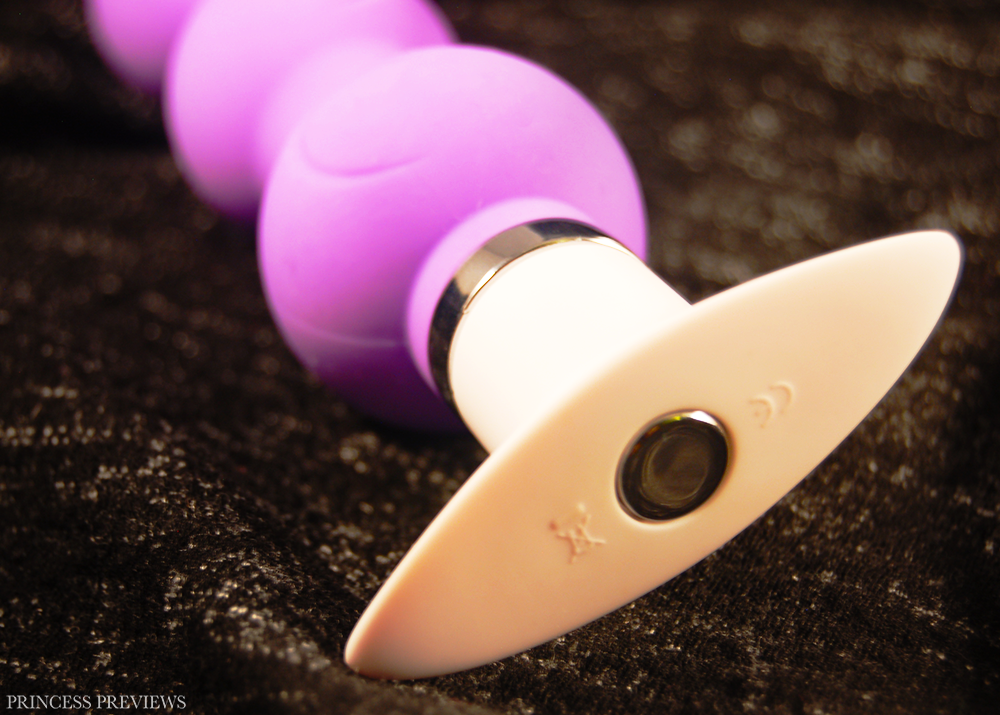 While the vibrations on the toy are buzzy and weak I personally enjoy them, however I could not get off to them. They give a really nice tingly feeling and I find it really quite pleasurable, although I don't like to have it running too long as it numbs me out a little. If you are big into anal vibrations however these may not be on the level you are use to.
I've found that using this toy with my partner can be a lot of fun for foreplay, although we have yet to try having PIV sex while the toy is inside of me since I feel like it would just be too much. I have, however, tried using a vaginal toy on myself while wearing it, and it does a great job at pushing toys towards my G- and A-spots. Training myself more with the toy to be able to take larger toys and then my partner while I wear the Quaker is my next goal with it. Finally, I am also loving it as a way to train myself a bit more anally, and plus it is just a lot of fun to insert when I want to engage in some anal play.
Since this toy is made of silicone and is waterproof cleaning it is easy. Just wash it down with some warm water and mild soap, being careful to clean out the textural details on the beads. It can then be left to dry and returned to storage. It doesn't pick up much dust so it is up to you whether you want to store it in a bag or not, but if so I would recommend a zip lock bag. Finally, make sure to remove the batteries during storage. This toy is not compatible with silicone based lubricants.
Overall, I have loved trying the VeDO Quaker. I have wanted to test out anal beads for ages, and who would have thought the ones I got to test would be vibrating too! Apart from the fact that this toy uses batteries, everything about it is top notch. VeDO have really impressed me again, with yet another product that takes an already established toy and adds a few small changes to make a excellently thought-out and well designed sex toy. The bead sizes and overall length is great, it looks like a luxury product, and the vibration controls are spot on to my preferences. Plus, after all that, it is also ridiculously cheap! It brings me great pleasure to be able to recommend such a low budget toy, which I have enjoyed easily just as much as toys that cost $200. If you are at all interested in anal play, even if you have never done it before, I would highly recommend grabbing one of these bargains before VeDO realise how great they are and raise their prices!
You can buy the VeDO Quaker Silicone Anal Vibe from Peepshow Toys for just $33.45 AUD / $24.99 USD!
Material - 100%
Appearance / Design - 80%
Solo - 80%
Partner - 65%
Vibrations - 55%
A fantastic anal toy for a low price, only downsides are its weak vibrations and fact it uses batteries.
I received this product in exchange for an honest and unbiased review. Affiliate links have been used in this post.