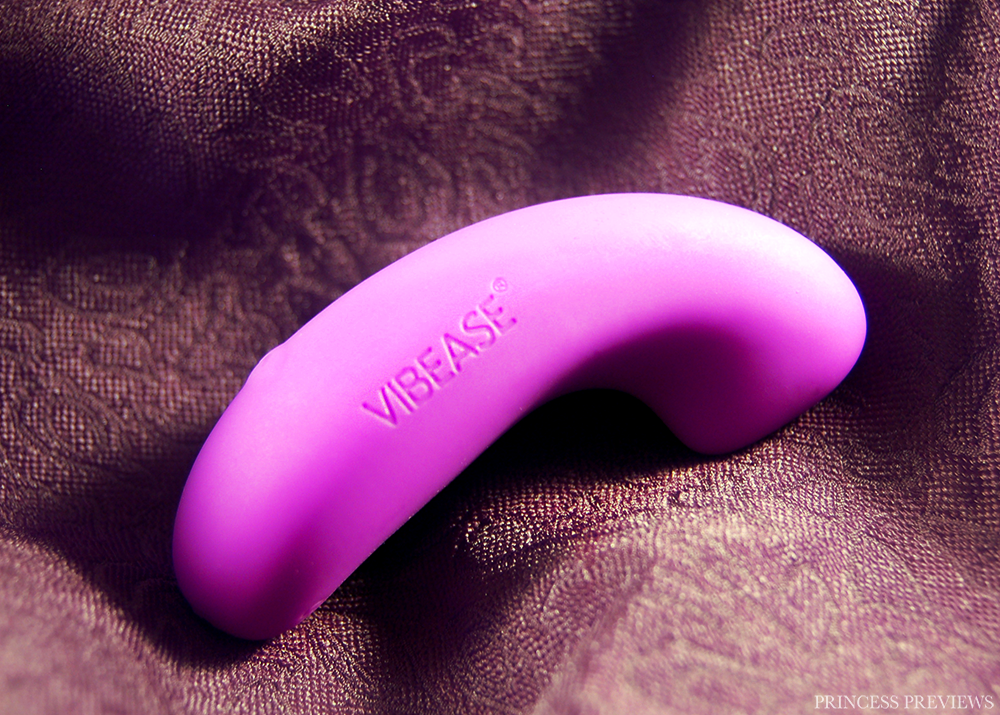 Usually the first time I hold a sex toy in my hands and have a quick play around with it, before I even use it properly, I can generally tell whether or not it'll work for me. My body has a lot of personal preferences, as does everyones, and I've gotten to know these pretty well after two years of sex toy reviewing. I know for a dildo I like lengthy but thin A-spot orientated realistic toys, and for a vibrator I like strong rumbly vibrations paired with a soft broad head that has a lot of pressure applied to it. So when I recently received the Vibease for review, it was immediately obvious that almost everything about it was the complete opposite of my preferences, and I thought there was no way it would suit my body. But as a reviewer I love to be proven wrong, and so I jumped right into testing it just as I would with any other toy, and I was very pleasantly surprised.
Vibease is a little toy with big capabilities, and the flagship toy of the company by the same name that is based in Singapore, San Francisco and China. First and foremost it is a clitoral vibrator, but it is also app compatible in a way that makes it perfect for both long-distance relationships and erotic audio book listening. I have reviewed app compatible toys before, but an audio book compatible toy is certainly something that is new to me. Basically it means that through the app you can download and play erotic audio books and the vibrator will respond to the words, for instance if in the book it says "i'm touching you softy" it is suppose to vibrate softy etc. This is an awesome idea, especially for people who love erotic books. For those in long distance relationships you'll also be happy to know that through the app you can connect the toy to your partner's phone, meaning they can control it no matter where they are in the world.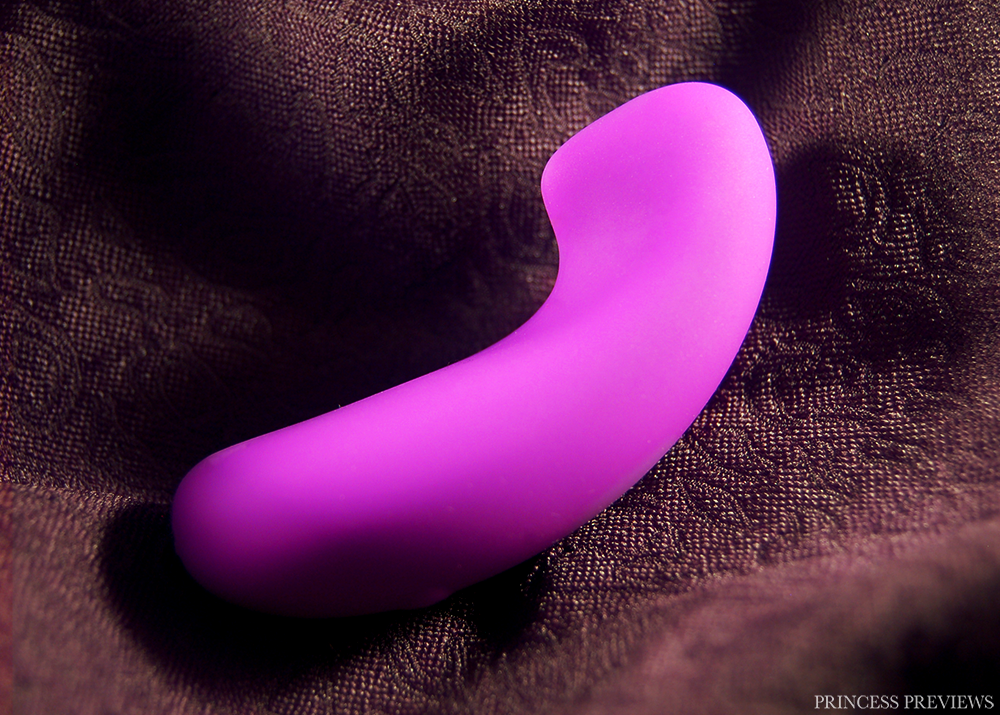 Vibease is a designed as an almost hook shaped vibrator that is supposed to be wearable, meaning it can sit comfortably inside your panties for hands-free masturbation. This is a smart idea since you would get pretty tired listening to a 20 minute audio book and having to hold the toy the entire time. It comes in a silky body-safe silicone, and you can choose between getting it in pink or purple, both being the usual standard sex toy colours. The silicone is very firm, even on the tip that is meant to rest against your clit, so this might not be ideal if you are particularly sensitive. It has a seam running down its middle which is light enough to not interfere with use, and features two buttons, one for turning it on and off and the other for cycling through vibration modes. It also has the Vibease logo imprinted on its side. The toy is USB rechargeable with a small hole in its bottom for connecting to the charger, and is water resistant, meaning it will be ok in the shower but should not be submerged.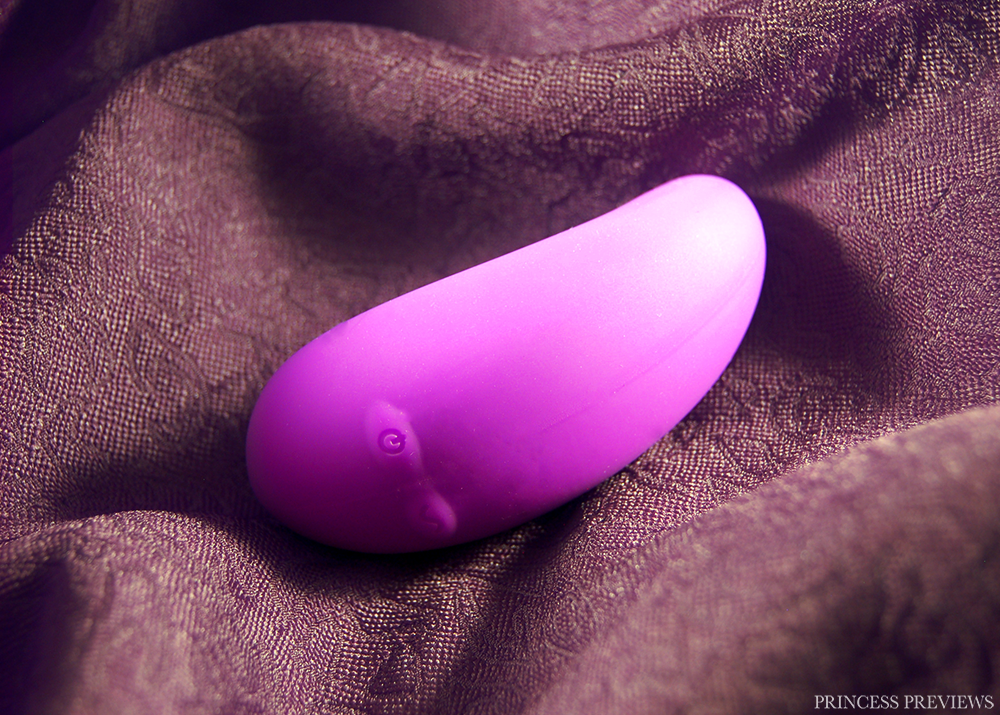 My order for the Vibease was put in on the 20th of March and I received it on the 24th, which was amazingly fast. The postage packaging was also very discreet, and had no mention of the company it was sent from or what it contained. Inside I found the product packaging, which looks fantastic and the sort of thing you would expect with a luxury toy. It is very stylish, with a pink and turquoise colour scheme (why couldn't the toy have come in turquoise?), and a outer slip that includes all necessary information like the features of the toy and its phone compatibility requirements. Once the slip is off opening the box is a little difficult since it is pretty tightly shut, and it could do with a ribbon or something to help open it. Inside the toy can be seen resting in a foam cut out and the charger and a instruction manual are also included.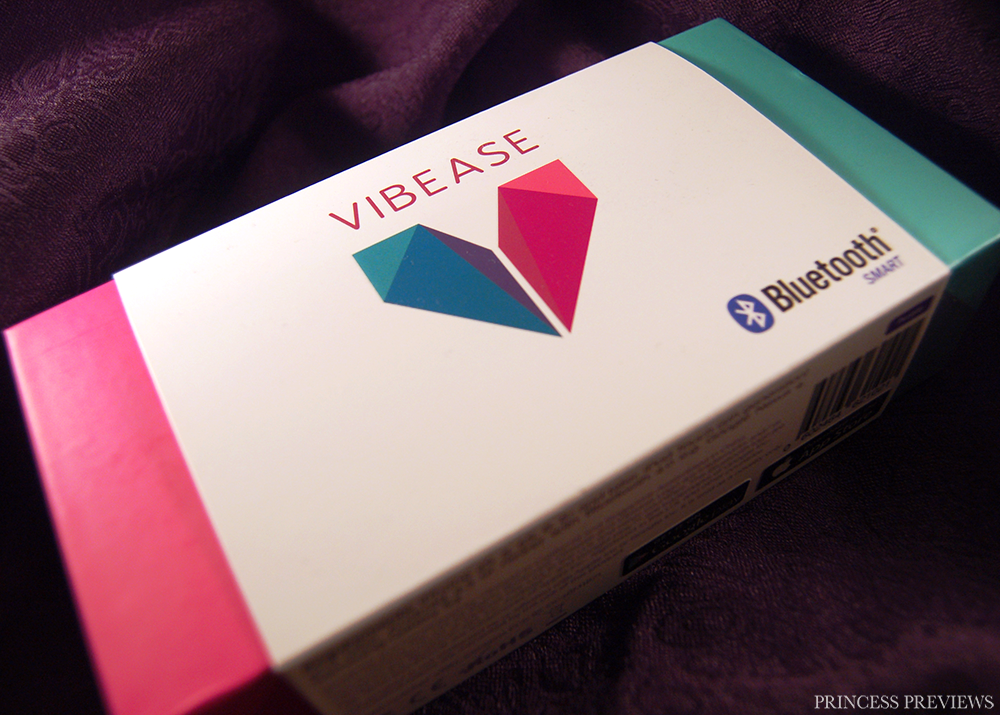 Charging the toy is very straight-forward, just plug it into a computer or USB port charger. A white LED light will blink on the toy to indicate charging, and this will change to a blue light once charging is complete. On its initial charge it will take three hours, but after this it should only take two and will give you three hours of play time.
This toy is primarily supposed to be controlled with the app, however it does still feature physical buttons on the toy if you prefer this, which I certainly do and will always try out first. It can be turned on by holding down the 'on/off' button for two seconds, and then a white and blue light should blink and the toy should vibrate for half a second. After this the white light will stay on you can use the vibration button to cycle through the four patterns and one steady vibration. When the cycle is finished it will stop vibrating but will remain 'on' until the 'on/off' button is held down again. I have personal preference problems with all of this. Firstly: one steady vibration setting? That's my worst nightmare. Secondly, the steady vibration is after the patterns, this is usually the other way around and I would prefer it to be. Lastly, I never like it when toys stay 'on' even when they are not vibrating, I always forget about them and it ends up draining their batteries. I also find the buttons quite difficult to press, and so using them while playing with the toy is very frustrating. Due to this it is pretty clear that putting buttons on this toy was more of an afterthought, and probably just so the user had something to press when connecting the toy to the app. If you are like me and prefer physical buttons to apps when using toys then this one probably isn't for you. The vibrations themselves on this toy are fairly good and quite powerful, although still slightly buzzy and don't stand up against my more rumbly clit vibes such as the We-Vibe Tango or Jopen Lust L2. It is, however, quite noisy and high pitched, so if privacy is an issue this may be a concern.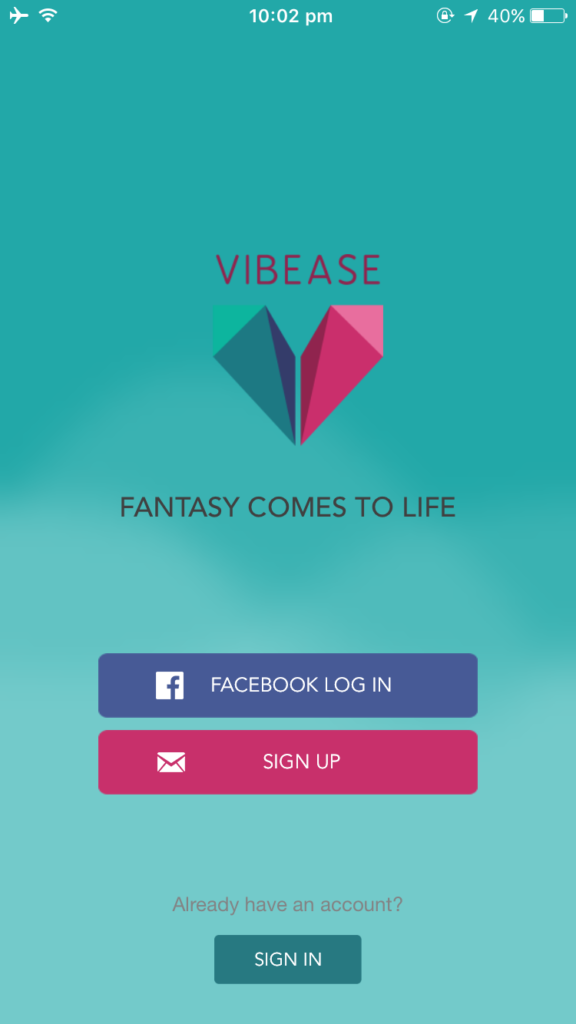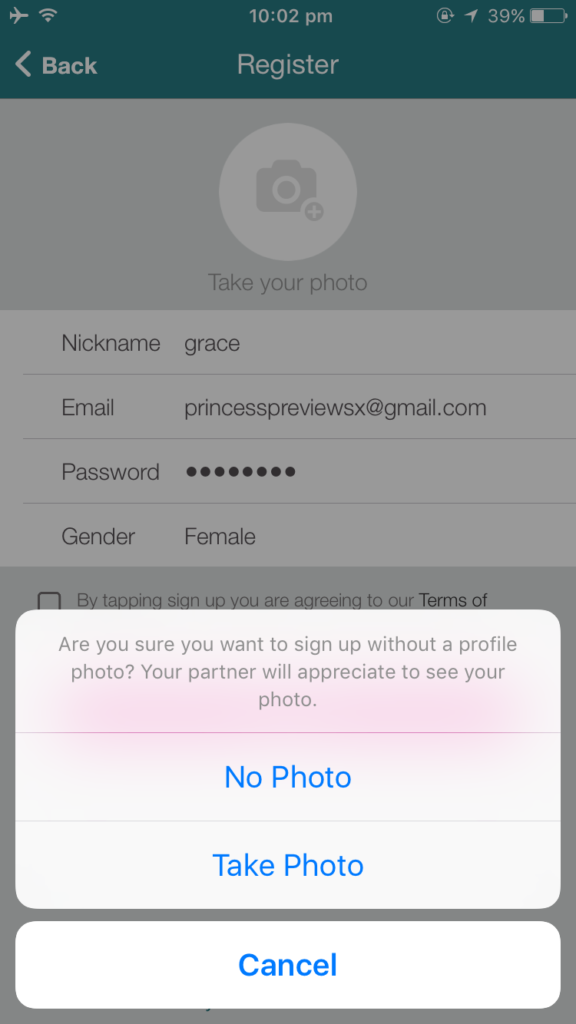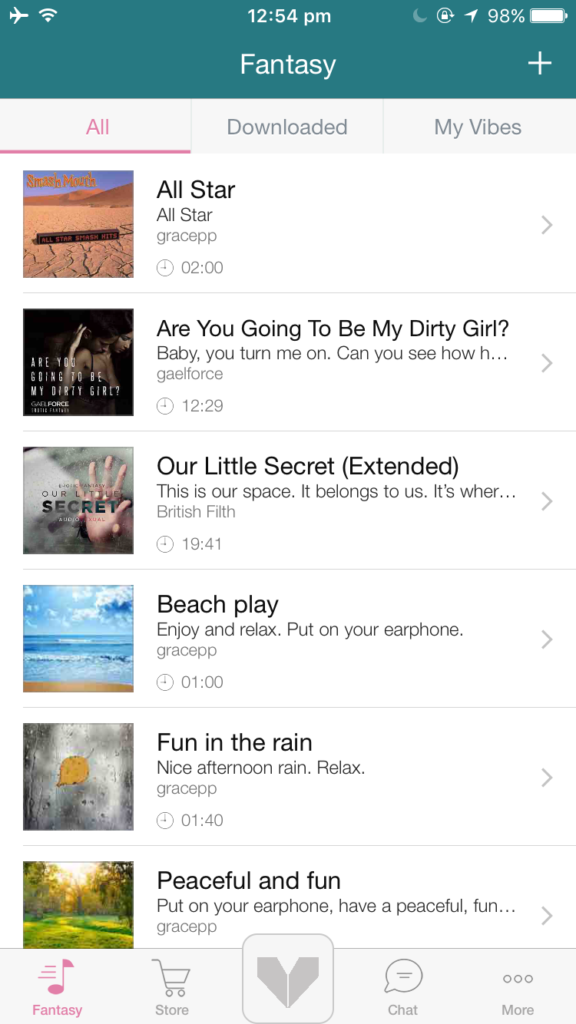 The application is easy to find on app stores by searching Vibease and the actual app is called 'Vibease Chat'. Once installed it looks rather discreet on your phone, especially since it's labelled as a chat app. It'll start off by asking you to sign up to use the app and gives you the option to connect it to your Facebook account, which sounds terrible and I can't imagine anyone doing ever. You can then choose a profile picture, nickname, password and gender (which disappointingly only has male and female). It was quite glitchy for me when signing up since it repeatedly told me that my many nickname options were already used and could not be taken, however it ended up just meaning I had the wrong character limit.
Going into the app there is five sections which can be accessed on the bottom panel. The first one is 'Fantasy' which is where you can view all your downloaded audio books and custom-made audios. You'll start off with three pre-downloaded tracks that feature environmental noises such as 'Beach play', to give you an idea of how the app works. If you are interested in creating a custom audio you can do this either with the songs on your phone or voice recordings. You can then choose to either have the toy automatically sync its vibrations to the audio (which isn't always the best) or you can set it up manually. The next section is the 'Store' where you can search through all the audio books the Vibease app contains for you to download, which does seem to be quite a fair amount. Some are free while others require 'credits' which you can purchase in the app, and you can play samples of them prior to downloading. This can also be a little glitchy as starting a new audio track does not turn off the one you currently have playing, meaning the audios can start to overlap on themselves.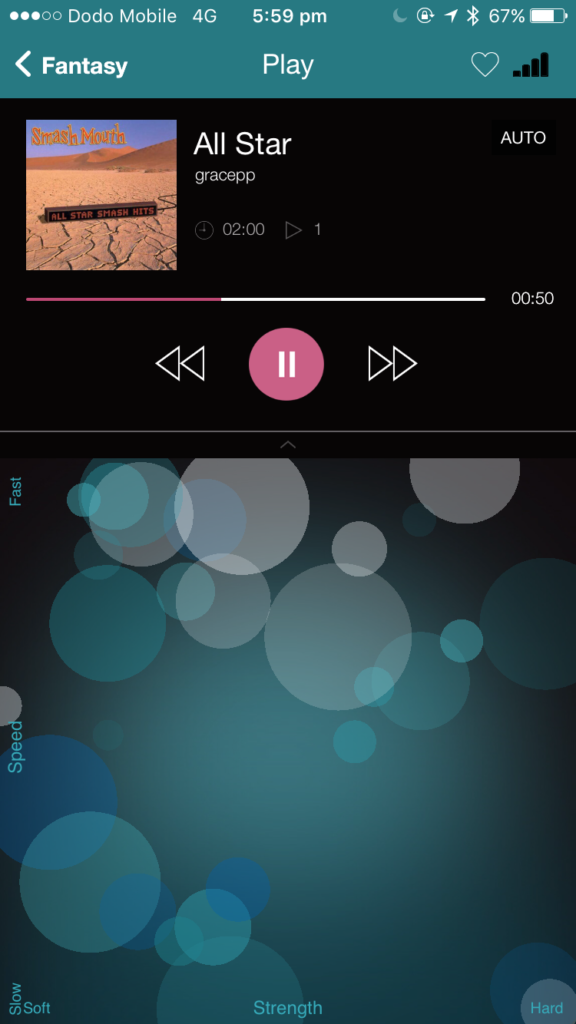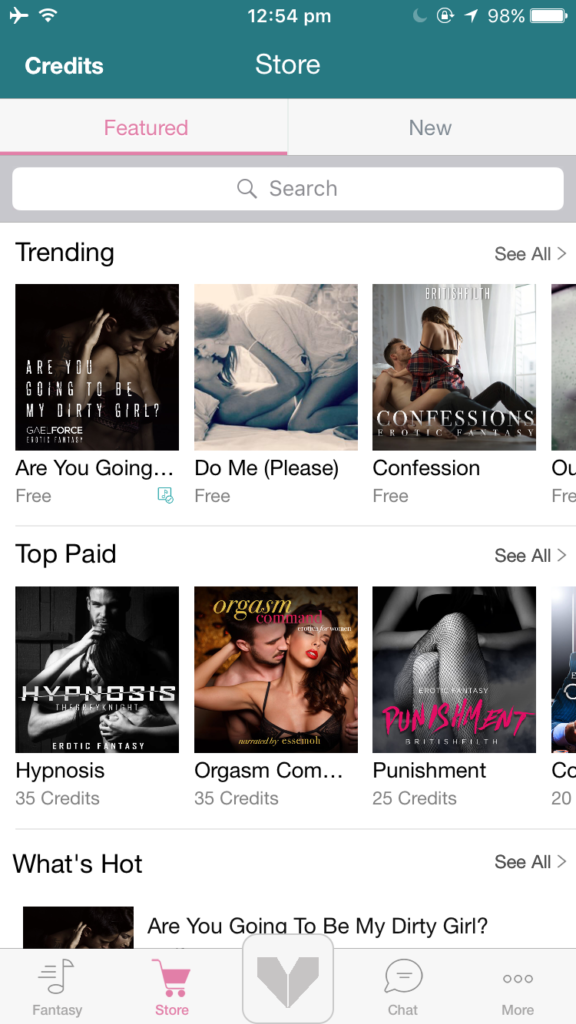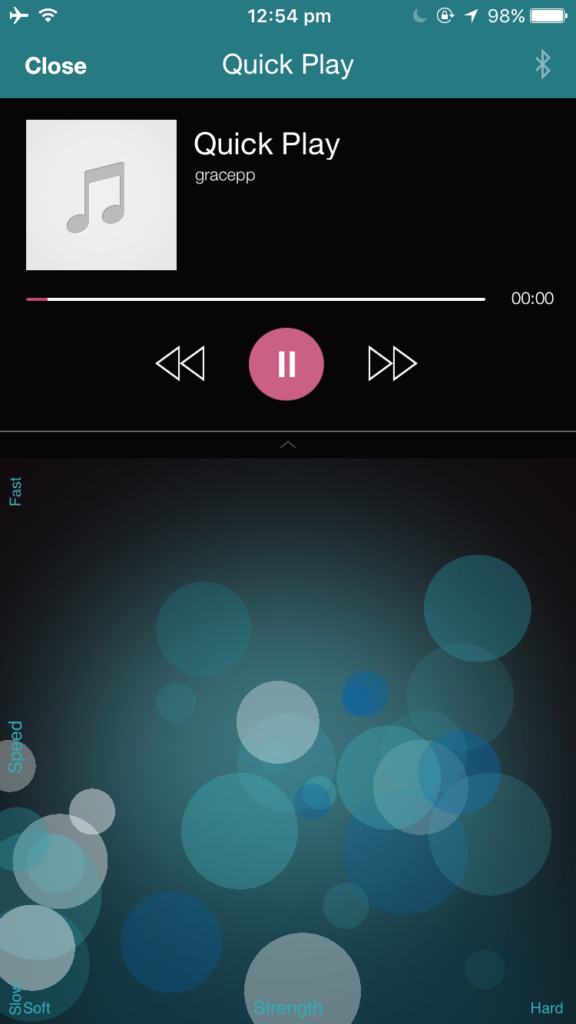 The next section just has the Vibease logo and it is where you can access 'Quick Play' which is essentially the mode to control the vibrator without any audio playing. They have set it up like a chart where the x axis is how soft or hard the strength of the vibrators is, while the y axis controls speed which goes from a slow pattern to a continuous vibration. I find this system very easy to use and a smart design move. The next section is the 'Chat', where you can either link the app to your address book (hell no) or you can enter in your partner's nickname or request code. When chatting with a partner you can share photos and fantasies (the audio books or custom audios) with them, as well as voice and video calling. You can also control their vibrator by choosing which patterns and strengths to put it on, although the way this is set up on the app can be a little confusing and might take awhile to get use to. Finally you can also add a 'self-destruct timer' to your messages, so if you are writing sexy but embarrassing things that you don't want to be left in your message history this will come in handy. The final section is 'More' which is essentially the settings section, and this is where you'll find the ability to connect the device via bluetooth, enter your own request code for your partner to use, turn on a security code for the app, and so forth. Overall I really like the design of this app, it looks good and is also easy and intuitive to use, however there is definitely more than few glitches with it that need to be ironed out, for instance once my app changed randomly to being in Russian and it took me ages to figure out how to fix it.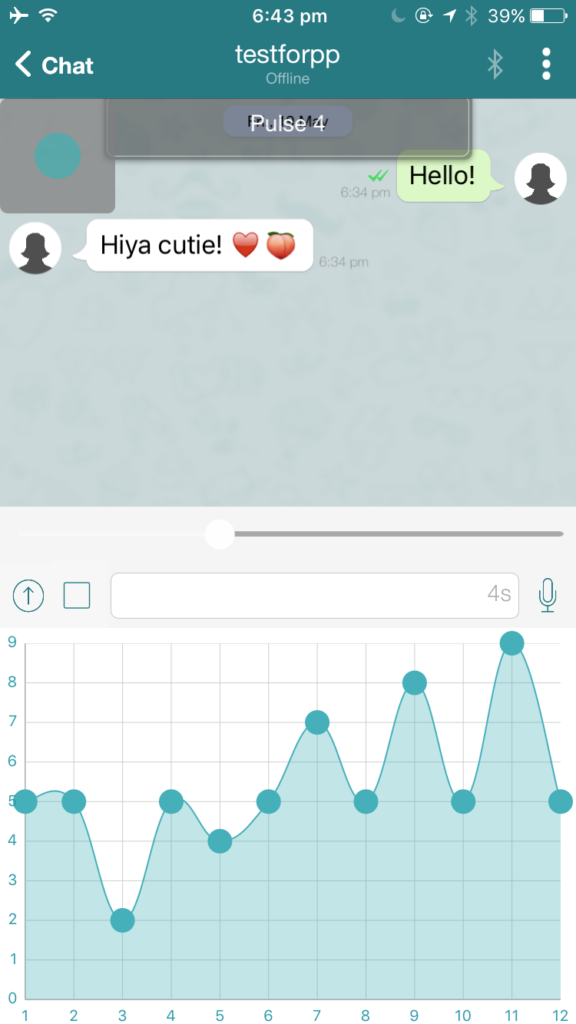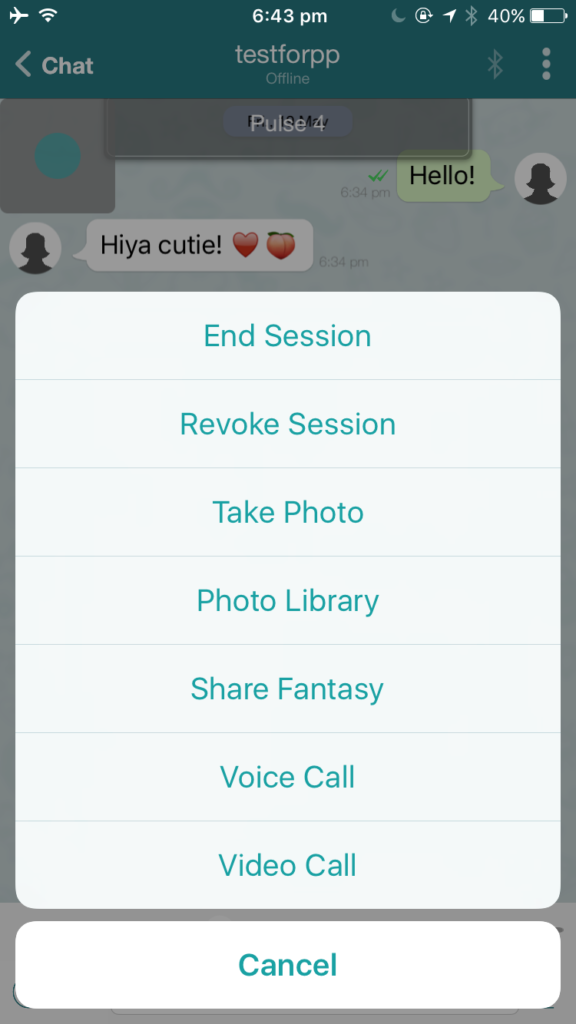 On my first test of this toy I wanted to see how it could perform without the app, although since it only has one steady vibration mode that you cannot adjust the strength of, I didn't expect much. Despite this I kept on using it like a good reviewer, and then the unexpected happened when only a few minutes into trying it out I orgasmed! It wasn't huge or particularly great, but just the fact I could do this at all was amazing to me. If I wasn't so use to higher powered toys or if the design of this one was more my style it is likely that it would have been great, so if this sounds like you then you might be in for a treat. I will note though that it does take me awhile to get this toy positioned into place, whether I am using it hands-free or not. The tip of the hook is very firm, and so if positioned right over my clit it can feel quite uncomfortable and can lead to it being quite sore after, so I often need to readjust it during use. Furthermore, the steady mode that it has is quite a high speed, so it can take a little while to adjust before the toy can be applied properly as otherwise it is way too overstimulating to start with.
Moving onto using the app to control the toy, I find it a lot easier to orgasm when using the 'Quick Play' feature as this lets me adjust the vibration strength. However, the real test was trying it hands-free and with an audio book. I have never orgasmed hands-free with anything before, so this seemed very unlikely, and as I have no experience with audio books, especially erotic ones, I didn't expect much. On my first go it took me a little while to find an audio book I liked, the first one I dowloaded I didn't really get into, and without being able to hold the toy down I couldn't find it pleasurable. The second book I tried I thought would have the same effect, but I was determined to listen to the entire 20 minutes for testing purposes. After awhile though I started to get into it and could visualise the scene really well. Once that happened the fact that the toy was responding to it became so much better, and it didn't take long for me to have an orgasm, hands-free and all. There is a good chance it was also my first orgasm with a patterned vibration on too, but I was so into the audio that I wasn't even really aware of the toy. This was all very unexpected for me, but as you can imagine I have since really gotten into using the toy in this way. It was a very different masturbation experience than I have ever had before, usually orgasms are a lot of work and I use my imagination to arouse me, but this all felt very natural and easy, plus I totally forgot there was a sex toy involved.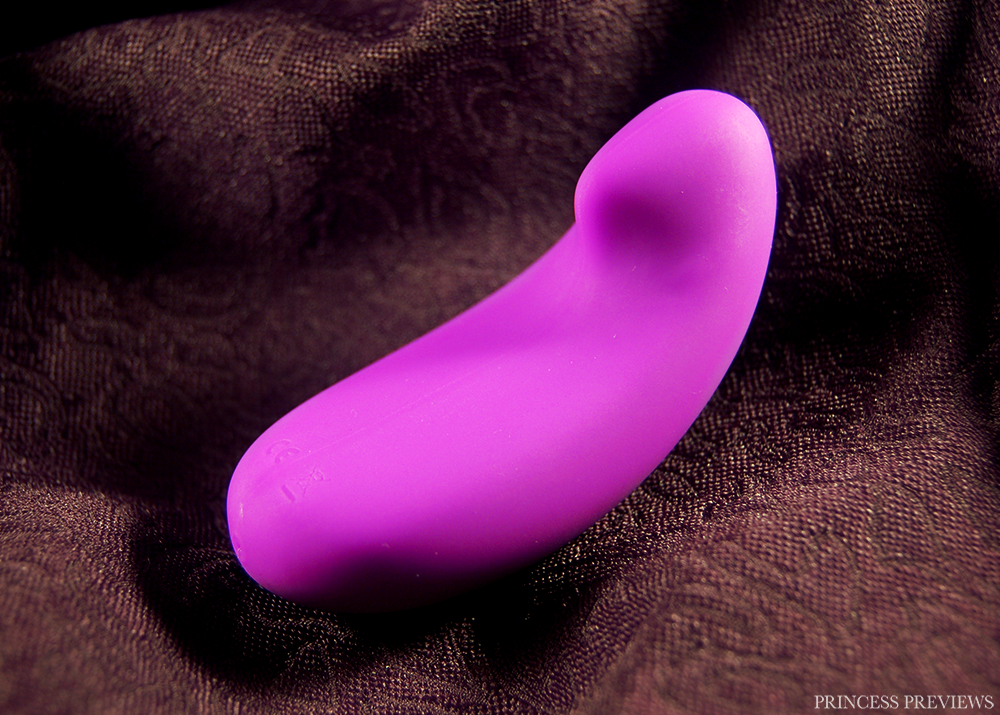 Since this toy is water resistant and made of silicone cleaning is reasonably easy, although be careful to not submerge it in water when cleaning. Just give it a once over with some mild soap and warm water and let air dry. After that it can be can be stored in its box, a zip lock bag, or just left out since it doesn't attract much lint and is an external toy anyway. Since this toy is made of silicone avoid using silicone based lubricants with it.
I really didn't expect to enjoy the Vibease when I first got it. Don't get me wrong, the toy is fantastic, it has a cool design and the idea of matching it up with erotic audio books is just brilliant, and will certainly be popular with a lot of people. But it just didn't seem like it would be popular with someone like me. But sometimes a toy is just so good that it doesn't matter what you want, you are going to orgasm anyway! There is certainly some issues with the toy, the app has a lot of glitches that needs fixing and if the silicone on it was softer then I wouldn't be left sore after every use. It would also appeal to a wider audience and people like me if the toy could also be used without the app. However, this toy has certainly changed the way I masturbate and has opened up the world of hands-free toys and erotic audio books for me, and I cannot thank it enough for that. I'm so happy to say that it isn't all that expensive either, so if you enjoy erotic audio books or are just looking for a good first clitoral vibe then I would certainly recommend this.
You can get the Vibease directly from their website for just $160 AUD / $119 USD and apply my reader code PRINCESS for 21% off!
Material - 100%
Appearance / Design - 75%
Solo - 85%
Partner - 40%
Vibrations - 75%
Noise Level - 60%
App - 75%
A great hands-free toy that responds well to audio but it is not designed to be conveniently used without the app.
I received this product in exchange for an honest and unbiased review. Affiliate links have been used in this post.