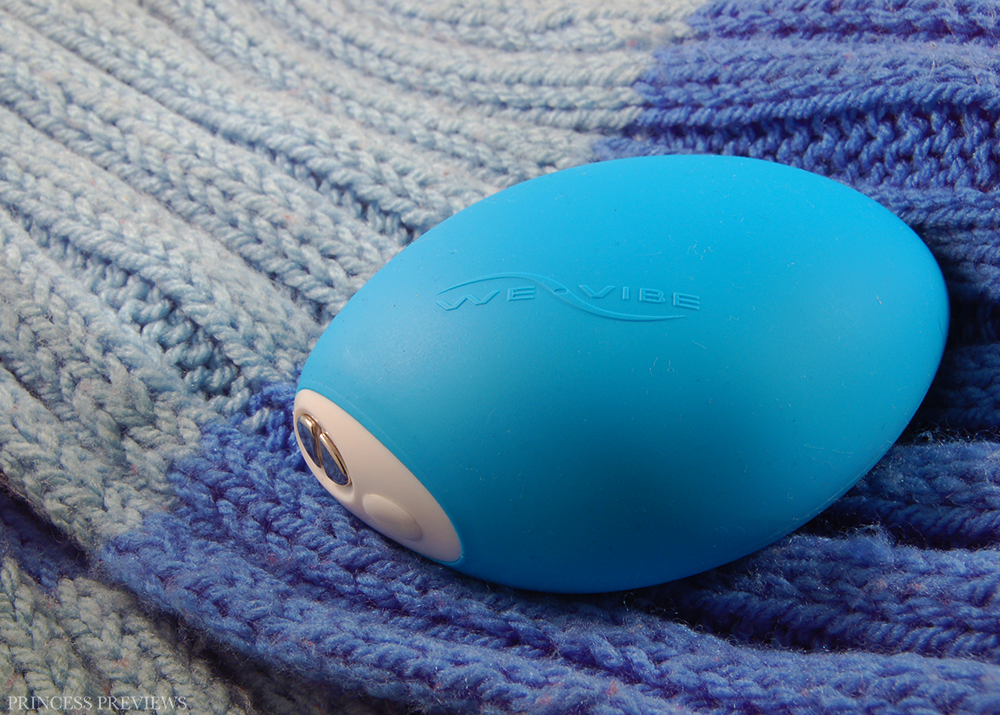 I'm a big We-Vibe fan. My Tango is a must-have during PIV sex, and no other bullet vibrator I have tried has even come close to its power. It transforms even the most boring of dildos into amazing orgasms, and while I don't talk about it as often, its sister toy, the We-Vibe Touch, is also a brilliant and powerful toy. We-Vibe have released, to hugely positive reviews, a few new products last year, but they were primarily internal vibrators and as this isn't really my thing I didn't pursue reviewing them. More recently however the We-Vibe Wish was announced, We-Vibe's brand new clitoral vibrator, and just on those words I was sold, after all their other two are the best in my toybox. Then I saw its adorable soft silicone design and gorgeous blue colour and I needed one immediately. The awesome guys over at Peepshow Toys were kind enough to hook me up with one for review, and here we are.
A bad habit of mine is not reading all the information before deciding I want something. It is something I have had to work on since I have been reviewing, because it leads to review items like the Tantus Vamp that I can barely fit inside me. But the We-Vibe Wish looked so god damn cute, and it was a clit vibe by We-Vibe, what could possibly go wrong? On the website it boasts its soft silicone, rumbly vibrations, and the fact it can either be used for broad or pinpoint stimulation. It talks about being waterproof, USB rechargeable, and compatible with the We-Vibe Connect app. What it doesn't say, or at least not directly, is that this toy only features patterned vibrations (and something called PowerPulse, which we'll talk about a bit later). If you have read any of my vibrator reviews you'll know I hate patterns, and am always advocating for more levels of steady vibrations on toys. So you can imagine my feelings when I found out about this from reading other's reviews while I was waiting for the toy to arrive. I was determined to not let this get me down and try my best to enjoy the toy regardless (maybe I would finally enjoy patterns! Spoiler: I didn't).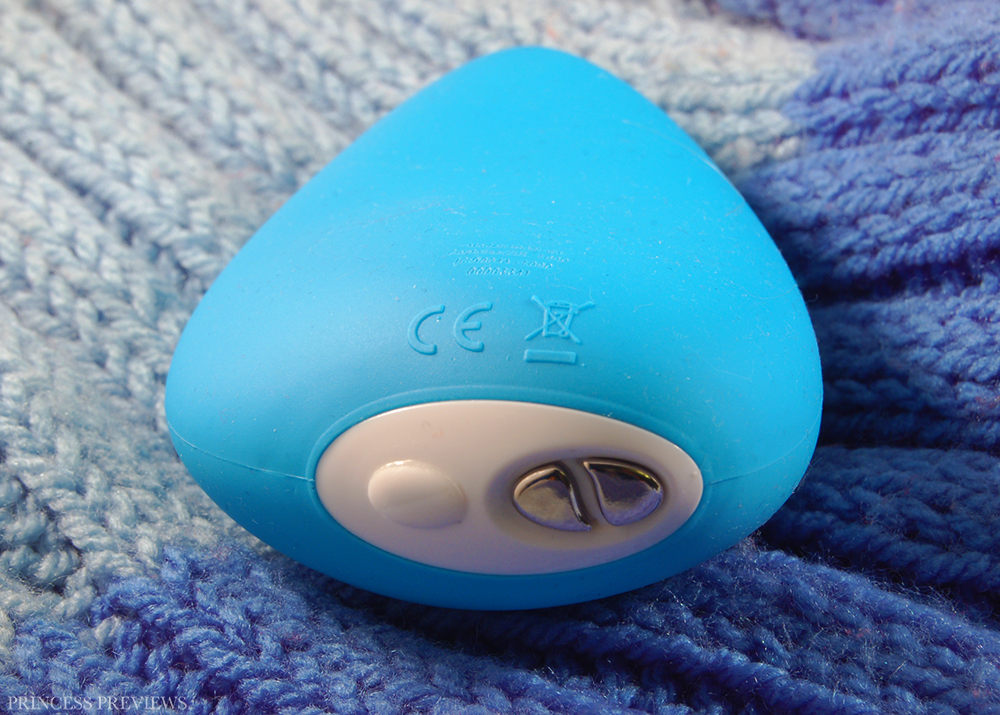 As I mentioned above, this toy features all the usual quality traits that any We-Vibe toy has. It comes in a wonderful shade of blue and has a plush and soft outer layer of silicone. Its asymmetrical shape is designed to offer broad vibrations by placing the curved side against the vulva, or alternatively just the tip can be used to offer more pin-point style vibrations, and the toy features two motors to make it even more rumbly and perfect for patterns. It has a seam that runs along the length of it but this won't effect use or cleaning, and the We-Vibe logo is on the top. Since this is a vibrator, while the layer of silicone around it is very soft, it obviously still has a hard core where the motor is kept that can be felt through it. However, the tip of the toy is filled with a thick layer of silicone making it completely soft which is pretty rad. The only immediate downside to the toy is that the silicone does pick up a fair bit of lint and hair, although since this is not an insertable toy it isn't as much of an issue as usual. At the end is a white area that features two metal pads which are where the magnetic charger connects to, and a single white button which is for controlling the toy without the mobile app. They've made this button easy to find without looking since the white surrounding it is ABS plastic while the button itself is silicone. The toy is a lot larger than expected, from the pictures I imagined it being almost pebble sized, but instead it only just manages to fit comfortably in my hand.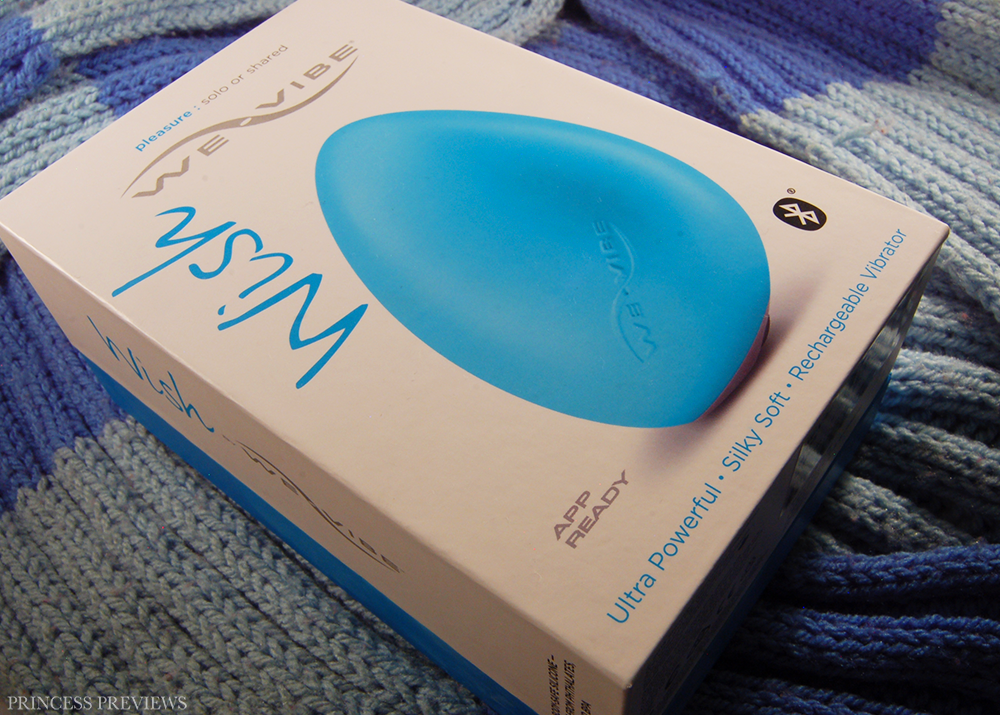 My order from Peepshow Toys was confirmed on the 11th of February and I received it on the 20th, which since it was coming from the US is really quite fast. The packaging was completely discreet, with no mention of who sent it or what type of items were contained inside. The We-Vibe packaging itself was the same style I remembered from when I got my We-Vibe Tango, a simple but sturdy and luxury feeling box which features images of the toy and information about it. Upon opening this you are presented with the toy, an instruction manual, a charging cable and a white storage bag. A one year warranty from We-Vibe also comes with the toy.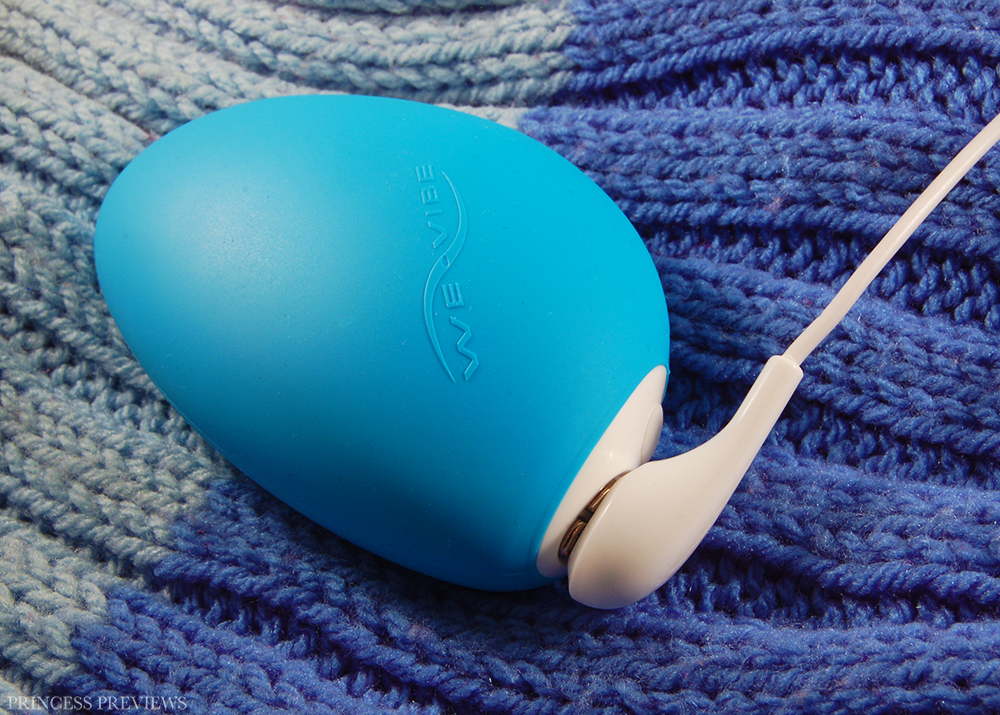 Since my Tango is one of my most used toys it is also the one I charge most often, and I have come to loathe its charger which has the weakest magnetic ability ever and constantly falls off. I was so excited to see that the Wish had a new one and prepared to finally be able to charge a We-Vibe toy properly, but was left immediately disappointed (I even made a video). The magnetic connection is better, but since it has two points of contact it constantly falls off of one, moves around and is generally just crap. Don't let that put you off, it can certainly charge and I have had no actual issues with it, once it is put down somewhere safe and left to do its thing it's fine. It is just always a little crazy to me how such a great company like We-Vibe fail at something so simple that so many other lower quality companies get right. Charging takes 90 minutes and this will give you approx. 2 hours worth of play time, and the Wish will flash to let you know it is almost out of battery.
Alright, now that stuff is out of the way let's talk about the vibrations. As I mentioned there is only one button on the actual toy, which works the same as the Tango. You press the button to turn it on, press it again to cycle through the ten vibration modes, hold it down to turn it off, and the toy will remember your last speed when it is turned back on. There is seven pattern modes along with three 'PowerPulse' modes that slowly increase in power. This is what I assumed was the steady vibration mode that I love, because that's basically how every other sex toy works that only has one button, but it isn't. I'm not really sure how to even begin with talking about what it actually is. The idea of PowerPulse is that it uses the dual motors to create a vibration that isn't exactly steady, but is more like a slow wave of increasing and decreasing vibration strengths. I have two other toys now that use multiple motors, the MysteryVIbe Crescendo and Jimmyjane Intro 2, and both of them had an issue where the motors would become out of sync, which would cause them to make strange noises and not work properly. The PowerPulse basically takes this issue and somehow makes them worse. I've considered that maybe I have a faulty one, but other reviewers have had similar issues with it. It is so just bad that I don't understand why this was ever approved as an actual product, especially from a company like We-Vibe that usually has great products. The 'waves', as it displays on the app, just aren't consistent at all and it is constantly changing pitch and vibration styles. I've considered it is possibly meant to be like this, and if you like patterns then maybe this'll work for you, but to me it just sounds like there is something wrong with it. This is harder to show off in video than the other toys since it is rather quiet (hooray, a positive!) but you can watch this to get an idea of what I mean, at the start it kind of sounds like it is trying to do a pattern but it isn't, this is the PowerPulse mode.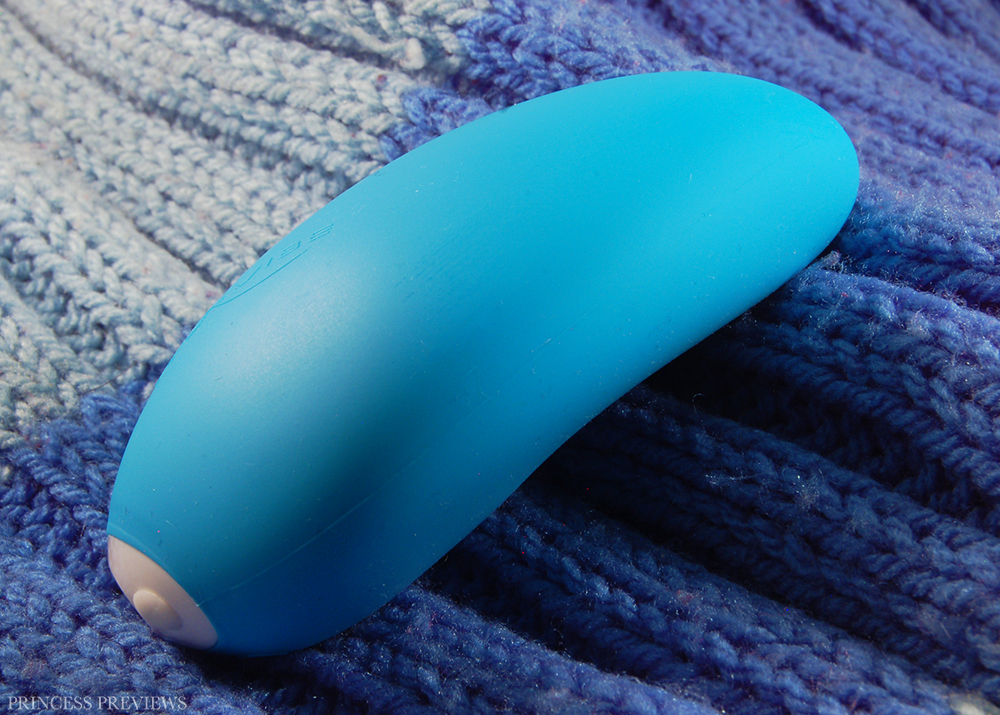 After trying out the vibe for the first time without using the app and not enjoying the patterns or the PowerPulse I was preparing to give this toy a very bad review. But then I installed the app, connected it, and discovered I could make my own vibration patterns. I went in and drew a completely straight line (probably not what it was intended for) and finally I had a vibration I was happy with. It isn't perfectly steady, and similar to the PowerPulse setting the dual motors can get out of sync and not work, but it is a lot more steady than anything else on the vibe. Now, the vibration does seem to store in the Wish so I can access my steady vibration without using the app, however it seems I can only store one personalised vibration on the toy at a time, so if I want to adjust the vibration speed which is a must for me I have to use the app. This is a huge downside to the toy for me since I prefer not to have to use apps, it just feels less relaxing and not as connected if I am with a partner. I do love the added functions that apps bring, but to me they should be an added bonus rather than a requirement for using the toy.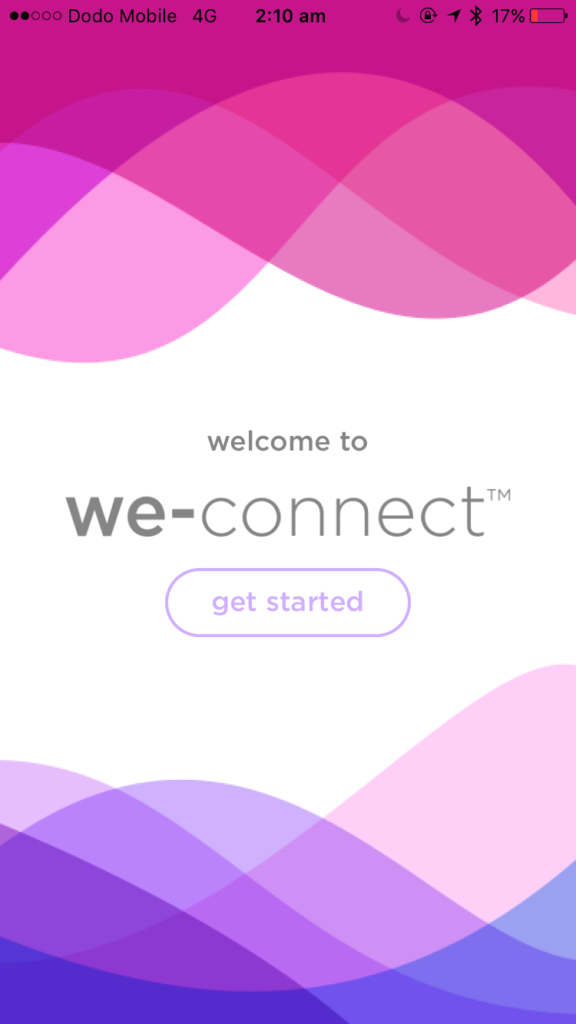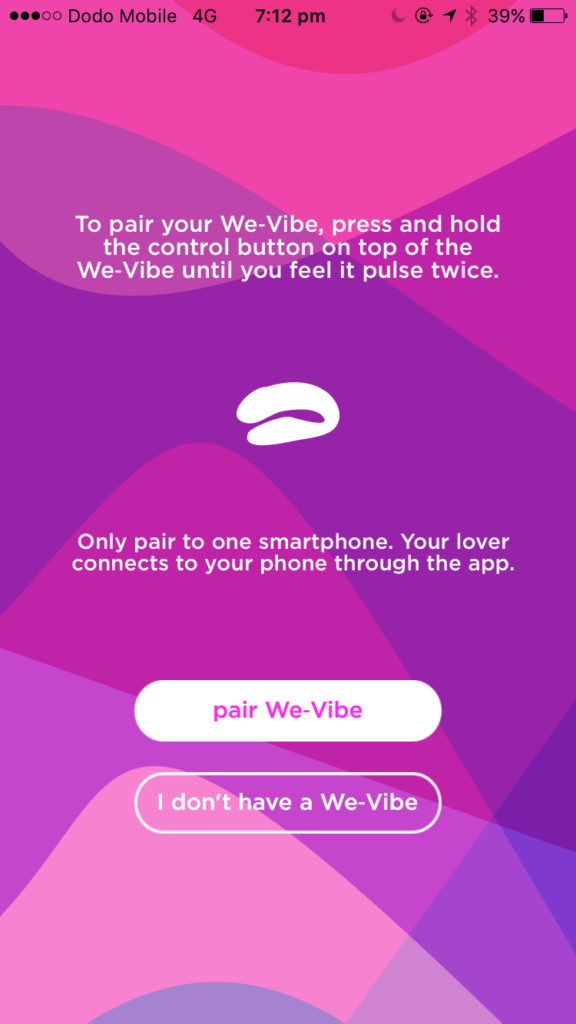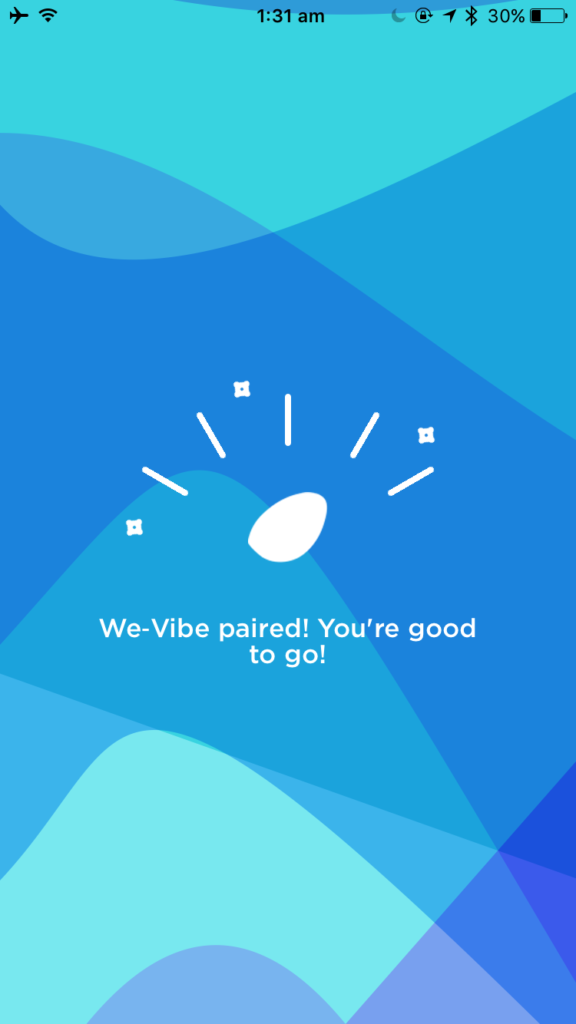 The app itself is my favourite out of all the ones I have tested for a sex toy so far. It is easy to find on both the Apple App Store and Google Play store by searching We-Vibe and it is completely free. The design of the app is really sleek and colourful, but it is also very intuitive and user-friendly, so even if you aren't tech savvy it shouldn't be an issue to use. When you first open it there is a small tutorial and that is really helpful in teaching you how to use the app and can be replayed by going into the 'About' section. In the menu the battery of the Wish is displayed which I love, as well as well-named descriptions of what you can do with the app. 'Control' and 'My Vibes' let you go through the current vibes you have with the connected toy and create more, while 'Connect Lover' is for playing with a partner (more on that later). 'Switch Device' is for if you have another We-Vibe toy you want to pair instead, and 'About', 'Settings', and 'News & Offers' is just all the usual technical and advertising stuff. Connecting the toy is through Bluetooth, it is super simple and I have had no issues with it, and it stays connected a really long time, even if you are using your phone for other things in between. The app can be opened when a toy isn't paired, but if you are worried you can set up a pin number for it. One thing I will mention though that was brought up by Polly on twitter is that the toy may be visible on the BlueTooth of those around you, which might be something to consider if privacy is a big concern for you.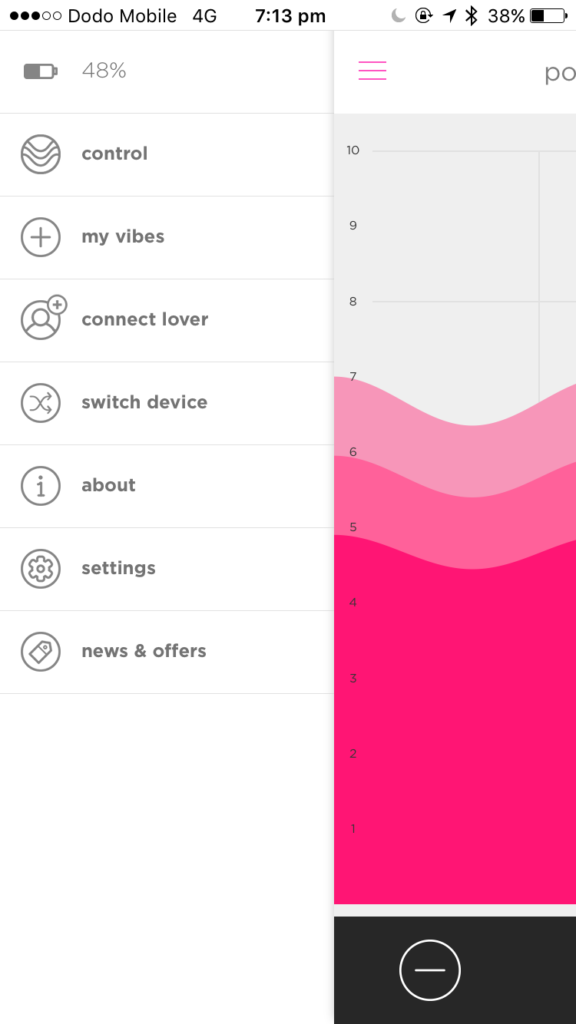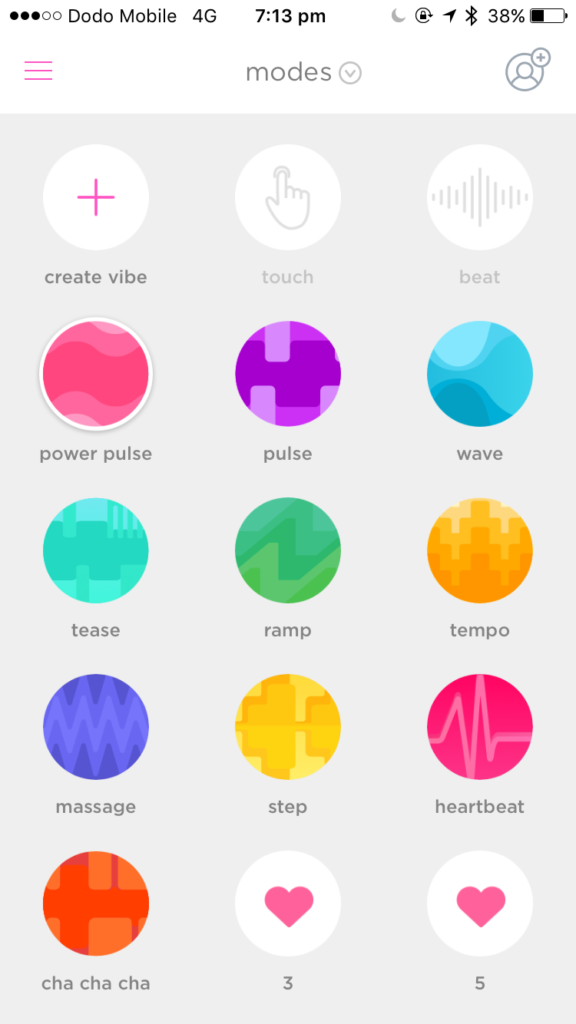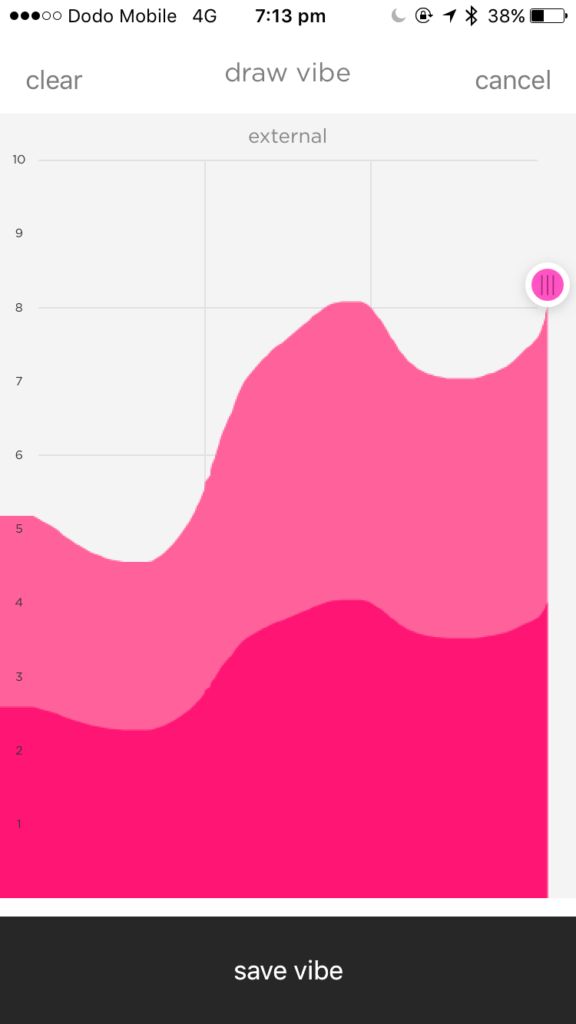 When you are in the app controlling the vibrations is really easy. You can either flick through them all at once or see them in a menu, and once you go into them you can choose to either click the plus and minus buttons to increase and decrease strength or slide the vibration up and down with you finger. There is also a pause button at the bottom if you need a break. The app does a good job at visualising the vibrations for you to get an idea of what they are going to be before even turning them on. Creating your own vibration is also very easy, you just draw what you want and then can set the strength, duration and give it a name.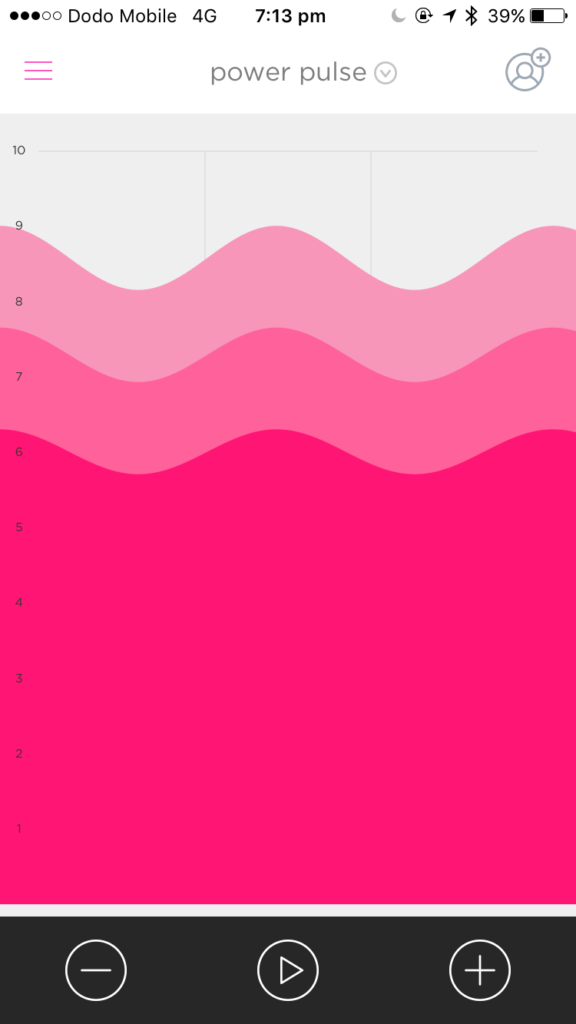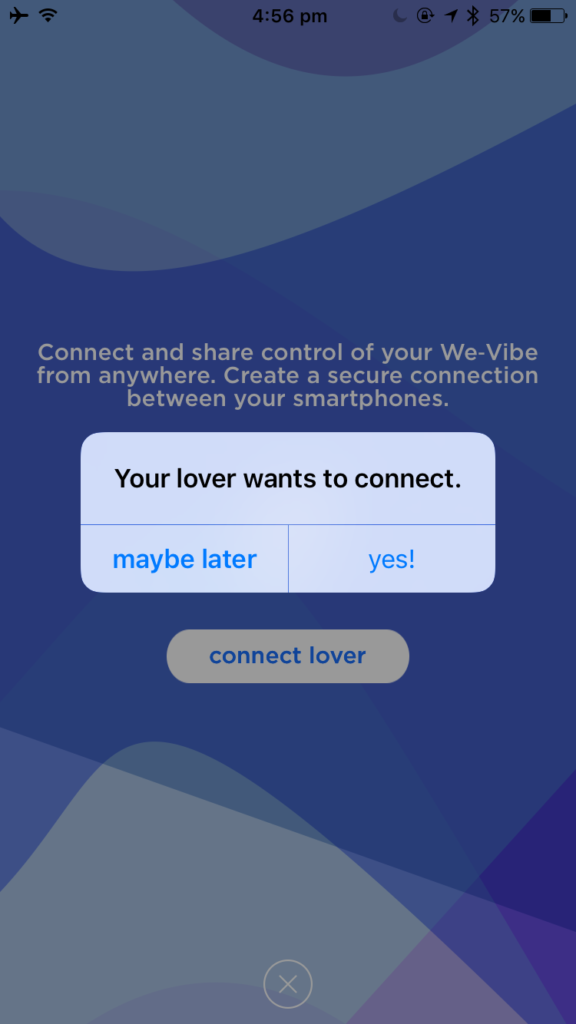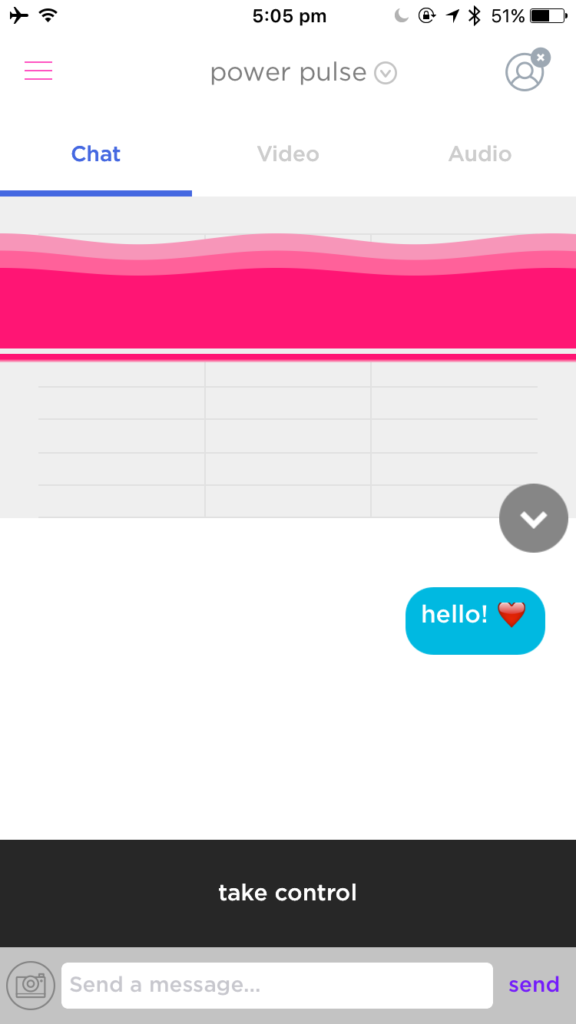 The app is perfect for couples that are in long-distance relationships or similar situations. You can have a partner control your toy very easily by sending a personalised link from the app to their phone. They must also have the app downloaded and then when they click this link they will become connected to your toy. They aren't connected in the same way you are, it is through the internet rather than Bluetooth, plus they have limited access to things and you can 'take control' whenever you've had enough. There is a chat box that you can use to send messages to your partner, as well as video and audio chat options which work really nicely. I don't have anyone outside of my apartment to try this app with, so using it with someone who is further away might have issues, but to me it all seems really well thought out. At first I was confused by the video and audio chat options, but since I suppose you would be using this toy over Skype anyway it is actually pretty smart to add them so you can put all your attention on adjusting the vibrations while also being able to watch your partner's reactions. My partner really enjoyed using the toy on me with his app and he found it all very easy to use and understand.
Alright, so now with my specially created steady vibration mode you'll probably be thinking I should have no problems using the toy, after all the vibrations are quite powerful (around the 1st and 2nd levels of my Magic Wand Rechargeable) and very rumbly. I keep thinking this too, and every time I do a test of the toy I get ready to love it, but for some reason I still just don't. Firstly, I prefer broad stimulation to pin-point, so I want to be able to use the flat underside of the toy rather than the soft tip. But, because it is curved underneath I find I cannot get enough pressure on my clitoris, something I really require in order to orgasm. So to combat this I need to use the top of the toy, where the We-Vibe logo is, against my clitoris to achieve orgasm. But because my hand now has to hold down the underside of the toy against my clitoris I get a lot of uncomfortable and numbing vibrations in my hand. These are all problems very central to how my body works and how I like to get off, and so I doubt many people would have the same issue as this and so I wouldn't worry if this is putting you off. Despite this annoyance I can orgasm from this toy and do enjoy using it, but because I have to use the app with it and I find it uncomfortable to hold, it certainly isn't my first choice when I'm grabbing for a clit vibe from my toy box.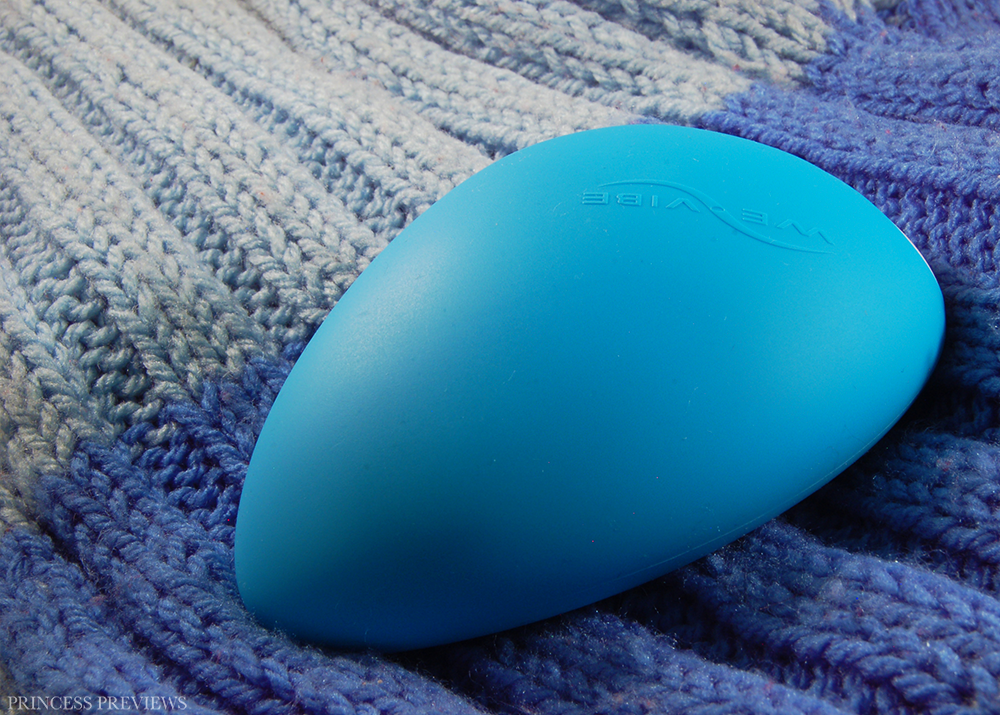 Cleaning the We-Vibe Wish is easy since it is waterproof and silicone. Just wash it with some warm water and soap and leave to air dry before returning it to its included storage bag. Make sure to only use water-based lubricants with it.
Overall, my experience with the We-Vibe Wish hasn't been the best. As soon as I found out it only featured patterns I feel like this review was doomed for failure. I really wanted to like it, more than I've wanted to like any toy for awhile, and even though I can orgasm from it and enjoy using it there is just so many negatives that I just can't move past. If We-Vibe wanted to make a toy that is patterns-only that's fine, but I feel like it should be advertised more heavily as that to avoid others making the mistake I did in getting it. They need to work out what exactly the PowerPulse is and find out if anyone actually enjoys it, because if not I don't understand why these three modes aren't just the steady vibrations they know people love. I know they tried to cater for every body with the design of the toy, but somehow it just doesn't work for me. Lastly, the fact that I have to use the app to enjoy the toy is a real turn off, there is no way I want to get my phone out while I'm having sex with my partner and this toy isn't good enough to change my mind on that. I guess every now and then even a great company will produce a bad egg, and this is just one of those in my opinion, sorry We-Vibe.
You can buy a We-Vibe Wish from Peepshow Toys for $170 AUD / $129 USD, plus use my code GRACE for 10% off your order!
Material - 90%
Appearance / Design - 40%
Solo - 65%
Partner - 70%
Vibrations - 80%
Noise Level - 70%
App - 90%
Did not work for my body at all, if you like patterns it might be worthwhile however.
I received this product in exchange for an honest and unbiased review. Affiliate links have been used in this post.