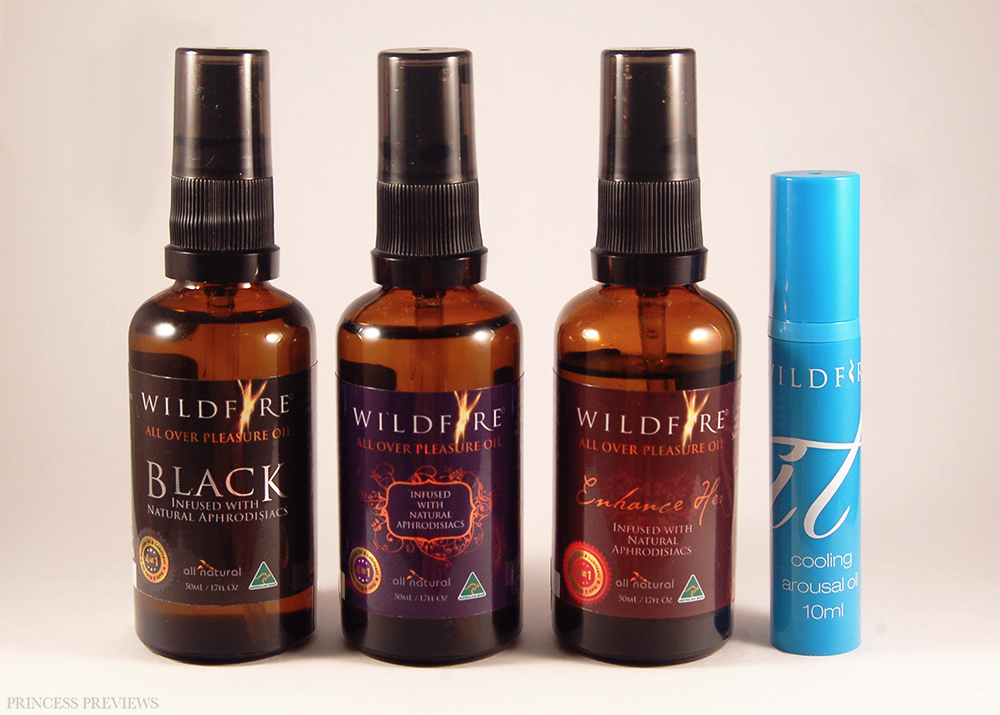 Last year I reviewed the Wildfire 'Original' All Over Pleasure Oil and 'Feels Like Bliss' Mood Mist. It was a bit of a different review for me, still sex related products, but not exclusively so. Due to this, that review has become very memorable for me, and the two products I received have become much loved in my household. Since my partner isn't hugely into sex toys, the oil and mood mist quickly became his favourite products I've ever reviewed. We use them both on a weekly basis, and I'm not sure what I'd do without them now. So, when Wildfire recently contacted me about completing a new review for them, I was overjoyed. They sent me their All Over Pleasure Oil 'All My Love' Gift Pack, which contains the two oils that I had not previously tried, along with their IT Cooling Arousal Oil.
Wildfire received a fantastic review from me last time, and since then I have enjoyed their products even more, with them becoming well integrated into our home. The All Over Pleasure Oil sits in our shower, and I use it as a massage oil after a stressful day, with its relaxing scents doing wonders for me, while my partner uses it as a moisturiser for his intimate areas. Plus, we both love using it as a lubricant whenever shower sex occurs, as it doesn't easily wash away like other lubes do. Meanwhile, the Mood Mist has become a great general-purpose spray for anything smelly around the house. I use it on clothes, shoes, and the toilet (just to name a few), as well as around the house when guests are coming over, and on myself when I need relaxing. These two bottles are sadly almost finished, so it was very exciting to be receiving more in the mail.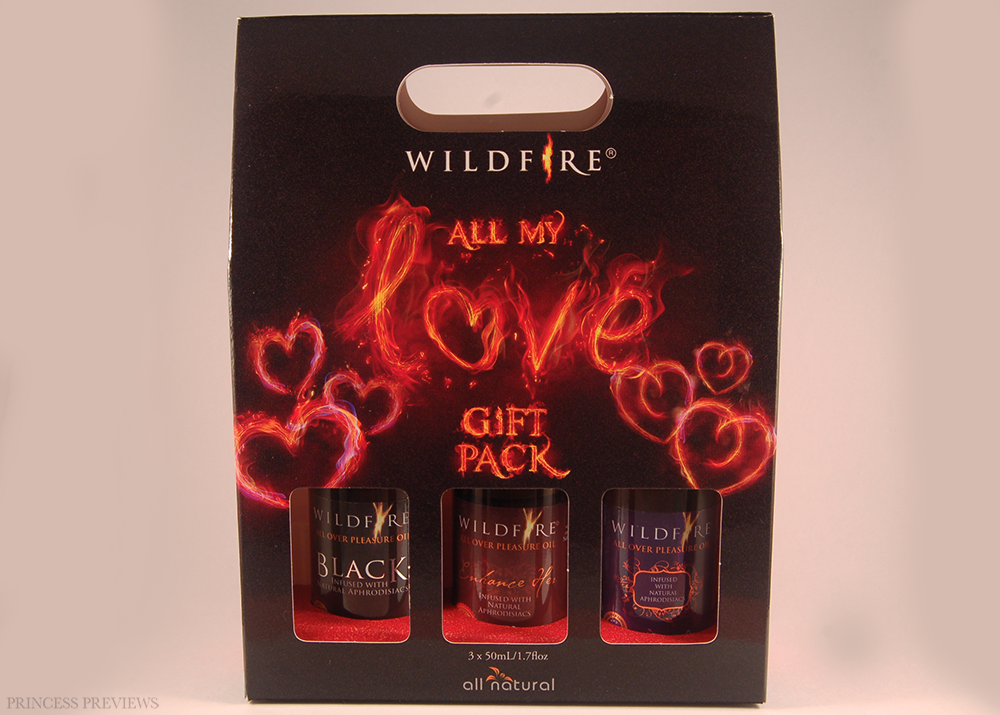 My products were sent from Wildfire around the 28th of August and I received them on the 17th of September. The package did say Wildfire was the sender, which may be an issue if you need to be discreet, but since Wildfire aren't a purely sex-related store I wasn't too bothered by this. The packaging for both products was then similar to the packaging I received last year. The All Over Pleasure Oil Gift Pack is in a well made box with cut-out windows to show the three bottles it contains, alongside a handle for easy carrying. The graphics on it look good and are discreet, and on the back it has the ingredients of all the different bottles. Meanwhile, the Cooling Arousal Oil came in a small box that is also attached to a rather large piece of thicker card, which has all sorts of information on it, such as how to use the product, and the ingredients. This has similar discreet graphics, and I really like the design of it.
The All Over Pleasure Oil 'All My Love' Gift Pack comes with three 50ml / 1.7oz bottles. These all use different ingredients to create different scents and effects, and are called 'Original', 'Enhance Her', and 'Black'. Since I have already reviewed the 'Original' version, you can check out that post for a more detailed analysis on what the oils are like and how they may be used. For this review, I'll just be going into the differences between these versions.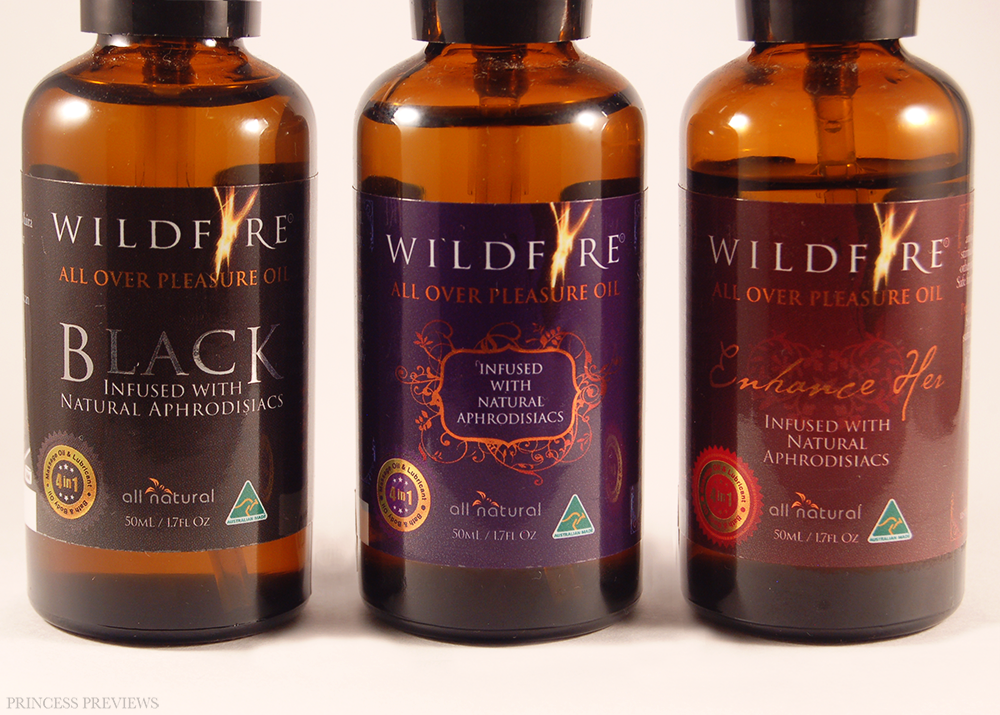 In regards to the bottles, the most noticeable difference is the size, since these are half the size of my previous bottle (which is full size). The designs are very similar between them however, and the same push-down nozzles are used. I find the label designs are far nicer on these smaller bottles, as they use a shiny golden ink in areas to make elements stand out, along with extra detail to make the product look more luxurious. It is also easy to identify which is which, as all of the labels use different colours and fonts that are reflective of the ingredients.
The idea of these oils is that they can be used for pretty much anything, but Wildfire's four main suggestions are as a lubricant, massage oil, moisturiser and bath oil. The scent and included ingredients in each are designed to create a natural aphrodisiac, so that they may enhance the experience of whatever you use them for. Each bottle contains different ingredients, and thus each offer a unique scent and purpose. 'Original' is designed for general use and for all genders, 'Enhance Her' is designed for those with vaginas and that like feminine scents (particularly those going through menopause), and 'Black' is a double strength formula made for those who want something really intense. I'd recommend checking out Wildfire's website to read over the ingredients lists if you are curious about them, but you can rest assured all the ingredients are natural, containing no preservatives or parabens.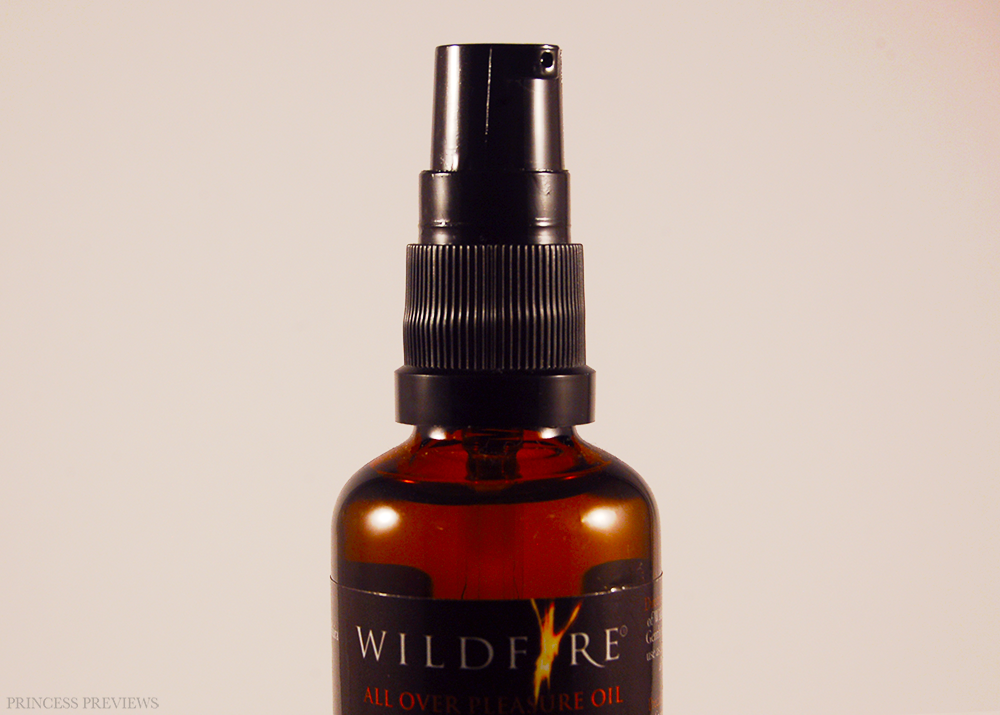 Whilst all the oils look the same and have the same texture, they are all very different in regards to their scents. As with my last review, I find the 'Original' scent more relaxing than sexual, with its scents of lavender and sandalwood, and in turn I find this helps relax me into sex. I was unsure of the idea of 'Enhance Her' being made with 'feminine' scents, but I find myself somewhat agreeing with it. The scent of it is a lot more floral than the others, and by excluding the lavender essential oil I don't find it as relaxing as the 'Original' scent. I certainly find this one more sexual feeling, and it reminds me mostly of women's perfume. As for 'Black', its intense nature is immediately obvious. The smell is very strong, far more so than the others, and is not relaxing or floral in any way. It isn't a bad smell, and I don't find it overwhelming, but I'm not sure how else to describe it other than intense. It is also easily the most sexual of the three, and just the smell of it is enough to get me going.
In use the feeling of the three is the same, but again it is the smell that easily sets them apart. Each one has its own purpose in my mind. 'Original' is for a relaxing "I've had a long day" kind of massage, 'Enhance Her' is for when I want to feel sexy and womanly, and 'Black' is straight-up just foreplay. Out of the two new ones it is hard to decide which one I like more. However, I particularly like the idea that the extra virgin olive oil base in 'Enhance Her' provides nourishment to the vaginal lining, helping to slow the natural thinning process that occurs during menopause. But despite this I think the double strength aphrodisiac herbs contained in 'Black' make it my favourite. Lately I've been rubbing some on my chest to get in the mood before toy testing, and it works like a dream!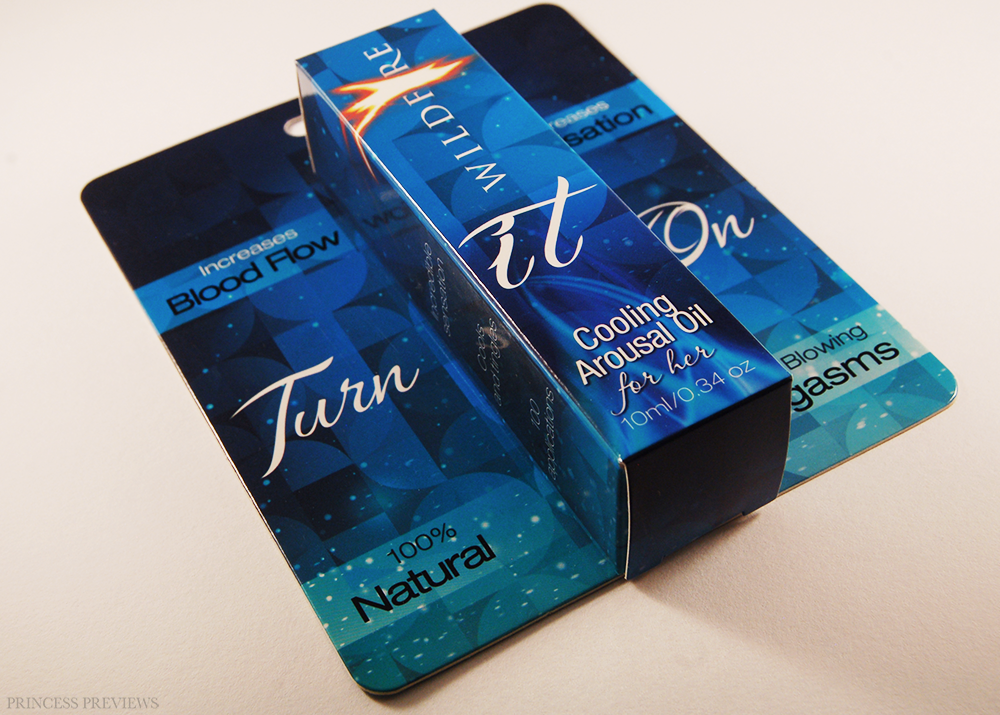 Moving on, let's look at the IT Cooling Arousal Oil. There is two in this range, the cooling 'Turn IT On' oil, and the warming 'Fire IT Up' oil. I don't review clitoral enhancers too often, but I do really enjoy them, with my favourite being my Pin Ups Jayne Bombshell Orgasm Balm, which also has a cooling effect. So I was super excited by the idea of getting a new one. I love the bottle design. It isn't fancy or luxurious at all, and for some people it may be a little boring, but I think it's great. It just looks simple and straight-to-the-point, and it is also very discreet. Essentially it is just a very small (10ml / .33oz) blue plastic cylinder, with some branding and small instructions. Taking the lid off reveals a small push-down spray nozzle, which I find very easy to use.
Applying it is easy, and I find it the best application method of any of my other enhancers. With others you'll need to apply it yourself, usually by using your fingers, which can make them messy and feel like a waste. But with this, you just need to aim it at your clitoris and spray it directly on. My only complaint with it is that perhaps a little too much sprays on at once, but any excess can be easily wiped away. Once on you are supposed to allow for 2 to 3 minutes for the sensation to increase, and then it will last up to one hour. However, I find the sensation immediately obvious, and it only takes about 40 seconds for it to reach maximum intensity. After this I find it will remain at this level of intensity for about 10 minutes, and then fade away.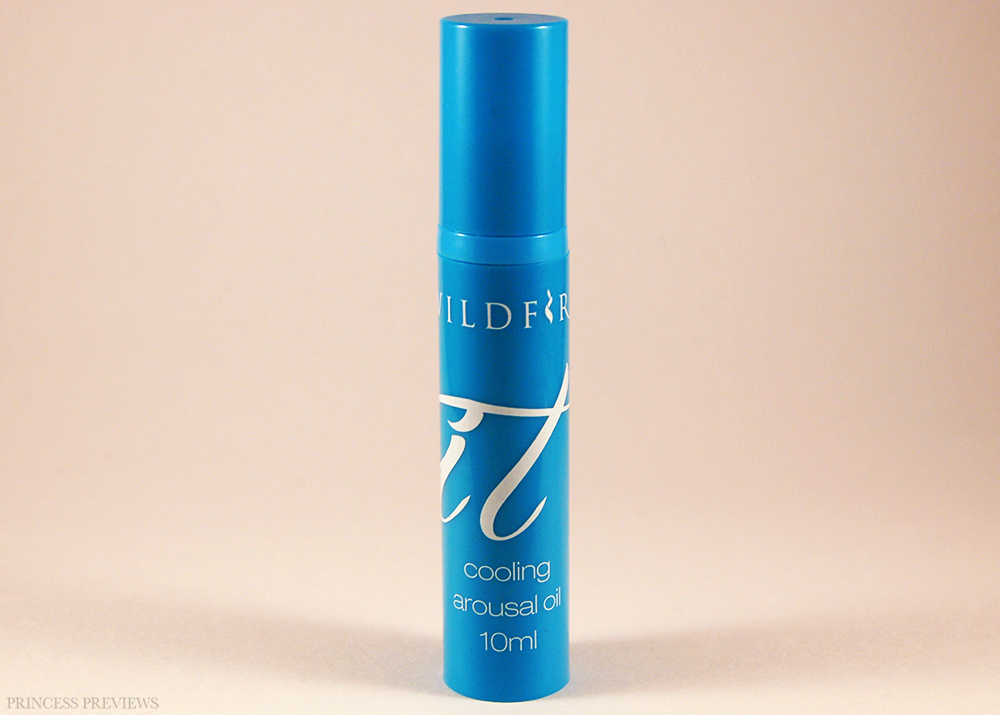 Despite the fact that this is meant to be a cooling enhancer, I find it to be more of a warming feeling. I also find that by the time it reaches its maximum intensity it can be very hot, almost like burning. The first time I used this I found this extremely worrying, and immediately wiped it off which removed the feeling. After trying it many times now though I am use to the feeling, and no longer feel the need to remove it. While it is certainly not the cooling sensation I was expecting or that is advertised, I still very much enjoy this arousal oil. It has a nice stimulation effect that I find helps increase pleasure and arousal, making it perfect for masturbation or sex. Plus, if I ever find the sensation too overwhelming, I can rest assured knowing it is easy to wipe away and won't last too long. No sticky or oily residue is left after use which I love, although this oil is heavily scented and this can remain long after. It contains spearmint and peppermint, giving it a very minty smell, and it reminds my partner and I of Vick's VapoRub.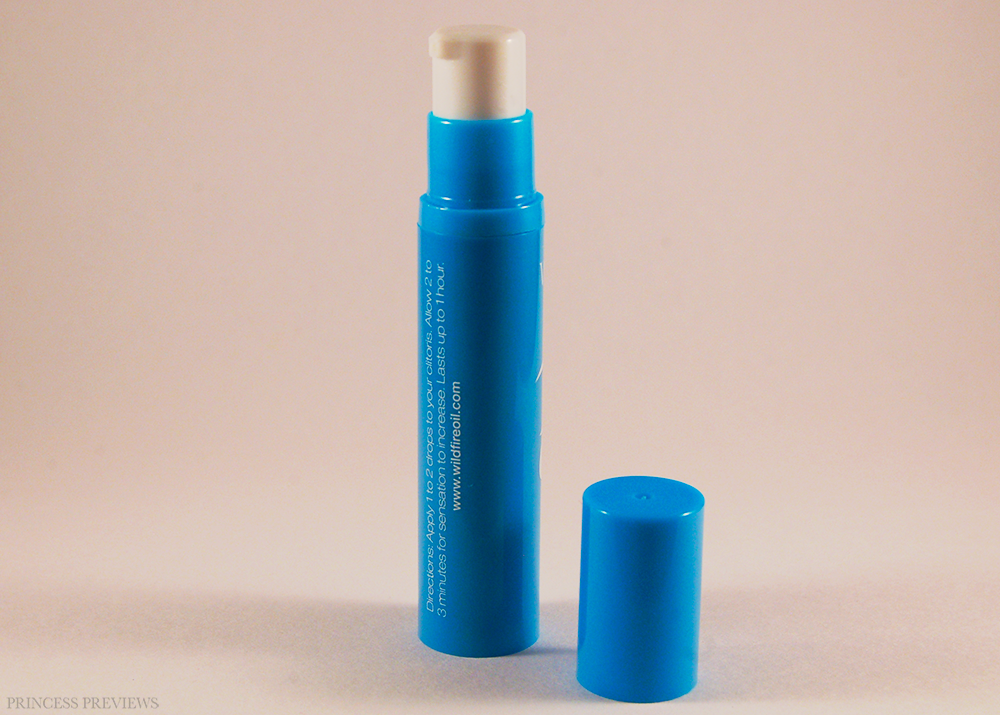 Overall, this has been another highly successful review of Wildfire's products. I had high expectations after my last review, and am so happy to have had these met. I found all three of the All Over Pleasure Oils to be fantastic, and each was unique enough to have different purposes and uses, rather than just feeling like I had three of the same product. I also love the 'All My Love' Gift Pack idea. These are the sorts of products where it is hard to pick just one, so being able to get all three for such a low price is fantastic. Plus, these would truly make the most romantic gifts, and it would be so much fun to explore each one with your partner (and with Valentine's Day right around the corner, these are my top picks!). Furthermore, the IT Cooling Arousal Oil was also great, and although I found it more warming than cooling, I still thoroughly enjoyed it.
You can buy the All Over Pleasure Oil Gift Pack at Wildfire for just $44.95 AUD / $36 USD!
And get the IT Cooling Arousal Oil at Wildfire for just $29.95 AUD / $24 USD!
I received this product in exchange for an honest and unbiased review.