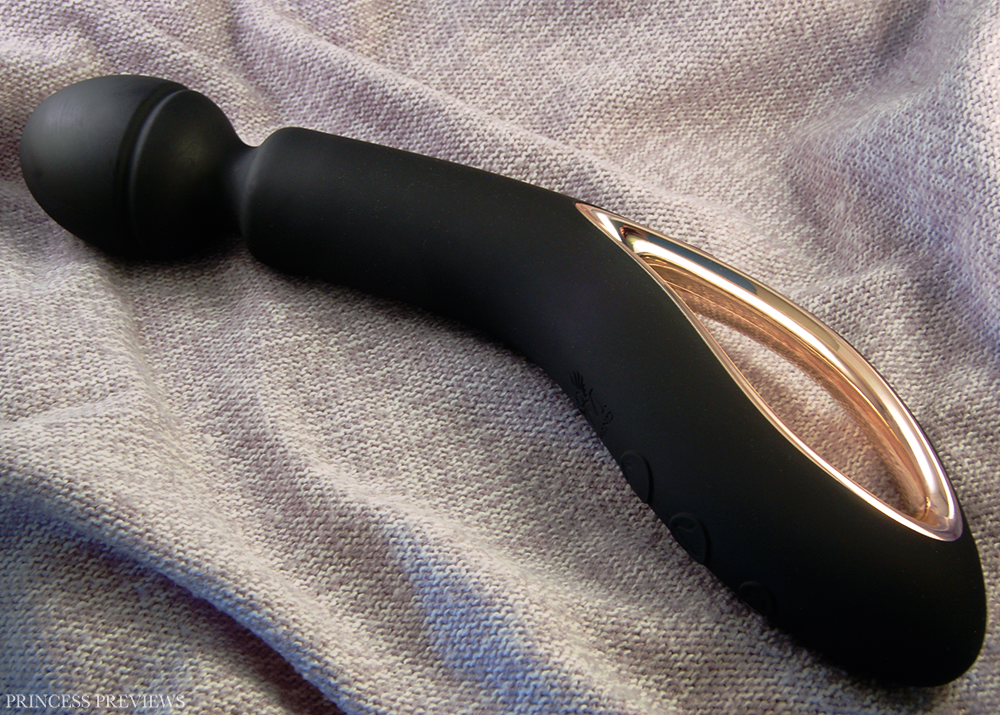 Wand massagers are kinda my thing, and nothing makes me happier than getting more. I have a bunch on my wishlist from reading reviews by my fellow bloggers, but nothing gets me more excited in the sex toy world then when a new massager comes out. Every new toy has the opportunity for it to be the next big thing, for it to beat out my current favourites and take a prized spot in my bedside table drawer. So when the O-WAND was announced and I was contacted about reviewing it I was over-the-moon excited to see if it would be able to live up to the high expectations the creators have set.
On a segment of HBO's 'Talking Funny' Louis C.K. talks about how at 19 he upset Jerry Seinfeld by introducing him as the 'Best Comedian in the World'. Jerry explains that this was because as soon as he was introduced that way the audience changed from excited to see him perform to judgemental and critical. I bring this up because this is exactly how I feel when looking at the O-WAND's main tagline, that it is the 'Worlds Most Powerful Massager'. Now, I understand marketing and why they thought it was a good idea to say that, but from a reviewer's point of view this is probably the worst thing they could have said, it is like they are setting themselves up for failure. Coming at this review originally I was excited to see how it compared to my Magic Wand Rechargeable and Doxy Die Cast, but didn't expect it to be more powerful than them, although if it had that would have been a wonderful surprise. But after I saw that tagline on the box my thoughts instantly changed from optimistic to "oh really?". I won't let this sway my opinion for the review, but I'll be comparing the wand to my MWR and Doxy a lot more than I otherwise would have.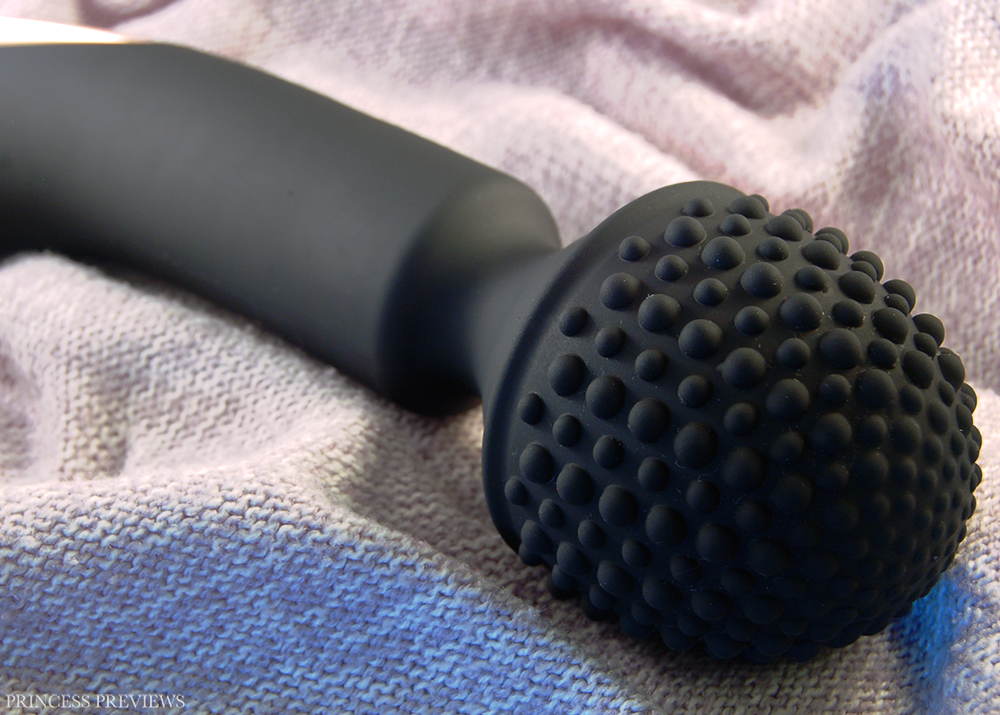 The O-WAND is a brand new rechargeable wand massager produced by UK company Mr & Mrs Toys. The toy is said to have "reinvented the personal massager" as well as being the "most powerful, safe, and stylish" massager on the market. Reinventing a sex toy is a big statement, and personally I don't think massagers need it. The main differences this toy offers over others is a travel lock feature and the fact it is waterproof, even though these are both common features for sex toys these days. The design for the toy is very stylish, with the entirety of it being made of body-safe black silicone apart from a gold coloured handle made of ABS plastic. The silicone is buttery and soft, but has a full length seam and attracts a hella lot of lint. A big difference between the O-WAND and my MWR and Doxy is that the head of the toy is tapered to a point, rather than a more broad and flat end, which may allow for better pinpoint stimulation. It has three buttons, 'on/off', 'vibrations' and 'patterns', which is the same as the MWR, plus four power settings and seven patterns. Since the buttons are made of silicone too, when pressing down on them they create a satisfying indent feeling. Above the buttons is the logo for the brand and toy, and the head has a good amount of flexibility to it.
The toy has four attachment pieces that are made for it and the O-Burst attachment is included. This is pretty neat because while I love wand massagers I've never actually owned an attachment for one before. This particular attachment has bumps all over it and is simply designed to add texture to the O-WAND's otherwise smooth head. It is made completely of silicone and also fits perfectly on my MWR and Doxys.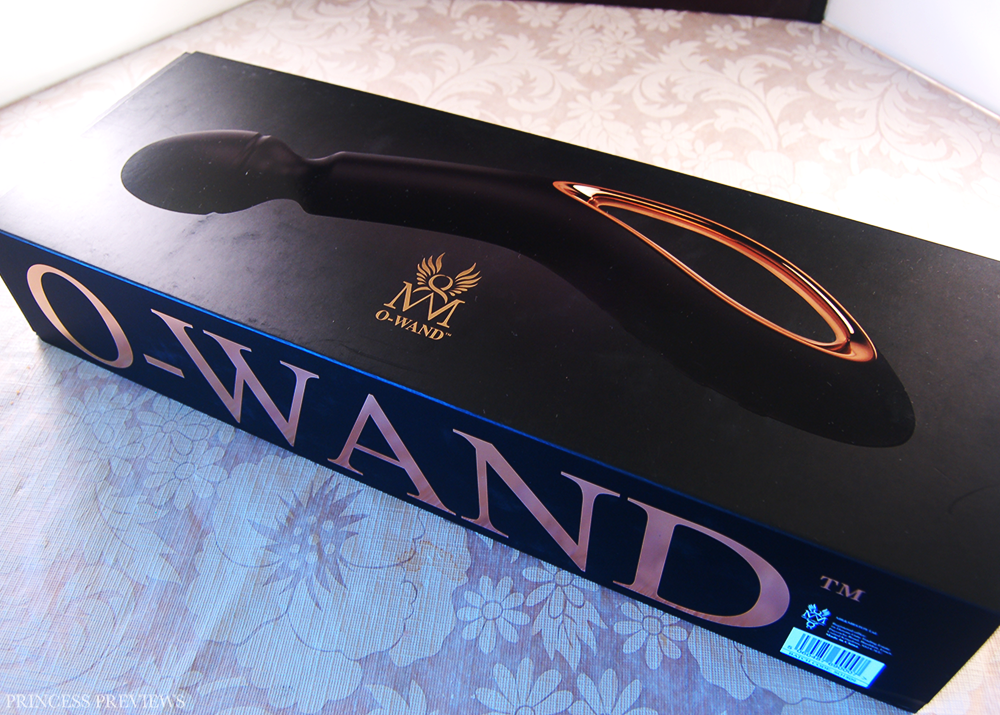 The O-WAND was sent during the week of the 14th of November and it arrived on the 30th, which is a pretty good amount of time for a UK to Australia delivery. On the packaging the product was listed as a "Novelty Toy Gift Set" and the sender was listed as Mr & Mrs Toys. This was all fine for me but if discretion is really important to you it may be something you want to consider. The actual packaging for the O-WAND is absolutely stunning and just oozes sophistication and luxury. It is also the largest packaging I've ever had for any sex toy, including my MWR and Doxy. The outside sleeve of the box features pictures of the toy, as well as a bunch of information on what it can do. Upon removing the sleeve a high quality black box which only features the logo and nothing else is revealed. This opens up through the use of magnets and once another piece of card protecting the toy is removed, the toy and attachment are viewable. These are held in place by foam cut-outs which are covered in gold card to further add to the luxurious feeling of the product. Next to the toy is a box which includes the charger and all the various adaptors that are included. Also included is an instruction manual which has a few details on the use and cleaning of the toy. There is also supposed to be a warranty card included in the instruction manual, however as a reviewer I did not receive one, but rest assured purchased boxes will have them included. Not only is this packaging beautiful, it allows for a easy reusable storage solution for those that need it.
The first thing that struck me with this toy was its immense weight for something that is silicone based. It weighs in at 690g / 1.5lb, 10g less than my Doxy Die Cast which is made out of metal, so I would avoid this toy if you have weak wrists. The way its handle works makes the toy feel even heavier than it already is though, because rather than just holding it straight down or angled to whether you want it like other massagers, the O-WAND has a curved handle which requires you to put effort into holding it the right way while also being able to have your thumb over the buttons. I don't feel like a whole lot of thought went into holding this toy, because it is just downright uncomfortable to hold, with the hard 90 degree turn where the plastic meets the silicone digging into my fingers and I can barely get my hand around it, mixed with the fact you must use your pointer finger to steady it otherwise it cannot be balanced, and even then it is a struggle to be able to press the buttons, plus it is completely tiring on the arm. I've been practicing holding it while I write this and my right arm is now exhausted and my pinky and pointer things both ache, which is never a good sign after only holding it for a few seconds compared to how long I need to hold it when masturbating.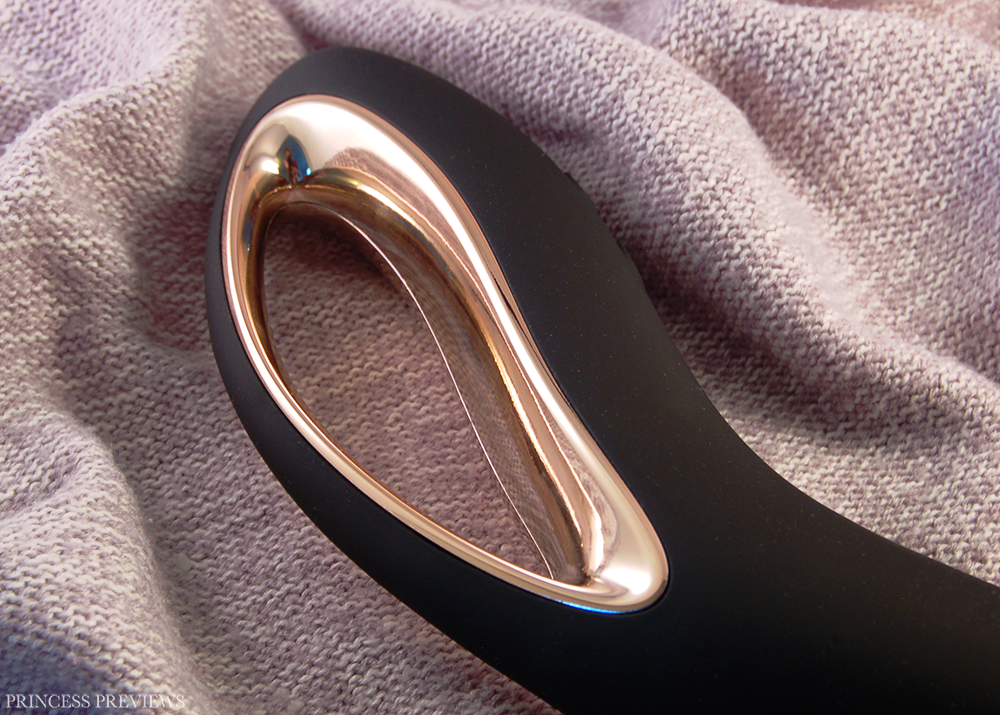 Charging this toy is very simple and easy. It has a tiny hole in its silicone at the very end of the handle, which can be located due to a electricity symbol surrounding it. This is sealed when not in use which allows the toy to remain waterproof, but when charging is needed the charging jack easily slides in place. It comes with a bunch of international plugs which is great and makes up for the fact it isn't USB rechargeable. When I asked for mine no Australian plug was available yet which I was informed of and okay with, but this is meant to be coming out soon. When charging the power plug will actually have a static red light, rather than a light on the toy. Charging is meant to take 1.5 hours and this will give you around 3 hours worth of play time. This toy doesn't work whilst it is on charge, and so its cable is a regular size for a rechargeable toy, rather than the long lengths of the MWR and Doxy.
Using the buttons on the O-WAND are very similar to the MWR with the biggest different being the travel lock feature. Basically what that means is that you need to hold down the 'on/off' button 3 seconds before the device turns on. Once this is done the buttons will turn red, however the toy will not start vibrating. After this you can either use the 'pattern' button to cycle through the 7 patterns or the 'speed' button to cycle through the four speeds. If you switch buttons then it'll start at the 1st speed or pattern again. To turn off the vibrations just click the 'on/off' button again. The toy will stay 'on' however until the 'on/off' button is held down for 3 seconds again. This is something I constantly forget to do after using the toy only to go back to it hours later to find it still 'on', resulting in me having to charge it more often than usual. Other than this annoying system (there are better ways to set up a travel lock!) I can't fault the button system, especially since having the patterns (which I hate) and vibration speeds separated is always the best thing ever.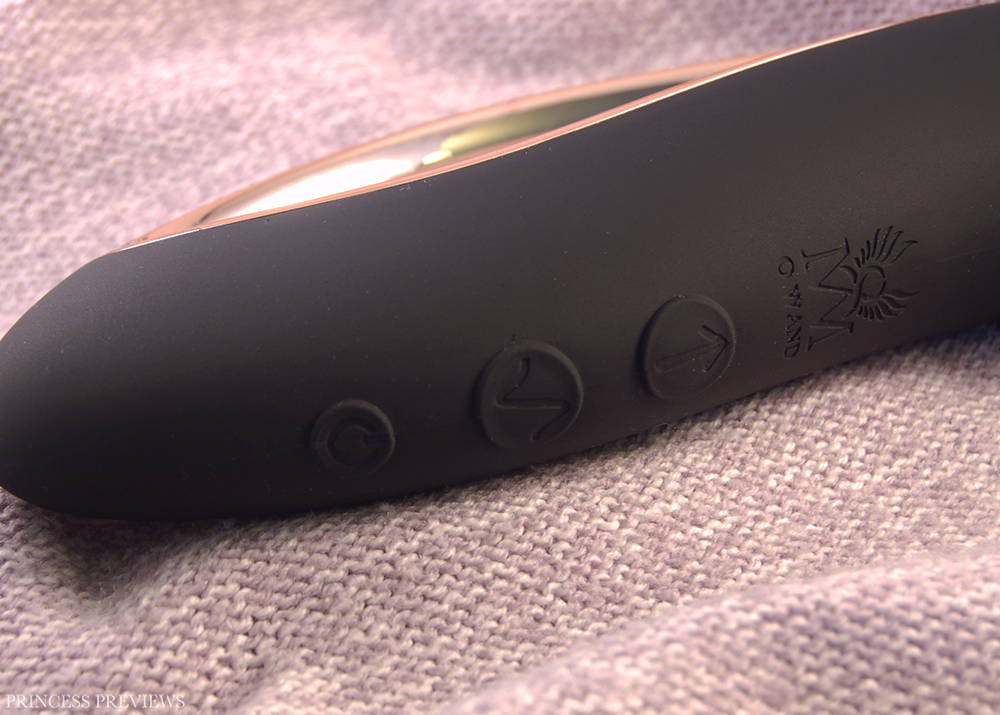 Now to the thing I was most interested in, the claim that the O-WAND is the "world's most powerful massager". Turning on the O-WAND it is immediately obvious that it is more buzzy that rumbly. That is generally a bad sign in the vibrator world, because whereas a buzzy vibrator just buzzes away on the surface of the skin and generally causes numbness, rumbly vibrations actually deeply penetrate whatever is being targeted. This can come down to preference, with some people preferring buzzy vibes, but personally I like rumbly. When used against the MWR and Doxy, there is no question about which ones are stronger however. To be honest, the O-WAND does quite well and certainly does hold up against the competition, but its mostly the lack of the deeper rumbly vibration style that makes it feel weaker than the other two. As for noise level it is pretty much on par with the MWR, with the Doxy remaining the quietest.
Actually using the O-WAND is good. I can orgasm relatively easy with it and achieve a lot of pleasure. Orgasms obviously aren't as fast or as strong as if I was using my other wands, and due to the buzzy settings I often have trouble bringing myself over the edge, similar to my IMTOY Gazelle, but I believe if my clit wasn't so use to the stronger vibrations of my Doxy and MWR then this wouldn't be an issue. The biggest concern for me, as I mentioned previously, is holding it. I've found it practically impossible to hold comfortably with the actual handle, not only does it put an unnecessary amount of weight and strain on my wrist, but I am also unable to put the required amount of pressure down on my clit that I need to orgasm. I was told the toy is designed to be held towards you, which I find does relieve the strain on my wrist, however this means the head of the wand is also on its side which doesn't stimulate me as well as its top, plus I have trouble pressing the buttons from this position. Instead I've gotten use to holding the toy upright in the space between the head and handle. I find this way of holding it relatively comfortable, except it means I can't press the buttons without two hands which can be very frustrating in use. Using it with the O-Burst attachment is fun, it certainly adds some interest when I first start using the massager by providing some texture to rub against me, but when I'm actually using the massager to orgasm I generally hold it still so it doesn't really do anything for me then.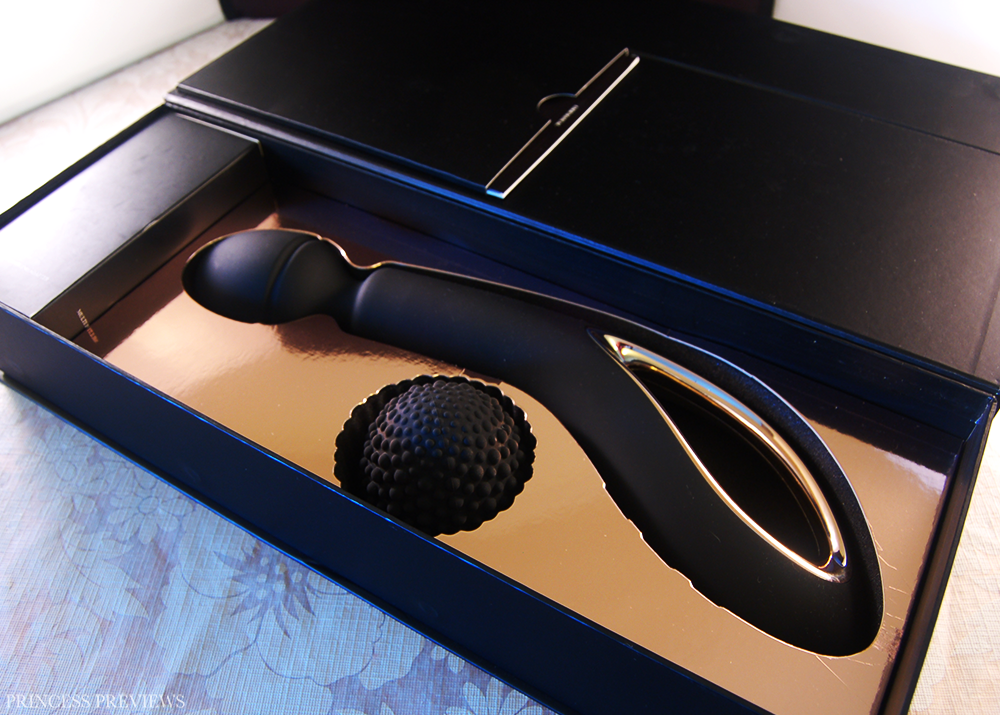 Since the O-WAND is waterproof cleaning is made easy! Just wash down the end after every use with some soap and warm water and leave to air dry. Be careful to only use water based lubricants with it or perform a spot test before using silicone lubes. Since it is silicone it can be stored where ever you want really, but to avoid damage and keep it from picking up lint storing it in its original box is recommended.
The O-WAND surprised me and exceeded my expectations for it. While it didn't quite live up to my Magic Wand Rechargeable and Doxy Die Cast as its tagline might have suggested, it certainly put up a good fight and was not that far off. The biggest issue for me was the handle, visually I love the appearance and design of it, but it just wasn't ergonomic or comfortable and really made using it quite difficult. My main struggle in recommending the O-WAND comes down to its price, if this was a slightly cheaper wand than the MWR ($124.95 USD / $166.80 AUD) or Doxy ($209.99 USD / $280.96 AUD) I would 100% recommend it as a alternative and cheaper option. But since it is actually more expensive than the others I don't feel like I can personally recommend it since I feel those wands are of a higher quality for less. Although I suppose if having a waterproof feature is important to you then this may be enough reason to buy one. Either way, I enjoyed trying out the O-WAND, for Mr & Mrs Toys first crack at a wand massager they have done a brilliant job, and I can't wait to see what they come out with next.
You can buy the O-WAND directly from its website for just $335.93 AUD / £199 GBP / $250.23 USD!
Material - 95%
Appearance / Design - 70%
Solo - 65%
Partner - 60%
Vibrations - 90%
Noise Level - 65%
A powerful wand massager thats biggest let down is its uncomfortable handle.
I received this product in exchange for an honest and unbiased review.