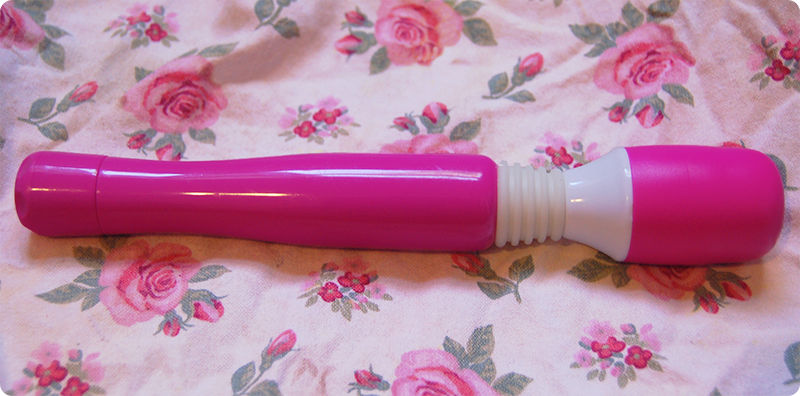 The Wanachi Mini was my first wand massager, and while it has now been well surpassed by my Fairy Wand in terms of power and vibration, it remains to be my go-to toy for it's quick easy use and discreet nature.
The Wanachi is the result of a "Hitachi-like name" collection Pipedream created, and has a length of 18 cm / 7.3 inches and a circumference of 11 cm / 4.5 inches. It's waterproof, requires two AA batteries, and comes in pink, purple, blue, white and black. Its main body is made up of a hard, smooth plastic, while the actual head is made of silicone. Furthermore it's very sleek and has almost no drag, meaning it does not catch hair or pick up lint. The neck can be bent up to 45 degrees according to Pipedream before there is a risk of damage, and while I am usually fairly rough with it I have not yet had any issues with it.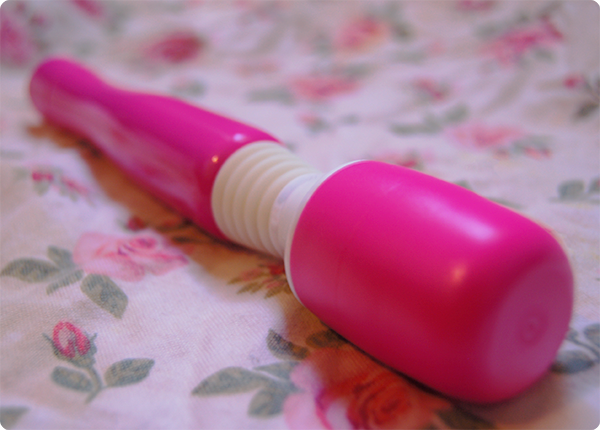 Turning the dial at the end, which is also where you insert the batteries with an easy screw top, controls the four levels of vibrations this massager has to offer. There are no patterns, and since they are localised in the head of the toy your hand shouldn't go numb from holding the handle. I particularly like the Wanachi's dial in comparison with my other vibrating toys. Buttons, and even the Fairy's dial which is located on the middle rather than the end, can be annoying to adjust and don't always make for easy wrist movements. By having the dial at the end on the Wanachi however, I can easily hold the handle with my fingers and palm, and use my thumb to rotate the dial and control the vibrations with ease.
Now, I don't hide the fact I love my Fairy Wand. While I've owned and used my Wanachi for around 2 years now, my Fairy is only a few months old, and when I got it I learnt what a real massager is meant to feel like. In regards to vibrations and power, the Wanachi does not even come close, and if I had an actual Hitachi to compare it to, it would be a big jump to give this toy the similar name it currently holds. If you want a proper massager then don't go for the Wanachi. But, if you want something easy, discreet, and most of all cheap, then this toy is for you. Now, with this, you'd assume my Wanachi has gone into retirement since the arrival of my Fairy, but that's not at all the case. I use these two wands about half-half of the time. My Fairy Wand is great when I want to just use one toy solo or have a relaxing evening that I've planned ahead of time, mostly because to use it I have to plug it in which isn't the easiest for me to do at the best of times, and if I need a toy quickly, say during spontaneous sex or a blowjob, I certainly don't want to stop what i'm doing to start plugging in my Fairy. It's at those times, that the Wanachi shines. It's always sitting there, ready to go whenever I need it, and it gets the job done.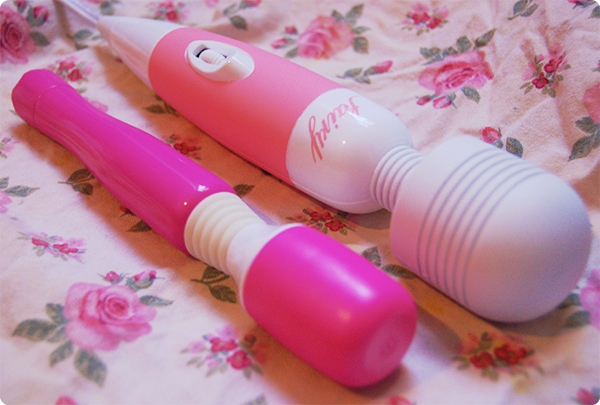 When comparing just the sounds of the Wanachi vs the Fairy, it's an incredible difference. On the Fairy's lowest setting the Wanachi matches it on it's highest setting. While the Wanachi is more of a low rumble on its lower settings and is felt throughout the entire length of it, the Fairy on its lowest sounds a lot more motorised and based in the head only. So while power may not be on the Wanachi's side, there is a pro to this fault, being that it is quiet. I live with housemates, and on its lowest setting I worry they'll hear my Fairy. But, other than on its highest setting, there is no fear in using the Wanachi. Its low power means low noise, and it's seriously silent if under the covers. Massagers are notorious for being hard to hide, being one of the biggest and loudest clitoral stimulators. But this one breaks those boundaries with its sleek design, cordless nature and quiet vibrations. It's a perfect dorm of travel companion, but since it can turn on very easily, make sure to remove the batteries.
The Wanachi doesn't give me a powerful orgasm, but it certainly gets me there and feels good doing so. With prolonged use it heats up, but I never need to use it long enough for it to be more than mildly warm. I love the size of it, and it feels good in my hand, while allowing for one-handed use if needed. It's a match made in heaven with my CalExotic's Mini Double Dong, which I find my Fairy Wand is too overpowering to use with. It also works well during sex, being small enough to put on my clit even in missionary position, and I love not having to worry about wires getting tangled up like with my Fairy. Moreover, solo use is still fun with this toy, and most importantly,  gets me off. I don't think I've used different batteries for it in the two years I've had it either, which is quite amazing considering its extended use. Additionally since the toy is waterproof it can be taken into the shower and enjoyed there too.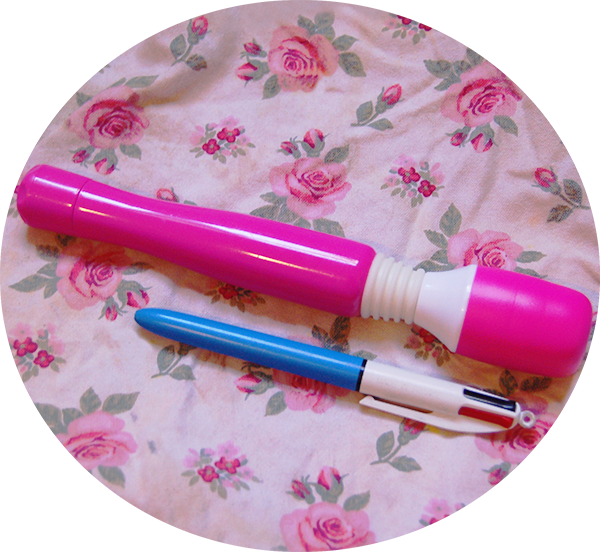 Maintenance of the Wanachi is easy, as with most external vibrators, so anti-bacterial toy cleaner and warm water will do the job fine. Make sure to store it within its own bag or away from your other silicone toys as prolonged contact can cause damage. On that note, make sure to always use non-silicone based lube for this toy.
Pipedream's Wanachi really is the "my first wand" sort of toy. It really isn't for experienced wand users, and its vibrations will no doubt be a let down unless you bought it specifically to act as a wireless alternative to your usual more powerful toys. But, for a beginner, this toy is the perfect first buy and introduction to the world of external pleasures.
If you are in Australia you can buy Pipedream's Wanachi Mini at Femplay for $16.95 AUD!
For everyone else you can buy it over at SheVibe for $21 USD!
Material - 85%
Appearance - 80%
Solo - 60%
Partner - 60%
Vibrations - 40%
Noise Level - 85%
A good and cheap beginners wand vibrator.