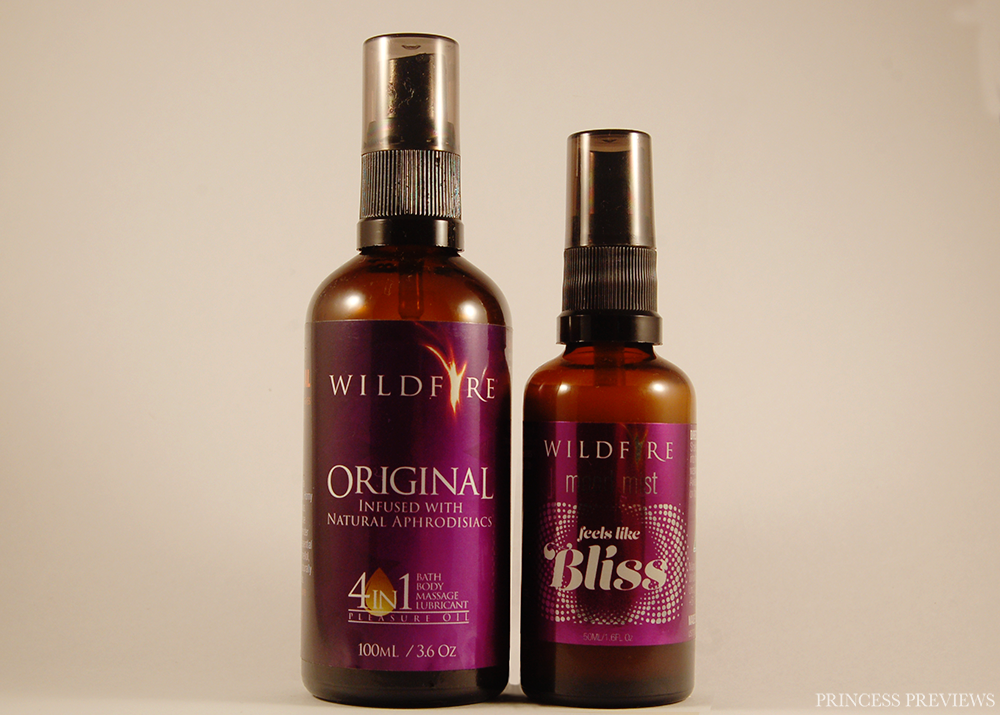 This blog's main focus is to explore my own sexual journey, and with that I like to review any products that contribute to it. Sex toys are obviously a huge focus for me, because they are one of my favourite ways to be sexual alone, as well as fantastic for enhancing partnered play. But there are many other items that can help with this, such as lingerie, lubricants, and scented-items like candles and bath bombs. So I was super excited to learn about Wildfire recently, who make a great range of products, from massage oils, to lubricants and body butters. Plus, they make all of their goods in Australia, which I always go out of my way to showcase on the blog. They were kind enough to send me two of their items for review, their All Over Pleasure Oil in Original and their Mood Mist in Feels Like Bliss, and I'll be discussing both in this post.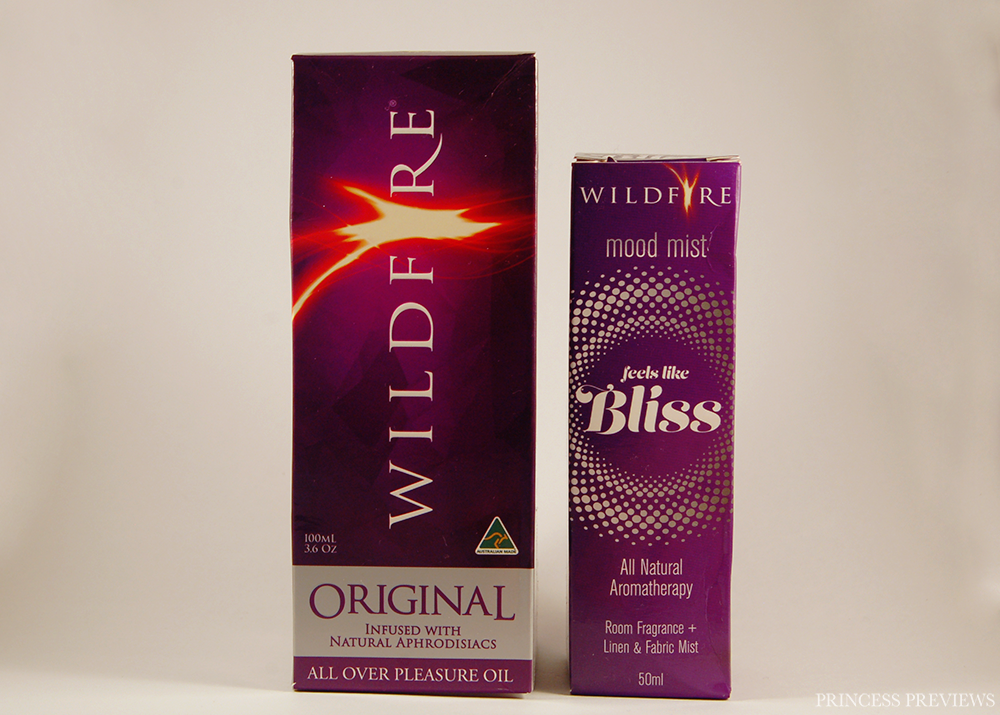 My products were first sent from Wildfire around the 6th of March. Unfortunately there was some kind of mix up with the initial postage as it never arrived to me and eventually got returned to Wildfire. On the second attempt at sending the items, however, it was successful, with the package being sent on the 21st of March and it arriving to me on the 24th. The package itself was very discreet, with no mention of the name of the company who sent it or what was inside. Upon opening the postage package I found the boxes for the two products, both which had security seals which I thought was a nice touch. Both boxes are simple but effective, and explain what the different products do, ideas for use and directions on how to use them. Inside the All Over Pleasure Oil box there is also a 'Ignite Your Passion Fantasy Booklet' which is a mix between a product catalogue and a guide on tips for use.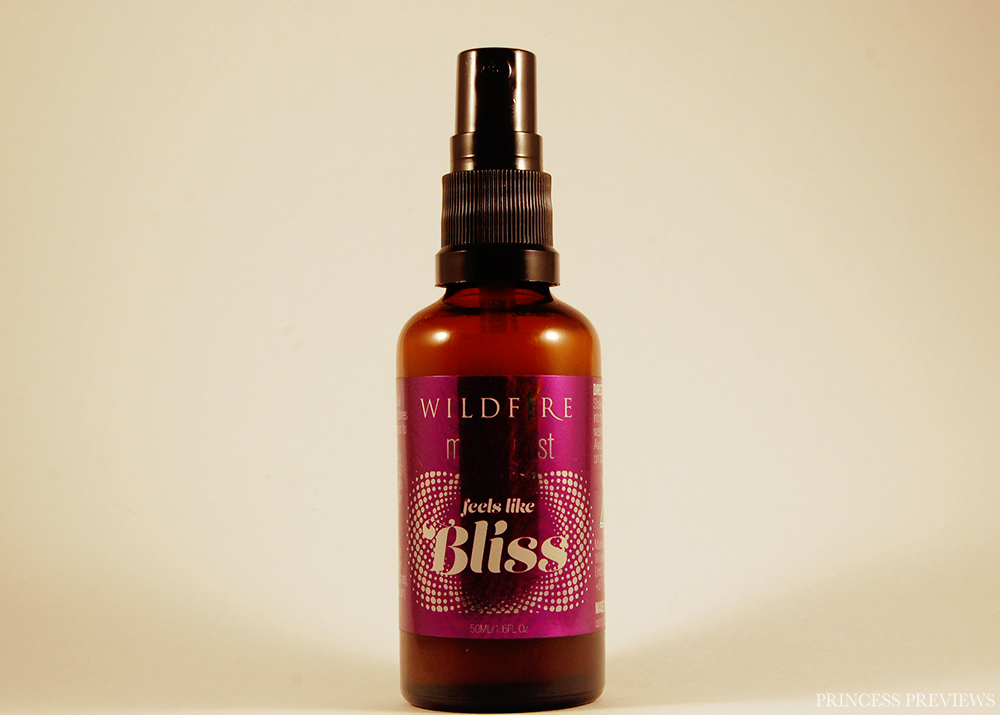 The Mood Mist in Feels Like Bliss comes in a small 50ml glass bottle. It has a spray head and comes with a cap to ensure it cannot be sprayed accidentally. It all feels very well made and the label includes details about the ingredients, how to use it and what it is designed to do. Feels Like Bliss uses lavender and sandalwood as its main scents, which are designed to create a sense of calmness and relaxation when sprayed. While I didn't choose which Mist I received, I grew up surrounded by lavender (it was my 'birth' flower) and it is my favourite smell to aid relaxation, I often use it to help me fall asleep. Plus, sandalwood is a scent I also enjoy in candles, so Feels Like Bliss was definitely a good choice for me. If you are vegan or prefer to buy vegan friendly products, you'll also be glad to know this is one of them. The Mood Mist line also comes with Feels Like Lust (with ylang ylang, bergamot and patchouli for an enticing fragrance) and Feels Like Love (with sandalwood and rose geranium for a passionate fragrance), which are more suitable if you plan on integrating this into sex.
I love having different things around me that can help me relax, such as calming candles and soaps, and so this Mood Mist has found its way into my heart very easily. If I am feeling stressed out then one spray of it (a little goes a long way) instantly relaxes me and allows me to calm down. If I am having trouble sleeping one spray on my pillow will help me sleep. If I am anxious about going out I can spray a little on my clothes, which calms me and also doubles as a perfume. It can be used on smelly clothes or sheets to freshen them up, and if I forget to light a candle to make the room smell nice before guests come over I can quickly spray this around the room to create the same effect. I love this spray because it is so versatile and can be used in so many different ways. I may have listed a few here, but trust me when I say I could just go on and on. This is definitely a product that has changed the way I do things around the house, and I'm so glad I had the pleasure to try it out.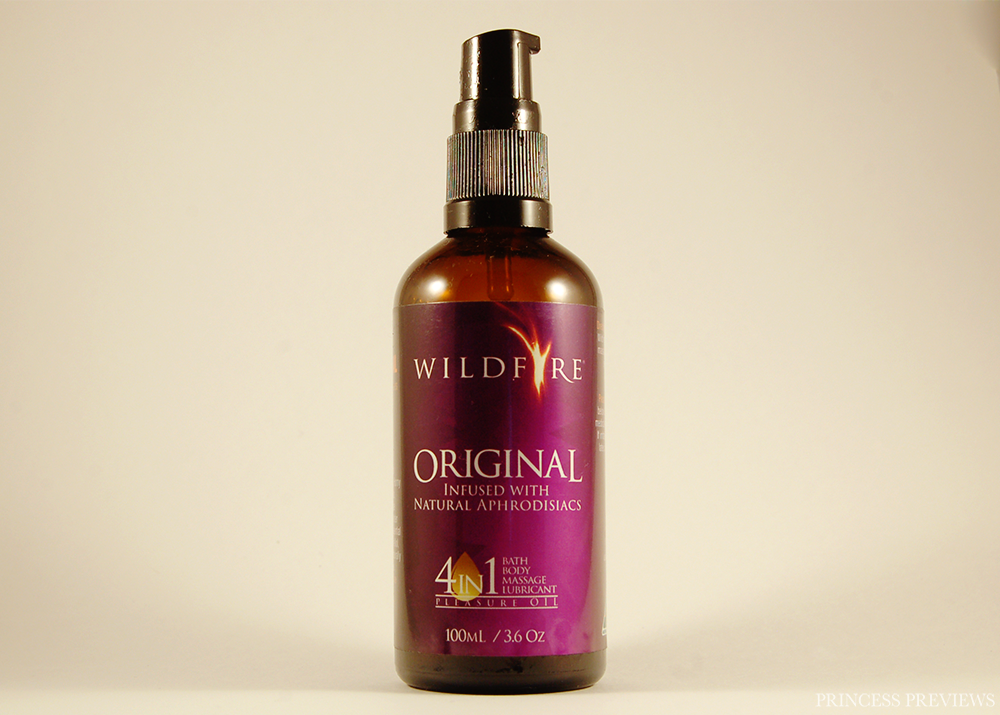 Now onto the All Over Pleasure Oil in Original, which is actually designed to compliment the Feels Like Bliss Mood Mist. It comes in a bottle similar to the Mood Mist, although is quite larger, containing 100ml of oil, and has a pump top instead. Also similar to the Mood Mist is how versatile this product is, and that is immediately shown off with the name of an 'All Over' Oil. You can pretty much use this for anything, but Wildfire have four main suggestions: a lubricant, massage oil, moisturiser and bath oil. The scent and included ingredients are designed to create a natural aphrodisiac, so it is designed to enhance all of the above suggestions in this way. While I am use to lubricant reviewing, and have also reviewed a moisturising lube before, this is my first time reviewing a lubricant which has so many dual purposes. I really like the idea of it, because rather than switching between several products you can just stick to this, making things a lot more convenient and cheap! The other scents the All Over Pleasure Oils come in is Black, which is designed to be double strength, and Enhance Her, which is meant to have more feminine scents.
Taking Wildfire's advice, I decided to test the All Over Pleasure Oil out in each of their four recommended ways. Firstly, during Earth Hour last month my partner and I decided to plan our night around it and we both gave each other massages. We found the application really easy and the oil felt good both on the skin of who it was being applied to, as well as on the hands of the applicator. The scents, similar to the Feels Like Bliss Mood Mist, are very calming and relaxing which I really loved. If you enjoy massage oils, as we do, then you'll very much enjoy this one. The fact that it also acts as a moisturiser meant that we didn't feel the need to wash it off after either. Since then we have integrated using this massage oil into a regular part of our intimate time. This is great to see as it is not always that a product continues to be used after initial testing.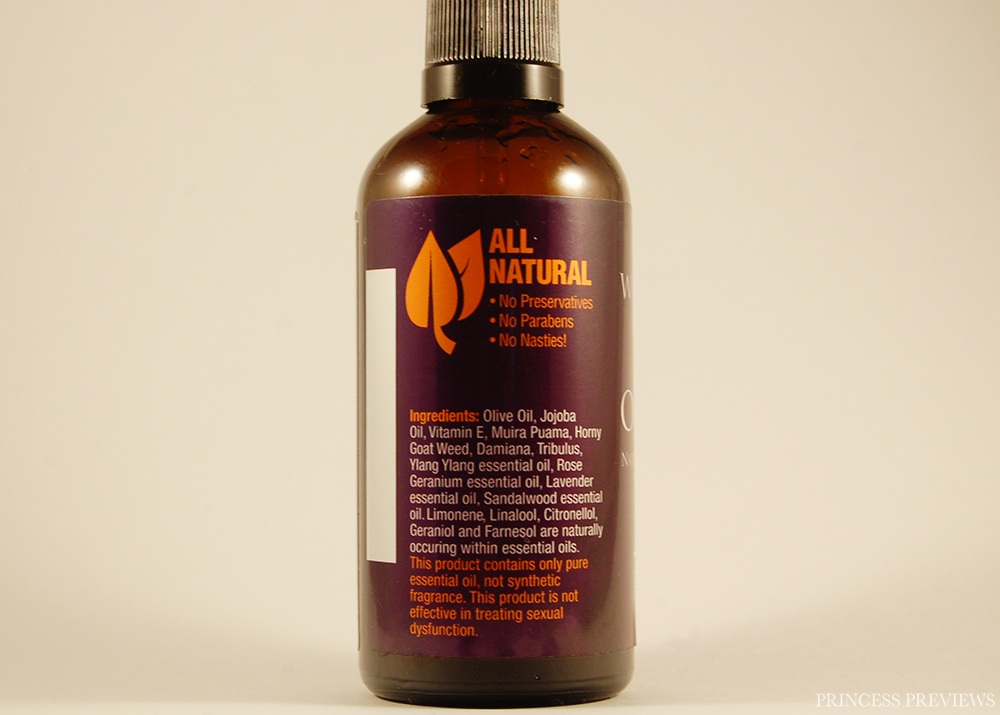 Next up I tried it out as a bath oil. Now, I don't actually have a bath, which is often an issue when testing waterproof toys, but I liked this product so much from using it during the massages that I just had to try it out in water regardless. So, I did what any dedicated reviewer would do and blocked the drain in my shower, made a little pool (more like a puddle), and sat down in it. This may sound lame, and it kind of was, but once I added the oil it made everything smell amazing and became super relaxing. Washing myself with this water made my skin super soft and it also meant I smelt amazing when I eventually got out. This has now become a regular once a week thing for me that I do to help me relax, and I can't wait for the next time I have access to a bath to try it out properly. I am a big bath bomb fan, and this is definitely on par in terms of relaxation and how my skin feels after to some of my favourites, plus it is waaaay more cost effective.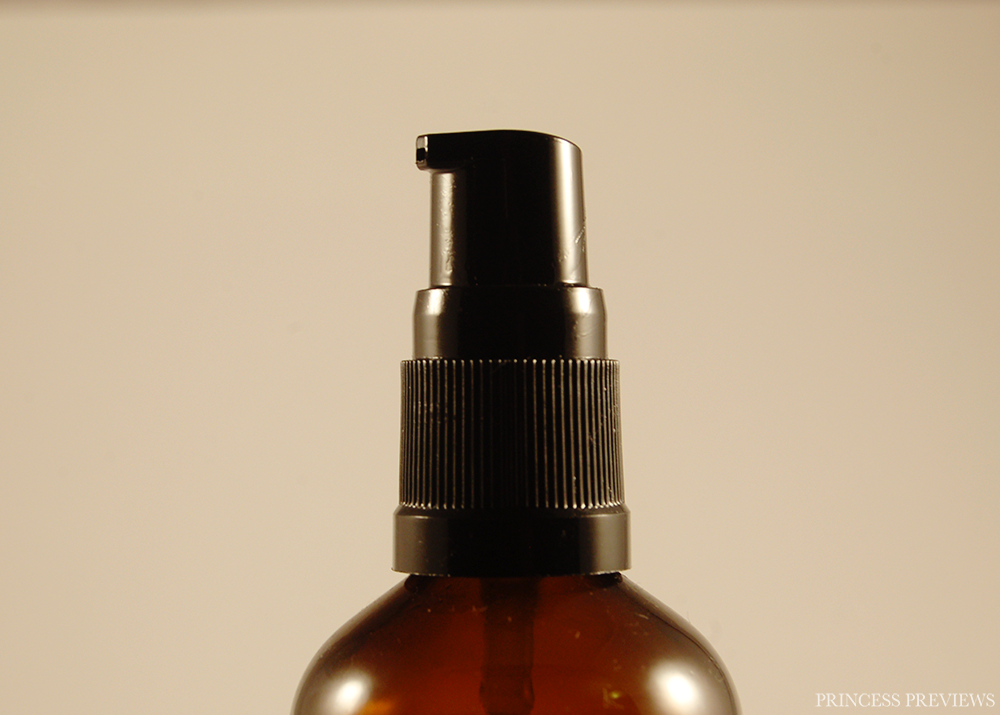 My last test for the All Over Pleasure Oil was as a lubricant. This is my first oil-based lube, which is compatible with all body-safe sex toy materials, however it isn't suitable for use with safer sex barriers made with latex or polyisoprene. The oil is made from all natural ingredients, such as olive oil and jojoba oil, and is paraben free. All my other lubricants are water-based, so oil is very different for me since it lasts a lot longer and a small amount goes a lot further. However, because of this if you are prone to infections you may want to avoid oil-based since it takes longer to clear out of the body. In use the most immediate difference I found in comparison to my other lubricants is how quickly it runs off the toy, as it has the same consistency as you would expect from any cooking oil, so applying it to toys without it running everywhere is quite a challenge. However, the upside to this is that if it does runs onto your skin you can just rub it in and enjoy its benefits, rather than with some lubricants where you'll need to wipe it off with a tissue. A small amount goes a long way, so I find you only need about 2 squirts of the stuff, and then that will last you quite awhile. Toys coated in it feel a lot smoother and the lubricant feels quite thin, although it isn't as natural a feeling as I get with Sliquid Sea or Satin. After use it is easy to clean off toys, however the feeling will remain on your genitals for a little while.
Overall, I have throughly enjoyed testing both of these products from Wildfire. They aren't the type of thing I usually review, and so they provided me with a much needed breath of fresh air from my usual testing. Usually when I review products they'll either be put away in storage or kept in my bedside table, but these products I have kept out and have been continuously used even after my testing was finished. The Mood Mist is great at letting me relax and can be used in so many different scenarios, and the All Over Pleasure Oil really makes for a great lubricant and massage / bath oil. While I have used both quite a lot already, I have barely scratched the surface of them since a small amount goes such a long way, and I do believe I will be purchasing more when I do finish them off. All in all this has been one of my favourite reviews I have written so far this year, and I'd definitely recommend them to anyone who is interested.
You can buy the All Over Pleasure Oil in Original at Wildfire for just $29.95 AUD / $24 USD!
And get the Mood Mist in Feels Like Bliss at Wildfire for just $14.95 AUD / $12 USD!
I received this product in exchange for an honest and unbiased review.