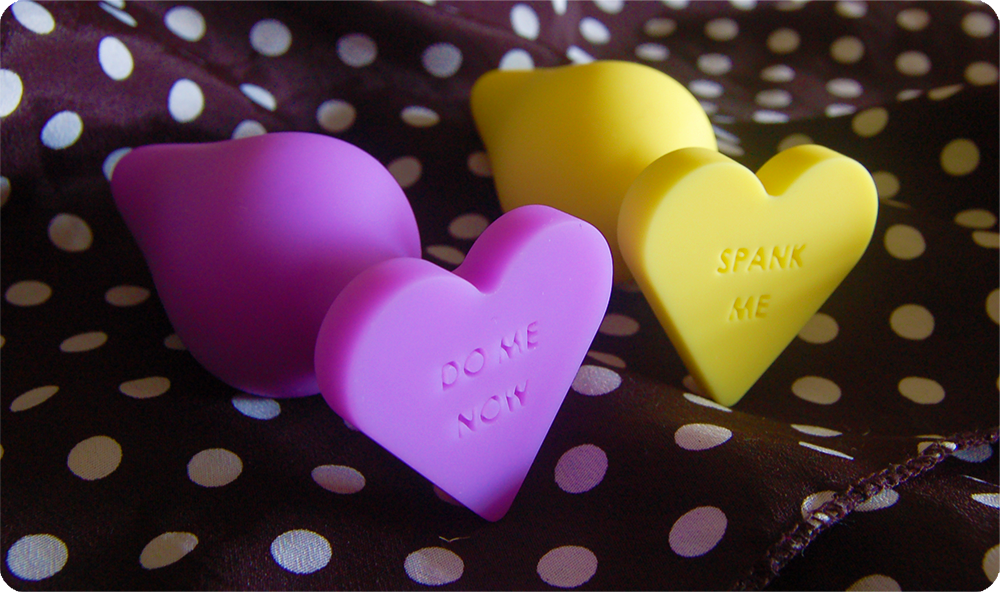 Inspired by everyones favourite love heart message sweets, Blush Novelties has taken this candy icon to a whole other level with its range of super kinky plugs for the carefree lover. Not only can you now enjoy having a love heart covering your least loved area, they even have sexy little messages to get you in the mood and really spice things up for whoever has the honour to read it.
Sex is really just a whole lot of fun. I mean, sure, sometimes it can be serious and dominant, and that's cool. But I think it's also super important for sometimes to just be casual, and for you to be able to laugh. I couldn't imagine not being able to joke around during sex at least, and these plugs are perfect for all those moments. They are a great way to surprise any partner, by not only showing them your insanely kinky side, but also how stupidly cheesy you can be. Whichever way your partner does decide to react though, it's not going to change how much fun you'll both be having with these plugs soon enough.
I purchased two of these plugs in small, since I'm a sucker for anything cute and butt related. They come in three colours, purple ("Do Me Now") and yellow ("Spank Me"), which I got, and pink ("Be Mine"), as well as a larger size which also stocks all three colours and has different phrases on the bottom ("Fuck Me", "Fill Me Up", and "Ride Me"). My smaller plugs are 3.6 cm / 1.42 inches in diameter and 8.3 cm / 3.25 inches insertable, waterproof, and made from pure silicone to ensure it's body safe and phthalate free. The silicone has a smooth satin finish, meaning they feel super luxurious and silky smooth. They are truly beautiful to hold and touch and I can't get enough of how soft they are while still being fully firm for insertion. They also have no seams and mine are both free from any defects or odours. Honestly, these plugs seem grossly under priced at $20 each on most websites. I really like the packaging they come in also, it's easily reusable so I can store my plugs inside when I'm done which protects them from lint and my other toys.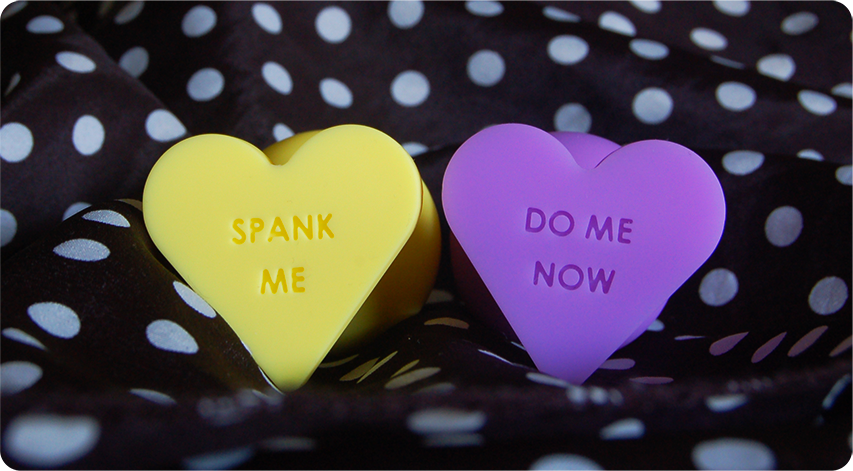 These toys also mark a great milestone in my life, since for the first time I didn't just buy the pink option, and not just this, but I even went so far as to buy both of the alternative colours. Unfortunately, this isn't because I'm making a life changing decision to stop loving pink, but because as cute as the pink's 'Be Mine' phrase is, I bought this for a sexual experience, and so 'Spank Me' and 'Do Me Now' seemed a lot more reasonable for my partner to read engraved into my ass.
Since the plugs are made from silicone, you'll want to only use water-based lubricants for them, never silicone. Please make sure you do use some form of lubricant however, as without it you could cause some serious damage to your anus. Blush Novelties describe these plugs as the "perfect size for anal beginners", however, I'm not too sure. In fact, I'm not even sure if these plugs are reasonable to be called small. As far as I'm concerned, and as you can see with it being placed next to my small "beginners" Princess Plug, it's far bigger than it sounds or appears in product photos online. I think a beginner could use this plug, but it would certainly be a challenge and I wouldn't recommend it. I know if it was my first plug after all I would have felt very intimidated, especially since it sometimes intimidates me now. Although the silicone is smooth, it doesn't really get too slippery no matter how much lube is applied so it takes a little while to get it in even though I know my ass can handle it. Furthermore, when you do get it in, there is a drastic change in size between the plug and neck, which can be a little unsettling. I do, however, find it reasonably easy to remove.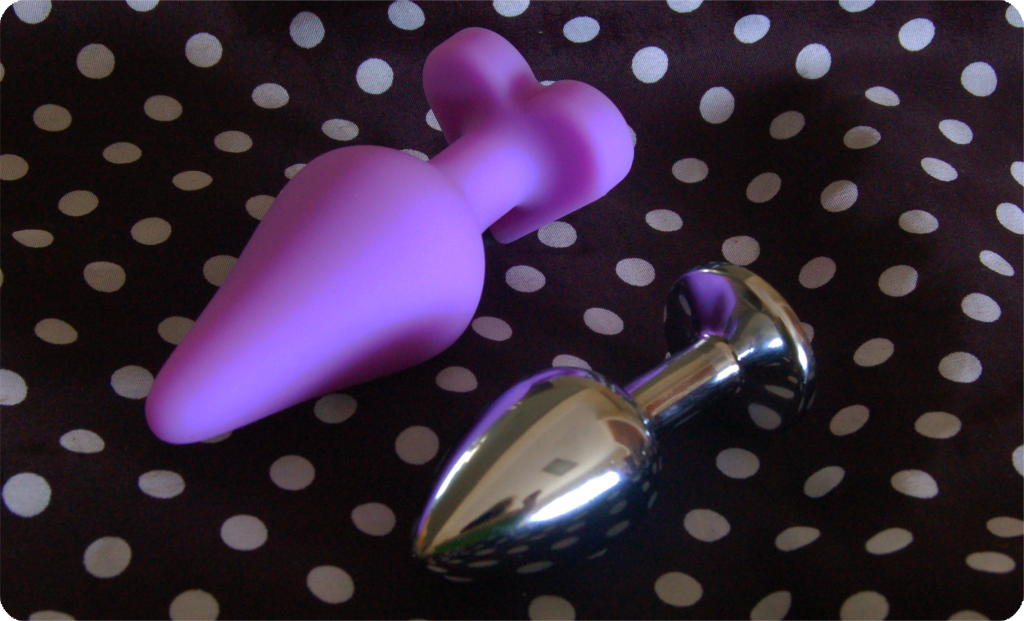 I mentioned the word partner a lot earlier when discussing the use of these. That's because I personally, someone who has an urge to own all the plugs, wouldn't buy these without one. They're cute as hell, but I can't read the message when looking in the mirror and my head certainly can't reach down that far to have a look when it's inside me. Plugs like my Princess or if I was to buy from Crystal Delights are fun to wear because they make my ass feel pretty, like if I was wearing lacy underwear. This plug doesn't really have that appeal though, and it continues through to when I'm wearing it. It's fun with a partner in sexual situations, but otherwise it doesn't really do anything for me. That's just how I feel though, if purple hearts are your thing, by all means go for it, maybe I'd like it better if it was pink after all…
One of the best things about plugs, is that they can, obviously, be used in sexual situations, or just during day-to-day activities to add a little bit of kink to an otherwise regular routine. This is what appeals to me most and sets them apart from other toys. I don't always have time to sit down properly with a dildo or vibrator and enjoy it. But with a plug I can wear it all day while I work, and while it doesn't distract me, it most certainly leaves me feeling naughty. As I spoke about in my Princess Plug review, when inserted I don't really feel the plug inside anymore due to its non-intrusive base, other than the pleasurable weight of the metal material. These facts sadly do not remain true for the Naughty Candy Hearts. Since they're made of silicone there is barely any weight to them. So after awhile I feel nothing, including none of that pleasurable weight that gives me my kinky feeling. Furthermore, the base is the opposite of snug between my cheeks. The base pushes them apart and makes it hard for me to walk around or move normally. I've found a trick to making it a bit more comfortable is to place it so that the writing is upside down, that way the heart shape fits with the way your cheeks hang. While this helps, it still is noticeably uncomfortable to wear. So overall I'm left with no pleasure inside my ass, and discomfort on the outside. A more positive note however, is that the base is the perfect size. There is no chance of this baby slipping anywhere it isn't meant to, which means I'm far happier and feel more at ease to wear it over my Princess which has an unnervingly small base. If only I had a mix between the two, then I'd be in butt heaven.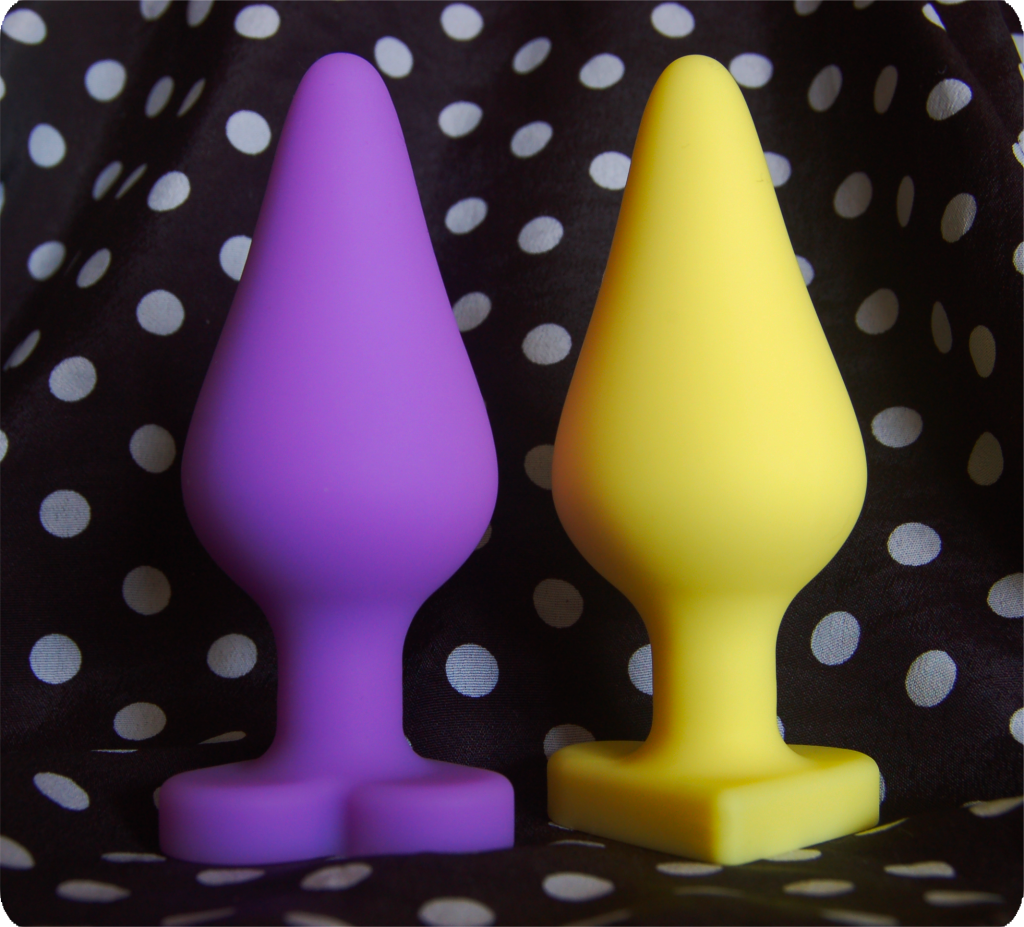 My favourite use for these plugs has to be during solo masturbation. I've always been too scared my ass will suck up my Princess if I orgasm with it inside, and so my Candy Hearts were able to let me finally enjoy this sensation. While I still can't really feel much in the way of pleasure if I'm not touching the plug due to its lack of weight, its size makes it a match made in heaven with my smaller dildos. As I said before, these plugs are big (I couldn't imagine having the large size), and so when they're inside me they make my vagina about ten times smaller. At least on the entrance that is, since that's what the plug hits up against most. So while it's a tight fit to get anything dildo-like inside while I'm using the plug (I'm yet to succeed at any vaginal insertion while I'm in doggy position), once it's in it's fine and has plenty of room. Meaning when I'm using my dildo it is always able to give this pleasurable pressure at the entrance. This is particularly good with my preferred end of the Double Dong as it has a ridged head, which feels amazing to rub against the plug inside me and insert in and out. Even just using the plug while I use a wand or clitoral vibrator adds to a whole new level of pleasure, and I just love tapping or flicking the base so I can feel how full I am. In regards to sex, it's a similar experience, but a lot of lube and warming up is needed in order for my partner to even be able to enter me. Though even when he does it's damn tight, and so I usually prefer to just use the plug during foreplay and to excite him, and then take it out before any of the real action starts to make sure it doesn't get in the way.
Since it's waterproof, it can be cleaned easily with just warm water and anti-bacterial toy cleaner, but can also be boiled and is dishwasher safe. It's recommend to do this both before and after in order to keep it safe for use. Luckily, since the toy is pretty smooth there isn't really anywhere for bacteria to hide, and after it can just be put back into its packaging box where it won't mix with your other silicone toys.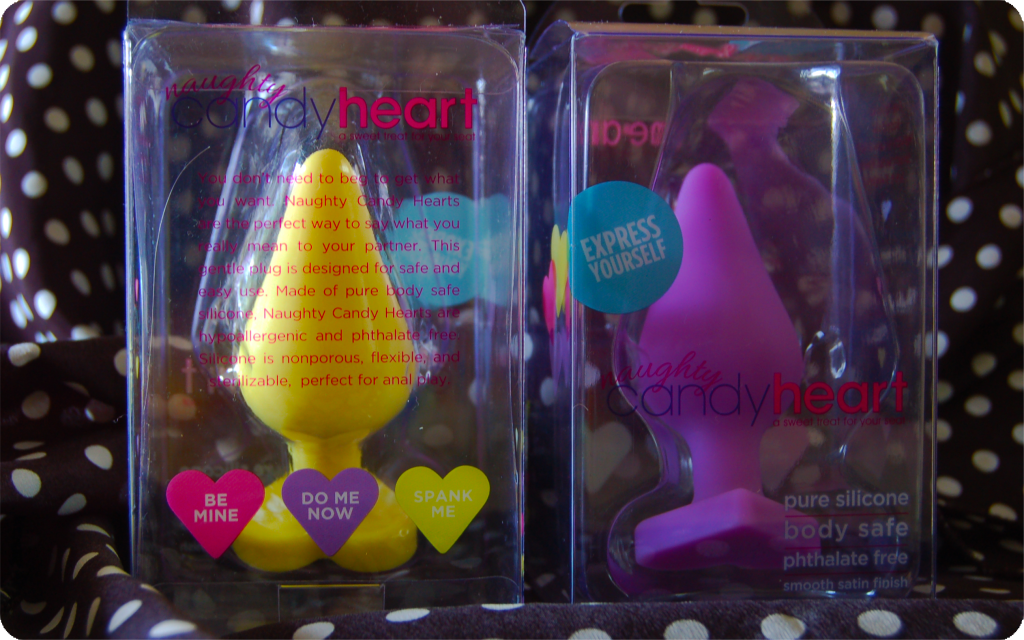 The Blush Novelties Naughty Candy Heart Plugs are quite simply fun. They are bit more of a novelty toy than anything else, but this doesn't make me love them any less. There is nothing more amusing after-all than bending over for my partner and letting my butt plug speak for me. They feel beautiful and look it too, and are well worth any money you spend on them. While they aren't the best for extended wear, they work great with solo masturbation and a partner. However, be warned that despite their small appearance, they aren't a beginners toy and should be purchased with that in mind.
You can purchase Blush Novelties Naughty Candy Heart Plugs from PeepShow Toys for just $15.6 AUD / $12 USD plus use my code GRACE to get 10% OFF your order!
Material - 100%
Appearance - 90%
Solo - 80%
Partner - 75%
Extended Wear - 35%
A beautiful butt plug that is great for masturbation, but has an uncomfortable base for extended wear.
Affiliate links have been used in this post.