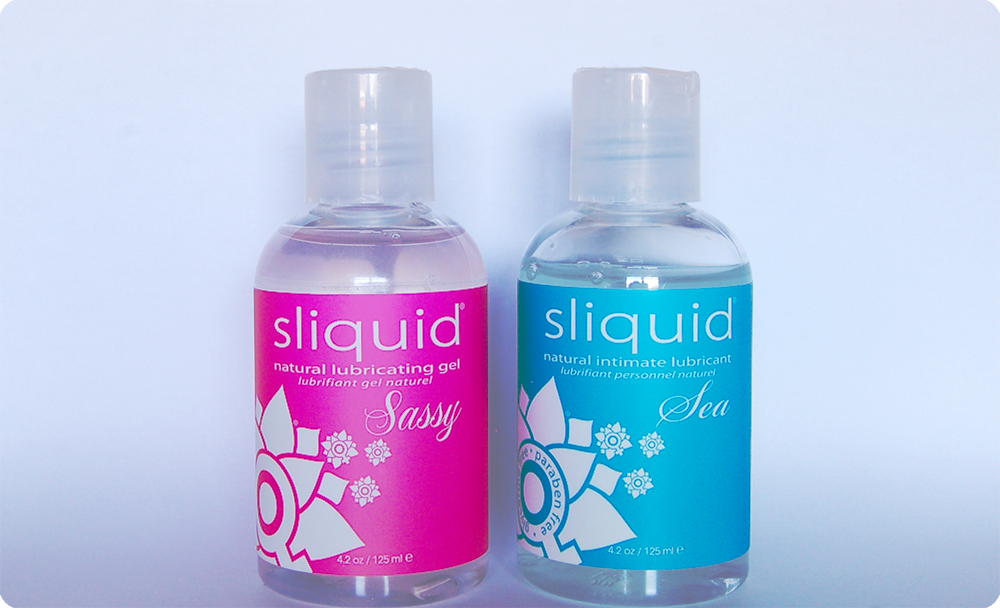 My two Sliquid lubricants, Sassy and Sea, are my go-to lubes that I currently use exclusively during my toy use and even sex. Sea provides a healthy, smooth vaginal lubricant, while Sassy is the perfect cushion for anal sex. Please, if you have been using off-the-shelf lubricant filled with parabens until now, look into and invest in some Sliquid, you won't be disappointed.
Lube can be easily overlooked. I always knew it was important for anal sex, but otherwise I didn't really see it as something I needed for a long time. If it wasn't for the fact I was given a free bottle of some Doc Johnson lube at a sex convention two years ago, I would have probably never bought some, or just used convenience store types. As soon as I started reading sex blogs however, it became apparent how important and valid it is. Not just any lube either, but good lube, and one word popped up on practically every website I visited, 'Sliquid'. I investigated, and now know that they stock what is largely considered the best and safest lubricant on the market. I soon decided from their large range what would suit me best, and promptly ordered my first two Sliquid lubricants, Sassy and Sea. I use lubricant heavily for my toys now, as most of them I would not be able to use without, vaginal or anal, and for sex too. After mentioning this on Tumblr though, I received a lot of asks on lubricant recommendations. So while there are many similar reviews out there on Sliquid, I wanted to give my own opinion on the products and how they work for me.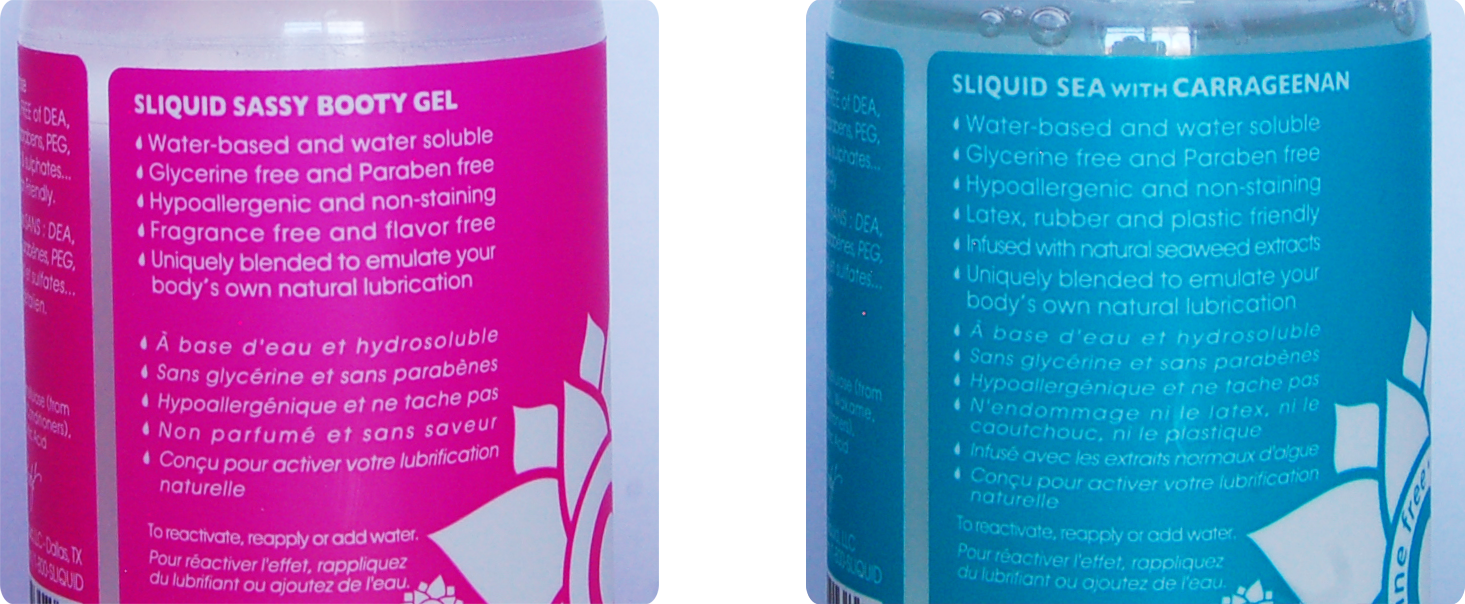 Sliquid stock a large range, which was a little daunting when I first looked into them. Since most of my toys are silicone, I knew I wanted a good water-based lube so it could be used with everything I own. Luckily, almost all of Sliquid's lubes are water-based, and each one has its own qualities that make it special, so I was able to choose what suited me easier than I first thought. They have their 'Naturals' collection, which is their main range of lubricants. Nestled among these, is their 'Swirl' collection, which is their flavoured lube. Then they then have their 'Organics', which are really just the same lineup of lube from 'Naturals', but made organically. While I don't have an organic preference, and dislike flavoured lubes (although their range sounds amazing and something I'm definitely interested in trying, who doesn't want Pina Colada and Pink Lemonade flavoured lube?), I decided to pick from their base Naturals range. Plus, all of their lubricants are vegan and involve no animal testing, as well as glycerin and paraben free, which is what makes them so safe and perfect for even sensitive types. Sassy immediately jumped out at me, since it's specifically for anal play, which I partake in quite often. As for Sea, I bought it based on recommendations, the fact it won an AVN award in 2011, and the idea that its natural seaweed extracts gives a boost to my health and contains natural healing properties. It contains carrageenan which has been shown to reduce transmission of HPV, wakame that contains B vitamins and reduces inflammation and improves elasticity, and nori that prevents oxidation of the skin and is a natural moisturiser.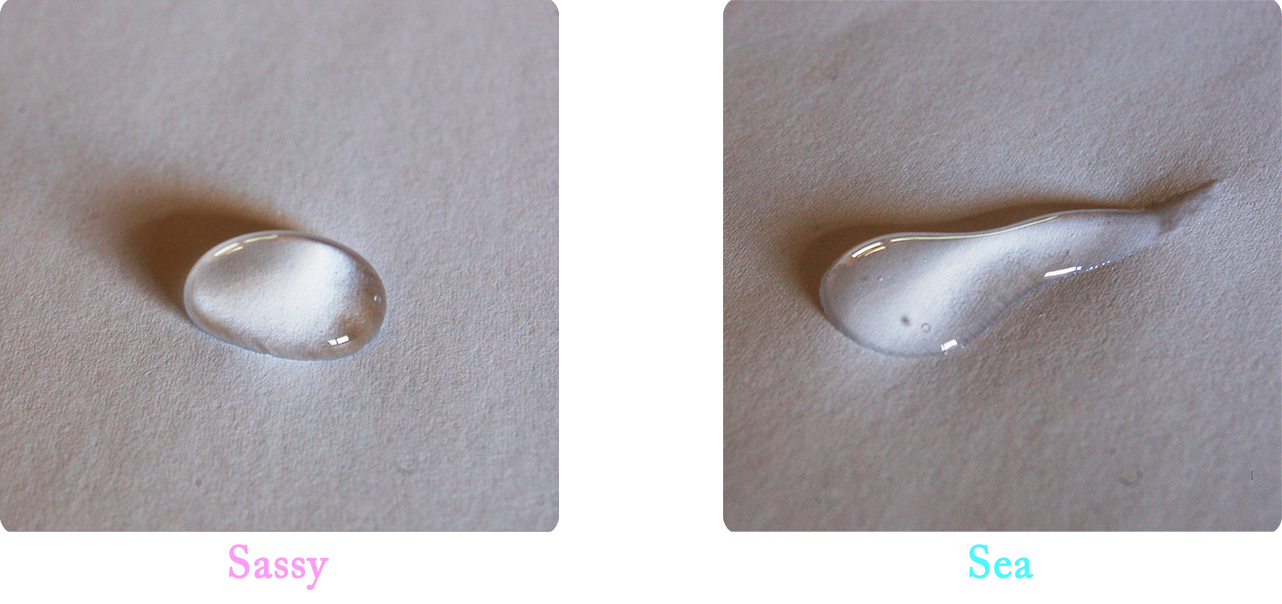 While they look quite similar, aside from their packaging, once I received them I found they are quite different and I could easily tell them apart if I was given a blind test for some reason. Firstly, if I turn the bottles upside down, Sea moves almost instantly in a similar way water would, while Sassy is slower and appears heavier. This fact becomes very apparent when actually in use. When applied to a non-flat surface such as the head of a dildo, Sea will immediately run as it is very light (which you can see further down modelled by my beautiful Tantus Vamp). Meanwhile, Sassy will mostly stay together, or run slowly. Their thickness differences mean that while Sea just 'lubricants' surfaces by making them slippery, Sassy does this while also providing a protective layer. Furthermore, their feel, smell, and taste are also different. Sea feels light, it spreads out well, and when wiped with a tissue, immediately comes off and leaves no sticky residue, as if it was never there. It smells absolutely beautiful and reminds me of the Sea, although that's probably just because of the name, but nonetheless I love it. As for taste, it basically has none, but doesn't feel gross inside my mouth and is quite pleasant. Alternatively, Sassy very obviously feels thicker and almost has a semen like consistency. When it's on me it is almost like I cannot touch my actual skin since it provides a cushion between the two. It also smells amazing, but sweeter than Sea, and wipes away the same. In regards to taste, it also has none, but is less pleasant in my mouth due to its stickiness.
Sea is now my dedicated vaginal lube. While it's only on occasions I need it for sex, I use it almost every day when it comes to using toys. It helps me in a few different ways, depending on how I need it. Firstly, I work as an amateur porn model and cam girl. That means randomly throughout the day I might be commissioned to masturbate with a dildo on camera. If it's just a five minute video, I'm certainly not always going to be 'in the mood', so by using lube it means I can get right into it without having to be aroused beforehand. Secondly, if I'm using something like Ben Wa balls, which are for Kegel Exercise purposes, it's essential I use lubricant to help them slide in, as I don't exactly get turned on by the thought of contracting my vaginal muscles. Lastly, and what everyone can really relate to, is using lube during actual masturbation sessions. While smaller toys may fit using only your own bodily fluids, if you want to use larger toys, lube is essential. This may also be the case if you are using a toy that has rather tacky or matte silicone, as without it it may cause friction and drag in your vagina that can cause harm. The only issue I find with Sea is how fast it runs, but since it can be wiped away with a tissue and leave no residue, if I do get it anywhere I don't want it, it is an easy fix. While I'd be interested to try it against other Sliquid lubes to compare, as of so far, Sea has been a fantastic lubricant for vaginal play. It always feels very light, and mixes with my own fluids well.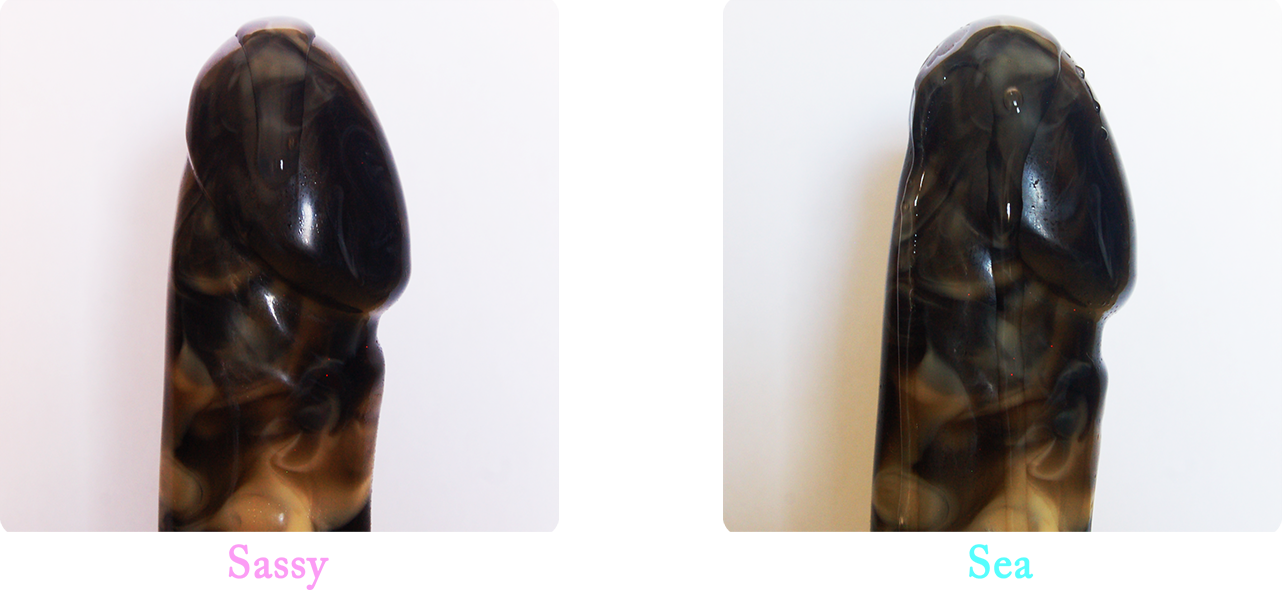 Sassy, as I mentioned before, is super thick and luxurious. I would probably use it over Sea for vaginal play with my bigger toys, but my butt is selfish and wants to save it all for itself. My last lube before purchasing Sassy, was not anal specific, and therefore not thick at all. I can't express how much easier insertion and the overall comfort during anal play is now. If you read my future anal toy reviews, I'm sorry, but I'm probably going to recommend Sassy in every one of them from now on. In fact, maybe I should go back and edit old reviews to recommend it. It really acts as the perfect cushion. It also lasts longer than Sea, so it really would make a perfect vaginal lube if I was to use it for that too, and I think I would need to apply a lot less than Sea to get the same results. Plus, it doesn't run everywhere, which is a definite plus. I could see myself in the future buying a big bottle of Sassy and just using it for everything, but right now I don't have that luxury.
Both of my Sliquid lubricants are 125ml. They are small enough to look absolutely adorable, but also hold enough to keep me going as my sole lubricants for months. As you can see in my first picture, I have only used so much of both and have been using these almost every day for a few months now. The overall bottle designs remind me very much of Lush's body wash bottles, they feel super silky and smooth, and I love the feel of the label. The plastic outsides seem to be coloured slightly to match the label colour in order to make the lubricant appear coloured, and the tops are push and squeeze. These fit snuggly in my hand, look good on my bedside table, and are a perfect fit into my underwear drawer. If I was to buy these two lubricants again, and I will, I would buy them in the larger 255ml bottles since I know I love them. However, if I was to try another of Sliquid's lubricants I would purchase them in 125ml again since it's a good trial size that will still last you ages.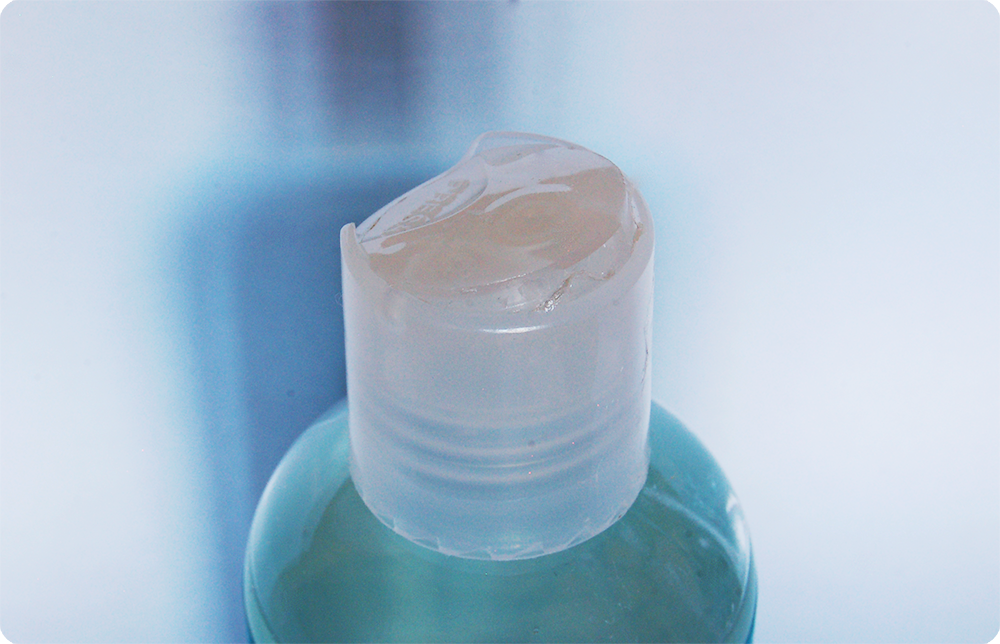 I love these lubricants, and I know I'll be re-buying Sassy when it runs out, I couldn't imagine being without it. But, in a way, I'm kind of excited for Sea to run out. While I love it too, there are so many other interesting lubricants I want to try out from Sliquid. Plus, without anything proper to compare it to, it's hard to judge just how amazing Sea is. On the top of my wish-list is Sliquid Satin, which is both a lubricant and a moisturiser, as well as their hybrid lubricant, Sliquid Silk. Furthermore, I've heard great things about their flavoured Swirl lubricants collection. Up until now I've only had bad flavoured experiences, so I'm pretty excited to change that soon.
If you have ever felt a burning sensation when using off-the-shelf lubricant and let it put you off completely (I know I have), then don't fear, it wasn't your fault. Good lubricant, like Sliquid, doesn't do that. Sea is great. I love the idea that it's boosting my health while I use it, and that I know it is sensitive and won't ever cause me any discomfort. But overall, what really wowed me was Sassy. Its thickness and long lasting nature were exactly what I was looking for in an anal lube, and what I didn't know I needed in a vaginal lubricant. So, thank you Sliquid, for making amazing, safe and affordable lubricants.
You can buy Sliquid Sassy or Sliquid Sea from Vibrant starting at just $8.84 AUD / $6.97 USD, plus use my code GRACE for 10% off your total order!
Affiliate links have been used in this post.