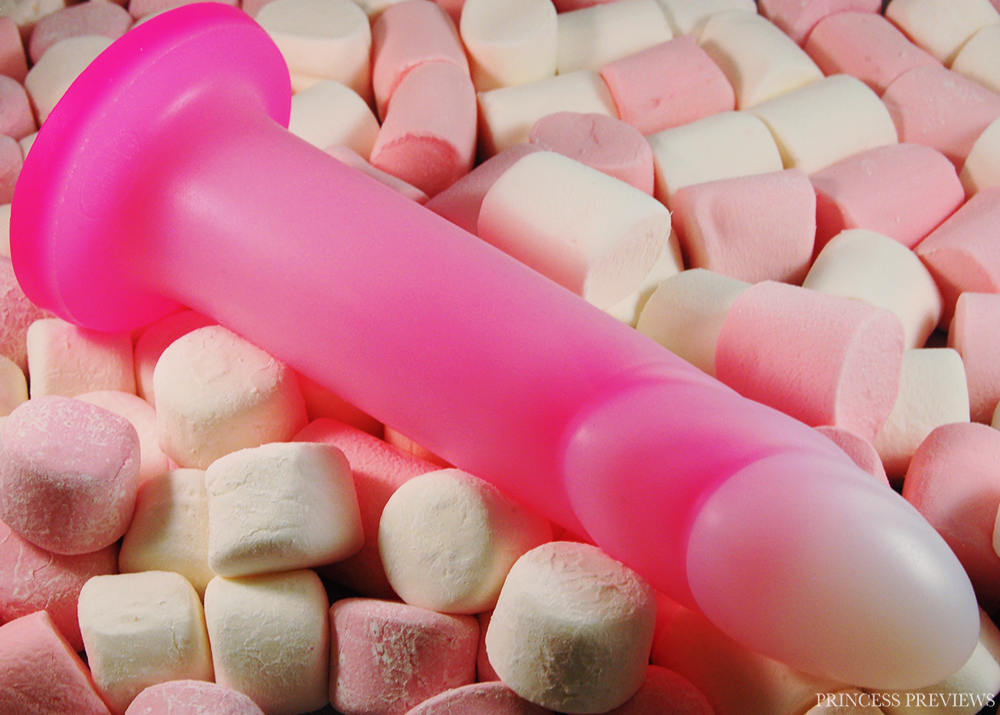 Since its release Tantus's Dual Density O2 line has been all the rage in silicone dildos and my dream to own one of these beauties was finally fulfilled recently. In fact, I somehow now own three, which truly is a thought that fills my heart with happiness. This review is all about the Tantus Flurry, however I will soon be reviewing the other two, which are the Gary and Uncut #1. It has been a little while since my last Tantus review, so if you aren't aware then let me mention once again that Tantus is one of my absolute favourite sex toy manufactures and dildo makers due to their use of body-safe ultra-premium silicone. They are the makers of my current favourite dildo, and if it wasn't for the fact that their shipping prices to Australia are so high I would likely own every dildo they have on offer. Last year I treated myself and bought a few of their dildos before their shipping prices got so high, however this was my first time asking them for possible review items and I was so glad when they agreed to send me some toys over!
The Tantus Flurry is a true work of art of a dildo. I once read a review where the blogger stated that if they were to have a dick, it would look like that particular dildo (unfortunately I can't remember what review it was), and I didn't completely understand what they meant until the Tantus Flurry was in my hands. Never before have I connected so much with a dildo before even using it. It sounds silly, to 'connect' with a dildo, and I don't even know why I find it so special, it's not like pink is an uncommon colour for a sex toy, but yet I find myself completely drawn to it, and there is nothing I enjoy more (except using it) than putting it up against myself and admiring it as if it was my own genitalia.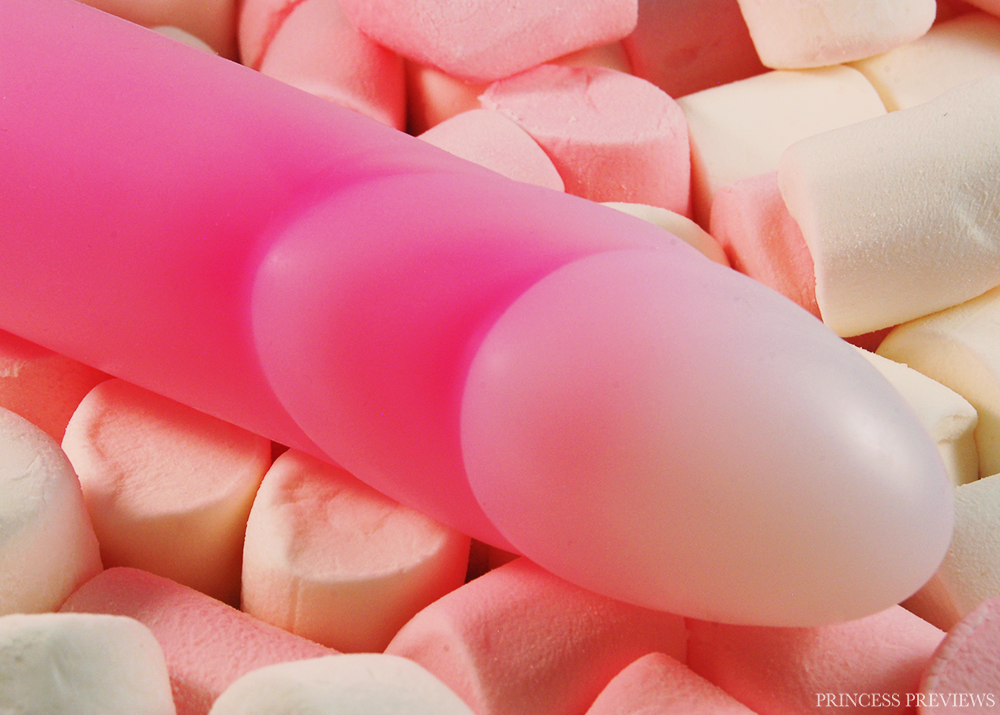 As I mentioned, the Tantus Flurry is one of my first O2 dildos and the first I played around with from the package I received from Tantus. My current absolute favourite dildo, the Pack 'n Play No.2 from Tantus, is made from Tantus's Super Soft Silicone, the same silicone used in the O2 dildos, just without the inner core. The soft silicone on this dildo is my favourite thing about it and nothing else I have tried has even come close to it for me, so I have been dreaming of the day I would finally try something from the O2 line for awhile now. If you don't know, Dual Density O2 just refers to the fact that while the outside of the dildo is made with squishy soft silicone, the inside is made with a firmer silicone core, to give off a more realistic and sturdy feeling. This means that while the Flurry's shaft is rather firm, the head of the toy (that the core does not continue into) is suuuuper squishy and soft, which is the perfect combination for a very happy vagina. The core does still have some flex though, and so the Flurry can be distorted however you wish, with the head even being able to touch its base. Plus, if you are using it in a strap-on the core means the dildo stays straight, rather than flopping down.
The Tantus Flurry is a tall but slender dildo, coming in at 17.8 cm / 7 inches in height and 3.8 cm / 1.5 inches in diameter. If you are after something a bit thicker, try the Flurry's cousin, the Cush, which is the same height and general design but has a diameter of 4.5 cm / 1.75 inches. The Flurry has been specifically designed by Tantus to be able to stimulate the G-spot, and after my wonderful G-spotting success with the Comet Wand, I was excited to see if it would work for my usually unresponsive G-spot. It is a somewhat realist dildo besides its second ridge which I love the look of. It comes in three colours that are mixed with a white silicone, Candy (pink), Ice (blue), and Twilight (grey), and as usual I couldn't resist the pink. Together with the white it looks truly beautiful, with one side being lighter than the other, there being darker pink patches under the ridges, a mostly white head, and a bright pink base. Tantus hand make all of their dildos, and so the way the colours look on my dildo will likely differ from others, making mine unique, which is one of the other things I love so much about Tantus. Because of its base this dildo is also anal safe and harness compatible.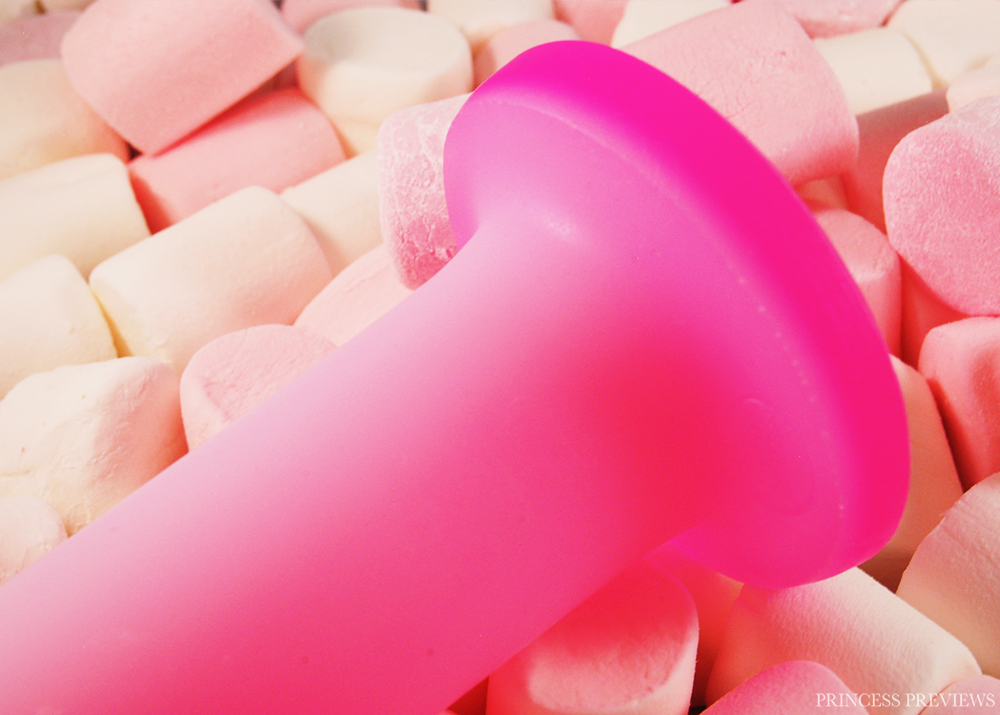 My order was placed with Tantus on the 6th of June and I received it on the 29th of June which was slightly quicker than international orders to Australia usually are. The package arrived in a plain brown box with no mention of the company on it but 'adult novelty' on the label, so if privacy is an issue for you then you may want to consider this. The Flurry was packaged in Tantus's usual non-graphic cardboard box which has a plastic insert to show off the toy. These boxes can be reused if opened carefully, but are quite bulky (particularly for the Flurry, whose box is far larger than it), so if space is an issue then I would recommend later storing the dildo in a zip-lock bag as Tantus toys don't come with storage bags.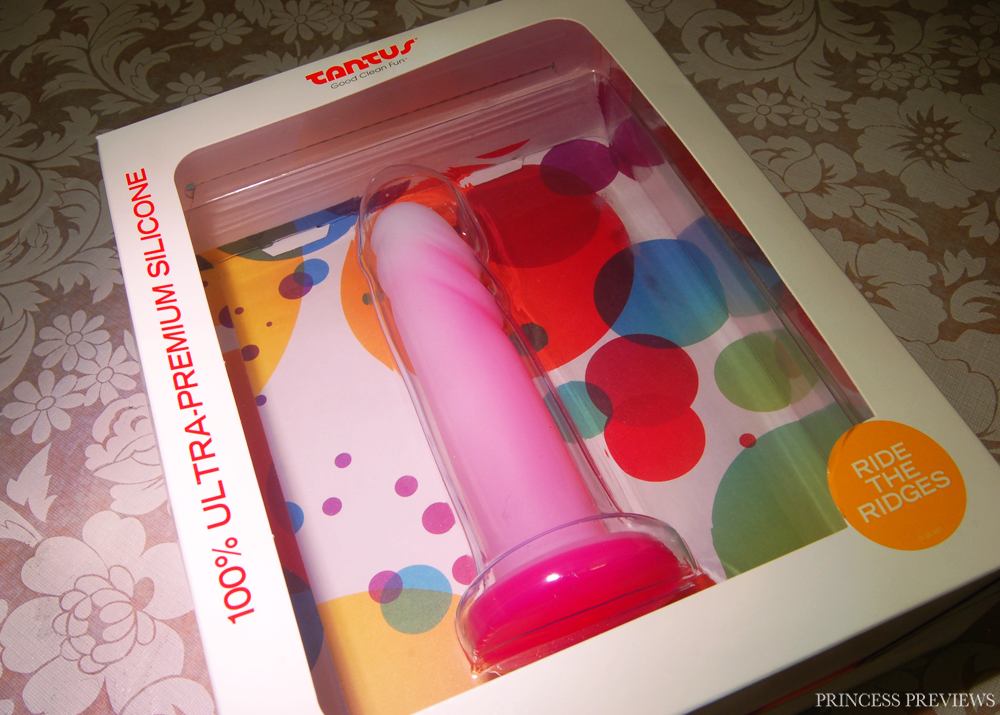 I was pleased to find that due to its soft and tapered head I was able to insert the Flurry without having to first warm up my vagina with another dildo, however if the size is a worry for you I find that warming up with either the Splish or Alex works wonders. When going into my vagina the ridges aren't very noticeable at all, yet when coming out they both give off a popping feeling. I quite like this feeling, although I don't really find it pleasurable, although I know some people do so if you are one of those people then I'm sure this would be great for you. In a similar failure to my last review on the BS Atelier Alex, the ridges mostly just slide right on by my G-spot. They do stimulate it a little, but not enough for me to really get a kick out of it. I have quite a deep G-spot, so at this point I'm pretty use to dildos that don't have a large curve specially designed for it, such as the Comet, not being able to reach it. It is a shame the Flurry is one of those dildos, but it isn't really its fault.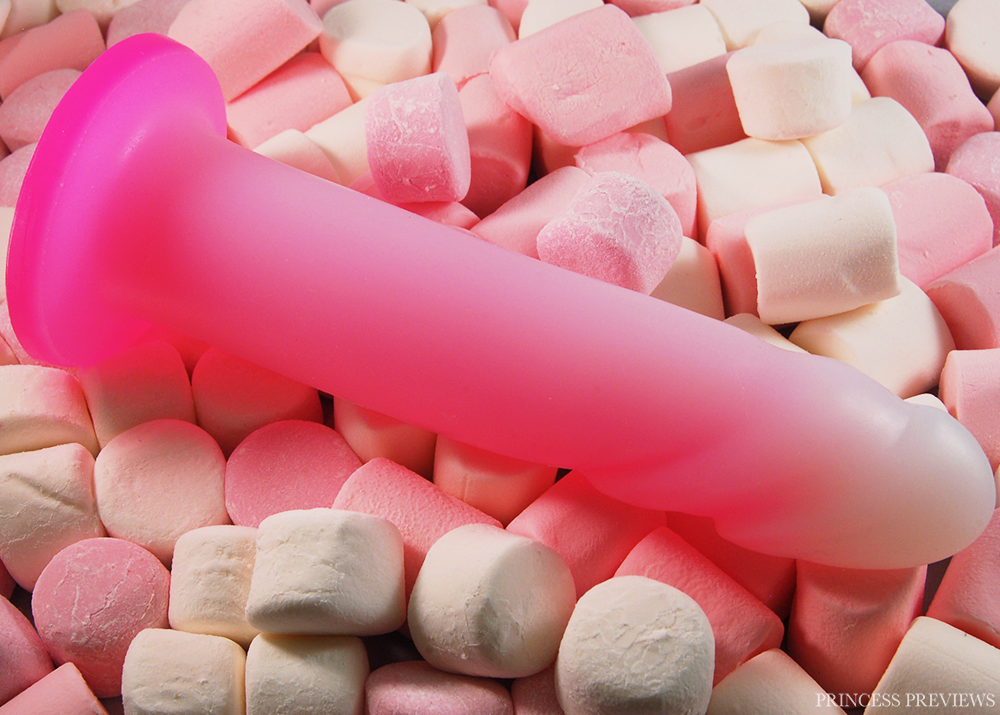 Moving past the G-spot however I found what I really love about this dildo, its A-spotting abilities. A real quick lesson if you aren't already aware of the A-spot, is that it is basically a pleasure spot similar to the G-spot that is located at the back of the vagina in front of the cervix. I find it can be stimulated with my longer and tapered dildos, plus the softer the better since you don't want to hurt your cervix. So far the only other two dildos I can stimulate my A-spot with are the Tantus Pack 'n Play No.2 and the D.VICE Queenie, and as such the Flurry is a very welcome addition to this list. I've found my favourite way to use this toy is to push it in as deep as possible so its head rests on my A-spot and then thrust it ever so slightly, which, combined with my We-Vibe Tango, gives off some truly amazing orgasms. The firmness of the shaft also really adds to this, giving my vagina some great girth to contract around during orgasm.
Since the Tantus Flurry is entirely silicone it is also waterproof which makes cleaning it a breeze. For general cleaning it is best to wipe it down with antibacterial toy cleaner and warm water before and after every use. However, to sterilise the toy if you are switching between partners or vaginal and anal play you can either throw it in the dishwasher, wipe it down with a 10% bleach solution or boil it for 5 minutes. After, let air dry and then return it to storage. Make sure to only use water-based lubricant with it, and if you want to try anything else then perform a spot test before doing so.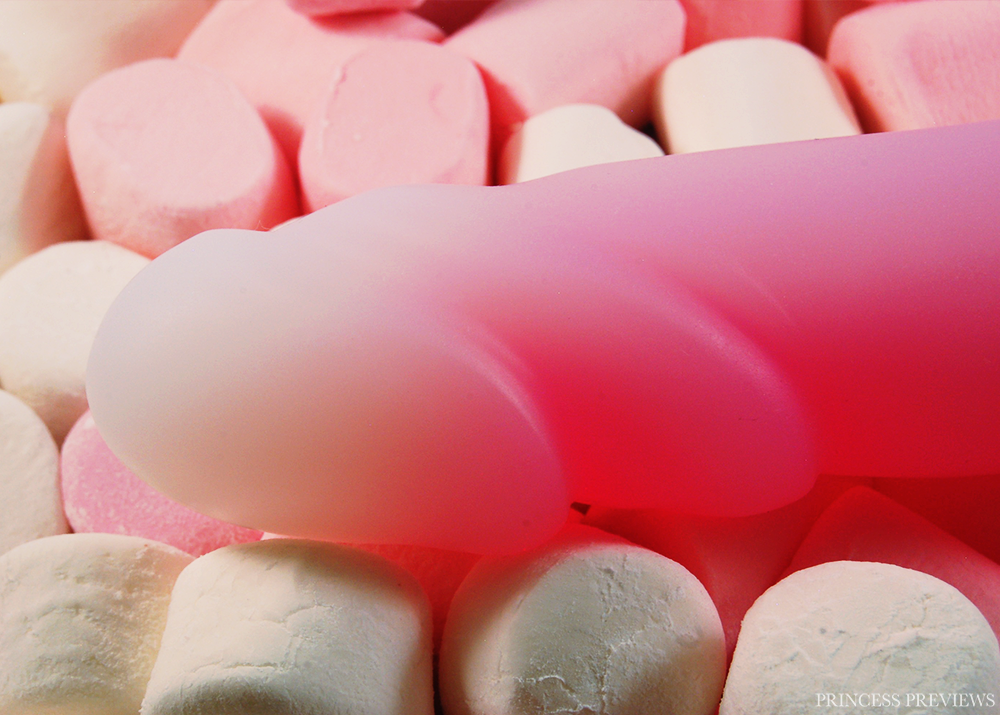 Overall I think this is an amazing dildo that is both visually stunning and internally stimulating. I didn't think I could be wow'd by a pink dildo since I'm so use to them at this point, but the light shade of pink combined with the white silicone is truly mesmerising. I adore the dual density silicone since it allows for A-spot stimulation due to the soft head, while still giving my vagina some firm girth to help my orgasms be even more intense. It is a shame that my body wasn't a fan of its G-spotting abilities, but it stimulates my A-spot so well I don't even care. This truly is another great product from Tantus and a wonderful addition to my collection.
The Tantus Flurry can be purchased directly from Tantus for just $104.84 AUD / $76.42 USD
Material - 100%
Appearance - 100%
Solo - 85%
Partner - 70%
Another amazing product from Tantus, the beautiful O2 silicone and design are fantastic and its A-spotting abilities are out of this world.
I received this product in exchange for an honest and unbiased review. Affiliate links have been used in this post.