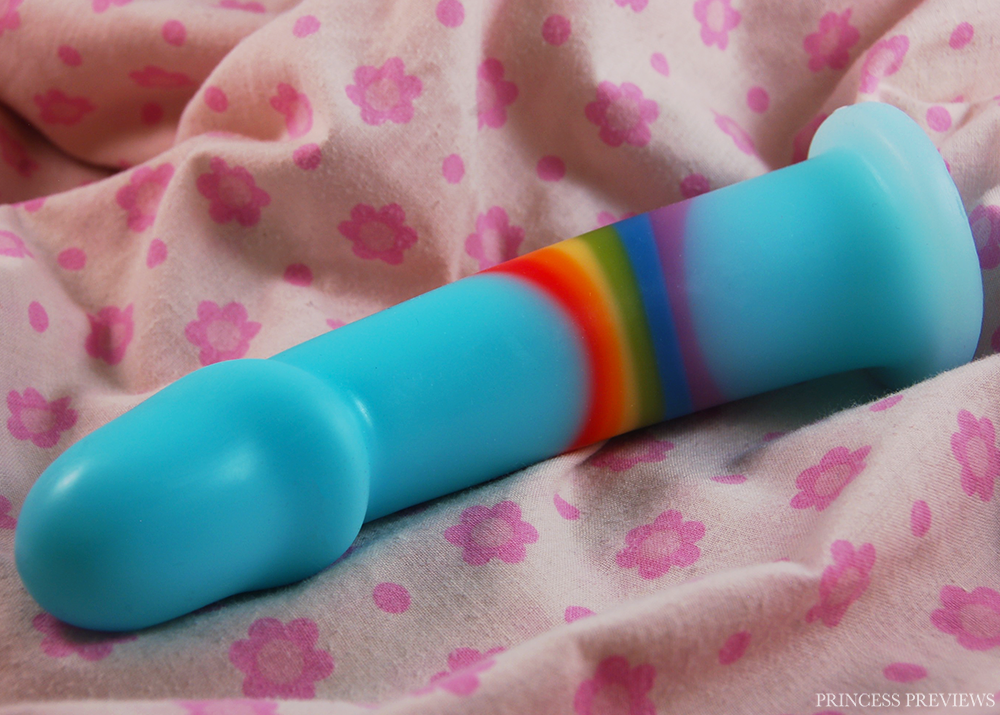 I have a huge thing for hand made dildos by small studios. It just makes it so much more personal and I always love the idea that the product you own could differ slightly from what someone else might own, making each one unique. BS Atelier's products are no exception to this, with all their toys being carefully hand crafted in their studio in Spain. I have had their Alex dildo on my wishlist for as long as I have been blogging due to other blogger's great reviews and its beautiful designs, first in its Light Blue Noise colouring, and later in its Blue Rainbow version. I hadn't really taken any steps to getting this dildo however, until earlier this year in June, with the tragic events that took place in the US, I had a huge need to get my hands on anything Pride related, and this was of course on the top of my list. BS Atelier were very easy and lovely to contact and agreed to send me the toy for review.
The BS Atelier Alex is quite a petite dildo, measuring in at 16 cm / 6.3 inches high and its widest points diameter being 3.5 cm / 1.4 inches. If it wasn't for my Splish it would easily be the smallest dildo in my collection. It's the perfect toy for beginners, smaller dildo lovers or as a warm up toy. Personally I fit into the latter category, and find this is the perfect sized toy to get myself warmed up and ready to take my larger dildos, kind of like an amazing tasting entrée to get your palate warmed up for the main course. The shaft is smooth and un-textured, while the head has an amazingly wide coronal ridge to help stimulate the g-spot, which is aided by the curve along its shaft. It is made of body safe silicone and has a good amount of squish to it, but the silicone is rather tacky and picks up lint very easily, meaning it will likely need cleaning before each use. Its base is meant to make it compatible for harnesses and safe for anal play, although it is rather flimsy and not very wide. Personally I wouldn't feel safe using this toy for anal play, and so I have not tested it in this manner. The same goes for using it in a harness, I don't own any to try it with and doubt it would work well, but can't say for sure.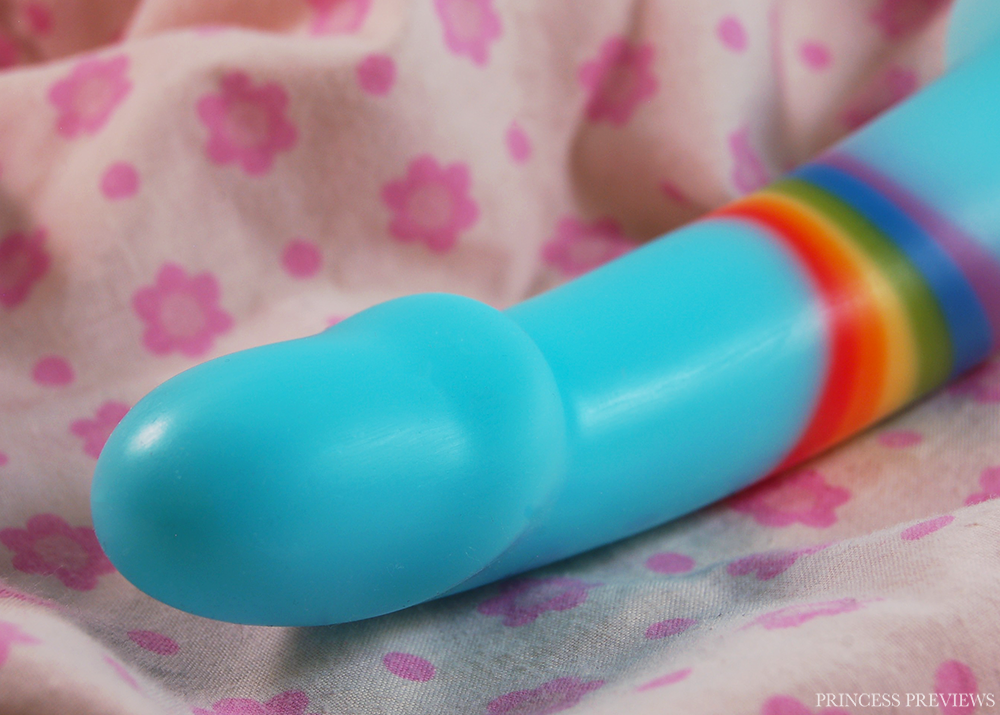 While my version of the toy is in its Rainbow Blue colour combination, BS also have this toy available in a few other colours that are truly beautiful. There are two other Rainbow versions, as well as two Heart versions, two Noise versions, which are inspired by Janet Sobel's drip painting technique, and six flat coloured versions.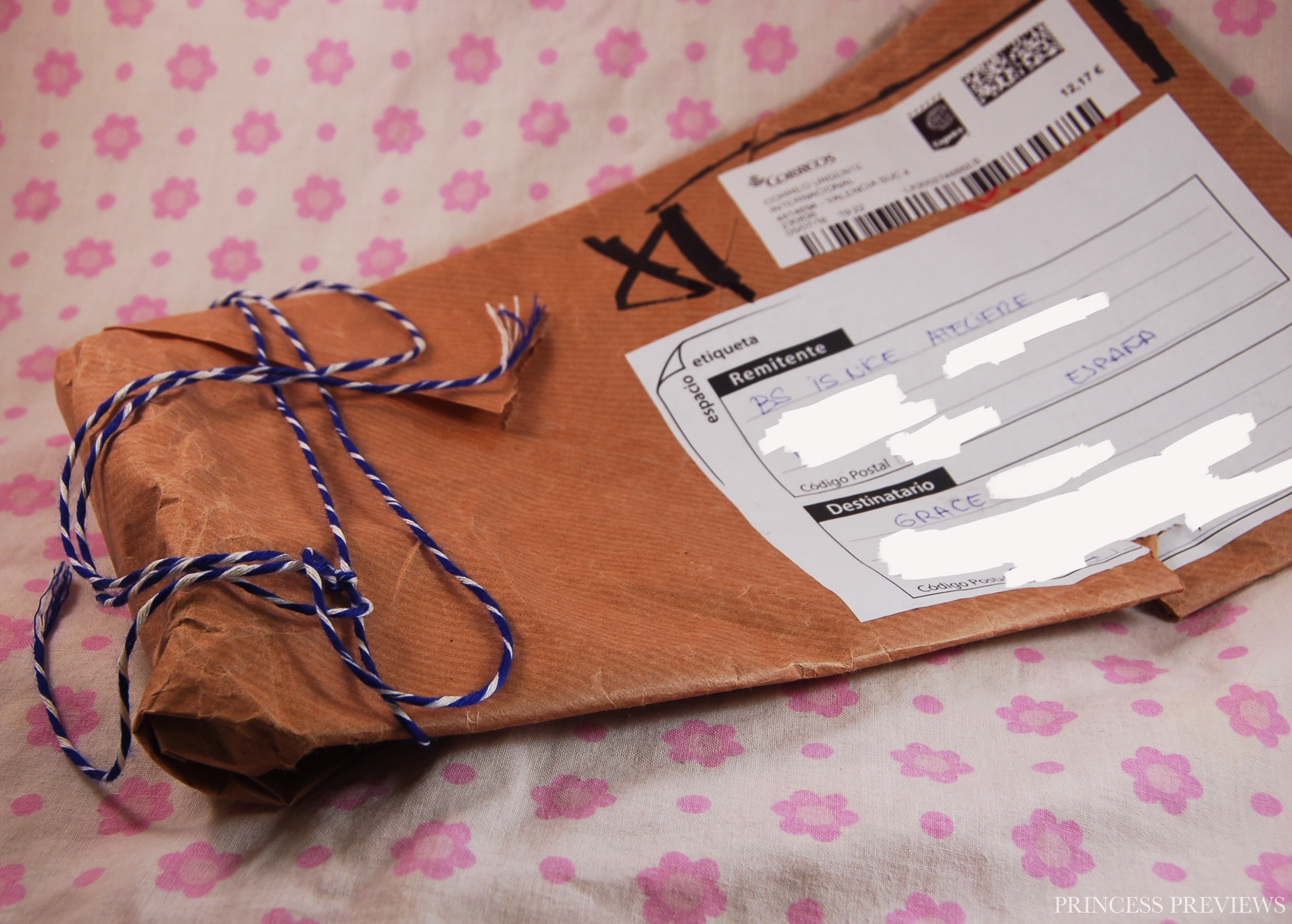 My toy was ordered on the 21st of June and I received it on the 25th of July which is about the norm for international orders to Australia. I was surprised by the parcel the toy came in, as it is really quite beautiful and looks more like a personal package than the usual plain brown boxes I am use to receiving. It is a really nice touch from BS and immediately shows that you are getting something hand-made and cared for, rather than something that has been mass produced by a big company. It lists BS Atelier as the sender and silicone as the product, so if privacy is an issue for you then keep this in mind. Inside the parcel is the toy in its packaging, which is a simple re-usable zip lock bag which has the company logo and a general description on the toy in both Spanish and English on it. The package also comes with a small paper which has more detailed instructions about the toy, and a sample package of YES water based lubricant.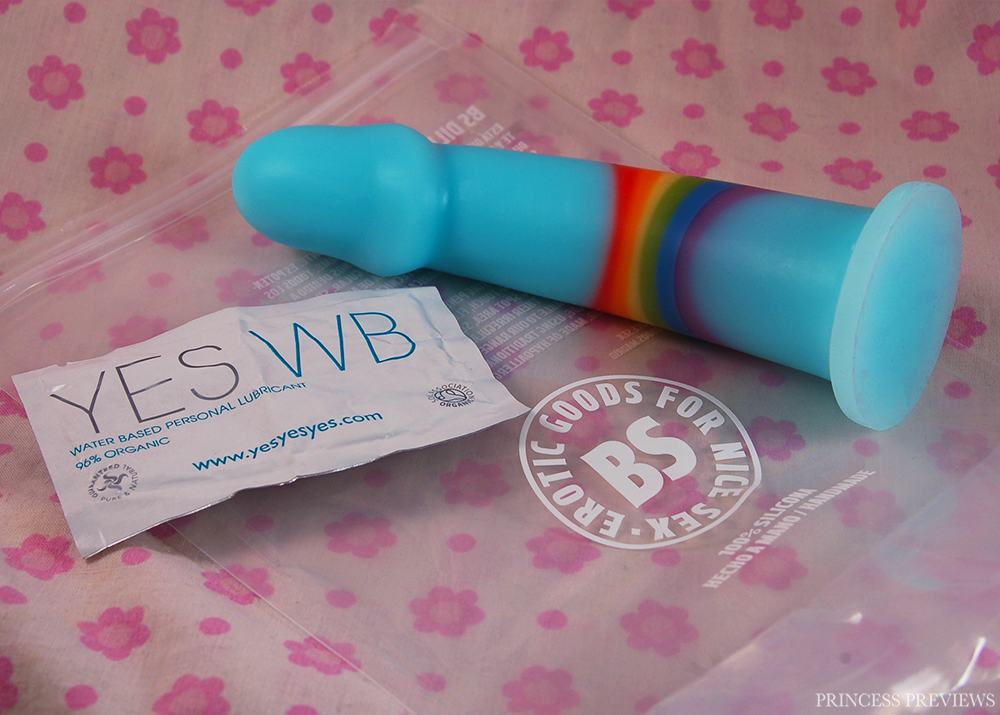 Inserting this dildo is easy due to its small size. Because of the large ridge around its head, it creates a little bit of a 'pop' feeling when entering you, but mostly it should just be a smooth insertion. After my success with the Comet Wand's G-spotting abilities, I have been lusting after more G-spot dildos for further stimulation of this much loved area, and I was very excited by what I had heard from other blogger's reviews of the BS Atelier Alex. Unfortunately my elusive G-spot wasn't as excited, and I've found that this dildo just doesn't work with stimulating it for me. I've always struggled to stimulate my G-spot so the fault is more down to my own body than the dildos, however its small size and flexible silicone are probably the cause of why my body doesn't agree with it. Despite this let down, I have still totally adored using the BS Atelier Alex, and while its shape doesn't work for my G-spot, it does for the rest of my vagina. Thrusting it feels just downright great, and paired with my We-Vibe Tango I have had numerous orgasms with this thing. Plus I've found if I use this dildo after already warming up my G-spot with a toy like the Comet, I am able to stimulate it slightly after all. The only downside to the Alex would be that the base is quite thin and due to its length your hand is bound to get a bit messy! I'd recommend keeping some tissues nearby while using this one.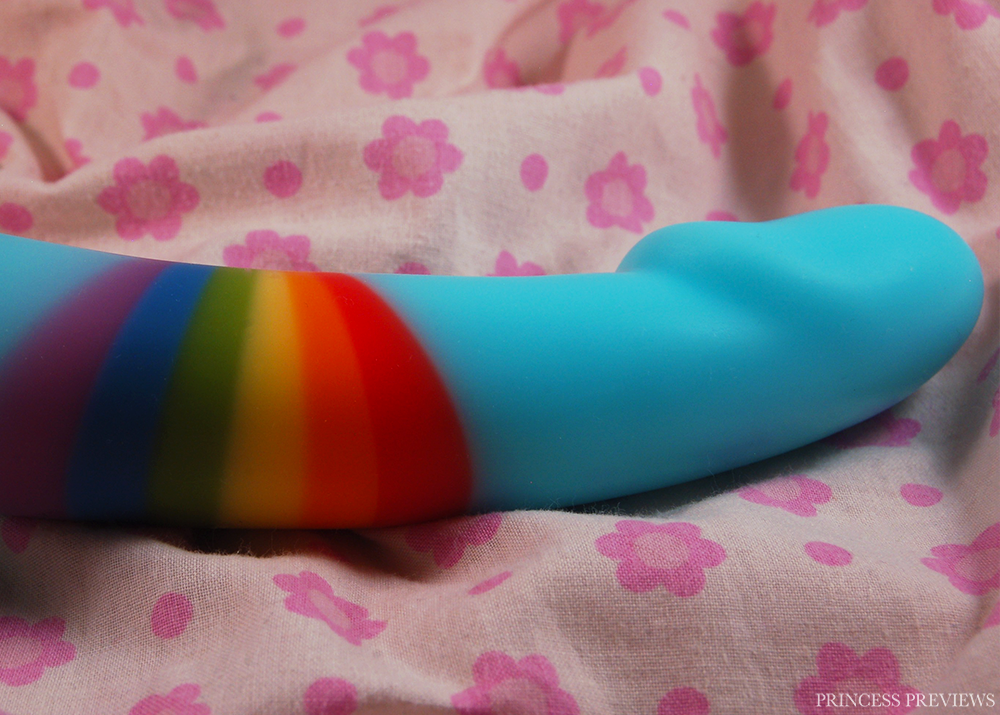 The BS Atelier Alex is just about as easy as it gets to clean. Since it's solid silicone it's waterproof and there is nowhere for bacteria to hide, so a quick wipe down with soap or toy cleaner and some warm water will do. If you are planning on switching it between partners or between vaginal to anal use make sure you sterilize it by boiling it for 5 minutes or wiping it down with a 10% bleach solution. After cleaning store it in a zip-lock bag to keep lint away, but if it does start getting hair stuck to it again (very likely) then make sure to give it another quick wash before use. Only use water-base lubricants with this, or perform a spot test before trying anything else.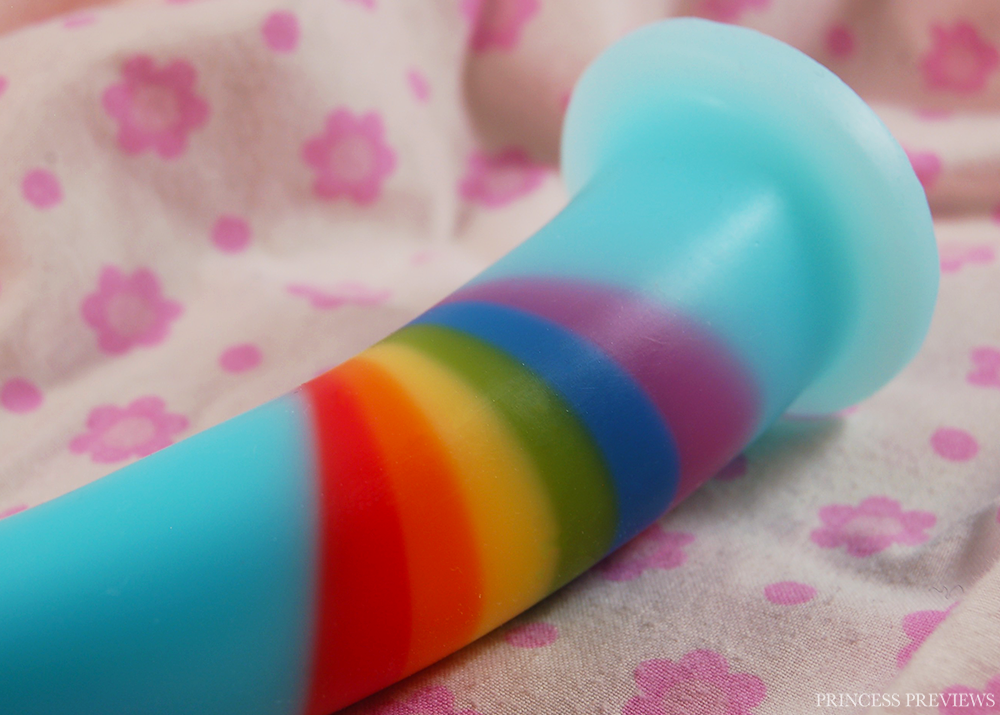 The Alex by BS Atelier really proves that great things can come in small packages. Everything about it is absolutely gorgeous, and it is the sort of toy that deserves to be shown off on a mantlepiece rather than tucked away inside a bedside drawer. While I have heard great things about its G-spot abilities mine isn't always the easiest to please which was a shame until I realised what a fantastic dildo this is for thrusting with. The Alex really makes for a perfect warm up dildo and I would highly recommend it to anyone who is looking for a dildo that is on the smaller side.
You can buy the Rainbow Alex in Blue for just $128.60 AUD / $93.74 USD direct from BS Atelier here!
Material - 95%
Appearance - 90%
Solo - 75%
Partner - 60%
A fantastic dildo on the smaller side. While it didn't work for my G-spot it is still a pleasure to use and great for warming up.
I received this product in exchange for an honest and unbiased review.