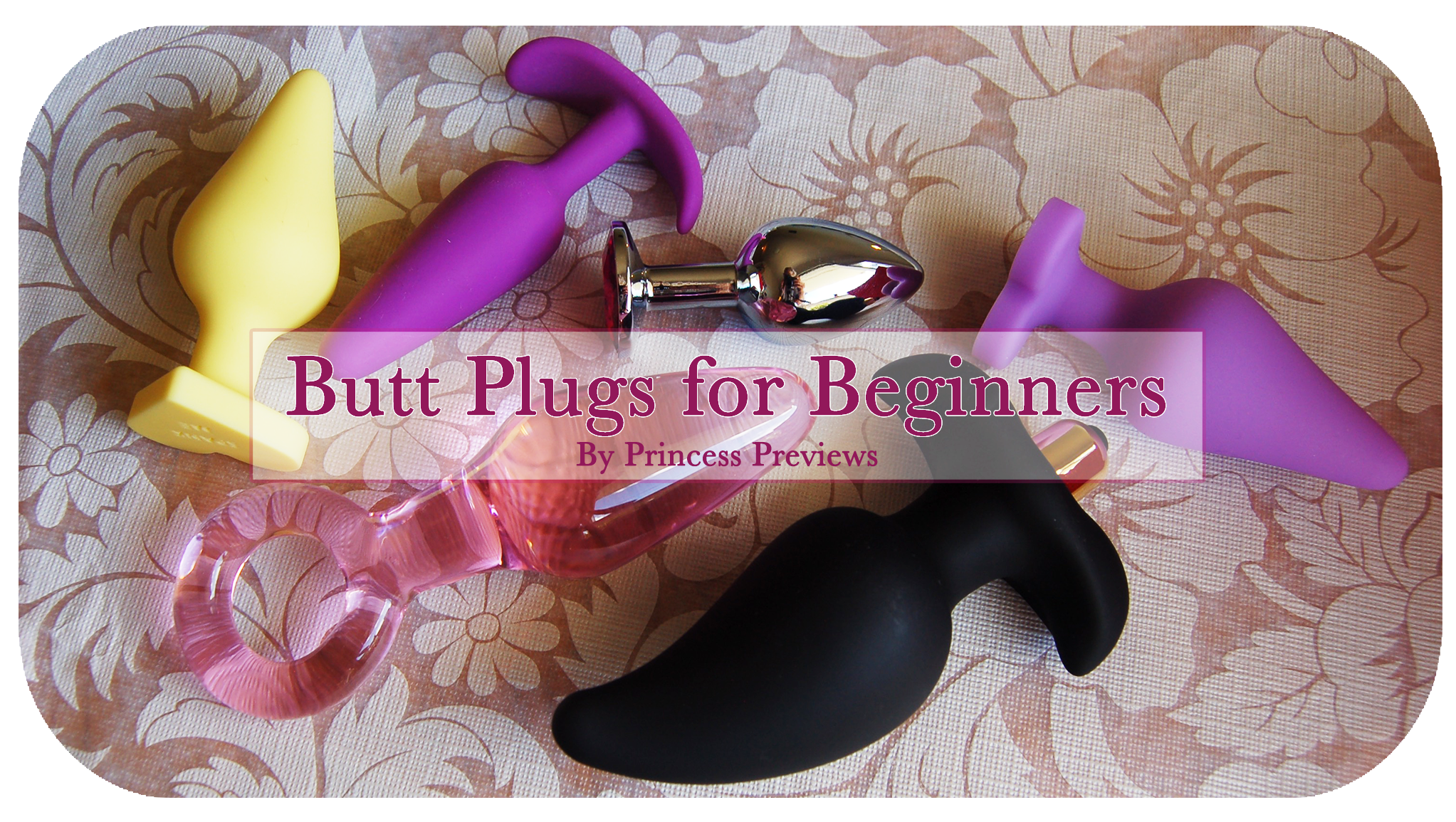 Butt plugs are easily one of my favourite types of toy and my most reviewed, so they are of course what I get asked about most often. As such, I thought it was about time I finally wrote a beginner's guide to butt plugs. This'll have some relevant information regarding anal sex and using anal dildos, but is primarily a guide on plug type toys, so please only use it in that regard.
What Are Butt Plugs?
For those unaware, a butt plug is a special type of sex toy that can be placed inside the anus for sexual pleasure. They are primarily used in three ways:
As a way to help dilate the muscles before or in preparation for anal sex.
During masturbation or sex, for increased pleasure and a heightened orgasm.
For extended wear while around the house or in public, for sexual pleasure and maintaining that kinky feeling.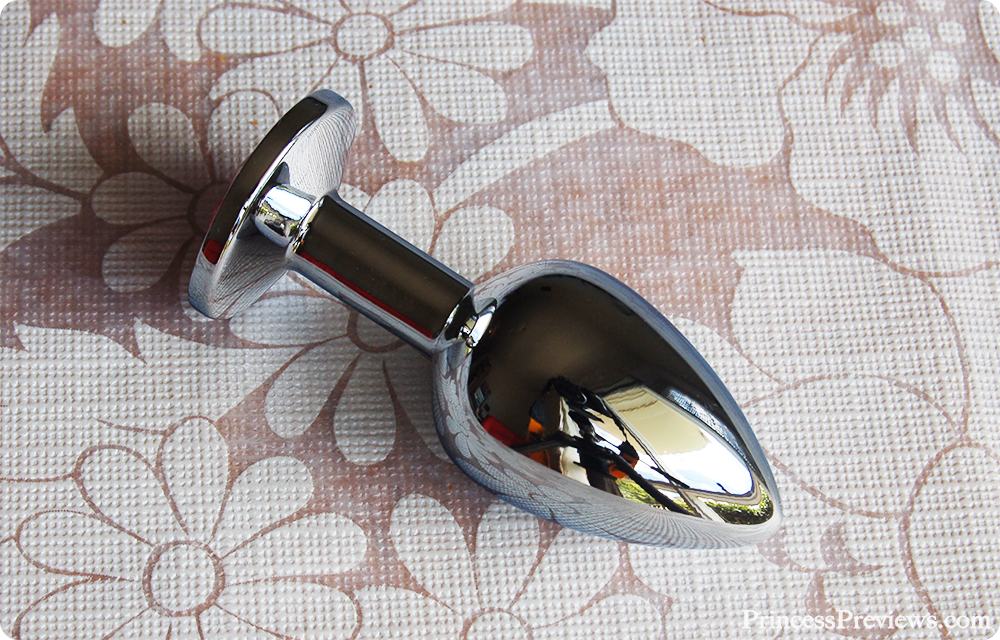 Butt plugs generally have a tapered tip for easy insertion, narrow neck for the body to grip, and a wide base to ensure it doesn't move further into the anus then wanted. They can be enjoyed by any gender, and although those with prostates may find greater stimulation, those with vaginas can still achieve some g-spot stimulation with plugs (the vagina and rectum wall is very thin). Furthermore, on the point of orgasm the body with naturally tense and release around the plug, which will enhance climax greatly.
Choosing Your First Butt Plug

For those considering starting anal sex, it can often be very intimidating and scary. Using a butt plug however, can provide a more relaxed first time experience, which you can do alone without any added pressures to figure out if it is really right for you. Aside from this, butt plugs are also just another great way to sexually express yourself, and fulfil any kinky desires you may have.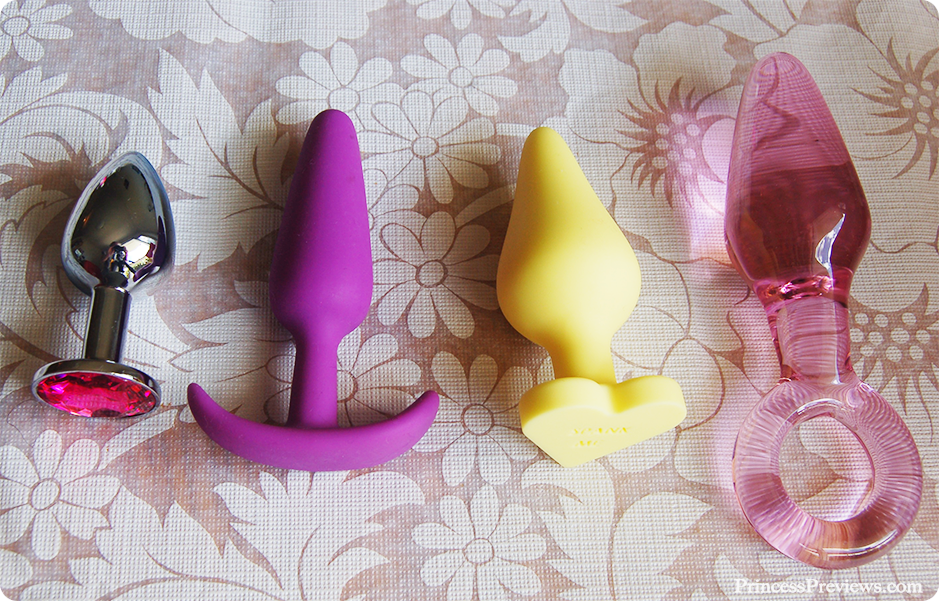 Butt plugs come in many different shapes and sizes, and it can often be tempting to buy that really cute or cool looking one you saw online sometime. One of the biggest mistakes people make however, is buying too large of a plug for their first time. Don't overestimate your butt! You may think you can handle something larger straight off, but you should always start with a smaller plug. Even experienced users will need to start by using a smaller plug in a play session before transferring to a larger one. If you use too large a size without warming up first it could result in scratching, tearing or damage to the tissues of the anal canal, which may cause scaring and loss of enjoyment.
Make sure your plug is smooth and has a tapered tip to make insertion easier. It should have a large round flared base, or a T-bar base. This is what stops the plug from moving inside you (and unwanted hospital visits), so this is essential. I often see plugs with flimsy or too small bases, this is not ok!
Finally, make sure you get a safe material. A lot of plugs are made with slime or jelly type materials, but these are porous, meaning you cannot clean the bacteria off them completely, making them potentially harmful. The best materials for butt plugs are silicone, metal and glass. Make sure to only buy from reputable retailers, and no eBay or Amazon.
My Favourite Stores page features a bunch of good retailers that you can feel safe to buy butt plugs from. For cheaper options I would recommend a site like Lovehoney who have a huge range, although remember to follow my previous rules since they also stock some not-so-great ones. For pricier but higher quality types check out Tantus for silicone, Crystal Delights for glass, and Njoy for metal.
You'll want to buy some lubricant too if you don't already have some since the anus does not self-lubricate like the vagina does. Make sure you get a lubricant that works with whatever material your chosen butt plug is. For instance a silicone plug cannot be paired with silicone based lubricant. My favourite lubricant for anal is Sliquid Sassy, which is water based and can be used with any type of plug.
Using A Butt Plug For The First Time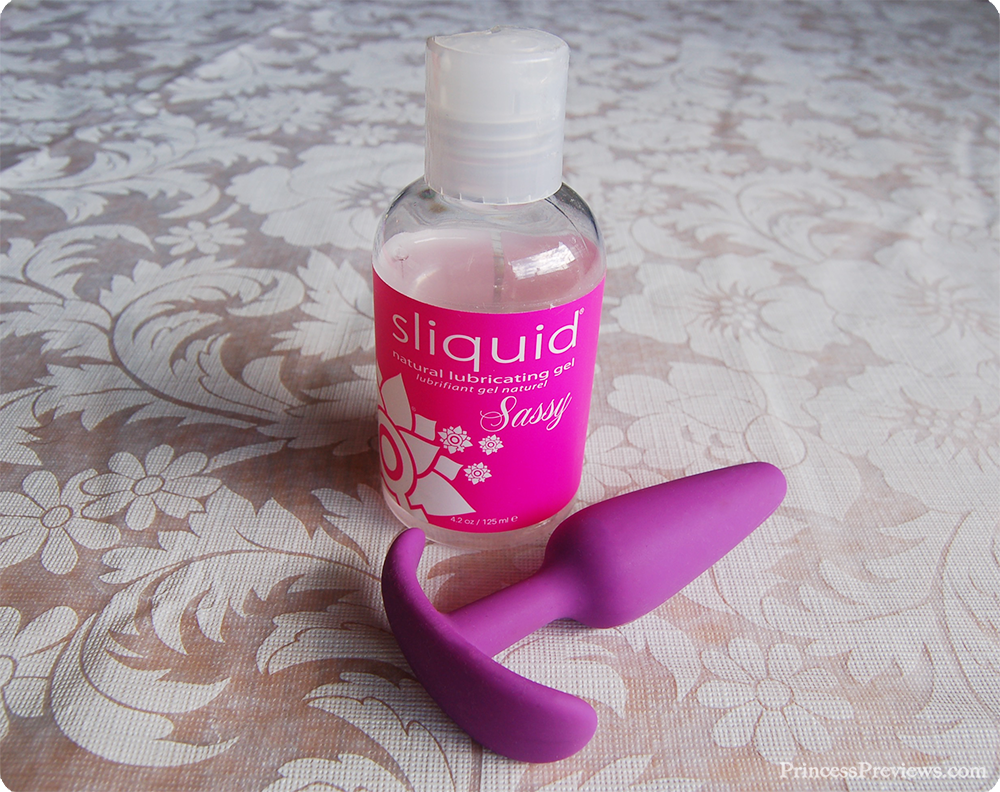 The main rule of inserting a butt plug is to go slow and use lubricant. The more relaxed and comfortable you are, the easier you will find it. It may also help to have an orgasm prior. Once ready, apply an adequate amount of lubricant. Too much lube is always better than not enough. If you have too much then it will just drip off (make sure to have plenty of tissues on hand!), but if you don't have enough it can cause pain. Next, get yourself in a comfortable position. I personally get down on all fours (doggy style), but other good positions are on your back with your butt raised on a pillow, or squatting.
Once inside it may feel pretty weird, and you may feel a need to remove it. As long as there is no pain then it is just your body adjusting, and you should lay down for as long as you need to and try to relax. If there is any pain, remove the plug immediately. Once you feel okay, you are ready to do whatever it is you wish!
Removal is similar story. Stay relaxed, and take it out slowly. You can also push with your muscles, in a similar way to taking a poop. On that note, there may be poop on the plug when it is removed, so make sure to have tissues on hand when you take it out. If your partner is freaked out by this then maybe anal play isn't right for them. Darker plugs are a good way to avoid this as it doesn't show as much with brightly or lightly coloured ones.
If there is any pain, bleeding or discomfort that lasts longer than a few minutes upon removal, then seek medical help immediately.
You should never ever share plugs or any sex toys between persons, or between orifices (vagina, anus, mouth). If you plan on doing this, you must sterelize the toy first, such as by boiling it, and this can only be done on silicone, glass and metal toys.
Extended Use
While it may sound strange, a lot of people enjoy anal plugs for their extended wear. This is because without stimulation smaller plugs can become quite comfortable and almost unnoticeable. The larger and / or more heavy the plug (for instance a small metal plug may be more heavy than a large silicone plug) the more noticeable it will be and thus pleasurable during extended wear. You can essentially wear a plug where ever you want, around the house or even out in public if seeing friends or just doing the groceries. Even without any feelings of pleasure, it lets you feel kinky, similar to how you may not wear underwear under a skirt to let yourself feel naughty. You should avoid wearing plugs for more than 2-3 hours at a time, even when comfortable, and remove to reapply lube every hour or so.
For extended wear, flat or T-bar bases are best. Metal toys are great because of their weight, but if you plan to sit down a lot then the base can be uncomfortable. Furthermore, the larger the base (or plug) the more obtrusive it may feel.
Other Anal Toys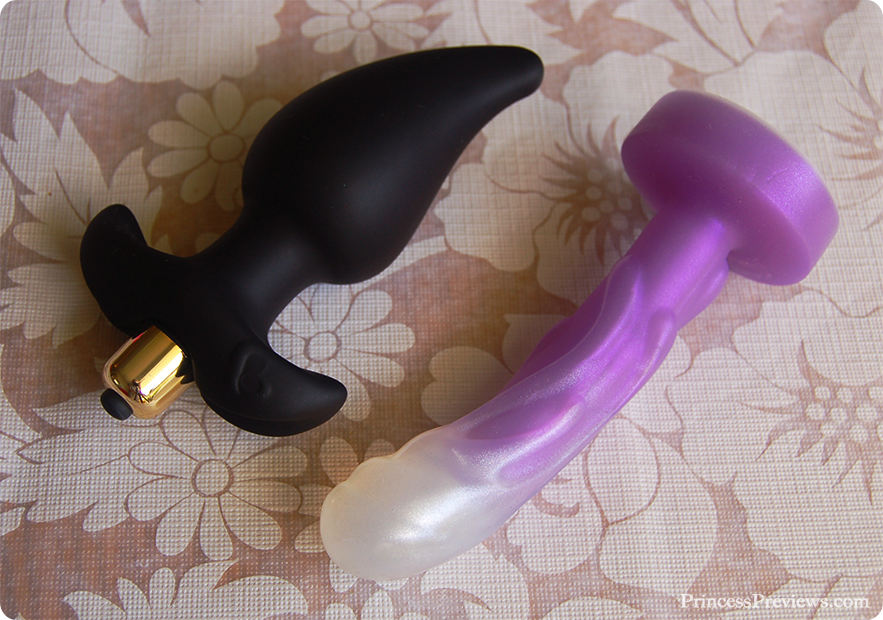 Once you have gotten use to your small, starter plug, you are ready to move onto other types of anal play, or bigger plugs! Even though you can now take a slightly larger toy though, still use your smaller toy to help yourself warm up, you should always work your way up with sizes in order to avoid injury.
So, what else is there?
Vibrating Butt Plug – If you're feeling bored of butt plugs, getting a vibrating one is a great way to add even more pleasure to it. Good vibrating butt plugs generally come in silicone and use a bullet vibe add-on to let them vibrate. Some good ones are the Tantus Perfect Plug Plus and Lovehoney Butt Tingler.
Fetish Plugs and Princess Plugs – This generally just refers to butt plugs that have special bases. Fetish Plugs generally involve tails, such as cat, bunny or horse type tails coming out from the base, while Princess Plugs have a jewel on the base. Crystal Delights sells a great range of these sort.
Anal beads – Also known as 'thai beads', this refers to a series of beads that are kept together by a string going through their middle. It is another beginner alternative, as you get to slowly progress through the different sizes, and the bigger beads act as a base so it doesn't get pushed inside. The main difference between these and plugs is the length, since anal beads can be long enough to move past your rectum and into your colon. I have a review of a good starter set that also vibrate here which cost under $30!
Anal dildos or vibrators – Any vibrator or dildo that has a flared base can be used anally, however most are for the more experienced as they are quite large. Look for small, thin and tapered dildos to start off with. For dildos I can recommend the Tantus Silk, and for vibrators Lelo recently released the Loki.
Inflatable butt plugs – The name really says it all, it's a butt plug that can be inflated while inside you, generally with a hand pump, to allow you to have a bigger plug inside then you could have possibly otherwise slid in.
Male prostate toys – Male prostate toys are similar to butt plugs, except they are curved upwards to achieve prostate pleasure and generally feature a handle or ring rather than a flared base. Ensure the handle is not flimsy with these and be sure to not let it go, these are not for extended wear. Lovehoney has a good range of them.
Further questions? Email me using the contact form on this blog, or message me through my listed social media!
The plugs featured in this article, in order of their appearance:
Princess Plug, Bondara Purple Velvet, Naughty Candy Hearts, Glass Plug, Rocks Off Butt Quiver and Tantus Splish.
Affiliate links have been used in this post.