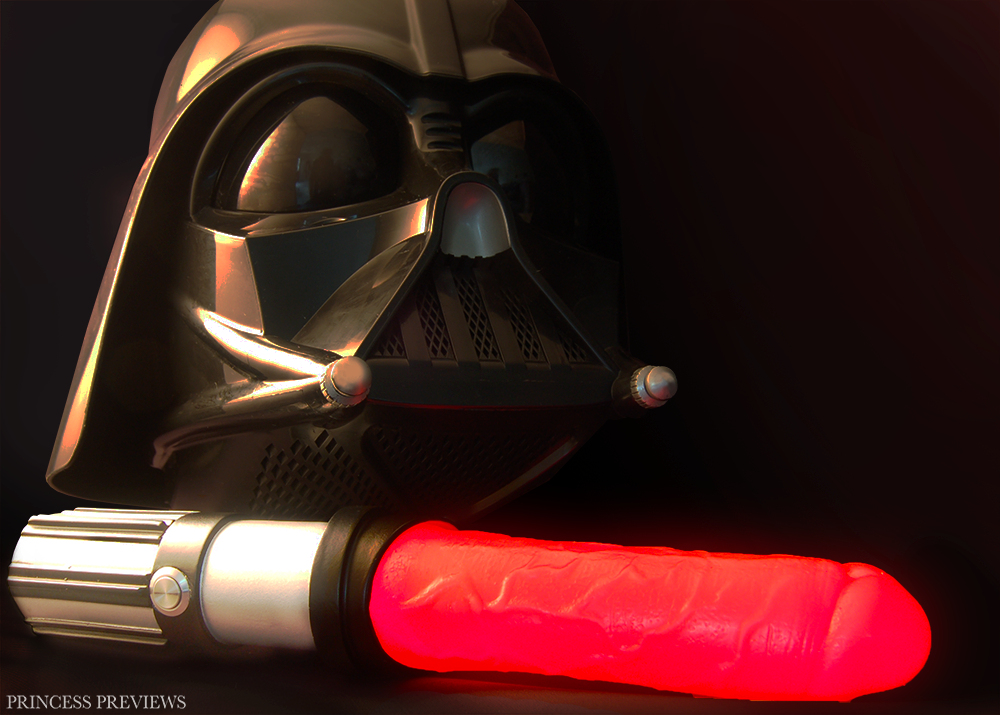 I don't get the chance to talk about it much on this blog, but I am a huuugee geek. When I'm not working or cooking (my other passion) you can guarantee I'm doing something nerdy, from playing video games and weekly 12 hour games of Dungeons and Dragons, to reading manga and drawing fan art of my favourite comic book characters. To bring in the new year my partner and I watched a marathon of Lord of the Rings, and we even met on geeky terms. One of my earliest signs of geekdom was being shown Star Wars when I was 10 and becoming obsessed. This hasn't ever stopped, and in more recent years I have been throughly enjoying the franchise's revival and have attended both The Force Awakens and Rogue One's midnight screenings, buying tickets for both almost a month in advance out of excitement and to ensure I get the best seats in the house. So, you can imagine my excitement last year at Sexpo when I found out two of my favourite things, Star Wars and Sex Toys, had been combined! If you've read my Sexpo wrap-up you'll probably remember my huge rambling about the amazing new independent Australian store I had found while I was there: Geeky Sex Toys. After the event I contacted them to let them know how much I adored everything they are doing, and they were wonderful enough to send me their Star Toys Laser Sword and R2-V2 Wand Massager for review.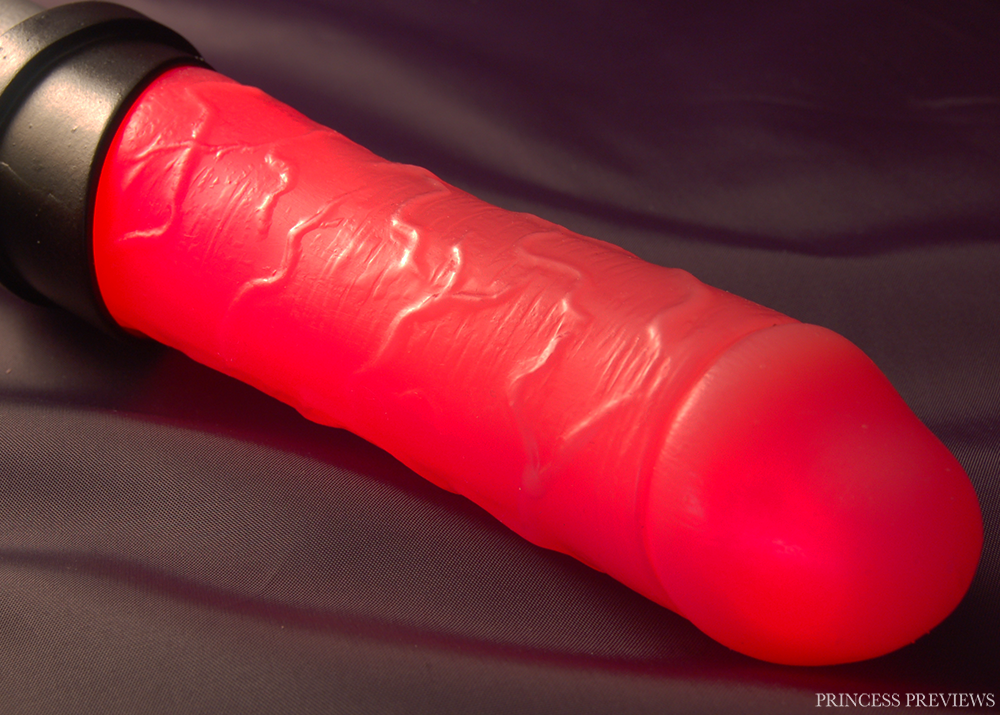 I first heard about Geeky Sex Toys during the world's Pokemon GO phase when they were selling a range of Pokemon themed toys through their Etsy store. I was particularly taken with these because it is not often you see novelty toys like this that are also body-safe. When I checked Sexpo's retailer line up and saw they were attending I was beyond excited and they were the stall I was most looking forward to seeing at the show. This excitement was well placed as their stall was amazing and they even won the best exhibitor award. I got to see so many pieces up close and knew this was a company I wanted to help support the best I could. This year I'm going to be trying hard to feature as many Australian companies and products as I can and I can't think of a better way to start this off. As I mentioned in my Sexpo wrap-up, they sell products relating to a huge range of amazing fandoms such as Marvel and DC Comics, Game of Thrones, Alien, Doctor Who, Sailor Moon and much more! On top of all that they are wonderful people and you can even send in toy suggestions through their website!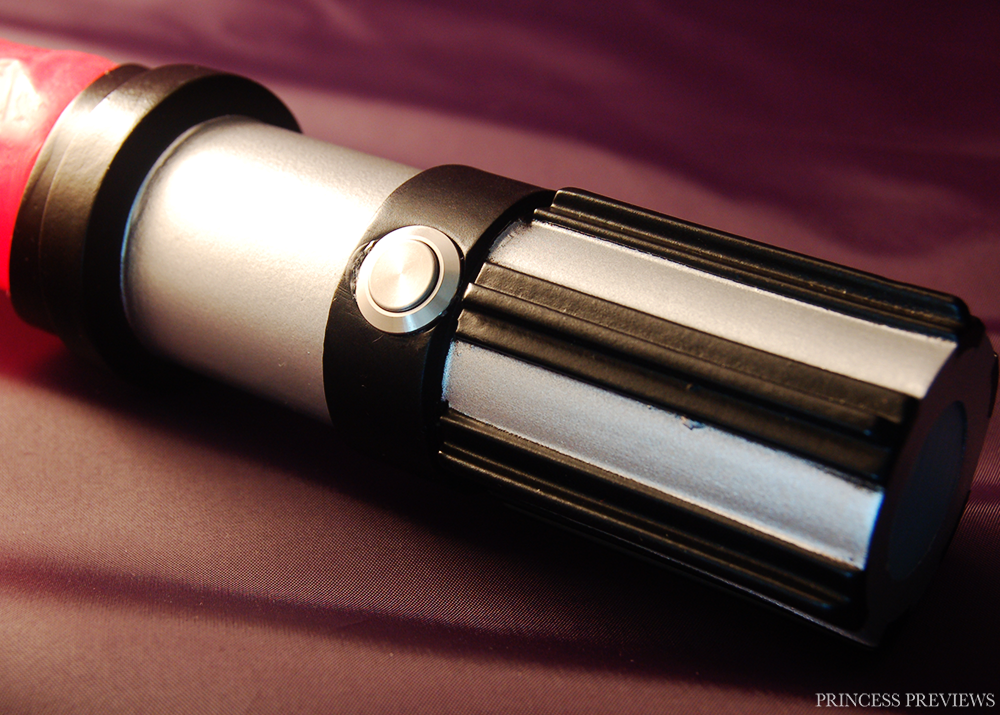 My Laser Sword really is a thing of beauty. While it certainly has a novelty look, it is also extremely well made and has a great overall design with a lot of thought and detail put into it. Darth Vader was always my favourite character in the series, so I had to order mine in red, but I think it is amazing how the other two colours (blue and green) don't just feature the same standard handle, but instead they all have different handles as within the movies. The handle itself which is made of resin feels very sturdy and well made, and has a silicone plug on the end for the batteries which is very tight so I can't see any chance of them falling out. The batteries it uses are 2 x LR44, which are included. While this toy is electrical, it is only to power the light up ability on the dildo end, rather than being a vibrator. The light works really well, it is incredibly strong even though it is coming through the silicone and the way it is set up there is no chance of it causing issues during use. The dildo end, aside from the fact it is red, is very realistic with a pronounced head and lots of veins. It is made of body-safe silicone (Update: I have flame tested it just in case and it passed), although has a very tacky feeling so picks up hair and lint easily. It does have some squish to it, but overall is a rather firm toy and because of the inner light-up core it cannot be bent. It is rather small in size, with a diameter of only 3.5 cm / 1.4 inches and length of 11 cm / 4.3 inches, so it is suitable for beginners and should require no warm up to use. The toy is not waterproof or anal safe and is not compatible with a harness.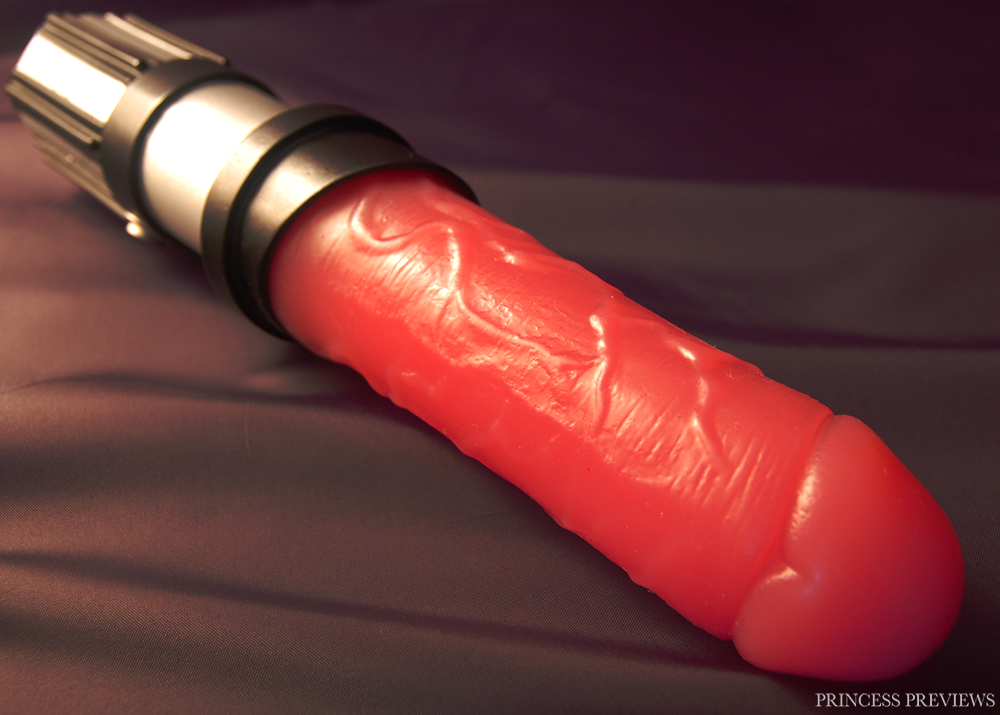 My Geeky Sex Toys order was placed on the 5th of December and I received it promptly on the 8th which was an amazing speed considering it was during the Christmas period! The packaging was very discreet with no mention of what was inside and Geeky Toys was listed as the sender, which if you are someone who collects geeky figurines like me I doubt anyone would put much further thought into it. Since Geeky Sex Toys are a independent operation they don't have extravagant packaging like some luxury products, instead the toy just simply comes with a small instruction sheet on how to use it which is set out like a comic book and really awesome, as well as a totally RAD hand-made, colour coordinated to my toy, storage pouch (and my R2-V2 has a blue and white one)! I adore this, it is perfectly matched to my dildo and even the perfect size for it. It is the special surprise touches like this that I love most about independent toy manufacturers and that keeps me coming back.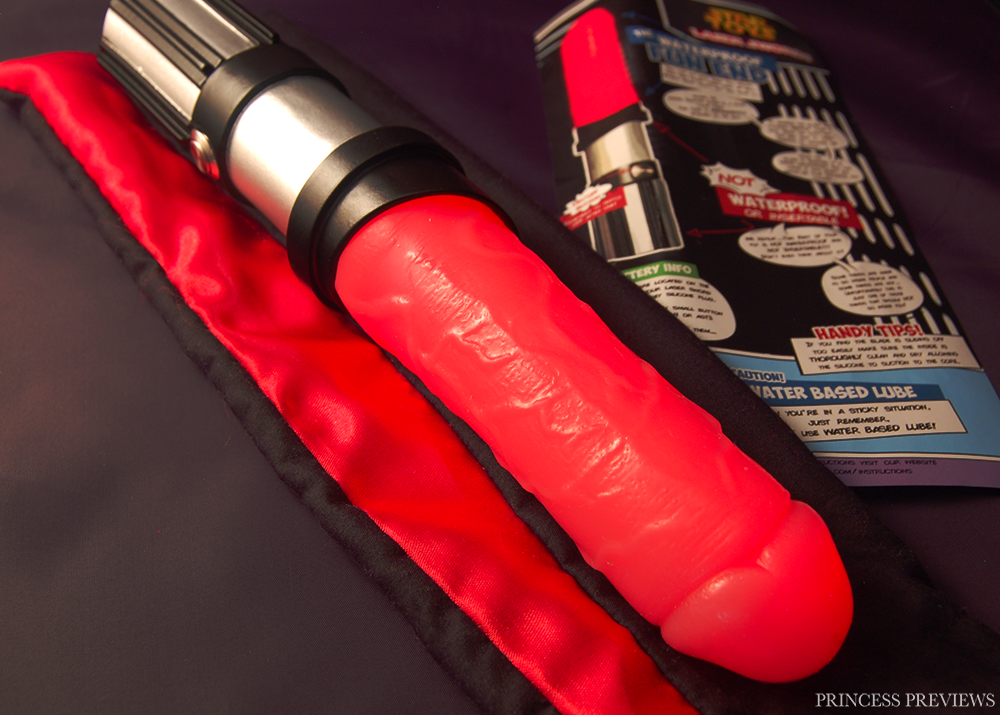 I wasn't really sure initially how this toy would work for me, it is too short to reach my A-spot, and not curved enough to hit my G-spot. Toys I have had similar issues with, such as the BS Atelier Alex and Godemiche Ambit, I found I could still enjoy the use of through simple thrusting, but it isn't really the same wow factor as stimulating one of my pleasure zones. So I was surprised to find that, because of the firm silicone combined with the texture of the veins and pronounced head, the dildo actually manages to rub against my G-spot! Combining this with thrusting is a dream, and even though it is rather slim the firmness makes me feel quite full inside. I prefer to use it combined with my IMTOY Gazelle, rather than the We-Vibe Tango as to avoid its hard plastic hitting the handle, and with these two combined I get some wicked orgasms.
It may sound weird, but one of my favourite things about using this dildo is simply watching it go in and out of me while turned on. It is a total fangirl experience and a delight to watch. If you are a Star Wars fan it is definitely something I would recommend, especially in a dark room with just the light of the toy turned on. My only negative to the toy is that I find it a tad short, my vagina is 15 cm / 6 inches while this is only 11 cm / 4.3 inches so it falls juuust short of what I would prefer. Usually this would be no issue, but in the heat of the moment it means I generally end up getting the end of the handle very messy from being right up in my vulva. With just a extra inch or two this would be a lot more convenient, as the handle is not meant to get wet so I always worry when trying to clean it.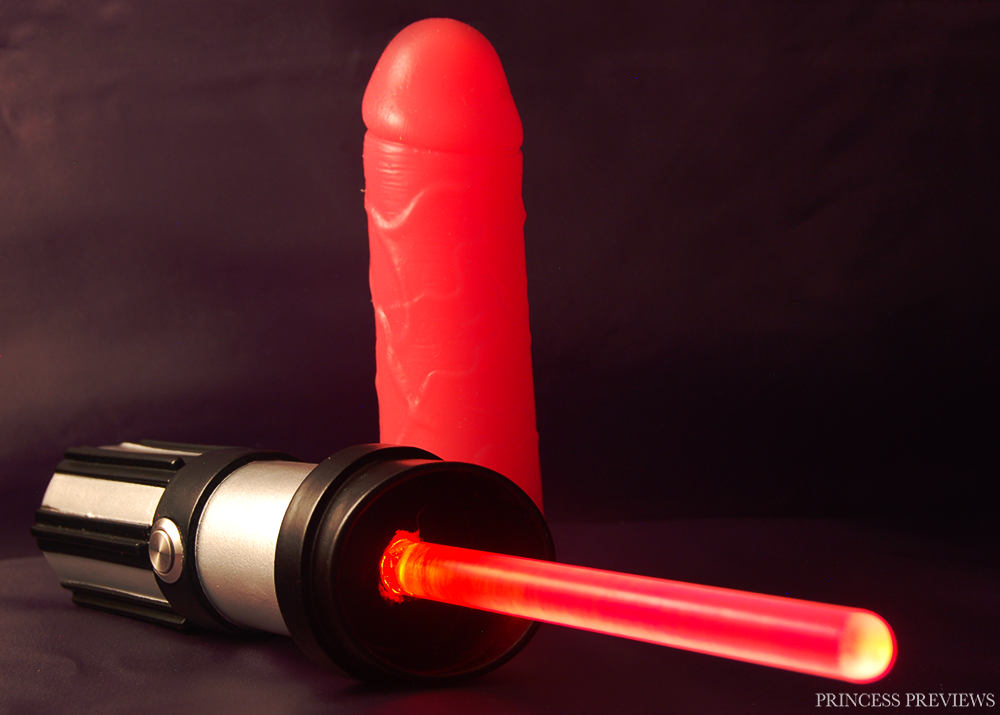 Cleaning the Laser Sword dildo is easy once you remove the insertable end from the handle. This can be done super simply by first twisting to release suction and then sliding the dildo off. Once this is done the silicone end is 100% waterproof and may be cleaned as normal by using some mild some and water. Then leave this to air dry fully before placing it back onto the handle and storing it in its included storage pouch. Since the toy is made with silicone ensure to only use water-based lubricants with it.
Overall I have loved reviewing this toy. Reviewing can feel repetitive after awhile, but this is certainly a completely unique and special toy that has certainly added some fun to my life. I have been so glad to find that these toys are more than just the novelty sex toys you come across every so often, but instead a serious new contender in the sex toy industry who are creating body-safe and ethical products for the world's geeks to enjoy. This toy surprised me by being able to stimulate my G-spot and it is certainly the perfect accessory to any Star Wars themed role-playing I have planned. Stay tuned for my R2-V2 wand review soon to see if it lives up to the high standards set by the Laser Sword!
This version of the toy has now been discontinued, but you can buy the upgraded version directly from Geeky Sex Toys for just $169 AUD / $133 USD!
Material - 95%
Appearance / Design - 90%
Solo - 70%
Partner - 70%
One of the coolest toys in my collection plus it manages to stimulate my G-spot!
I received this product in exchange for an honest and unbiased review.