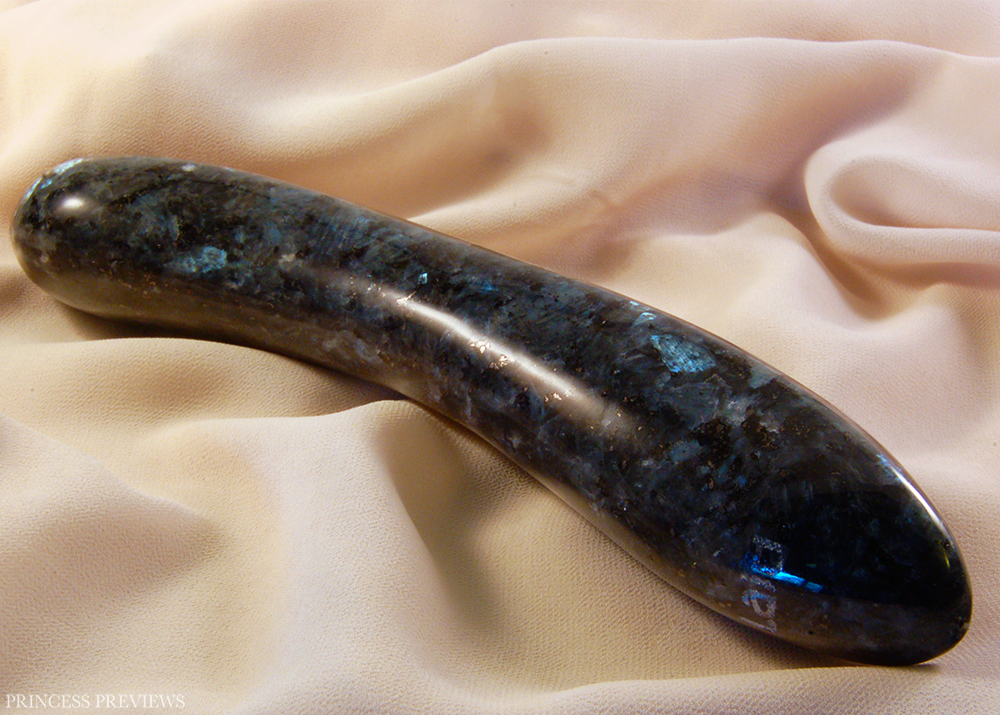 I've always been very interested in the healing and enhancement properties that come with different types of stones or crystals. I have very fond memories as a kid of picking out stones that were supposed to help me in certain areas, such as 'improves your art' or 'helps you make friends', and I still have a rather large collection. As such, I have lusted after the stone collection of toys from Laid ever since I first saw them. Unfortunately Laid products are both expensive and not very common to see in Australia, so they quickly fell to the bottom of my wishlist. Last month however I announced my partnership and affiliation with Australian retailer JOUJOU. As part of this I was able to choose a product from their range to review, and you can imagine my excitement when I saw they stocked Laid. I was most interested in their original dildo design, the Laid D.1 Stone, and set about eagerly waiting for it to arrive.
The Laid D.1 Stone is made out of Blue Pearl Larvikite, which is also known as Black Norwegian Moonstone. Laid themselves are a Norwegian company as well as the stone which is from the Oslo Rift in Norway, which I find particularly neat since Norway is one of my favourite countries (I always have scenery from there as my desktop wallpaper). Not only that but the stone is approximately 300 million years old, which is just an insane thought that instantly makes this dildo 300 million times cooler than any of my others. The idea that this piece of stone has been around that long before being made into a dildo for me to use is just crazy. The stone itself is believed to have a strong connection to the earth and protective and grounding abilities. Through some research I also found the stone is meant to great for psychic uses as well as maintaining youth and healing various parts of the body such as brain function, body tissue and blood pressure, as well as many more properties which you can read about here. This may all sound like a load of bull to you and you may be solely interested in what the dildo feels like which is fine, but to me this hugely enhances the idea of using this dildo.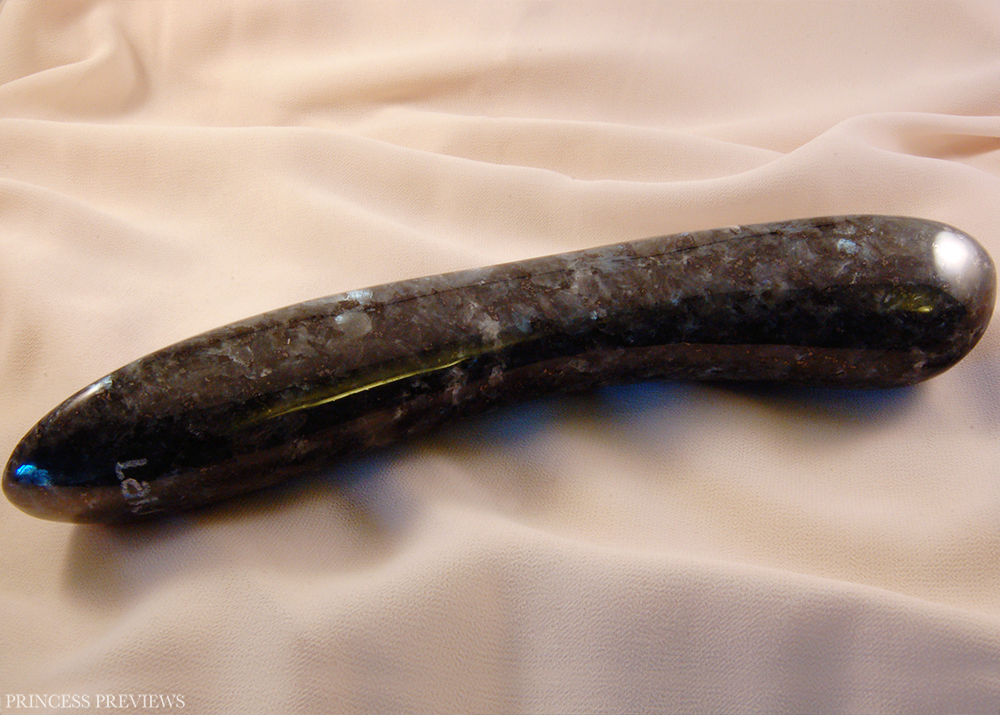 The toy itself is asymmetrical and designed for G-spot stimulation. Creators Line Iren Andersen and Karianne Ronning purposely designed its unusual shape, a feature that had not really been seen in sex toys before, although now you can find a similar design in the We-Vibe Rave since Laid was acquired by the same company who owns We-Vibe. The asymmetry is because the dildo is designed to be gently twisted or turned back and forth against the G-spot, rather than thrusted, giving it an interesting and varied surface for increased stimulation. While it may look like a double ended dildo, only one end of the Laid D.1 Stone is designed for internal use, with the smaller and more pointy end being designed as a handle. This is very obvious when holding it, as the handle end has clearly been designed with this in mind as my hand fits perfectly and it feels very natural when holding it. The Laid logo is also printed on this end of the toy, which acts as a way for me to know if I'm holding the toy the right way up, plus this also has a slightly rough surface so I can tell even when the lights are off or I'm using it under the covers. The dildo itself is relatively small although since it is stone it's completely firm so if you are not use to penetration then it may be difficult to insert. Overall though the material is very slick and smooth so not much lubricant is needed. It is 20 cm / 7.9 inches long and has a diameter of 3.7 cm / 1.5 inches, and as one would imagine it is quite heavy, weighing in at 400g / 14oz. The stone is, of course, very beautiful, it mostly appears to be shades of grey, but in certain lights you can catch a glimpse of the blue tones. Finally, since it has no base it is not anal safe or harness compatible.
Since it is my first time working with them I also just want to quickly shine my spotlight on JOUJOU quickly. They are an Australian based retailer who stock a bunch of my favourite brands, such as Tantus, We-Vibe and Fun Factory, and the majority of their products are made with body-safe materials. They have discreet shipping, a 30 day no-questions-asked return policy, and free shipping on orders over $200 AUD. Their flat rate for regular delivery is $9.99 AUD and for express it is only $13.99. Plus they have a best price guarantee, meaning if you find one of their products somewhere for cheaper, they'll beat it by 5%! While they are Australian based, my international readers can also purchase from them if you pay via PayPal.
My order was placed with JOUJOU on the 10th of October and it promptly arrived on the 13th. Since they are Australian based I expected fast shipping but this was very quick even for that. When receiving review items I don't always get an official order form sent to me so I don't get any email notifications or tracking details, but I did for this and I just wanted to mention how great I found their notification system. I was emailed when the order was placed, sent, in transit, out for delivery and delivered. This might seem like a little much but I'm the sort of person who likes to know where her parcels are at and I don't always have time to manually check the tracking so I really liked this touch. When the parcel arrived there was no mention of JOUJOU or what the product contained inside was at all, so you can trust JOUJOU to be discreet in delivering your items.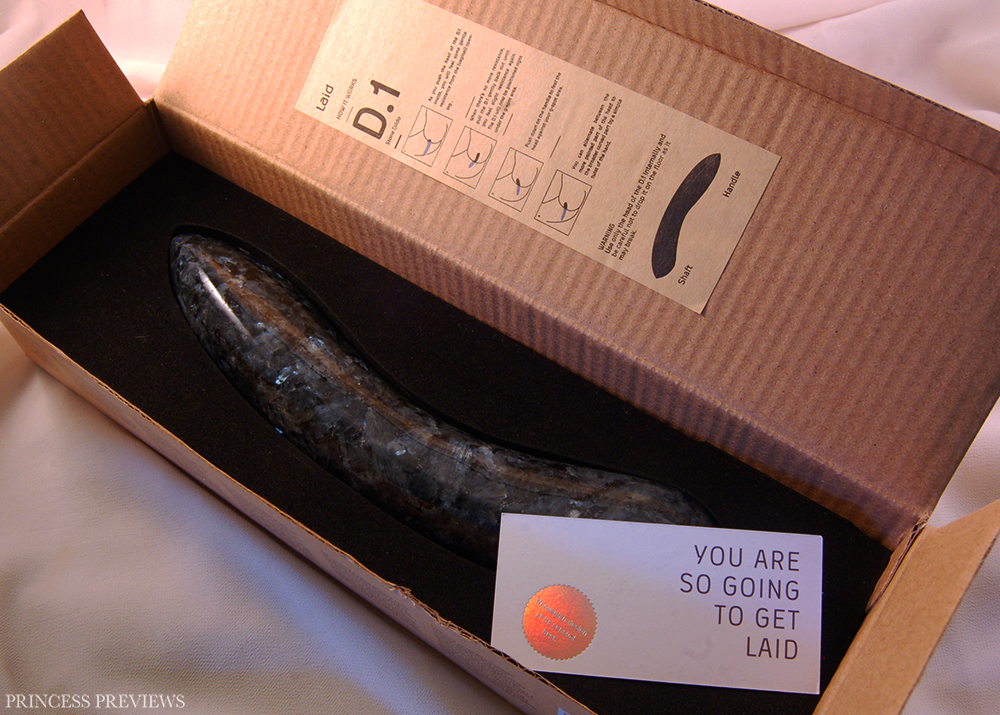 The Laid packaging is a simple but stylish brown cardboard box which has information about the toy printed on it. Inside the box is some instructions on how to correctly use the toy to best stimulate your G-spot, as well as a certificate of authenticity which is a really nice touch. The toy is kept in place and protected by a foam cut out. Overall I really like this packaging, I'm a big fan of minimalist designs and I think Laid have done this well. My only vice is that there is no storage bag to keep it in. Usually this wouldn't be a concern of mine, I am use to receiving toys without storage bags even though I love them, but due to the material of this dildo I fear putting it away without one. Even my regular storage solution of a plastic zip lock bag doesn't feel good enough for it, and even though it'd probably do more harm to my other toys than to itself I am constantly paranoid about it somehow getting a scratch. Right now I am using the foam cut out which I managed to remove from the box for its storage, but I'll likely be making my own bag for it soon.
I find inserting this toy relatively easy due to how smooth it is and not much lube is needed. Similar to metal and glass toys it is initially very cold and after a lot of use will heat up to match your body temperature. Personally I am not a fan of anything cold touching my genitals so I prefer to warm it up in my hands prior to use or run it under warm water. If temperature play is something you enjoy however this dildo certainly is good for it. Once inside you are supposed to follow Laid's instructions on how to stimulate your G-spot. They recommend inserting the dildo, then starting to pull it back out until you feel slight resistance, then angling the dildo up so it is resting against your G-spot and then twisting the dildo to stimulate the G-spot with the asymmetrical head. I'm sure these instructions work great on people with G-spots that suit them, but unfortunately as always I have an almost non-existent G-spot and so it does absolutely nothing for me. This was a disappointment, I am use to silicone G-spot stimulation dildos doing nothing for me, but since my only G-spotting dildo that actually works, the Comet Wand, is also made of a firm material I had high hopes that the D.1 would work for me. Determined not to give up I tried first warming up my G-spot using the Comet Wand and then going back to the D.1. After this the Laid D.1 Stone could finally stimulate my G-spot if angled just right and when thrusted up onto it it made for some amazing orgasms. Sadly the twisting method that the toy was designed for still didn't work for me, as I found I needed a lot of pressure to be able to feel anything.
Ultimately though if I have to use another toy that stimulates my G-spot better just to warm up so I can stimulate it with another weaker toy then it probably isn't worth it. If I was able to use it to stimulate my G-spot without any warm up however then I could definitely see the potential in the toy. I can insert it without having to first stretch which isn't something I can do with the Comet Wand, so it would mean I could access G-spot stimulation a lot quicker than I currently can. Even with my weak G-spot I can definitely feel a lot of good potential in this toy, so if you're someone with a nicer G-spot then me then I think you'll definitely enjoy this toy.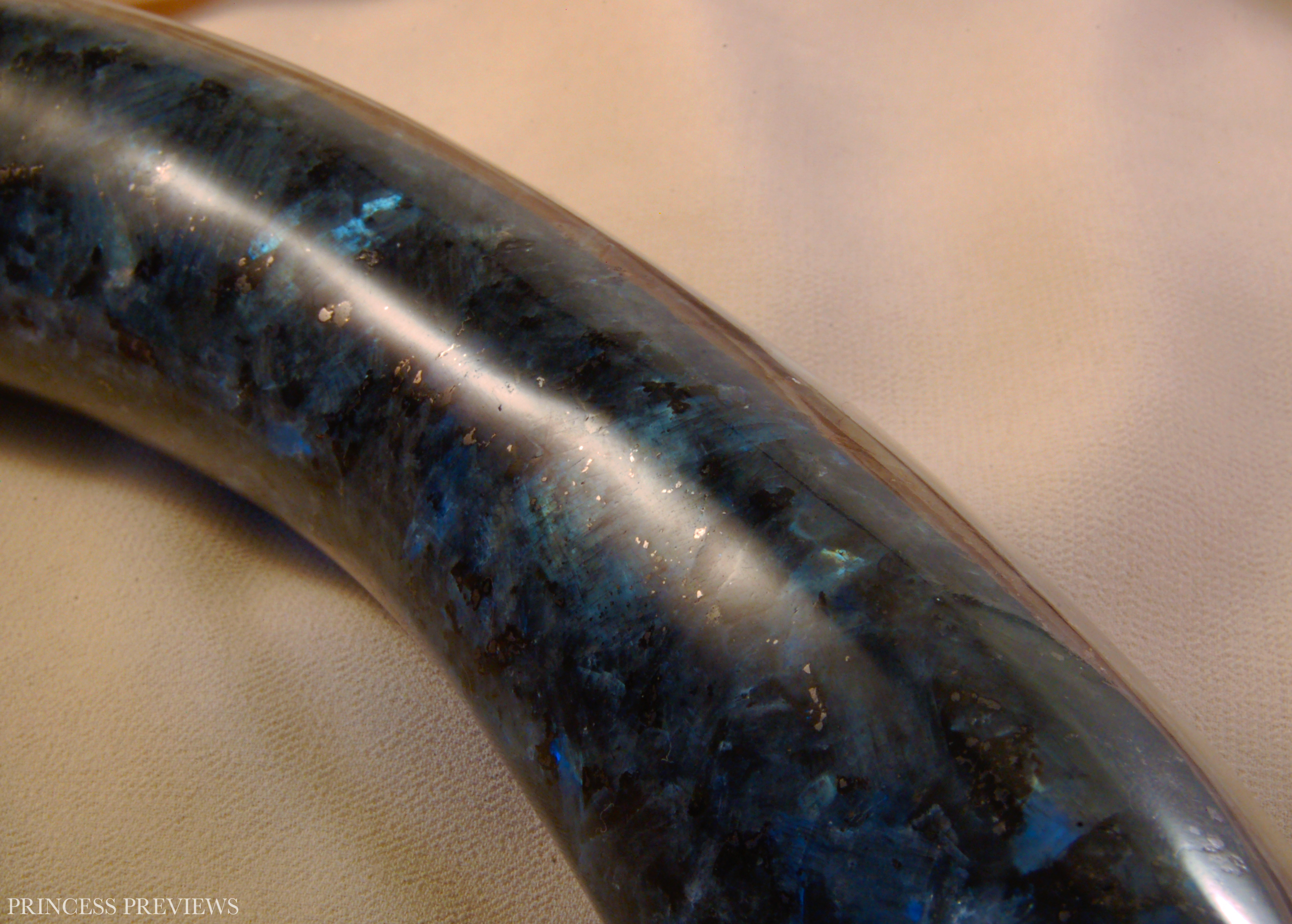 Alternatively I have also found that the Laid D.1 Stone is very enjoyable when just thrusted like a normal dildo. The weight feels very pleasurable inside and it can even hit my A-spot, so orgasms with it this way are intense. In the future I'm likely to continue using it this way unless I have a good reason for trying to achieve G-spot stimulation with it. The only issues with doing it like this is, firstly, it is very heavy so you have to be careful not to thrust too hard or you can risk bruising your insides. Secondly, it isn't really designed to go in this far, so you're likely to get very messy hands, I'd recommend having tissues close by. Definitely worth it though.
With proper care the D.1 will last you a lifetime and then some. It is easy to look after, just give it a wipe down with some toy cleaner and warm water after every use. Since it is stone there is no worry that it'll attract dust while in storage, although like I mentioned earlier you probably want to store it in its packaging or at least the foam cut out. You can use both water and silicone based lubricants with it.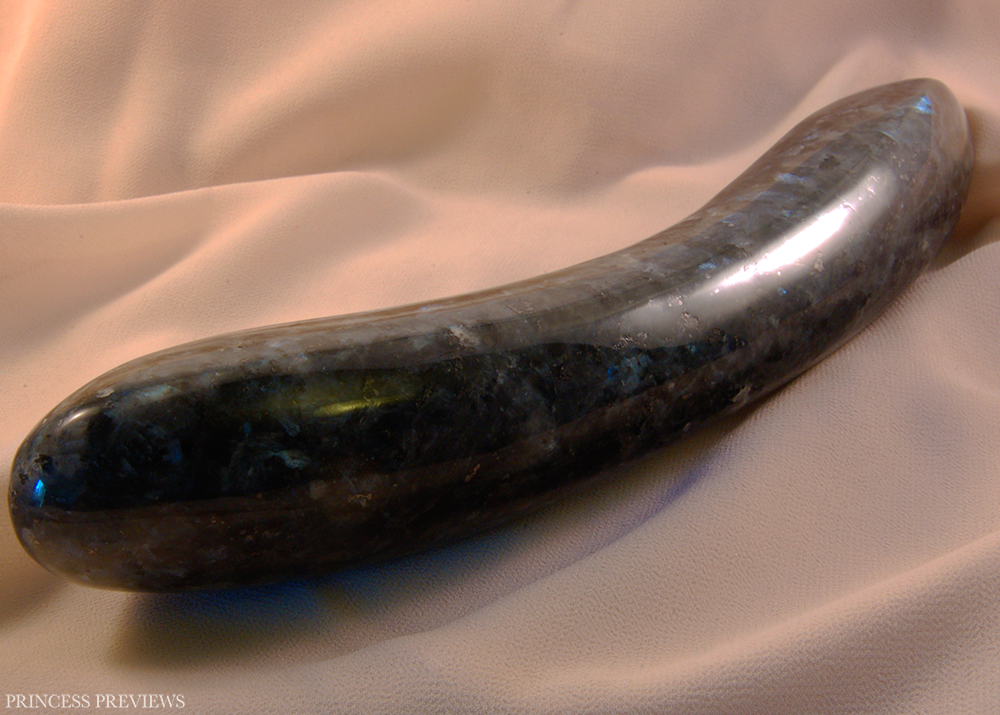 This dildo is the most unique of all my toys and I can't imagine that is going to change any time soon. It is well designed and simply a stunning addition to any collection small or large. Whether you are into healing stones or not, you can't deny how amazing the idea of using something that was 300 million years in the making is. While its designed G-spotting use didn't really work with my body I could definitely feel that for anyone who can easily access theirs it would work really well. Thrusting with it probably wouldn't be for everyone, especially due to its weight, but when done carefully I personally find it amazing. This toy is great to use, both due to the orgasms it gives me as well as the idea that it helps connect me to the earth. I would whole heartedly recommend this dildo to anyone who asks.
You can buy the Laid D.1 Stone Dildo from JOUJOU for just $119.95 AUD / $87 USD! 
Material - 100%
Appearance - 100%
Solo - 75%
Partner - 40%
A absolutely stunning dildo although its G-spot abilities don't really work for my body. I do enjoy thrusting with it, but this must be done carefully so I wouldn't recommend using with a partner.
I received this product in exchange for an honest and unbiased review. Affiliate links have been used in this post.