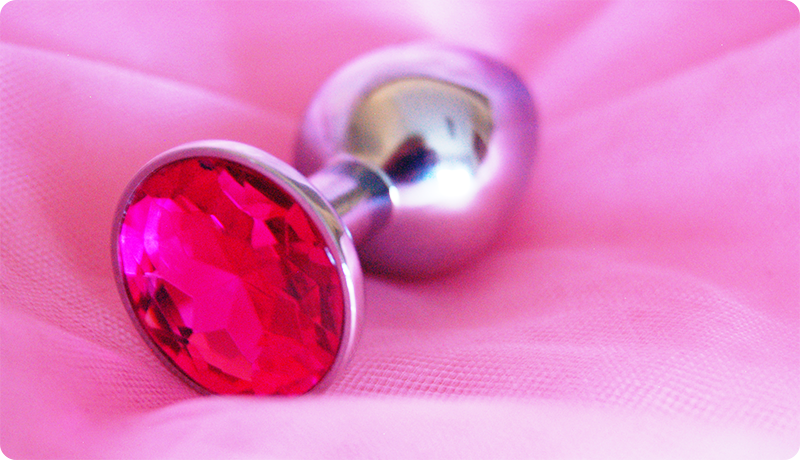 My 'Princess Plug' was my first butt plug, an easy excuse to get into anal play by hiding behind expressions of "Aww, but isn't it cute?" Since then, I know what real plugs are meant to feel like, but it still doesn't make it any less adorable to be in my ass.
The 'Princess Plug', which is really just a fancy-named jewelled anal plug, has become massively popular recently, particularly on my section of 'cute porn Tumblr'. I mean, what's more 'kawaii' than covering up your asshole with a pink little gem? They are usually quite small, which is thankful since most buyers are anal beginners, and can be bought for a range of prices and colours. So, of course, I had to buy one to see what all the fuss was about, and I mean there's no denying they are cute. Honestly, if you are reading this from my Tumblr, you need to jump onto this trend already and get one for yourself, they truly do have the ability to make you feel just a little bit more like a princess.
My particular plug is small, pink, and unbranded as far as I'm aware, and boy is it tiny. I purchased it off amazon (I wouldn't recommend), which can have a few cheap knock-offs, but I'm glad to say that mine seems to be the real deal. It's metal, is 6.9 cm / 2.7 inches long with an insertable length of 6.4 cm / 2.5 inches and a base diameter of 3 cm / 1.2 inches, and has a pointy tip to it. It also came with a red velvet drawstring bag, which I adore, it kind of gives that extra 'royal' feel to it. The jewel has a bit of a plastic-y quality, but that doesn't effect the look or the usage since that's not actually going in anything.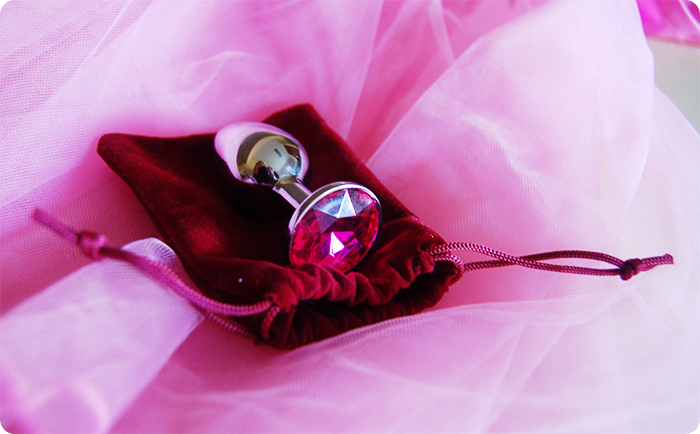 Since this plug is stainless steel you can use any type of lubricant you want for it, and make sure you have some ready or purchase it with the toy. You do not want to use any sort of anal toys without adequate lubricant, as this can cause tears inside the anus and may even cause infections. Furthermore, if you plan on buying a silicone plug instead, make sure you only use water-based lubricant. Foreplay and relaxation is key to using and inserting anal toys, even with small ones such as this, and having an orgasm prior can further help loosen you up.
One of the things I enjoy most about this toy, particularly over my bigger and generally better quality silicone Naughty Candy Hearts plugs, is the weight that the metal gives it. Since the Princess Plug is so small, it would be easy to forget it's there, if it wasn't for the constant pleasurable weight that can be felt during use. This is most notably awesome for when you leave it in during extended periods of time, since it's not distracting, but at the same time gives a small enough amount of pleasure for you to still be aware of it and leave you feeling naughty. It's just a genuinely comfortable plug, i'd be happy to wear it while seeing friends or out shopping, and I've done just that without feeling any discomfort, despite its pointy tip. Plus there is no chance of it falling out, this baby will stay put until you decide it's time to remove it.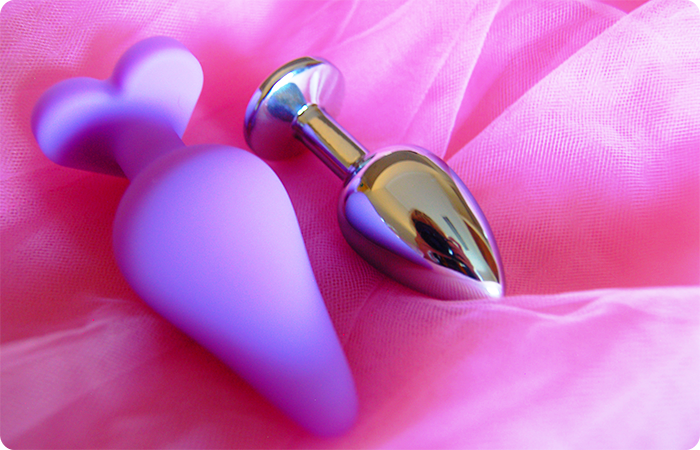 I've found unfortunately, that its use during intercourse is mostly pointless. While it could be felt by me, I found it too small to give much feeling or pleasure, and my partner could barely feel it at all, saying that when he did it was usually too hard for him to really enjoy. A positive to its size during intercourse however, is that it makes it easy to insert and remove, meaning it can be quickly popped in during foreplay to spice things up a little, rather than the usual of having to struggle awkwardly to fit a bigger plug before the mood is lost. You can also use temperature play since it's made of metal to add a little interest to the bedroom. Just run it under cold or hot water to try its effects, and this can also be helpful if you want to use it on a cold day and you aren't so interested in your ass freezing to death.
The worst flaw to this plug is the size of its base, which annoyingly is small enough to make me constantly worry if it's going to slip inside. This might just be because I bought it on amazon and it's low quality, but honestly most Princess Plug's bases I see appear to be this small, and for me this is a rather scary problem. As uncomfortable as I find the heart shape base on my Naughty Candy Hearts plugs are, i'd much rather use them over this as I know they are big enough for there to be no chance of entering anything they aren't meant to. As soon as I get the chance I'd like to upgrade to a bigger version of the Princess Plug, or at least one with a wider base to feel more secure having it in. But, despite this, I don't regret my decision to buy it since I found it a great way to cheaply test whether anal play was for me, and without it I don't think I would be able to physically upgrade to a bigger one.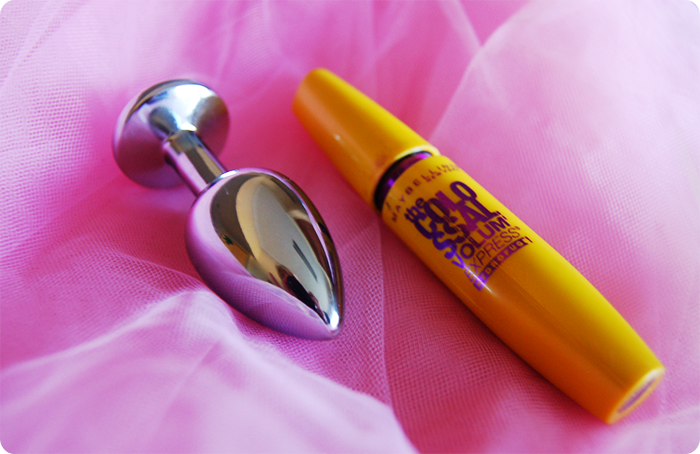 Maintenance for the plug is simple, since it's waterproof and not really anywhere for bacteria to hide. Warm water and antibacterial soap should do fine, and a toothbrush if there is any crevices around the base. It can be used both anally and vaginally, but never do this in the same session, always make sure to clean between every use.
If you are really interested in butt plugs as more than just a fad, then I'd recommend first checking out my beginner's guide and then maybe investing in some silicone anal starter kits such as the Perfect Plug Kit from Tantus. Then I'd check out the Crystal Delights range of glass Princess Plugs and finally Lovehoney's amazing selection, they sell a great range that would suit for both beginners and the more experienced, as well as selection of different materials such as glass, metal and silicone.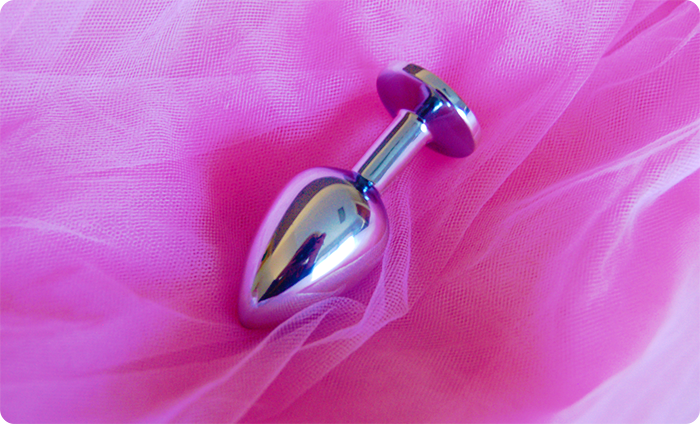 Overall, I've found the Princess Plug to be more of a sexual accessory or some sort of butt-jewellery, rather than a sex toy. I wouldn't recommend its use during intercourse and its base makes me too nervous to orgasm with it inside of me. But, damn, does it look good, and I'm more than happy to wear it for a few hours every day, in a similar way i'd wear nice underwear to make myself feel good even though no one can see it. Plus it's hella comfortable, and its size makes it feel kind of like a entrée to the real plugs. I'd recommend it to all the anal beginners out there who want to be a bit more princess-like, but don't expect a real plug experience from it, and make sure to get it good quality.
You can buy great quality Princess Plugs from Lovehoney starting at just $89.95 AUD / $65.70 USD
Material - 80%
Appearance - 90%
Solo - 20%
Partner - 30%
Extended Wear - 55%
A great novelty toy and introduction to anal play, but the base is too small to be used during masturbation or sex.
Affiliate links have been used in this post.