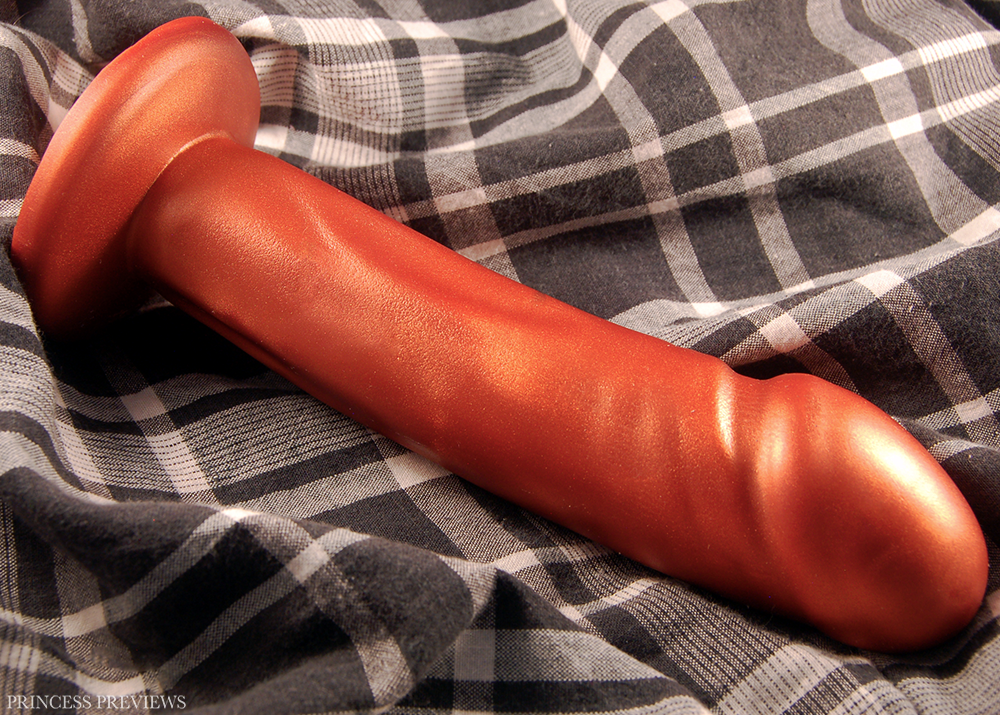 For avid readers of my blog, you might recall the Tantus Vamp from my earlier review of it back in March last year. That review is one of my favourites, because I always felt like it was a turning point both for my blog and for my body. When I first purchased the Vamp I had no idea about any limitations I may have in my ability to enjoy sex toys. I was just starting out as a blogger, and I happily added the Vamp to my shopping cart during a sale of Tantus's grab bags. Little did I know, that it would actually be too large in girth for my vagina to comfortably accommodate. I tried many times to be able to use it, as I had heard such great feedback from my fellow bloggers, until eventually I admitted defeat, and decided large toys just weren't for me. I have come to accept that now, and it is one of the traits that makes my blog a little bit different from others. But I always wished I could enjoy the Tantus Vamp like so many others had. So, you only can imagine my excitement when I heard Tantus were releasing a new version of the Vamp, in their Super Soft silicone formula. It was a dream come true, and I quickly set my heart upon owning one. Thankfully, Peepshow Toys were kind enough to send one my way for review.
The Tantus Vamp Super Soft is the first in Tantus's new Super Soft line of silicone toys, all of which are older designs that were previously using Tantus's rather firm silicone. This is perfect for fans of their products like me, who cannot accommodate many of their larger style toys. Because of this I usually stick to their Dual Density toys, which are fantastic, but it has always been a shame that their other products felt out of reach to me. This new range still features the same sizes and designs, so larger toys will still stretch me out, potentially even to the point where I cannot use them either, but the softer silicone will certainly allow for my use of them to be a lot more likely. My only Tantus toy previous to this Vamp that was made with their Super Soft formula is my Pack 'n Play No.2, which has long been one of my absolute favourite dildos, so I was expecting great things. Upon receiving the Vamp the silicone is certainly very similar to that of my Pack 'n Play No.2, although perhaps slightly softer. It is very squishy, and ultra flexible in ways that my Pack 'n Play No.2 is most certainly not. It has a very tacky texture though, so hair and dust will stick to it from a mile away. I have not found this to be an issue in use however, and it hasn't required extra lubricant, even though I first believed it would.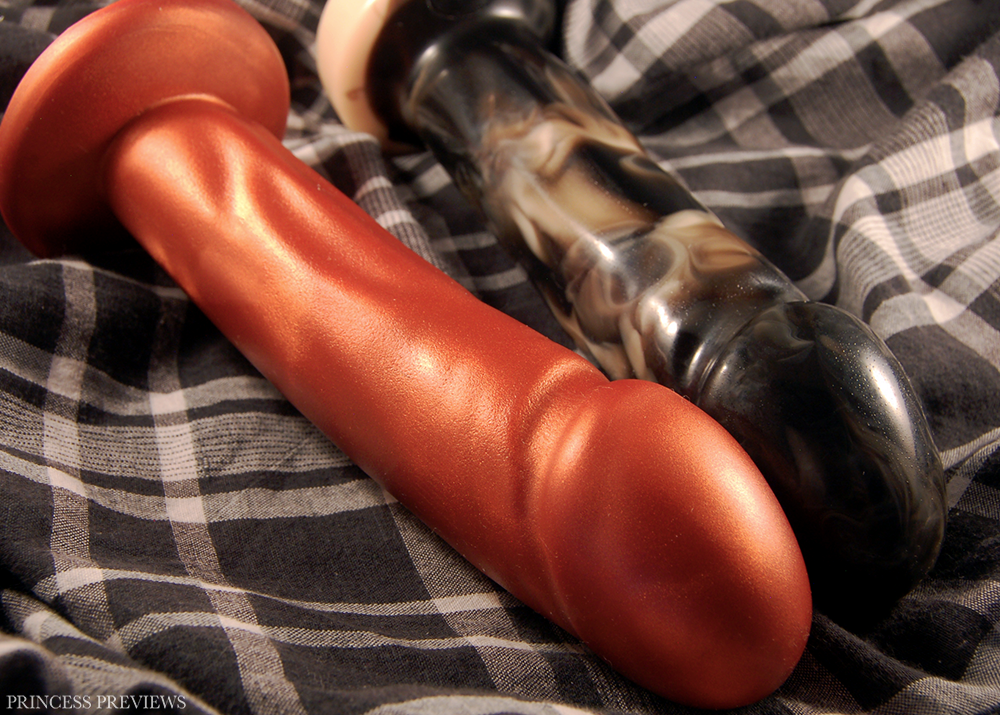 The Vamp Super Soft is the same as the original Vamp in every way except for its colouring, silicone firmness, and base. The base is the most obvious difference by sight between the two, as the original Vamp has a rather large and thick base, while the new version has a very thin one. Plus, since the silicone is so squishy that means the base on the Super Soft is suuuper flexible. Currently the Vamp Super Soft is available in two colours, Copper and Midnight Purple. I'm totally over purple as a colour for sex toys, and wasn't sure about the sound of Copper, but upon seeing it in person I am totally head over heels. Firstly, it is such a unique colour for a toy, so it really stands out, but it also has this shiny and almost metallic gleam to it that just looks beautiful in the light. The sizing is the same as the original Vamp, giving it a shaft diameter of 4.3 cm / 1.7 inches, a maximum diameter of 4.4 cm / 1.75 inches around its head, and a length of 18 cm / 7 inches. Even though I could not comfortably accommodate the 1.75″ head of the original, I wasn't concerned about having this issue again, as I had previously been able to use the Tantus Uncut #1 which has the same diameter but uses their a dual density silicone, which is even firmer than the Super Soft style. As with all Tantus dildos this toy comes with the Tantus logo stamped into the base, and since it has a base it is also harness compatible and anal safe.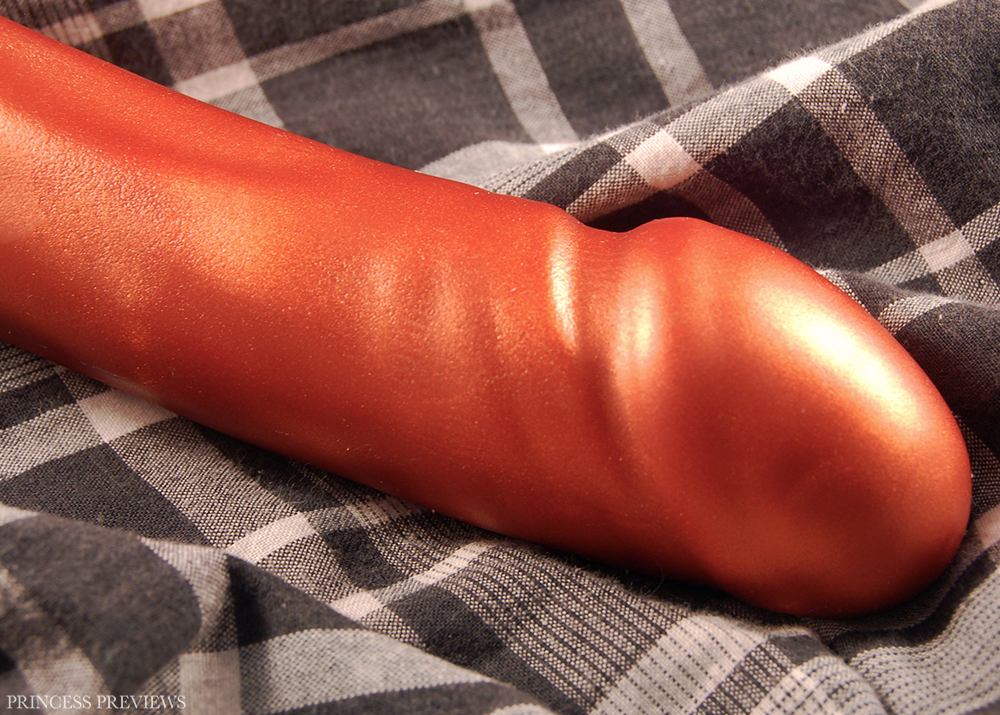 My order for the Tantus Super Soft was placed with Peepshow Toys on the 23rd of May and it arrived on the 30th of May, which was a fantastic time frame considering it was coming from the US to Australia. The package had no mention of the company that sent it, but did list the items inside as "Massager", which may be an issue if privacy is important to you. The Vamp Super Soft was in Tantus's usual packaging, which is a rather bulky white box with spots of colour on it and a clear plastic insert to show off the toy. On the back the box lists a little bit of information about the toy, as well as other products that Tantus make. This box can be opened carefully so it may be reused, but since it is quite large I usually just keep Tantus toys in a zip-lock bag as they do not come with their own storage pouches.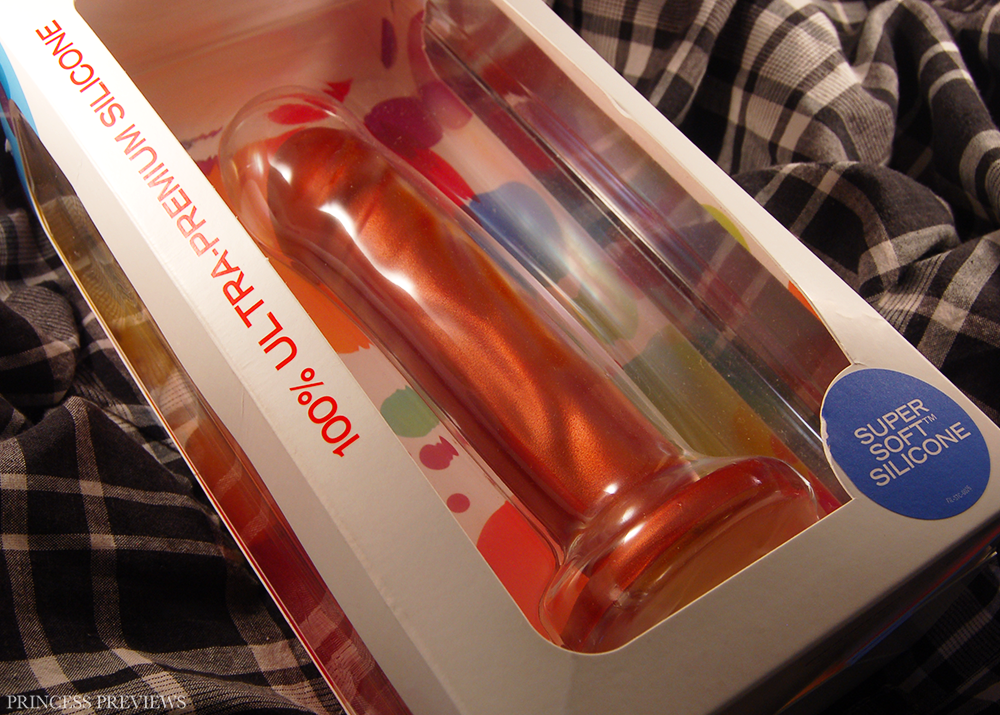 As was expected with the product I require some warming up prior to its use, but not as intensely as I would need to warm up to use the original Vamp or even the Uncut #1. I've found the Pack 'n Play No.2 works well for this, as it loosens me up for the Vamp but also prepares my A-spot for stimulation. When I finally get round to inserting the Vamp it is a breeze, nothing like how I found inserting the original, which I always struggled to get past the head. The soft silicone feels really good inside, and it is a very different feeling to their recent heavily textured realistic toys such as the Tantus Gary. You can really feel just how smooth and soft it is inside, and I enjoy the sensation of it moving inside me.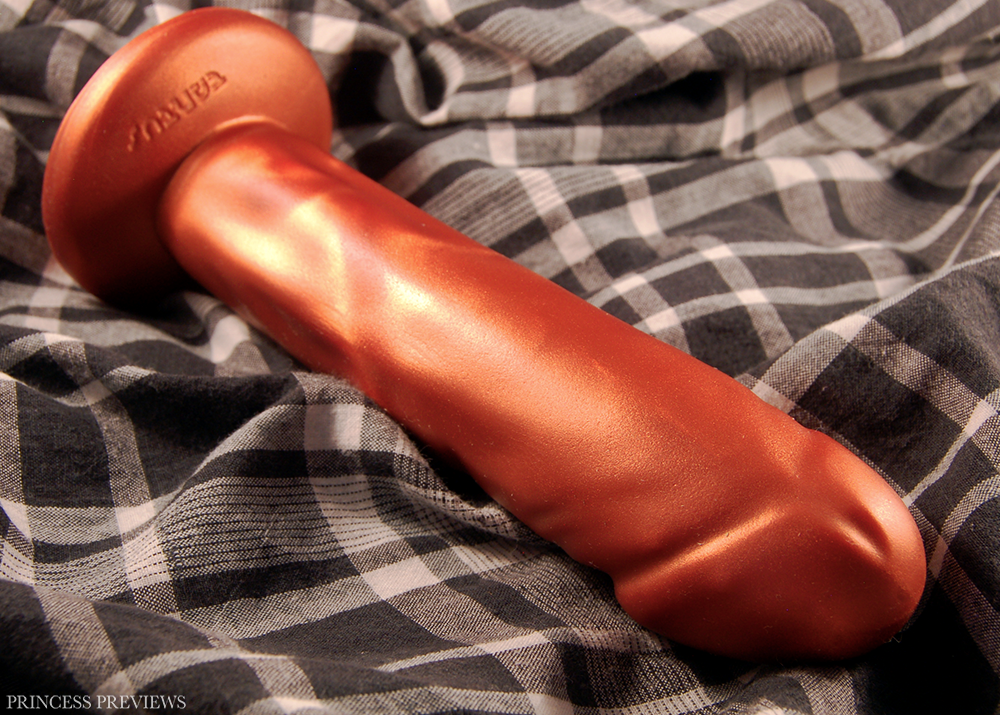 Most Tantus dildos are recommended for G-spot play, and this one is no different, but as with all of their dildos that I own, this one moves right past my G-spot and heads for my A-spot instead. I have a peculiar G-spot, it needs a very firm material and a curve to be stimulated, so the silicone dildos of Tantus tend to not be very compatible with me. Although I will point out that for most people this will probably hit or at least stimulate your G-spot, that's what it has been designed to do. I love to use this toy to stimulate my A-spot instead, which I find its long length and straight body work perfectly for. It is far better at it than my Pack 'n Play No.2, although the soft silicone means that the feeling isn't as powerful as with my Gary or Uncut #1 which are both dual density. I love it regardless, and I just find it has a very different feel to all other Tantus dildos that I own.
Since Tantus toys are made with 100% Ultra-Premium Silicone cleaning is super easy. For general cleaning just wash it with some warm water and mild soap, before rinsing it and leaving to air dry. For a more complete clean, especially when switching the toy between orifices or partners, Tantus recommends placing it in boiling water or the dishwasher. Once dry you can return it to its box or zip lock bag for storage. Since it attracts a lot of dust you may need to wash it prior to use as well. Ensure you only use water-based lubricants with this product, or perform a spot test before trying alternatives.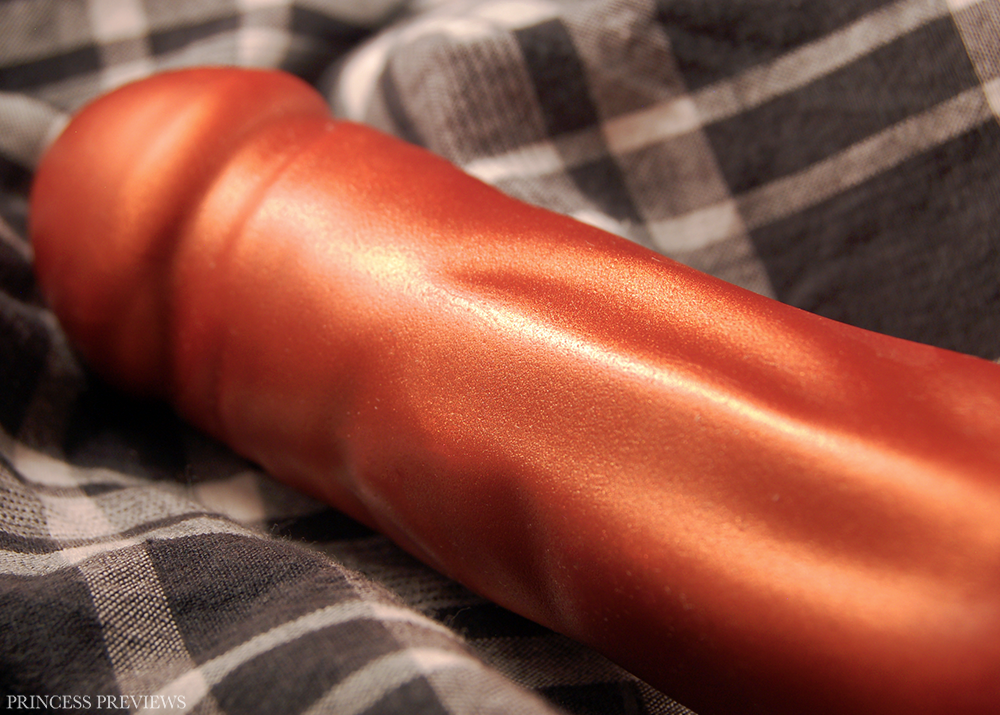 Overall, I love the Tantus Vamp Super Soft. I'm so thankful to Tantus for finally allowing me to enjoy this product, as well as to Peepshow Toys for sending it to me. Some may think it is a bit silly to own two of the same product essentially, and even I felt a little weird when waiting for it, but after using it I feel these are instead two very different products, even if they use the same mould. I know I am not alone in struggling to use the Tantus Vamp, and it is an issue I've heard about more than a few times since releasing my original review, so I know there will be more people out there like me who have been waiting all this time to finally get to try the product they basically already own, or those who had previously been put off by reviews like mine. I just want to let those people know that this toy is definitely worth the wait. The soft silicone feels great in use, and it gives me plenty of orgasms that I just can't get enough of. I can't wait to get my hands on more of this new range by Tantus, I just love the potential of it!
You can buy the Tantus Super Soft from Peepshow Toys for just $75 AUD / $59 USD!
Material - 100%
Appearance - 100%
Solo - 86%
Partner - 80%
A great dildo, has a lovely soft and smooth feeling when inside, and can stimulate my A-spot well.
I received this product in exchange for an honest and unbiased review. Affiliate links have been used in this post.