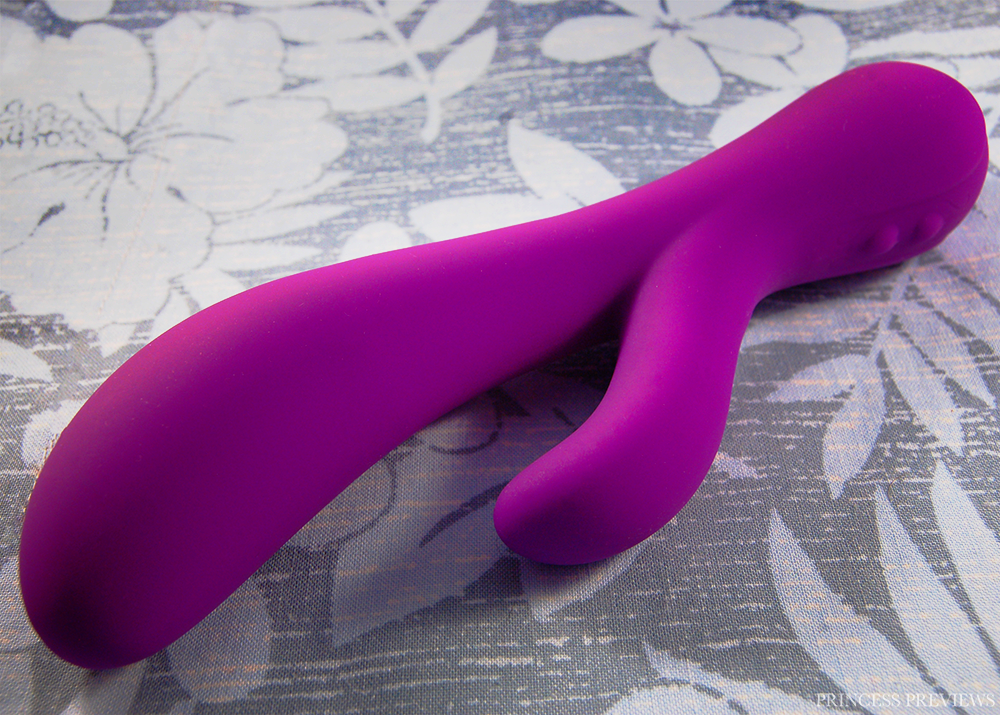 If I had to name one of my favourite and most unique reviews this year then the Vibease clitoral vibrator would surely come up. I had no idea what it would be like and was more than a little cynical about its erotic audio books, but it didn't take me long to fall in love with it. While it had its faults, namely being difficult to use without its phone app, overall I gave it a good review. After publishing it I was once again contacted by Vibease, who were pleased with the review and offered to send me their only other product, the Esthesia. This toy is essentially the same as the Vibease and is also designed for use alongside their phone app, however rather than being a clit vibe it's a rabbit vibrator. While I have now tried two dual stimulation vibrators, the MysteryVibe Crescendo and SenseMax SenseVibe, this is the first one that actually features the traditional shape of the rabbit vibrator (without the actual rabbit), so I guess technically this is my first one! Due to this and my love for the Vibease, I have been very excited to try out the Esthesia and write this review.
At first glance the Vibease Esthesia appears to be a very simple toy, and without the phone application I suppose it is. It has the rabbit shape, with a larger and longer arm that is designed for vaginal insertion and is also curved slightly to stimulate the G-spot, and a shorter arm that is designed to rest on top of the clitoris. Unlike most rabbits that are made with non body-safe materials, this one is made with silicone which is completely safe for use. There is quite a good amount of flex in both of the arms so that it may sit comfortably, however there is no squish to it, making the vaginal arm feel larger than it is and the clitoral arm quite relentless. The maximum diameter of the larger arm is 3.5cm / 1.4″, meaning you may need to warm up prior to use. There is a visible seam in the silicone, although this does not affect use, and at the bottom the silicone uses ridges to direct the hand to its two buttons. On its back is a hole to connect the charging cord, and as with the Vibease this toy is USB rechargeable. Also the same as the Vibease is that this toy only comes in two colours, purple and pink, although while the Vibease was only water resistant this toy is fully waterproof.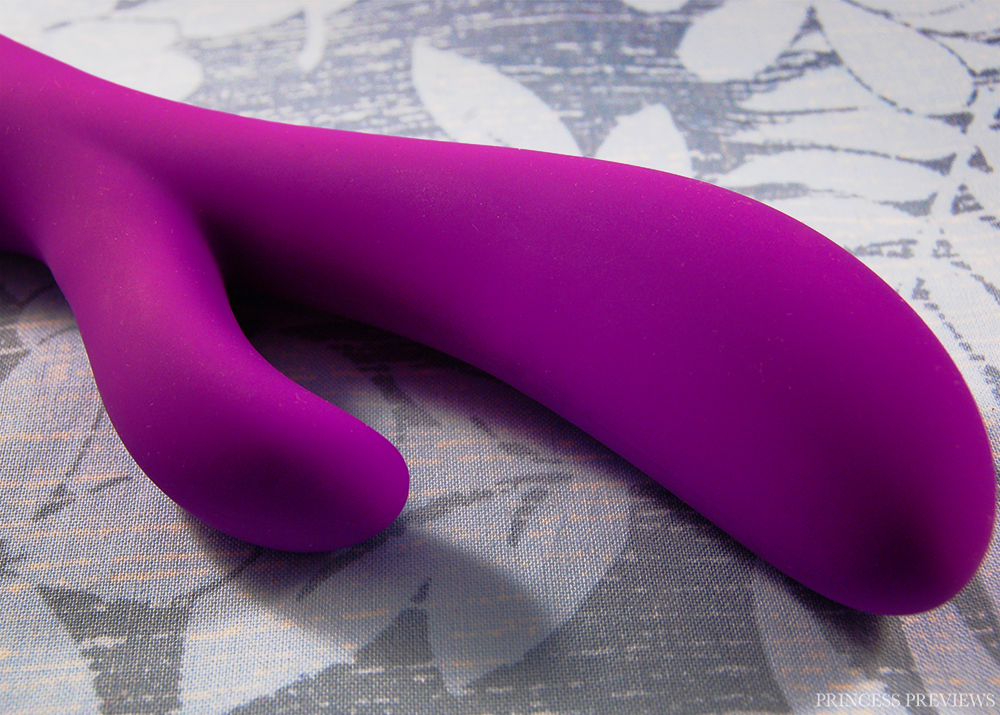 My order was arranged for delivery on the 25th of May and I received it on the 5th of June. Unfortunately the package wasn't very discreet, listing Vibease as the sender and 'Handheld Massager' as the product. My last experience with Vibease was a completely discreet box, so it is a shame this standard was not met again. Inside this was the box for the Esthesia, which again was very different from what I experienced with the Vibease. The box could easily pass as a different brand, in fact it doesn't even say Vibease anywhere on it (aside from the name of the app) and instead lists the company and website as just Esthesia (although the URL provided does not work). It's strange since on their website they look almost part of a set, but I suppose they wanted to market Esthesia separately in store. The box is simple, with a close-up headshot of a smiling women on the front which I find strange, and basic instructions on the back. After removing this sleeve there is a clear white box (which would be good for discreet storage), and this opens up to reveal the toy, its instructions (which includes a one year warranty), charging cables, and a black drawstring storage bag.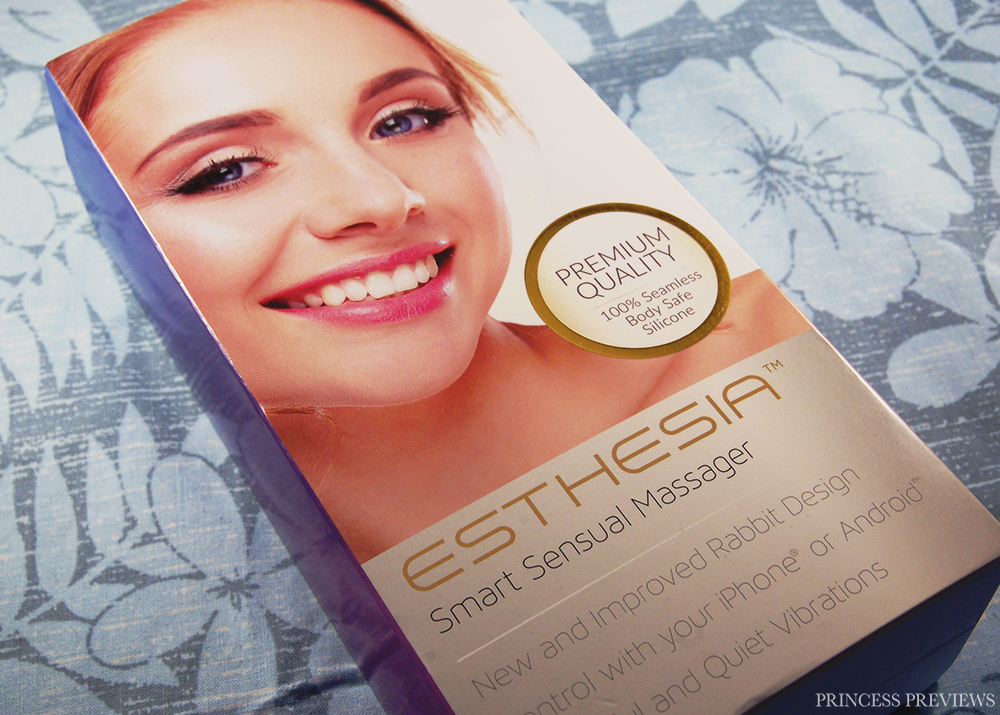 Charging the Esthesia is easy, just plug in the USB cord and connect it to the back of the toy. While charging a white LED light will blink, and it will take around 2 hours to fully charge the battery. When finished the LED light will blink blue, to indicate that it is done. This should then give you up to two hours of play.
My biggest issue with the Vibease was that it had countless issues related to the way its buttons worked, making it almost impossible to use without the mobile app. As such this was my biggest concern about the Esthesia. It has two buttons, but neither have any symbols or icons to indicate what they might do, so I wasn't sure if it would be a similar deal. Unfortunately, after going through the instructional manual I realised that the functions for this toy are, in fact, set out exactly the same as on the Vibease. The top button is for vibrations, while the lower button is for its power. It can be turned on by holding down the power button for two seconds, and then a white and blue light should blink and the toy should vibrate for half a second. After this the white light will stay on and you can use the vibration button to cycle through the four patterns and one steady vibration. When the cycle is finished it will stop vibrating but will remain 'on' until the power button is held down again. You can check out my Vibease review to see a full explanation of my complaints about this, but essentially I believe all sex toys should offer more than one steady speed, should always place steady speeds first, and should not remain 'on' when they are not vibrating. What's more is that I feel like they have missed an opportunity to play around with the two separate motors, and the addition of a button just to turn the toy on and off feels like a waste.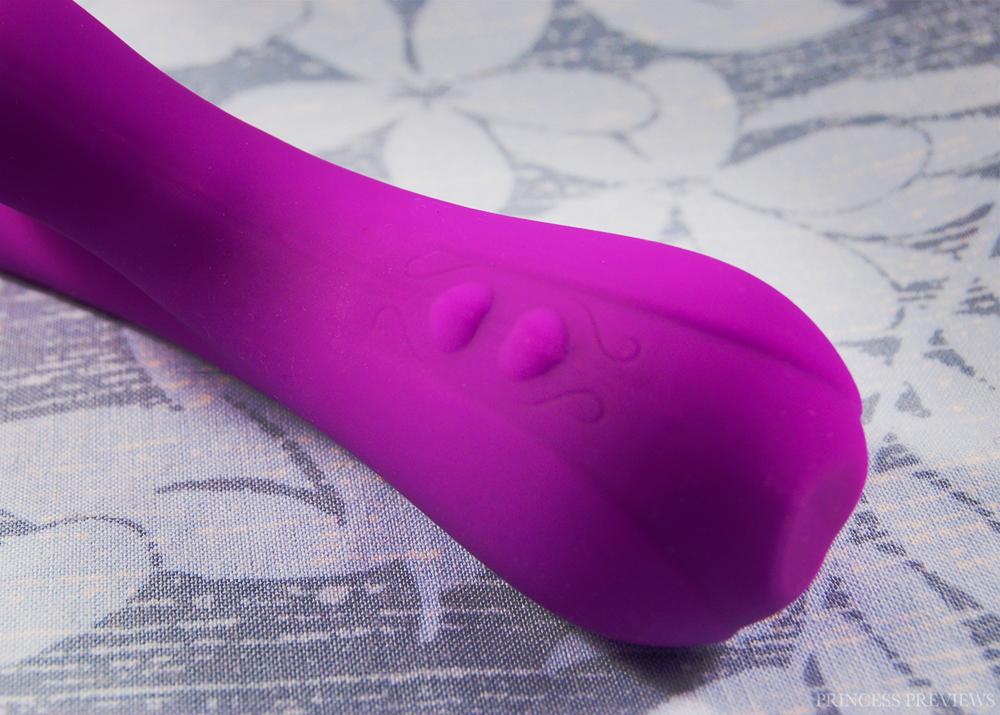 Thankfully, I am less picky about internal and dual simulation vibrators as I am with clitoral vibes. I enjoy the occasional patterned vibration with these sorts of toys, and don't feel the need to have a slow ramp up of steady vibrations in order to orgasm. While I still believe that that Vibease need to seriously rework their sex toy buttons, I don't find this toy unusable without the app like I did the Vibease. I'm happy to flick through the patterns to reach the steady vibration (although there have been a few times I have gone past it and had to repeat the process which is frustrating), and the overwhelming nature of the dual stimulation means that I don't feel the need for another level. Additionally, a positive in regards to the buttons is the LED lights, which feature a beautiful design and are the best I have seen on a sex toy.
As for the vibrations themselves they are very similar to the Vibease, quite strong and rumbly, but a definite buzziness to them as well when they get stronger. The noise level between the two is huge however, with the Esthesia being one of the quietest toys I have heard in ages. I found the Vibease quite loud despite being marketed as quiet, so when I saw the same thing on the Esthesia's product page I didn't have high hopes. But I am glad to see that Vibease have improved upon this issue. You could definitely use this toy in private situations, it is hard to hear just in my hands, so you can imagine how quiet it would be when inside of you and under covers.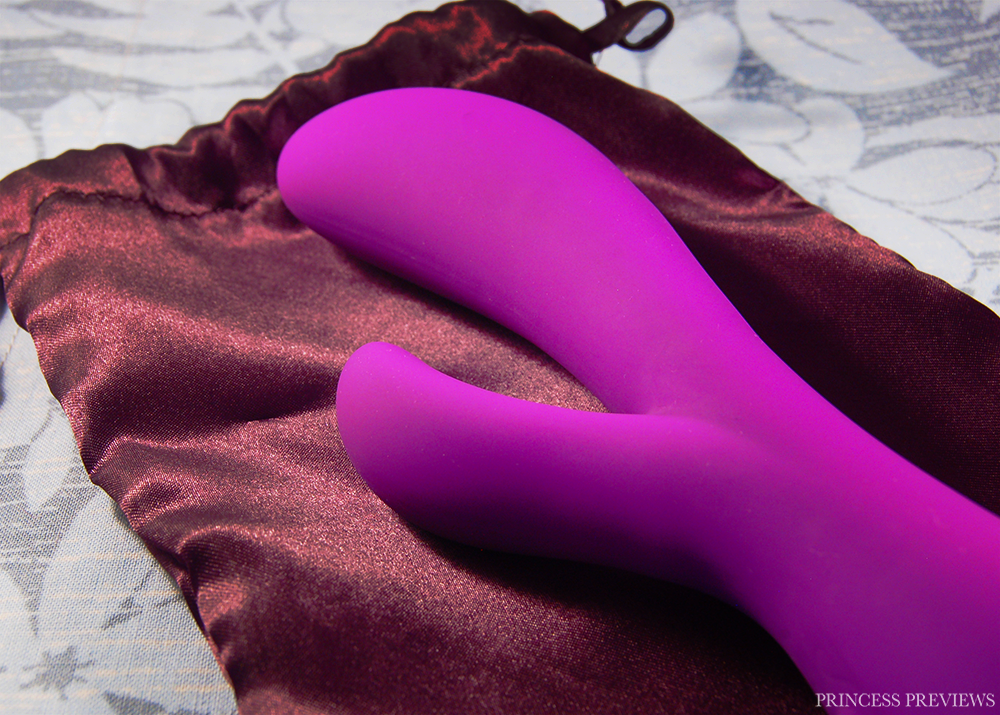 I gave a rather long and detailed review of the Vibease app in my last review, so I won't go through that again with this one. Instead please check it out if the application is something you are interested in. I found no differences from the last time I tested it, and my use of the app was the same. I enjoyed the erotic audio books just as much, and it didn't take me long to get all hot and bothered by them. I was expecting to be able to customise my vibrations similar to with the Vibease, and I can, but exactly the same as the Vibease. Meaning that in no way does the app register that this toy has two independent motors instead of just one. This was frustrating as it meant the motors would always be on the same speed and level, and I couldn't switch between just having one of the motors on or creating unique patterns with the two. I'm not hugely bothered by this, but it is certainly a function I would expect from any multiple motored sex toy that is compatible with an application.
Since I am not so concerned about needing multiple steady speeds for this vibrator as I was for the previous one I don't mind using either the buttons or the app to control the toy during use, and I haven't found a huge difference between the two. I like the app as I enjoy the erotic audio books and the toy responding to these is fun, but I don't feel limited to only using it. I have found that this is the sort of toy that must be used alongside its vibrations however, as without them I have trouble stimulating myself. The vaginal arm can barely reach my difficult G-spot, as its flexibility means I cannot get my usual required pressure. Furthermore, the smaller arm is quite hard and puts a lot of pressure on my clit (which I am happy to report it does sit over perfectly), and I find this uncomfortable without the vibrations. This is a big difference to my other dual stimulation toy, the SenseMax SenseVibe, as while I do love its vibrations, the toy can also be used without them. Turning the vibrations on though makes a huge difference to the Esthesia though, and that combined with my own thrusting of the toy creates a fantastic experience. I can orgasm very easily from using it, and the pressure of the clitoral arm makes this super intense. I enjoy using this toy just as much as some of my favourite dildo and clit vibe combinations, which is saying something, and it is even easier since I don't need to use both hands.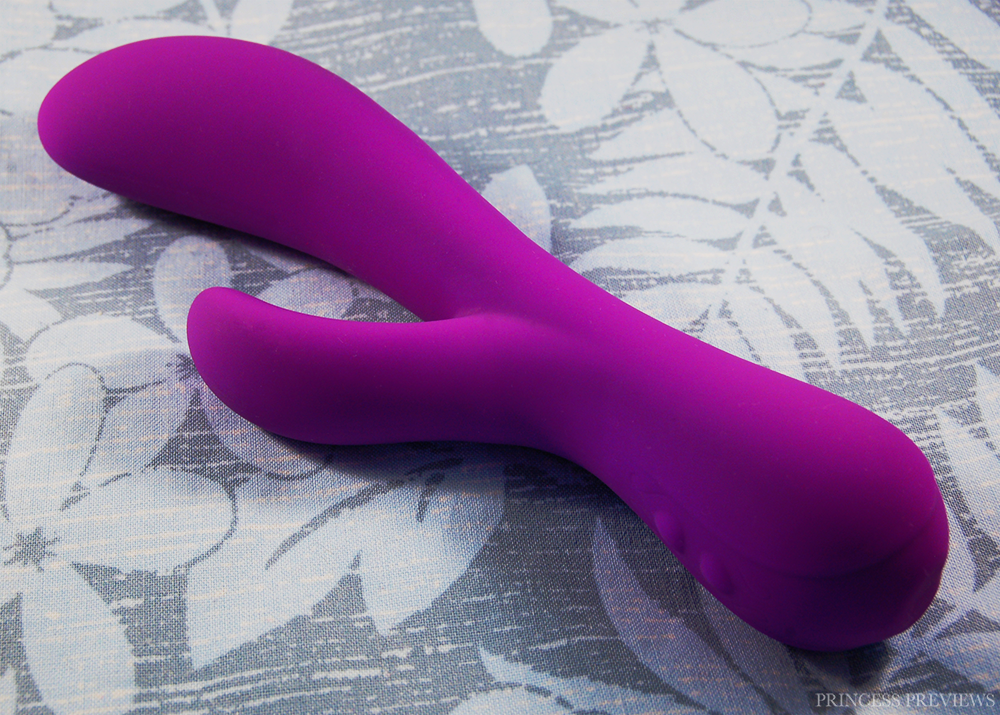 Since the toy is fully waterproof and made of body-safe silicone, cleaning it is super easy. Just wipe it down with some warm soapy water, rinse it, and leave to air dry. It can then be returned to its provided storage bag. Even though this toy is made with silicone it doesn't attract any dust or lint which is fantastic, so with proper storage it shouldn't need to be cleaned before use. Ensure you only use water-based lubricants with this or perform a spot test prior to using alternatives.
Overall I have really loved trying out the Vibease Esthesia. I had high expectations after the Vibease, while also hoping that it would improve upon some of my complaints. However, while it did feature the same issues (which I suppose is to be expected of something that was produced prior to my other review), I found them a lot more tolerable on this sort of sex toy. I am picky when it comes to clitoral vibrators, they have to compete with my huge collection and they are some of my most used toys. But dual stimulation vibrators are still somewhat of a novelty for me, and I find I enjoy them far easier. My complaints about the button functions and app are still as relevant as in my Vibease review, and I believe they completely missed the chance to allow for customisation of both motors in the app, but they get away with it by producing what is otherwise a fantastic sex toy. My only concern with recommending this is the price tag, which is fairly high for what is essentially just a simple rabbit vibrator. Although the thing that changes this from a regular toy to a 'luxury' one is the app, so I believe this toy is only worth the price if you plan on making good use of this. If erotic audio books are your thing and you enjoy app-based sex toys then this will be perfect for you, but otherwise there are plenty of other similar sex toys for less that don't use apps. Thanks again for another great sex toy Vibease, I look forward to seeing what you come out with in the future.
You can get the Vibease Esthesia directly from their website for just $174 AUD / $139 USD and apply my reader code PRINCESS for 25% off!
Material - 100%
Appearance / Design - 75%
Solo - 85%
Partner - 50%
Vibrations - 75%
Noise Level - 90%
App - 65%
A great rabbit vibrator that is compatible with a phone app, but has a few usability issues.
I received this product in exchange for an honest and unbiased review. Affiliate links have been used in this post.